Filter tour
Mekong Cruises Tours
Too tired of mountainous landscapes and willing to seek for something new? Far away from busy life in big cities, Mekong river tour offers travellers a pleasure time where you can really immerse yourself in the nature. Mekong Delta highlights the cruise trip along Mekong river – one of the largest river in Vietnam with lots of cultural and sightseeing discovery by boat such as visiting a typical floating market where all things are purchased on boat; flowing some green cannels of Ben Tre by a sampan boat or witnessing the daily life of the locals on both two banks of the river.

To have a meaningful time with your family or friends in Vietnam, you can check list of 5 reason why you choose a local & serious agent like Galatourist:
Support 24/7
Authentic Experience
Attractions off the beaten track
Competitive Price
Fully customizable Tour
Let head to the southern part of Vietnam and join Mekong delta trip in a very different way. Contact Galatourist right now and get the best price of the tour.
Top 5 Must-stop Destinations along Cruise Trip on Mekong river 

1. Mekong river 
Mekong River is a water world offering amazing cruises through some destinations of Vietnam as well as promoting exchange between Vietnam and Cambodia. It's a place that recall the rhythms of Mekong Delta, where junks, floating houses and even floating markets are on the rivers, creating the typical culture of the Southern Vietnam. The best time to join a Mekong river tour is in the dry season. At that time, the weather is not too hot with a little rain, suitable for family and friends cruise trip.
If you are in the South, you should try experience Vietnam cruise once because it is the best way of foreigners to gain more about the culture of Vietnamese locals in the south.

 See more: Cheapest price of impressive Mekong Delta tour | 3 days 2 nights
2. Cai Rang floating markets
Known as one of the most largest floating market in Can Tho, Cai Rang floating market features cultural value of Southern locals where all of their routine activities for a living are done on river. Initially, it is formed to meet the demand for trading and exchanging goods when roads have not been developed but gradually, this market becomes a typicall culture of the locals there, attracting international travellers who love to explore the Vietnamese culture and spirit.
It would be great to sit on a small sampan then head to other boats with various goods on river. Try it now with Mekong river trip.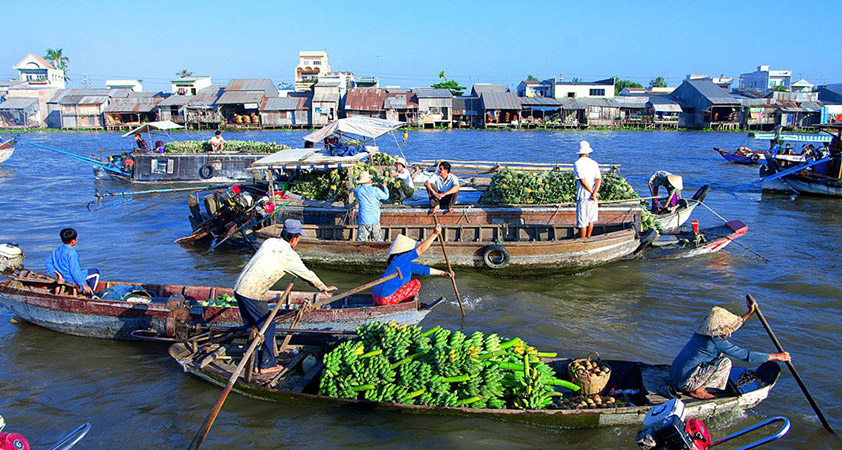 3. Cai Be floating market
Along with Cai Rang floating market, Cai Be is another one highlighting the culture of Vietnamese people in the South, lying Tien Giang province. Despite its unknown origin, Cai Be floating market is consider to be dated back from 17th and 18th century during the formation of Mekong Delta. With its long history and cultural value, nowadays, Cai Be not only is a trading place for the locals welcoming lots of boat and rafts in Mekong delta every day but also become a highlight spot for both domestic and international travellers. 
Travellers who haven't ever experience floating markets in Vietnam are highly recommended to come to Cai Be, a huge marketplace in the South. There are lots of Mekong tour on Mekong delta serving the exploration of Cai Be floating market.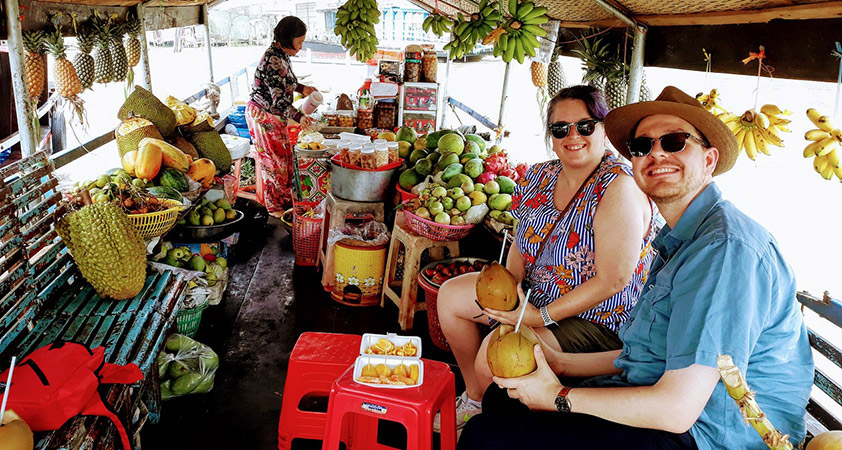 4. Sampan cruise throughout canals to Ben Tre 
Another experience during your Mekong river tour on Mekong Delta is taking a small sampan through some canals of Ben Tre, the land known as the heaven of coconut. It would be great if you take the opportunity to sit on a small boat, go by beautifully green cannals of Ben Tre and witness the routine life of the locals here.
On the way, visitors can stop at some coconut candy factory to see how they make this Ben Tre specialty as well as try it there. In addition, coming across Ben Tre, you can't miss trying some specialties there such as coconut candy, coconut juice, coconut wine, coconut rice and coconut mice. Sounds great!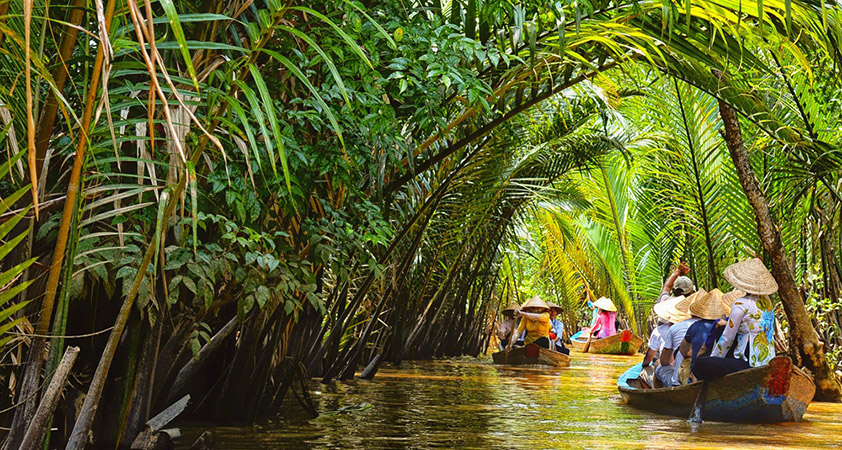 5. Chau Doc - the place sharing the border with Cambodia
Lying not far from the border of Cambodia, Chau Doc is a typical place you should set foot once in Vietnam, especially when joining a Mekong delta river tour. Travellers will cruise through a surprising village of floating houses, where fishes are bred in their natural environment and the locals mainly catch fishes to make their living.
In addition, due to its location, which is near Cambodian border, Chau Doc is partly influenced by the culture and architecture of Cambodia with numerous Khmer sanctuaries. Come and enjoy typical features there.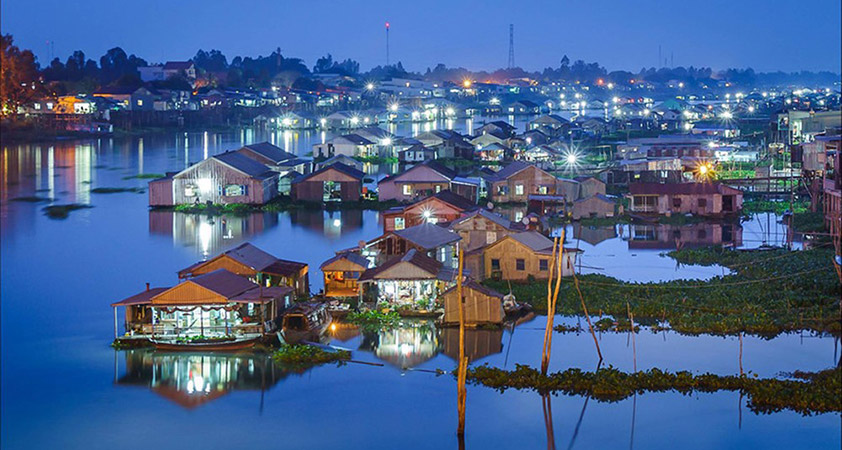 See more:

 Mekong Delta cruise from Saigon to Phnom Penh by boat | 3 days 2 nightsMekong river travel 
is truly a worth-visit tour with exploration of both
Mekong Delta
and typical culture of southern locals. Do not hesitate to
contact
our local and serious agent
Galatourist
to plan your own
Cheap Mekong river tour Vietnam 2019
.