Filter tour
Nha Trang Cruises Tours
A Nha Trang cruise is always recommended for travelers who have intention to visit this beach city of Vietnam. Specifically, you will have a tour around the bay and pay a visit to stunning islands which are called "the pearls arising from the blue beach" like Hon Mun, Hon Mot, Dam Bay lagoon,... Besides the sun-kissed scenery, the climate here is another attraction with the cozy atmosphere around the year. The average temperature is about 26°C. As a focal center of nature including mountains, beaches, rivers and islands, Nha Trang Bay has been the home of hundred rare creatures, making it a major attraction to ecotourism-lovers.

In the hope of bringing the best experience for tourists,
Galatourist
has provided thousands of travelers joining
Nha Trang cruise
the most modern services at a suitable price. Choose
Galatourist
as your fellow for the five advantages including:
Competitive price
Serious local agency
Local Support 24/7
Far from tourist mass
Free custom quote
Contact
us now and have a journey of your own !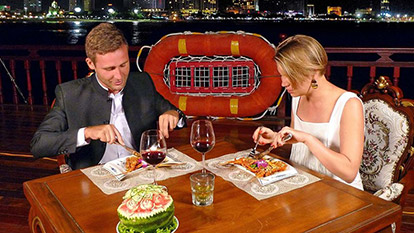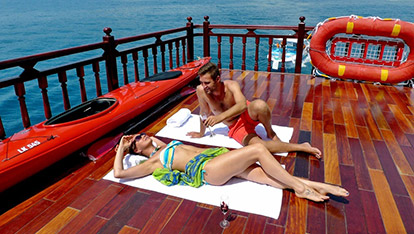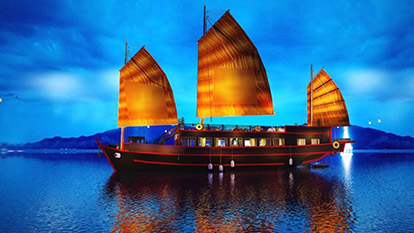 5 attractions for a Nha Trang cruise tour

1. Hon Mieu Island
Having a
Nha Trang cruise
 to
Hon Mieu Island
, you will not only enjoy the wild landscapes, immerse in the beach, but also visit two famous tourism stops:
Tri Nguyen Lake
and
Bai Soi bathing beach
.
Tri Nguyen lake is an artificial fish lake built in the last decade. There are hundreds of rare sea creatures like fishes, turtles grown here. Not too far from Tri Nguyen Lake is Bai Soi beach for bathing. The seashore looks out toward
Hon Tam Island
. The specialty here is that it does not have any sand as others on the land. The seashore is full of only small gravels. Travelers can go diving in the rocky coastal to see the world of corals and sea urchins. 
You can also discover the daily life of fishermen and experience on the punt in person as well.

2. Hon Tam Island
Hon Tam
is a perfect destination for whoever loves ecotourism and resorts. It still remains the wild scenery and is surrounded by blue beaches. The beach is also quite quiet, which is suitable for pearl raising.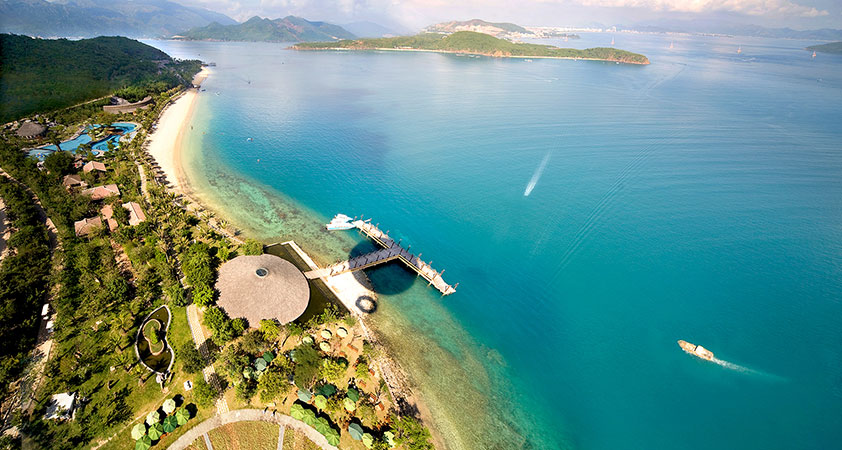 Hon Tam is famous for
Hoang Hoa Village
. There are five homes having existed for more than 100 years, where they still keeps many traditional craft tools. Moreover, you will have opportunities to enjoy traditional music presentations and traditional craftsmen's performances. Besides, some big festivals are held here every year.
Many water-related activities are available for
Nha Trang cruise
 such as Jetski, Kayak, Flyboard, Seawalker for coral-seeing (available for even non-swimmer). About resorts, Bungalow in Vietnamese style is the most popular with the combination of modernism and tradition.

See more:
Enjoy beach journey on Nha Trang Emperor cruise | 2 days 1 night

3. Hon Mot Island
Hon Mot
is the smallest island in Nha Trang Bay. However, it has own attractiveness with the white sandy seashore. Coral systems are the most famous here. The water level is not as deep as Hon Mun Island, so travelers who are not good at swimming can still easily see the corals. 
Nha Trang cruise excursions
to Hon Mot Island are also the time for exciting activities such as glass-bottom boat tours, diving, jetski, fishing,... Especially, travelers will be impressed by tropical fruit gardens like coconut, mango, cashew,... There are just about 200 people living here and they all welcome travelers to stop here.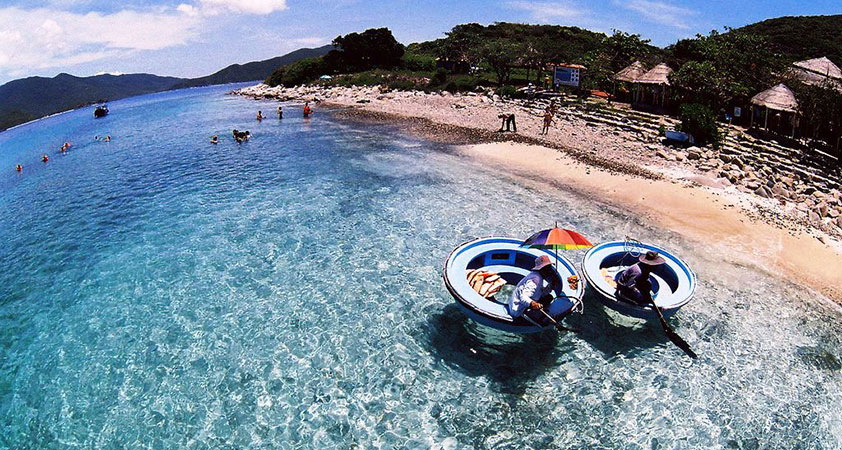 The seafood here is another plus mark. Local seafood includes grilled squids, spring rolls, fried noodles,... 

4. Hon Mun Island
The name of
Hon Mun Island
roots from the black color of the rock here. It is because in Vietnamese, "Mun" means "totally back".
Hon Mun is the first and the only beach nature reserve of Vietnam up to now. It has been rated as the most diversified biological area in Vietnam by WWF. Under the bottom of the sea are 1500 kinds of corals in the total 2000 kinds all over the world. Especially, there are 340 in 800 kinds of hard corals. The island is like a "live museum" of sea creatures in the heart of the ocean.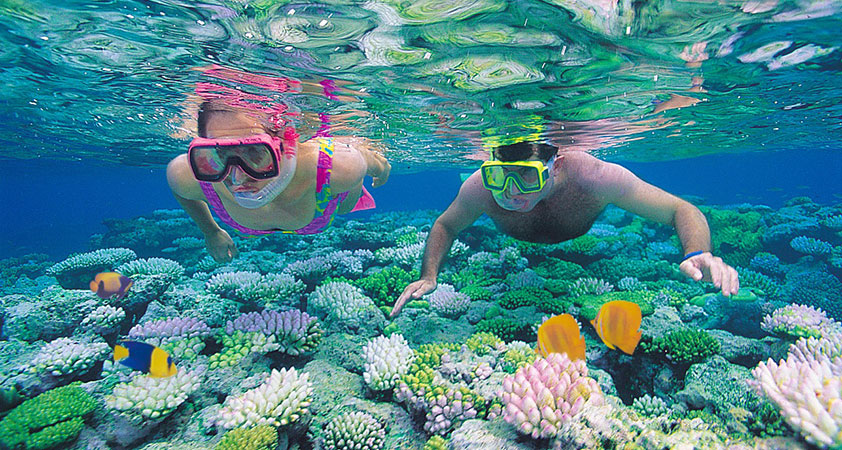 Hon Mun has many different activities but the most impressive one is the floating bar. Travels can enjoy a glass of wine, listen to music, gaze out at the ocean or immerse in the blue beach. The environment protection is so serious that travelers can only put the rubbish in the bin or even keep it in small bags to bring back to the land. Especially, no restaurants of resorts are available. Therefore, a
cruise Nha Trang
 on Emperor Junk is the most suitable for travelers.

See more:
Cruise in Nha Trang Bay on Emperor Junk | Nha Trang Boat Tour 1 day

5. Dam Bay Lagoon
Dam Bay Lagoon
is a wild bay but brings about many surprises to tourists who have joined
Nha Trang cruise
. It only takes you 45 minutes on the Emperor to reach the lagoon.
Beach bathing on this island is very safe because the waves are not rough, for the mountains surroundings. Besides, Dam Bay is also a giant group of magic-shape cliffs and wild hills, which is suitable for whoever loves discovery.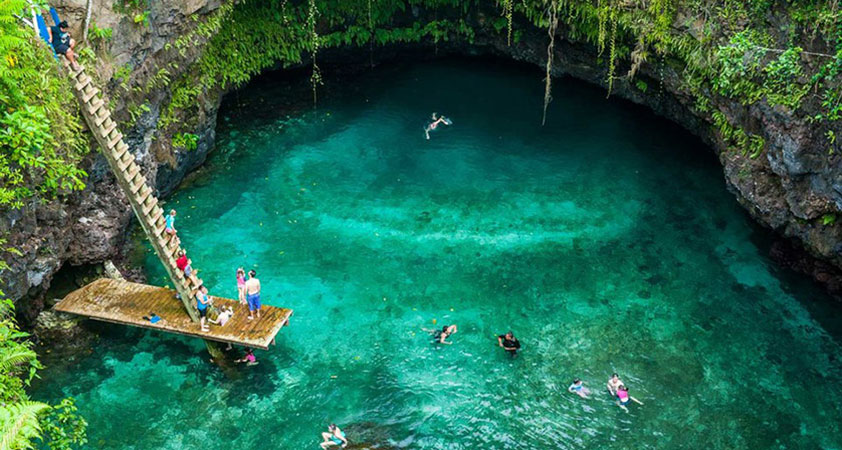 Moreover, travelers coming here are really impressed by the seafood meals floating on the beach. Especially, at noon, there is a special buffet with 20 dishes presented on the punt, which will immediately attract any tourists for the first time visiting.
If you have intention to
visit Vietnam
someday, a tour of
Nha Trang cruise
is suggested for all the beautiful islands above. Each site is worth visiting for its own specialty. Contact
Galatourist
to have a ticket for the journey now.