Filter tour
Laos Adventure Tours
Laos
- a small country but so beautiful and peaceful. As a landlocked country in
Southeast Asia
with dense forests covering rugged mountains and hills. However, Laos still attracts visitors with unique architecture temples, beautiful waterfalls, especially the unique culture and hospitality of the people.
Thanks to natural favor and creation of people,
Luang Prabang
, 
Vientian
e, and
Vang Vieng
are always impressive views.These must-come places are covered in 
Laos adventure tours.
Let's discover their attraction.
Finding out the stunning beauty of Laos,
Galatourist
arranged an itinerary like 
Laos adventure.
With our attempt, hope that you will be interested in
Laos adventure trip.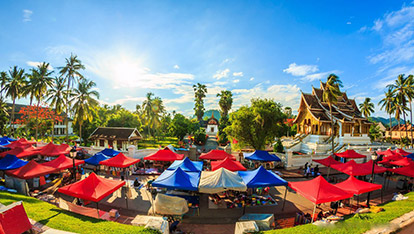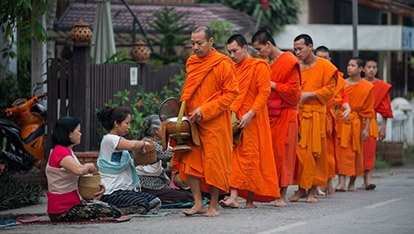 Let's explore top 5 spectacular destinations suggested in Laos adventure

1. Luang Prabang - Must-come destination
Luang Prabang
is one of the favorite destinations in Laos so it can not be missed in
Laos adventure travel
. The mountains stretching endlessly make Luang Prabang have natural artworks do not fade due to time. In addition, Luang Prabang is also a place to preserve the architecture of ancient temples In spite of many ups and downs in history.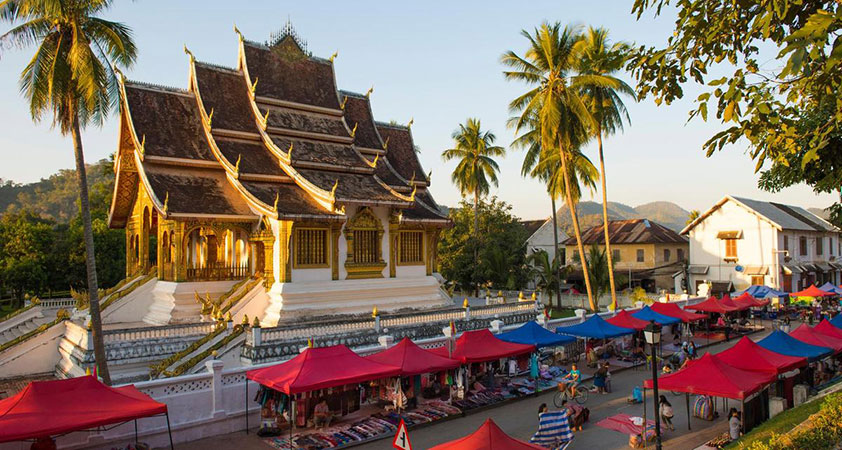 Houses, villas or hotels in Luang Prabang are a delicate combination of French architecture and traditional Lao style. All of them create a beauty that is both modern and ancient. This uniqueness not only makes Luang Prabang an impressive Laos tourist trap but also a charming tourist destination of Southeast Asia.

See more:
Travel in the North of Laos 14 days 13 nights | Experience 2 weeks in Laos

2. Si Phan Don - Untouched splendour
This area is located in
Southern Laos
, on the border with
Cambodia
. There are a great variety of spectacular islands around
Si Phan Don
, so this area is also known as the "
4,000 island land
". Visiting these islands is a marvelous discovery in a landlocked country.
The landscape here is as beautiful as a picture. The visit to Si Phan Don will bring interesting experiences to tourists because there is a rare species of dolphin Irrawaddy here. Besides, you can rent a bicycle to visit Southeast Asia's largest waterfall or simply explore the countryside to learn more about the life of traditional Laos people. With the pristine beauty, Si Phan Don is really main highlight of
adventure in Laos
.

3. Vientiane - The top spot
Laos adventure
tours are more impressive because of very
Vientiane
. Without noise and flashiness, Vientiane is a neat, small city with lots of golden temples, palaces and architecture of French style and old-style buildings from the colonial era. Alternating among the traditional restaurant, Vientiane has more and more restaurants and bars mixed in the West style. 
Vientiane with its unique historical sites is a fascinating attraction for tourists all over the world. If you come to Vientiane, you cannot miss the opportunity to visit the unique landmarks here.
Khai Hoan Mon Patuxay, Pha That Luang, Buddha Statue Garden, Wat Si Muang
attracts tourists with spiritual beauty in the capital of millions of elephants.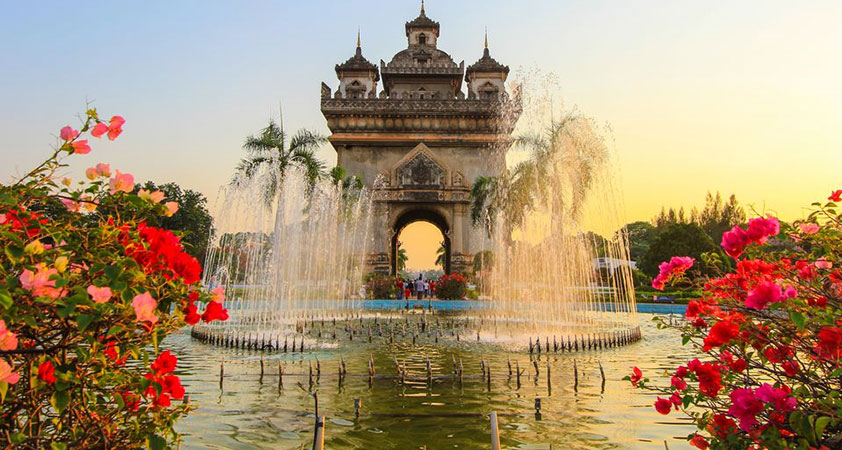 Moreover, you can visit
Ho Phra Kaew temple
which is considered one of the most beautiful and impressive temples in Vientiane or the
Lao National Museum
, an ideal place to learn about Laotian people from prehistoric times. The museum is located in an old French colonial building or
Buddha's Garden
with over 200 statues, including a 40-meter-tall sleeping Buddha. 

See more:
Laos tour in deep 20 days 19 nights | Laos itinerary 3 weeks

4. Vang Vieng - Paradise of discovery
Located just a few hours away from Vientiane, the lovely
Vang Vieng
town with charming scenery will be a romantic stop in
Laos travel
.
This is a small town along the
Nam Song River
, considered as a "paradise of discovery" for young people who love conquering rapids in the world. Here you should rent a bicycle and take a tour of ancient caves, visit picturesque ancient villages and learn about the culture of the people here.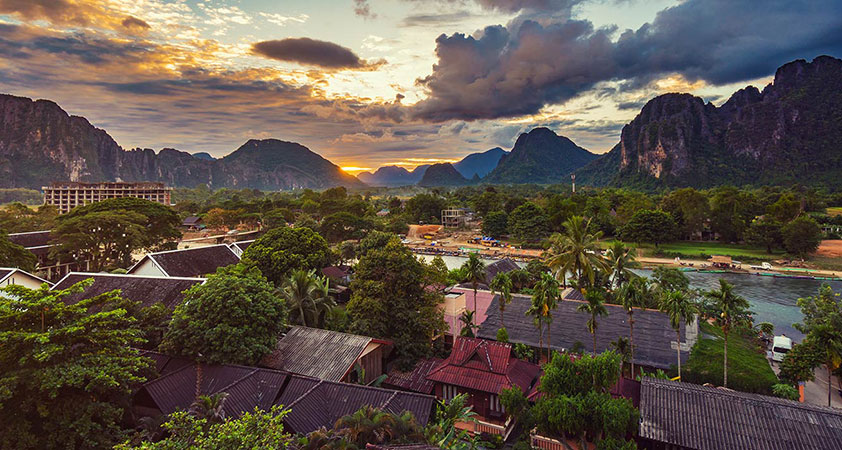 Coming to Vang Vieng, do not miss watching the awe-inspiring sunset and sunrise on the Nam Song River because this beautiful sight has made Vang Vieng the ideal tourist destination for young people who love peace and quiet. Everyday, Vang Vieng is full of tourists but it still keeps a very peaceful and bring in an indescribable passion to the travelers coming here.

5. Xieng Khoang - 'Royal Green River'
Luang Namtha
is a small province surrounded by hills, trees and villages. It is like a calm and dreamy girl on the magnificent plateau of Laos. Luang Namtha is an ideal tourist trap for those who do not like the bustle.
'
Royal Green River
', another name of Luang Namtha, is bustling during the peak tourist season. During the journey of experience walking, exploring the national park with
Nam Ha National Biodiversity Conservation Area (NPA)
, visitors are walking through many small villages, exploring the nature of hills and mountains. If you have enough time, you can rent a bicycle or motorbike to travel around the small streets that turn from the major highway.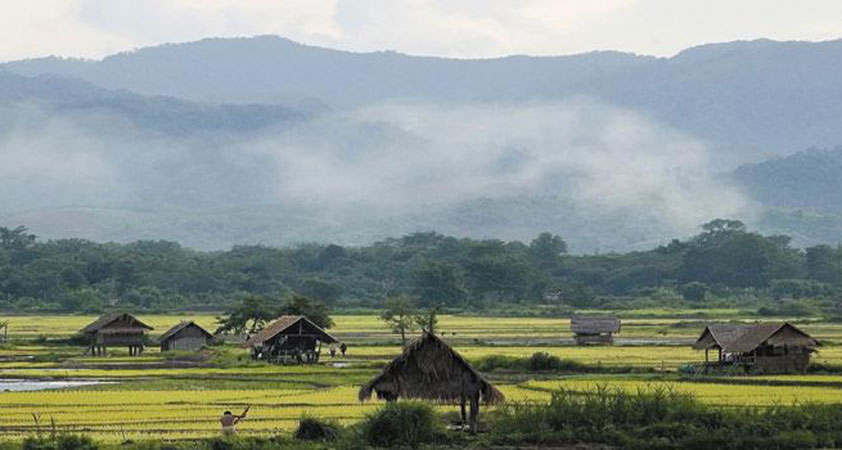 In addition, to Luang Namtha visitors must definitely visit the waterfall at
Ban Nam Dee
just 5 km from the city center. Guests can also make a yacht experience cruise with a lazy boat along
Namtha River
. After going aroung Luang Namtha, you really cannot forget
Laos adventure.