Filter tour
Hoi An - Da Nang Travel
Tour Da Nang Hoi An
have been known as one of the first choices when coming to Vietnam, famous for three world heritage sites like
The Complex of Hue Monuments
, 
Hoi An Ancient Town
, 
My Son Sanctuary
and many other attractive wonders of nature. However, it is not only an ancient travel destinaton but also a city of modern experience and cultural diversity. If you are a follower of foods, then
Danang Hoi An tour
ones are of your choice.
You can start your
tour Hoi An Da Nang
 at any time of the year. However, summer is preferable for anyone enjoying water experiences like diving or coral explosion. If not, read the recommendation about other travel activities
Galatourist
make for you below.
Galatourist
has been the fellow traveler of thousand people
travel from Da Nang to Hoi An
and has been trusted for 5 scores including:
Authentic, Local & Safe
Tailored & Flexible
Local Support 24/7
Free quote within 24h
Rate without intermediary
Contact
us and you will have the best trip ever at a reasonable price.
5 best places to visit in tour Da Nang Hoi An

1.    Golden Bridge on the top of Ba Na Hills
Many top magazines all over the world have used the best words to describe the Golden bridge on the top of Ba Na Hills. It is such an impressive design with two giant palms spreading from the hill catching golden silk sheet. Moreover, the sights surroundings make it a favorite check-in point besides Sun World, French village, love flower garden, waxwork museum of Ba Na Hills in your Da Nang travel itinerary.

With the length of 150 meters and at the height of 1412 meters above sea level, the Golden Bridge creates a pathway in mid-air, covered with a haze atmosphere like the Elysian field. From here, travelers can see immense old-growth forests far away and even the overview of Da Nang city.

See more: Amazing holidays in central Vietnam | Tour Da Nang Hoi An Hue 6 days 5 nights
2. Japanese Bridge in Hoi An ancient town
The Japanese Bridge was built in the early 17th century by Japanese traders. Legend has it that they creat the bridge as a sword against the monster mamazu to avoid earthquakes. In 1653, the pagoda was added, so that it has another name Bridge Pagoda. This is the only Japanese-related construction in Hoi An.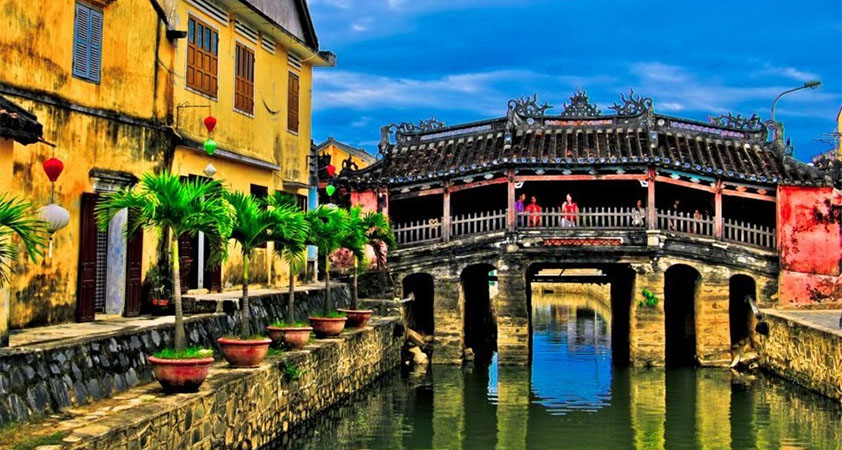 The bridge has a unique canopy. It was all made of wood, red paints and had much complex texture. The front side of the pagoda has a view over Hoai river. Although there has been 6-time restoration, the bridge still keeps its own ancient beauty. You can see the bridge image in the paper money 20.000 VND.
The Japanese Bridge was recognized as a national cultural and historical heritage in 1990. For the residents here, the bridge is their soul and the symbol of life for more than 4 centuries so far. If you have not come here once in your Hoi An tour, maybe it is not a complete journey.
3. My Son Sanctuary
My Son Sanctuary is located about 70 kilometers from Da Nang center. It consists of many Champa temple groups with hills and mountains surroundings.
My Son Sanctuary is the place ancient Champa people held sacred ordinance and place ancient Champa royalties. Travelers often choose this heritage to visit for its artistic and constructive arrangement of the temples here, which was greatly affected by the temple style of India. The sanctuary has many different temple groups, each group consists of a main temple called kalan and smaller ones surroundings.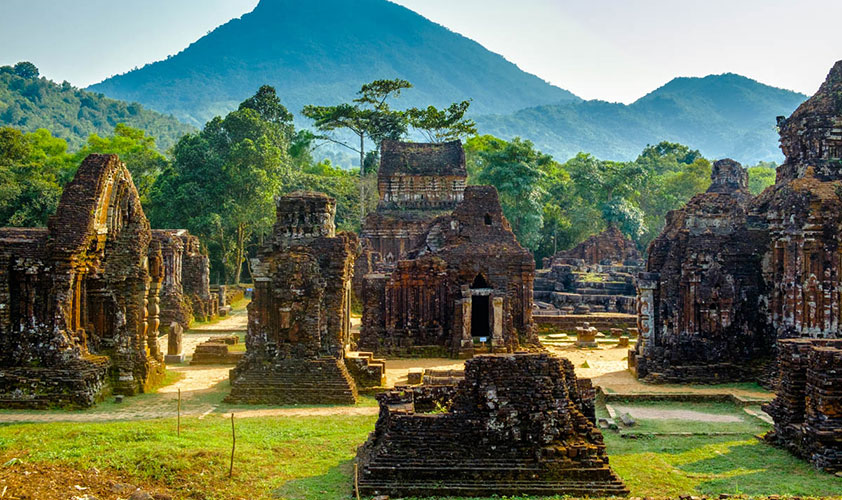 Due to the damage of wars and time, there left only remains. Many archaeologists have tried their best to protect this area. In 1937, for example, most of the temples were restored by French scientists. However, in 1969, wars destroyed mostly temple groups A, the main one of the heritage. The highest temple was 24 meters high and had six extra ones. However, other groups still remain many worth-visiting antiquities and altars in tour Da Nang Hoi An.


4.    Phuc Kien Assembly Hall
Phuc Kien Assembly Hall is a typical construction of an assembly hall in Hoi An. It was built in 1697 for Mazu and other patron deities. This is also the place Phuc Kien people living in Hoi An gather.
In 1990, Phuc Kien Hoi An was certificated as a cultural and historical monument of the country. Through its style of assembly, it also presents oriental thoughts and philosophy about human happiness.
If luckily, book Da Nang Hoi An tour in 15 January or 16 February, you will have chance to join Phuc Kien festival with different many attractive activities.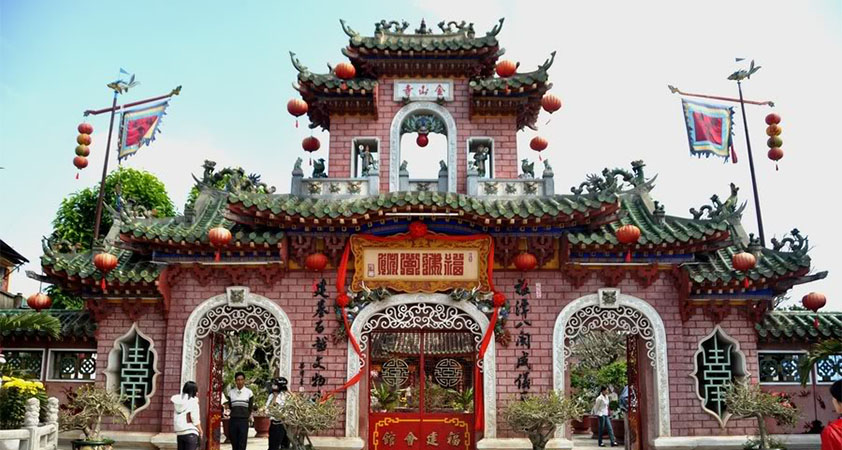 5.    Tra Que village
Tra Que
is a village in
Cam Lac
,
Hoi An
, famous for fresh vegetables grown on the fertile soil. Visiting
Tra Que, travelers will learn about more than 20 kinds of spicy vegetables. You will get surprised with many unfamiliar but fancy vegetables.
Moreover, guests coming
Hoi An travel
have opportunity to experience to practice farmers' tasks such as hoeing the soil, grow and collect vegetables. After that, travelers will enjoy local foods with these products such as Vac cake, Quang noodles, Hoi An Cao Lau, shrimp rolling…

See more: Hoi An tour - Visit Cam Thanh village and vegetarian village Tra Que | Half day
And there are so many other attractive spots and activities for your
tour Da Nang Hoi An
in particular and central
Vietnam trip
in general.
Contact
 us immediately to get the best suggestions to have the best vacation ever of your own.