Filter tour
HCM City + Mekong + Beach
If
Ha Noi capital
has a peaceful atmosphere with a slow pace of life, then
Ho Chi Minh
is opposite as a top city of movement, animation in Vietnam but, impressively, also little ancientness, little European art. Take part in
Ho Chi Minh city tour 
with
Galatourist
to see in person this unique combination of Saigon fully and completely.
Besides, there are also a lot of landscapes in adjacent provinces around Saigon that you can easily access with a tour along Mekong river. You can start your
Mekong river
and
Ho Chi Minh tour
at any time of the year because the climate here is comfortable all the time. 
Galatourist
will fellow with you in the tour to Ho Chi Minh and Mekong river with our best services including: 
Competitive price
Fully customizable
Far from tourist mass
As a serious local agency, you will have the best support from us to have a comfortable journey.
Top 5 tourist attractions in tours from Ho Chi Minh city to Mekong delta

1. Mazu temple (Thien Hau temple)
Thien Hau temple is the most ancient one listed as a must-see heritage of Saigon travel. To differentiate from other Mazu temples, it is also called Cho Lon.
As stated in a stele here, Mazu was born in Phuoc Kien (China). She was considered as the nereid who could fly toward the beach or go anywhere on clouds. She even flew on the beach to save unlucky seafarers after she died. Therefore, in 1110, she was ordained as the Mazu.
The temple has the style of Chinese ancient temple in texture and construction to building materials, which was all brought from China. There are hundreds of carefully-created and exquisite antiquities. For these sacred and historical meanings, the temple welcomes thousands of travelers to visit each year when they join Ho Chi Minh city tour.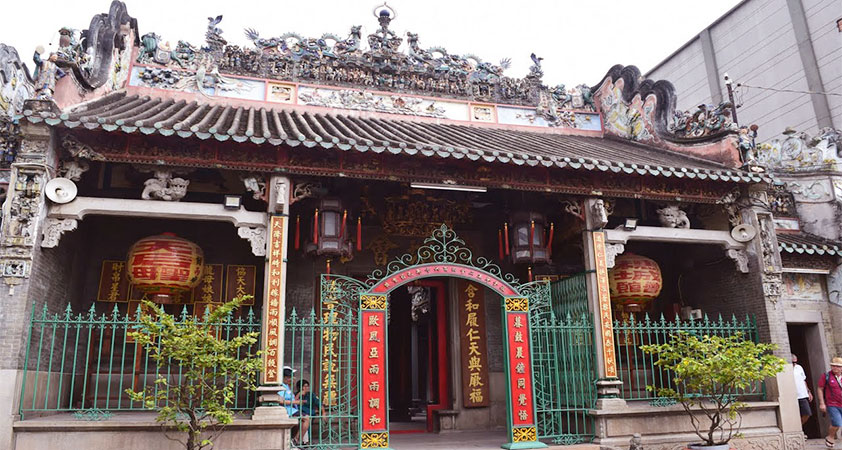 2. Cu Chi Tunnels
Travelers visiting
Cu Chi Tunnels
of
Ho Chi Minh city travel 
will have chance to learn and experience Vietnamese soldiers' activities under deep underground during the wars. The unbelievable tunnel system includes many infirmaries, chummeries, storages, workroom, about 200 kilometers in length. There is also a ventilation system hiding under slumps with the ability to bear any greatest kinds of American army's bombs - a symbol of the intelligence, resilience of Cu Chi residents.
On the ground are also fight barricades, minefields, traps,... arranged into serial groups to make a perfect guerilla battlefield. Moreover, you will take part in many other experiencing activities such as special foods in these days, scrawling on the ground to visit sub-city under the ground...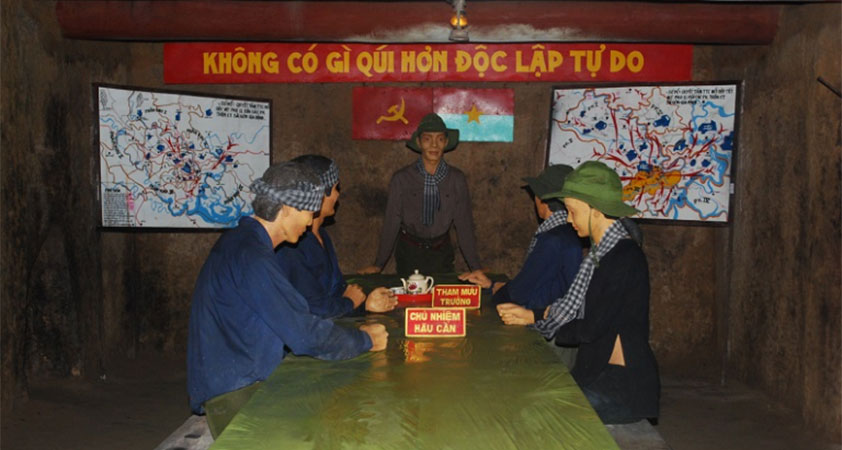 See more: Visit Cu Chi Tunnels with Ho Chi Minh city tour package | 1 day

3.  Notre Dame Cathedral
Another spot you should visit when taking part in
Saigon tour
is
Notre Dame Cathedral
- locates at the center of Ho Chi Minh city. After taking over Saigon in 1859, French people immediately built the cathedral for the sake of Catholics with the Roman construction style along with Gothic art. The cathedral was finished in 1890 for the cost of 2.500.000 franc at that time.
With 60,6 meters high, the Notre Dame Cathedral has a steeple owing six 20850-kilogram bells,  the heaviest ones in  Indochina at that time. Besides, a lot of delicate-carved white-stone figurines have been presented here. Outside in front of the cathedral is a Regina Pacis statue created in Italy then moved to Vietnam by waterway in 1959.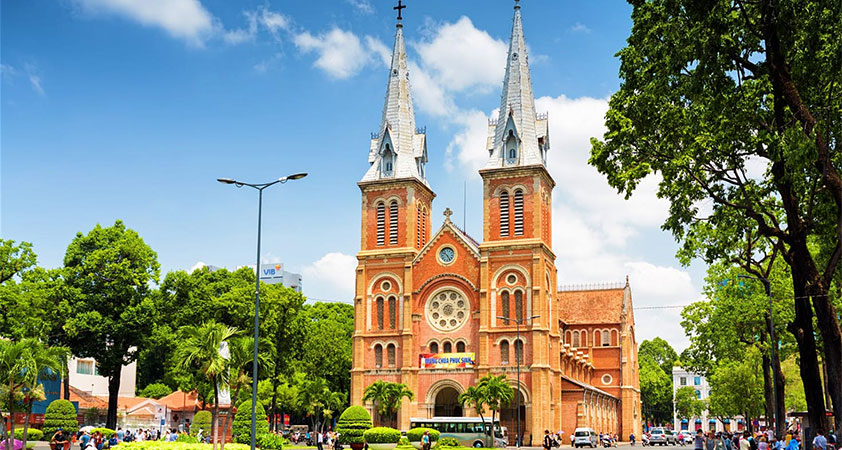 It is its unique construction that makes Notre Dame Cathedral an attractive tourist destination in every Ho Chi Minh city itinerary, a peaceful stop at the heart of Saigon city.

4. Saigon Post Office
After visiting Notre Dame Cathedral,
Ho Chi Minh travel
 will continue with
Saigon Post Office
next to it, one of the most typical constructions of this city. It is a perfect combination between France Gothic and Renaissance constructions. Travellers come here to partly admire the unique construction, partly get immersed in the ancient world, from the post office box to payphones, then stay comfortably on the vanished benches existing for hundred years.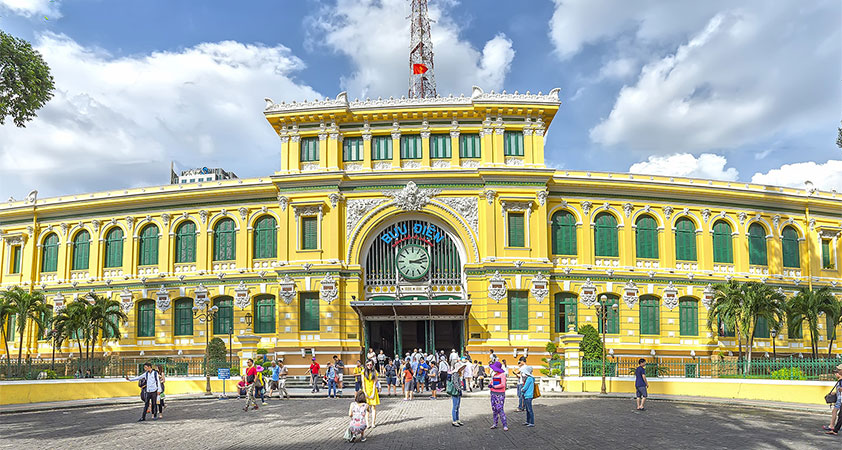 Up to now, the building is still the office center of the city with symmetrical construction. With the bewitching beauty beside the Notre Dame Cathedral and near the shopping center
Diamond Plaza
, the building is a mixture between the ancient and modern breath attracting thousands of travelers to go over there during their
Ho Chi Minh city tour
.
5. Floating market along Mekong river
If you take part in any
Saigon tours
, you should make use of this chance to enjoy a trip along
Mekong river
to some floating markets of adjacent provinces. In Western Vietnam, people usually transport by boat or sampan more than overland. Therefore, floating market has become a striking beauty of this area and developed as a typical type among 
tour in Vietnam
. 
The most famous market is
Cai Rang 
in 
Can Tho province
. This is not only the goods exchanging market but also the transit stop of fruit and other specialties to other areas in Vietnam. Unlike other floating market, Cai Rang opens from the early morning until the night. It is always animate like a mini-city on the river. Pedlars' boats can bring noodles, fruit juices or coffee to anywhere you are.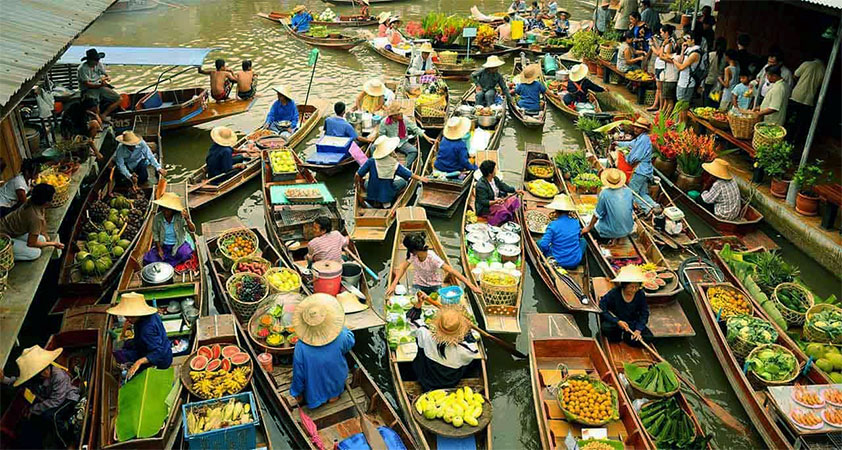 See more: 
Discovery of Mekong delta tour | 4 days 3 nights
They are only some typical destination during Ho Chi Minh city tour and Mekong river one. There are also many other locations where you can learn more about Vietnam landscapes and humans, then you will have an interesting journey here.