Filter tour
Vietnam Short Trips
As a developing country alongside the East sea with "S" shape, Vietnam is a beautiful destination for your vacation of your own or together with your family. There are three main areas in Vietnam that have different features of culture as well as geography, leading to the difference in tourism experience. However, the people there are all friendly, the landscapes are all catching your eyes and they are apparently worth visiting. The "S" shape also creates a different kind of climate for each area.

For the diversity in the beauty and culture of the country, if you have an intention to make a trip, especially just a short trip to Vietnam, you should consult the most convenient tour package in both time and hobby aspects. Galatourist, with our five advantages below, are glad to be your fellow during the journey:
Attractive Tour
Fully customizable
Serious local agency
Free custom quote
Off the beaten track
These destinations below are some choices for you, or you can contact
Galatourist
to have more details of your own journey. Then you will experience such a short but best trip ever.
7 best choices for short tours in Vietnam

1. Hoa Lu Ancient Capital
Hoa Lu Ancient Capital
is an artistic construction group in
Ninh Binh
and was recognized as one of four core parts of
Trang An
World Heritage. It is also classified as a national special historical heritage that needs special attention.
Hoa Lu used to be a luxurious and magnificent capital surrounded by a circle of rolling hills like an impregnable wall.
Hoang Long River
meandering and
Nho Quan - Gia Vien giant fields
play as natural strategic trenches protecting the capital against enemies. 
Especially there are two heritages
King Dinh temple
and Mohur tree built in the 17th century with the delicate art of sculpture on permineralized wood. Two rows of Mohur trees are grown along the road leading to these places.
It is a fortune if you have a
short trip to Vietnam
to visit Hoa Lu from March 8th to 10th to join the traditional festival with many different competitions such as sailboating, wrestling, Cheo singing (traditional music)... in an exciting atmosphere.
2. Trang An Grottoes
Another remarkable
Vietnam short trip
in Trang An World Heritage is a rowing boat in
Trang An Grottoes
. The special feature is that all the water areas are connected by water caves so that the travelers do not have to turn back. It takes about three to four hours to sail through the grottoes. 
The beauty and mystery here are so surprising that it is the place scening the film King Kong. Water caves connect to water caves. Mountains shape the wall surrounding the lakes and on the water are small islands. Far on the mountain cliffs are flocks of goats. You will take a seat on a boat sailing through the mountains, discover mysterious caves and the guide will introduce the names of caves and their legend.
Trang An is also considered as "Halong Bay on Lands", however, each
tour Vietnam
has its own beauty. It is not only the destination of sightseeing but also history discovery.

See more:
Discovery of Trang An grottoes and Cuc Phuong national park tour | 2 days 1 night

3. Duong Lam Ancient Village
Cheap package of Duong Lam ancient village tour in Hanoi 1 day
is one of the attractive tours of
short tours in Vietnam
, to learn about the land of
King Ngo Quyen
and
King Phung Hung
, whose tombs are still here.
Walking around the village with hundred-year red tile roofs,
Duong Lam
is also attractive with many brick roads, unique laterite walls which can catch your eye immediately if you are a photography lover.
There are some addresses you must visit when you come here: the
Gate of Mong Phu Village,
which was built in 1833,
Mong Phu Communal House
 with the architect style of Viet-Muong minorities,
Mia Pagoda
including a temple, Cua Phat Lien Hoa tower, crypts. Especially, there are houses existing for more than three hundred years such as the houses of these owers Duong Thi Lan, Nguyen Van Hung, Ha Huu The, Ha Van Vinh, Ha Nguyen Huyen, Ha Thi Dien,... They all keep a part of Vietnamese history.
4. Cu Chi Tunnels
Cu Chi Tunnels
is one of the most favorite
short Vietnam tours
. The main activity here is to visit Cu Chi Tunnels Vault. You will experience life under the ground in the war period, discover the tunnel system with a length of 120 kilometers for two grades. At the end of the system is
Hoang Cam kitchen
where you can taste some typical foods that the local residents used to eat when they hide here. 
Besides, there are many other parts surroundings you can visit. C
u Chi wildlife rescue station
is an example. Or in the
simulation area
of life in the war period, a lot of heritages and landscapes of Vietnam have been simulated such as Nha Rong harbor, Long Bien Bridge, Hoang Sa, Truong Sa, Sai Gon Bridge, One Pillar Pagoda,...
5. Perfume Pagoda
Perfume Pagoda
is indeed a system of many pagodas stretching from the foot of the
Huong Tich mountain
to the top, and Perfume Pagoda locates in the middle. To come here you have to take a small boat through a small stream to other temples and pagodas. 
There is a
Perfume Pagoda festival
held from luna January 6th to March. At this time, the area is always crowded with people from all over the country leading to a higher tourism and service charge. Therefore, if you just take
short tours in Vietnam
for sightseeing, you should come here in other months.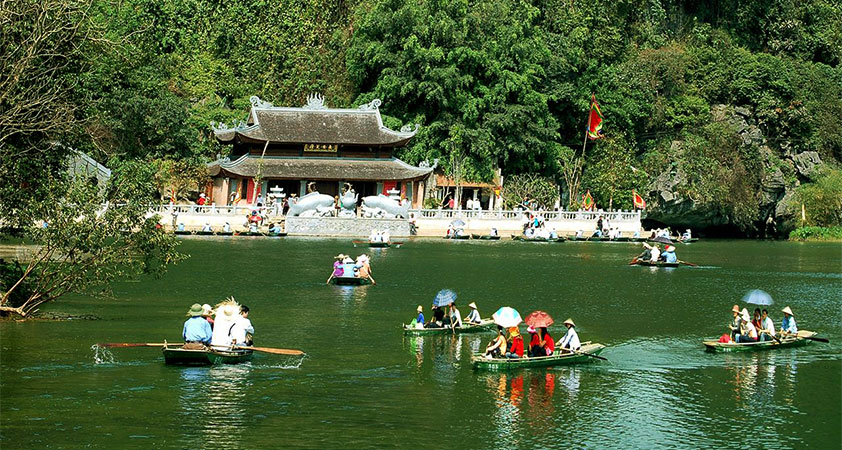 The perfect time to visit the Pagoda is December, October, and November when Water Lily flowers blossom on the
Yen Stream
, a favorite check-in and sightseeing place.

See more:
Vietnam heritage journey to Perfume Pagoda tour from Hanoi | 1 day
6. Bat Trang Pottery Village
Leave Hanoi center for more than 10 kilometers, Bat Trang Pottery is an interesting destination for 
short tours in Vietnam
. The village is famous for its long-standing pottery-making tradition. You will have the opportunity to see in person a market full of many different potteries with a variety of styles and shapes. The market is about 6000 meters long and the products here have both normal and high prices up to your choice. 
After that, you can visit
Bat Trang Ancient Village
beside
Red Riverside
to enjoy the peaceful atmosphere here. Bat Trang is also famous for squid and bamboo shoot soup and many other dishes of Vietnam such as noodles and Pho. Or you can make a trial to be a pottery-maker, create your own work as a special gift of your
short Vietnam tours
. The experienced potters will help you and complete your idea so it is no need to worry about your ability. 
7. Temple of Literature - Imperial Academy
If you choose Hanoi as the destination of your
Vietnam short trip
, you should take the chance to the
Temple of Literature
- one of 23 special heritages of Nation by Vietnam Deputy Prime Minister. This is a group of heritages including
Van lake
,
Temple of Literature area
,
Giam garden
, and the
Imperial Academy
, which is considered as the first university in Vietnam. Inside the heritages are five space layers with different architect styles.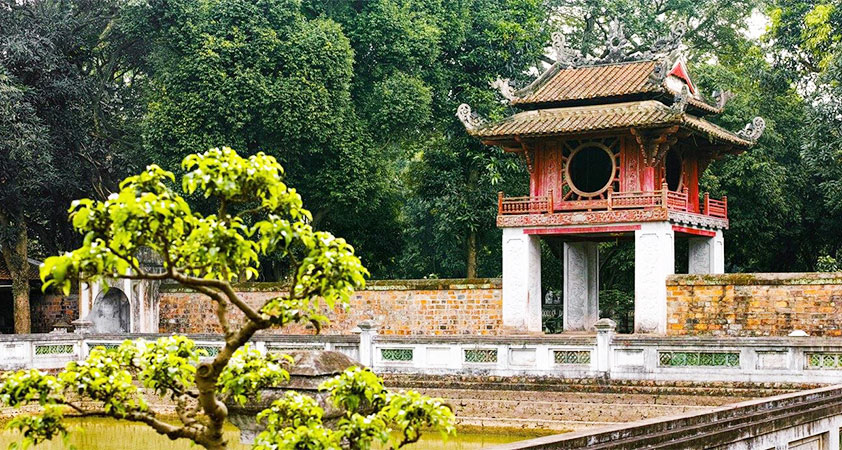 Having activated for more than 700 years, the academy provided education for thousands of excellent citizens for the country. Now people only hold education ceremonies here in January. Before important exams, Vietnamese students used to tend to come here to pray for a good result by touching the head of the turtles on
Stelae of Doctors
. However, it is now inhibited for the protection of the heritage. You can see its image on the 100000 Vietnam dong polymer pieces.
Then do not worry if you just have time for 
short tours in Vietnam
. As a serious tourism agency, we provide a variety of package choices for you to have the best trip at a reasonable price.
Contact
us now to get our support.