Top 17 best places to visit in Ninh Binh, Vietnam
Ninh Binh Province, with a wild system of nature full-ranged landscapes, has recently become an outstanding destination among both domestic and foreign tourists. Follow the article to learn more about this attraction.

I. Where is Ninh Binh Vietnam ?
Only about 100 kilometers far from
Hanoi Capital City
,
Ninh Binh province
is an attractive place to visit. There are a lot of attractive
Ninh Binh places to visit,
not only a full range of mountains and streams but also a popular system of sacred places. In each season, Ninh Binh has a specific charm so that tourists can come to visit whenever possible. We will show you a list of
Ninh Binh what to see
.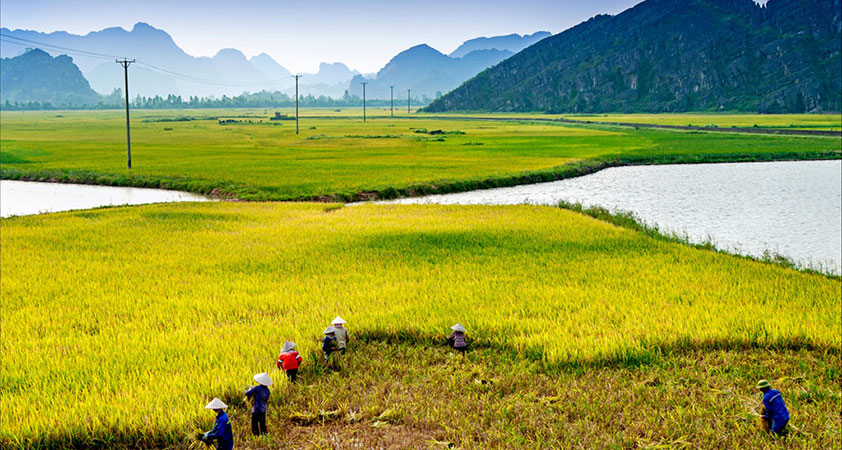 Most of the experienced tourists when visiting the place have been surprised at the majestic but also poetic beauty of places to visit in Binh such as Trang An landscape complex, Tam Coc - Bich Dong, Van Long,... Each of them is has a typical beauty that is not repeated, so that tourists will not certainly find it boring during the tour vacation.

II. Best time to visit Ninh Binh
Ninh Binh has monsoon tropical climate with four separate seasons. The average temperature is 23°C, but it can reach 36°C in summer and goes down to 13°C in winter. If you are going to have a tour here, you should choose the spring. It is especially suitable for any tourists taking part in the 
Bai Dinh Pagoda Ninh Binh festival
or other temple and pagoda tours.
Moreover, in late May and early June, you can admire the yellow paradise on the ripen rice fields in
Tam Coc cave
and have nice pictures of the blue sky.


III. How to get to Ninh Binh ?
Most of the 
places to visit in Ninh Binh
are not too far from Hanoi, and tourists can hire a motorbike to visit them. However, Vietnamese transportation is quite complex and foreign tourists had better have a prestige agency make the itinerary so that you can make use of your time and have the best journey ever.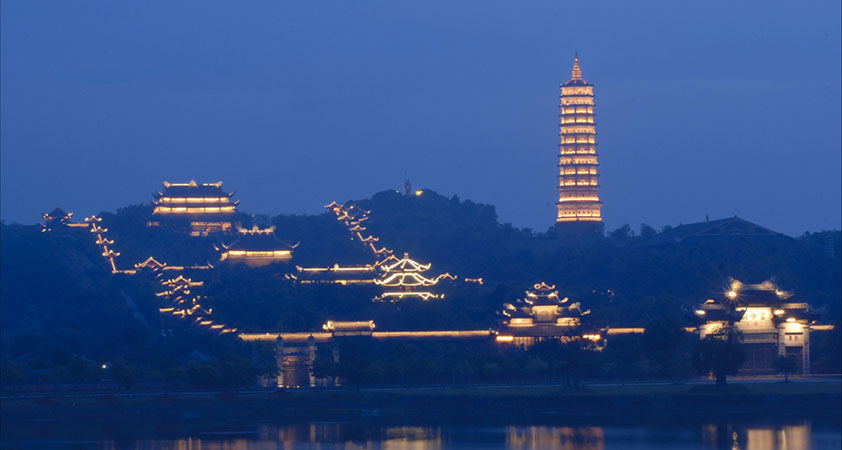 IV. Best places to visit in Ninh Binh 

1. Trang An landscape complex - Discover the legendary beauty of Ninh Binh
If you ask any local resident
what to see in Ninh Binh
, 
Trang An landscape complex
maybe the most popular answer. With the wide landscape, it has been recognized as the world's natural and cultural heritage. The scenery is contributed by long rivers going through huge limestone mountains, creating a hundred number of natural caves hidden mysteriously and gloriously. Tourists usually take a boat to discover the place.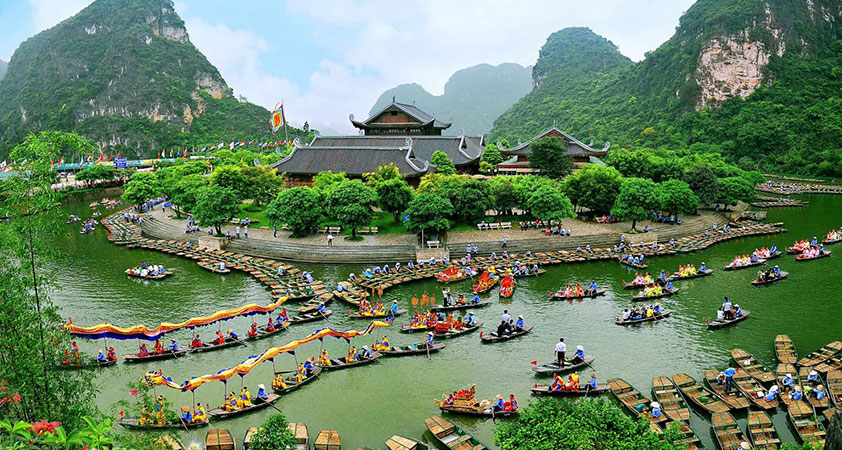 2. Mua cave - The hottest attraction in foreigner's eyes
One of
Ninh Binh attractions
for a walking tour is
Mua Cave
. It
is on the foot of
Mua mountain
in
Dau Ha Commune, Hoa Lu
. You will challenge yourself by climbing 186 steps to reach the mountain peak, where you can admire the overall beauty of the Tam Coc area with endless green rice fields and small boats floating on the river., which are typical for
things to see in Ninh Binh
.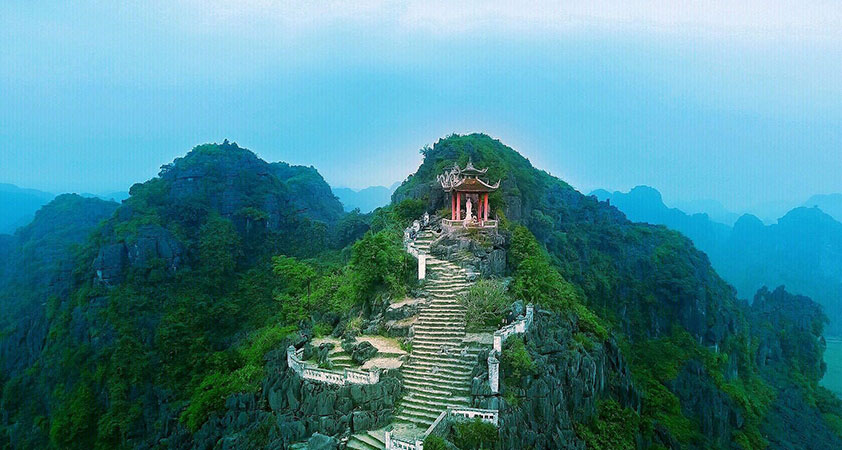 3. Bai Dinh pagoda - The majestic beauty among a peaceful atmosphere
Located 15 kilometers far from Ninh Binh city,
Bai Dinh Pagoda
is the biggest complex of pagodas in Vietnam and have been received many records such as the greatest bell in Vietnam, having the highest and heaviest copper Buddha statue in Vietnam, having the biggest well in Vietnam, having the most stone arhat statues in Vietnam. It is one of the
places to visit in Ninh Binh
for tourists searching for peace and quietness. Come to enjoy the paradise-like scenery.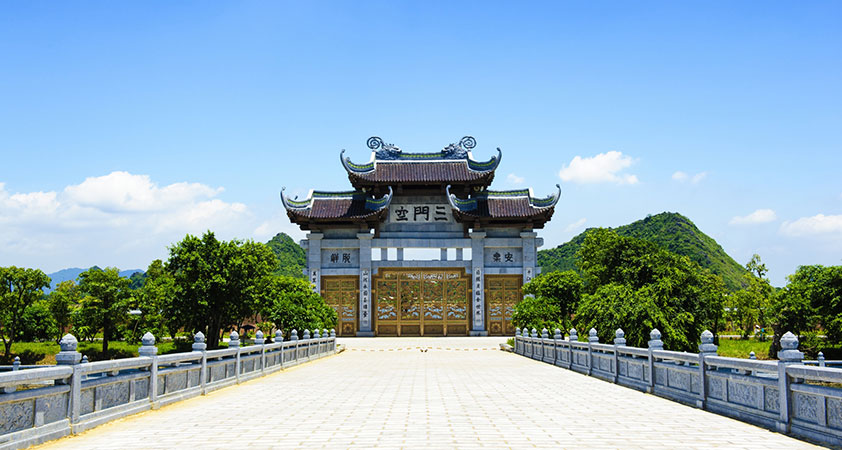 Hoa Lu Ancient Capital
is an important national place of Vietnam, also one in four main areas of
Trang An World Heritage Complex
recognized by UNESCO. The place is related to the lifetime of some Vietnamese historical characters. It is because Hoa Lu has been the first capital of Feudal Vietnam in the past. Nowadays, it becomes one of the unmissable
Ninh Binh places to visit
for the specific and unique architecture left.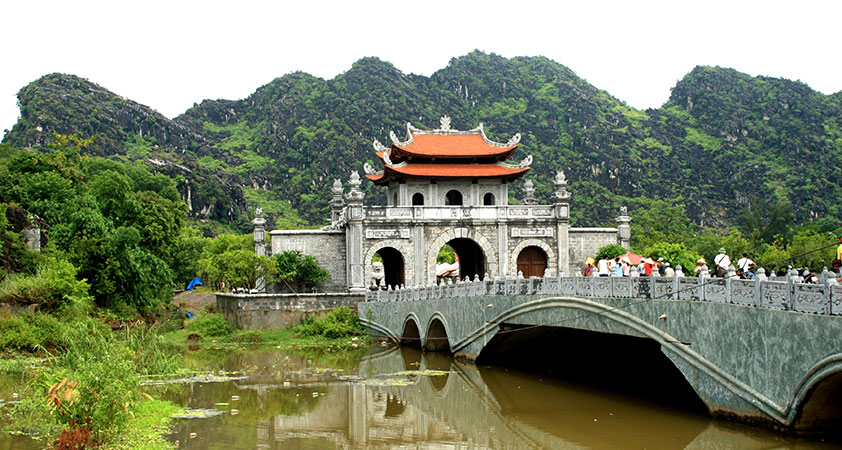 Cheapest tour ever: Have a classic experience throughout the country in Vietnam tour 12 days


5. Dinh and Le dynasty temples - The most sacred worship area in Ninh Binh province
King Dinh Temple
is located in Truong Yen Commune, Hoa Lu, Ninh Binh Province. It is the only place to honor King Dinh Tien Hoang and his family including his parents and sons. Besides,
King Le temple
is also a national cultural heritage belonging to 
Hoa Lu Ancient Capital
heritage. The temple is the place of worship for King Le Dai Hanh, his mother Duong Van Nga and other important characters. It is 300 meters far from King Dinh temple and quite smaller, which brings about a close feeling to tourists.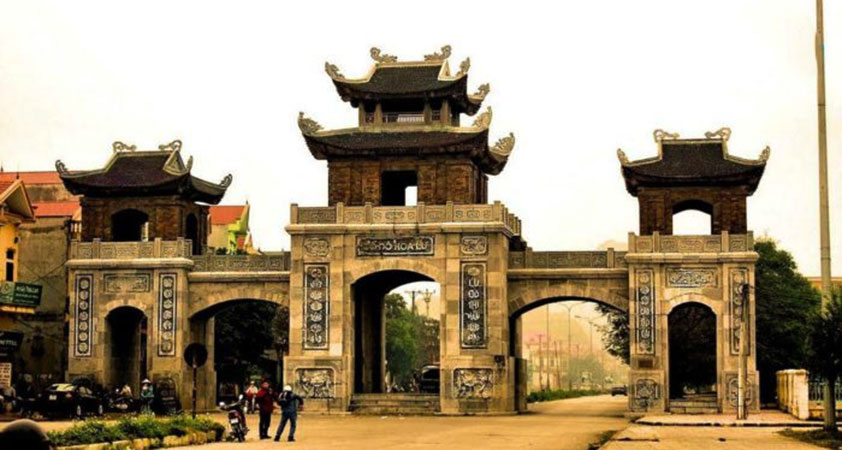 Dinh and Le dynasty temples
have been listed in the top 100 famous 100-year-old-structures in Vietnam and always the popular 
things to see in Ninh Binh
.

6. Tam Coc - Have an adventure in this fairy-like wonderland
Tam Coc, which means "three caves" in Vietnamese, includes Ca Cave, Hai Cave and Ba Cave. They are all created by
Ngo Dong River
go through the mountain. It is 90 kilometers far from Hanoi and considered as "Halong on the land" (Halong Bay is one in seven wonders of the world in Vietnam) with a full-range landscape. Especially, the attraction has been in the American film "Kong: Skull Island".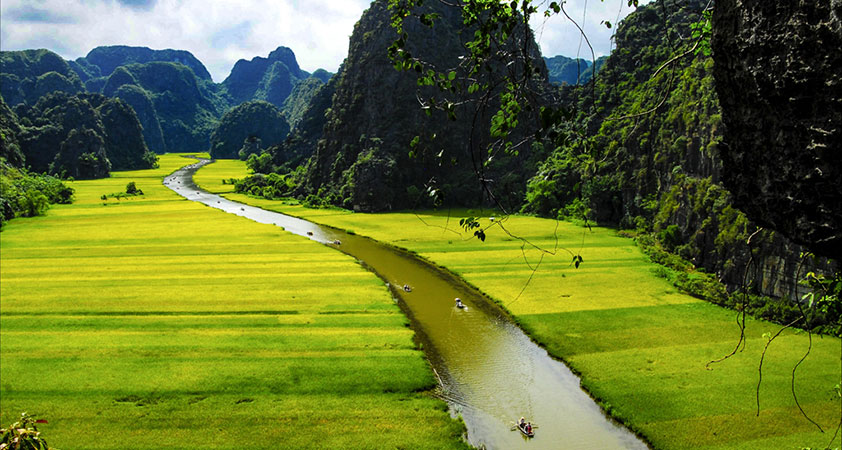 7. Bich Dong pagoda - The atmosphere is truly one of a kind in the area
Besides Tam Coc, Bich Dong is also one of the most popular
places to visit in Ninh Binh
. It is indeed an ancient pagoda hidden in the mountain about 2 kilometers far from
Tam Coc Wharf
. Legends said that it used to be called Green Mountain until King Trinh Sam came across and renamed it due to the outstanding landscape. This beauty is the perfect combination of the mysterious cave, mountain, river, stream and the creation of the humans.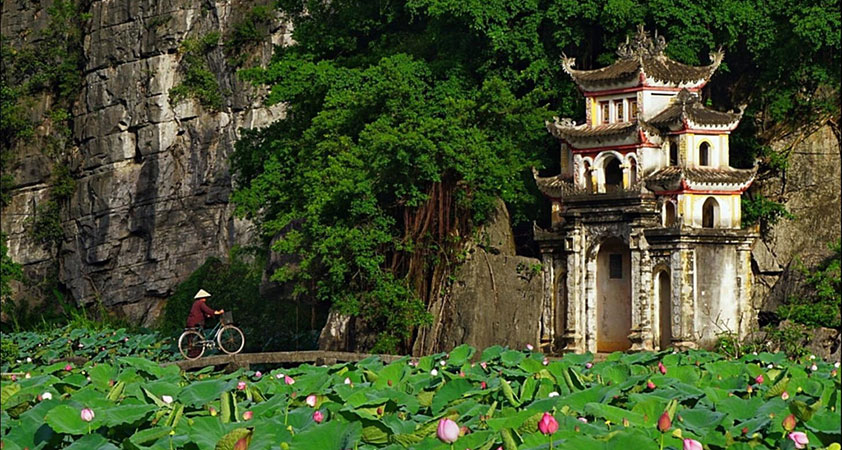 8. Thung Nham bird garden - A perfect combination of natural beauty and artificial creation
Thung Nham bird garden
is in
Ninh Hai Commune, Hoa Lu District
. It is one of the 
Ninh Binh places to visit
that have all the factors of culture, workship, scenery and biological diversity. Located five kilometers far from
Bich Dong Cave
, the attraction gives tourists an interesting journey to visit the moving banian tree, a thousand-year-old toothbrush tree, fruit garden, love valley
, Vai Gioi Cave
, fairy cave, the original forest on the limestone mountain,...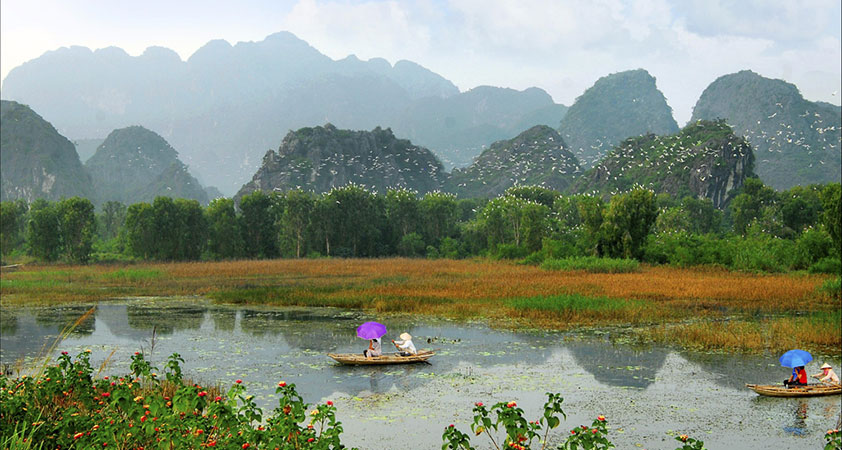 9. Linh Coc - Hai Nham - check-in with the endless yellow background of rice fields
After visiting
Bich Dong Pagoda
and returns the river wharf, tourists will be carried on small boats to
Linh Coc Hai Nham
. This is time for admiring the outstanding landscape in front of your eyes. There is no discrepancy among the scenery of
Ninh Binh what to see
including mountains, fields and the river spotted with sparse limestone hills.
It takes 30 minutes to reach the first spot, Chua Cave. The cool and fresh atmosphere at the heart of the cave will certainly help tourists refresh their minds. Going through the cave, spend time to enjoy the huge green valley surrounded by limestone hills, green garden and modern resorts available.

10. Van Long Nature Reserve - "The bay with no tides" among a grand landscape of mountains
Van Long Nature Reserve
is in Gia Vien District, Ninh Binh Province. It is a wetland area, also called "the bay without tides" for its attractive scenery. Take a boat and discover the landscapes surrounding such as Mam Xoi mountain, Meo Cao mountain, Hom Sach mountain,... However, the water is not as blue as the sea, but you can even see the bottom. The area have a thousand of caves, many of which are worth
 things to see in Ninh Binh
like Fish cave, Bubble Cave, Tortle Cave,...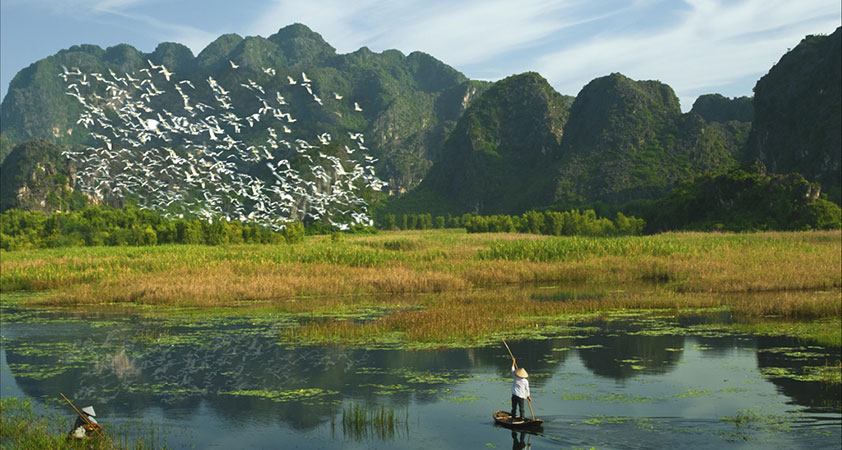 11. Thung Nang - A sunshine valley catches your eyes with its own elegance
You have to take a boat in three kilometers to reach
Thung Nang
, which owns a variety of
what to see in Ninh Binh
. From
Thach Bich River Wharf
 (Tam Coc - Bich Dong), immerse yourself in an open space of the valley full of sunlight, as the name related. It is hard to find such a quiet atmosphere in your daily life. Two sides of the river are covered in green, spotted with small houses of the locals. You also see an ancient construction called
Voi Temple
having existed for hundreds of years.
Tuyet Tinh Coc
is in the area of
Am Tien Cave
, surrounded by a wide range of mountains. It looks like a fairy paradise that you often see on Chinese martial arts films. From
Tuyet Tinh Coc
, you can follow one in two artificial tunnels, then take 250 steps to reach the cave mouth. There is an ancient citadel wall from which you can capture all the scenery of the lake and mountains. At some seasons, the number of tourists visiting the place rises. However, the environment is always kept clean.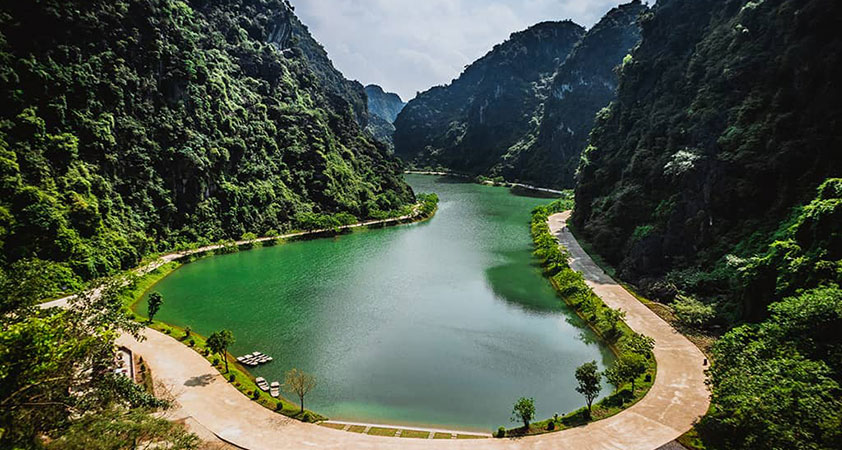 13. Kenh Ga wetland or Chicken Canal - The special experience only in the local hot spring 
The spot must be in the list of
Ninh Binh what to see
.
Kenh Ga
is indeed a floating village in Gia Thinh Commune, Gia Vien District, Ninh Binh Province. It is mostly famous for a hot spring which is only one kilometer from
Van Trinh Cave
. The spring is originated from a mountain on the village and flows into Hoang Long River. Water on the attraction is colorless and odorless with an average temperature falls at 53°C.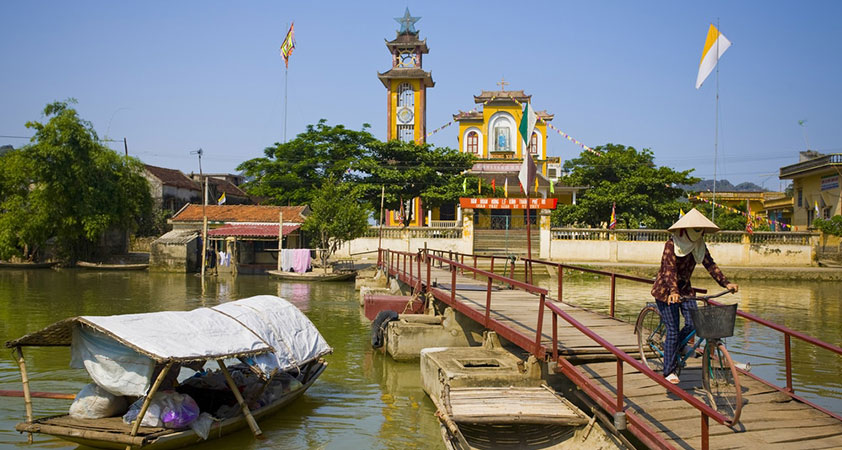 14. Cuc Phuong National Park - An exciting visit to the home of thousand butterflies
Cuc Phuong National Park
is a nature reserve belonging to three provinces: Ninh Binh, Hoa Binh, Thanh Hoa. It has a diverse system of flora and fauna typical for a tropical rainforest. The attraction is one of the most famous 
Ninh Binh places to visit
in terms of biography and environment. Tourists choose the place to discover the forest, take part in eco-tours, resort, camping, learn more about the culture and history.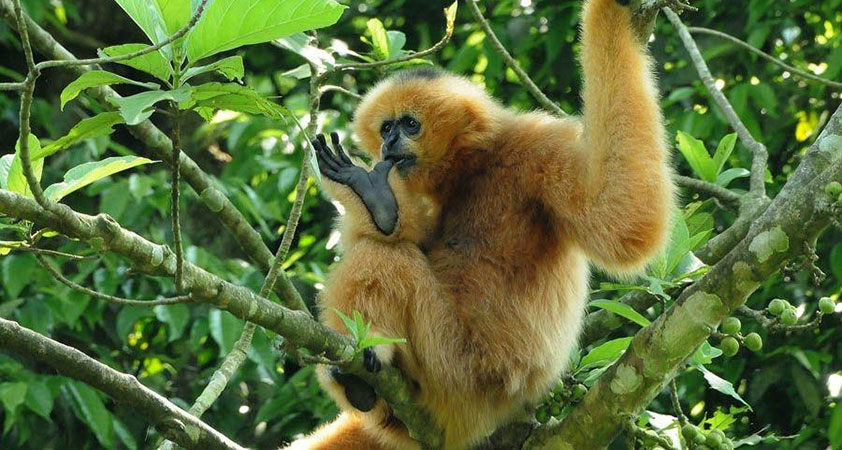 15. Phat Diem cathedral - Get excited at the unique architecture of the construction
Phat Diem Cathedral
, a stone construction, is a complex of many Catholic cathedrals which is 22 hectares wide at
Phat Diem Town, Kim Son District, Ninh Binh Province
. It is recognized as one of the most beautiful cathedrals, also called "Catholic capital", in Vietnam.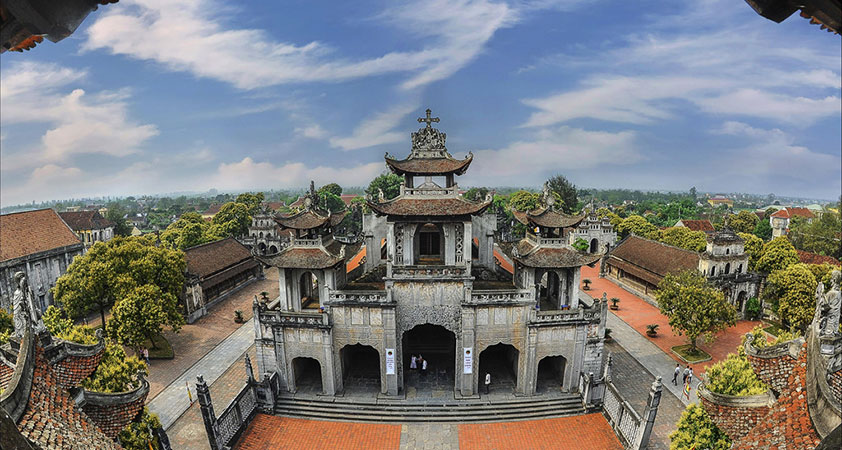 The architecture was brought into construction in 1875 and finished in 1898. It was built completely by wood and stone. Although it is a Catholic construction, it followed the traditional style of temple and pagoda of Vietnam, contributing to the unique feature that you can not find in any cathedral.

16. Kim Son sedge village - Have real experience with warmhearted local craftsmen
The local residents in Kim Son village have earned their living with sedge for hundreds of years. It may be the environment that creates natural quality in each local person to be a well-skilled sedge maker. They are all dexterous, clever and have a great appreciation for their job. Therefore, their products are gradually popular and favored by not only domestic but foreign users.
If there is a chance, it is suggested to visit the village in May and October in the lunar calendar. At this time, tourists will see in person the endless scenery of edge harvesting. This will strike on your mind immediately with a wild beauty when sedge flowers turn into soil-like brown color and gentle flavor spreads out the attraction.

17. Thien Ha ( Galaxy) cave - A mini galaxy made of thousand stalactites in strange shapes
Thien Ha Cave
is a natural attraction on
Tuong Mountain
in the east of Son Ha Commune, Nho Quan District, Ninh Binh Province. Thien Ha and
Thien Thanh
are two natural heritages in the complex of Trang An world heritage, also popular
things to see in Ninh Binh
. It hides deep in the
Trang An Mountain range
, which is considered as a high lookout to protect
Hoa Lu Capital
in the past.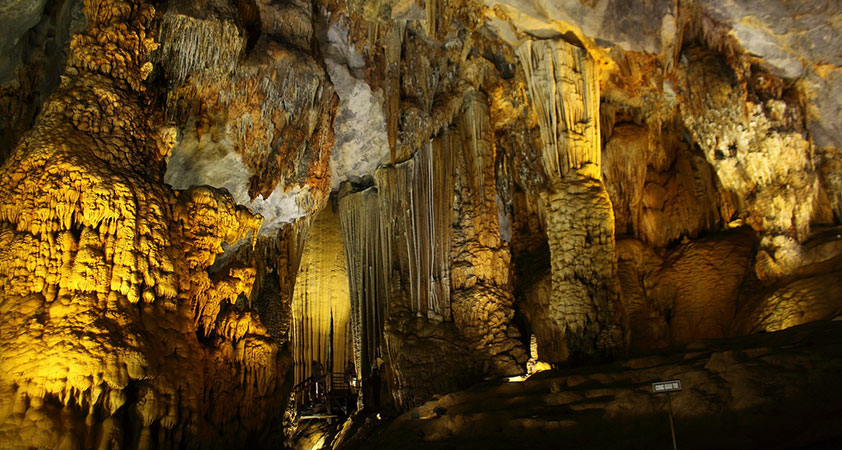 Thien Ha is a nice cave including both the dry and the wed ones, famous for a diverse system of stalactites. For its outstanding attractiveness, it is also called a galaxy in the mountain. Nowadays, together with Thien Thanh, it has been developed into famous
places to visit in Ninh Binh
Province.

V. What to eat in Ninh Binh ?

1. Scorched rice - A simple gift made by ingenious local women
Tour Ninh Binh
will not be perfect if you have not tried some specialties here. Rice is a popular ingredient in Vietnamese recipes, but Ninh Binh scorched rice is a special one that you should try when visit the place. It is not a traditional food, but a local person has invented and gradually, it is well-known throughout the country. The special flavor is created thanks to a complex recipe, from ingredient choice to the dry period.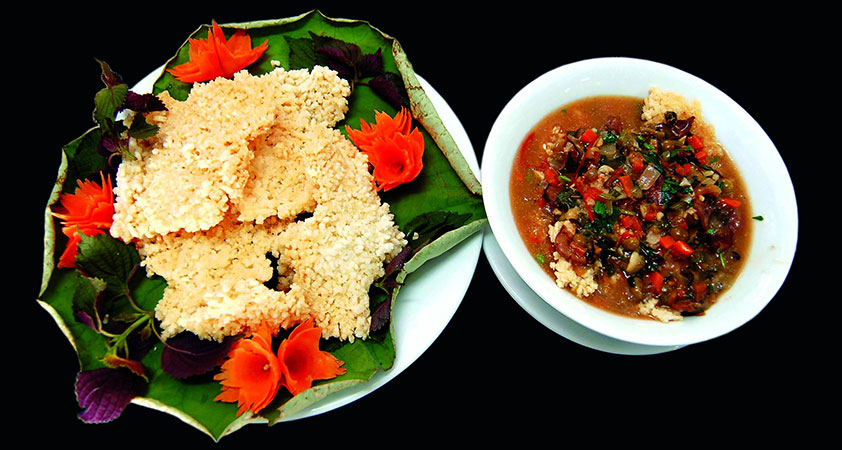 There are some kinds of scorched rice for your choices: Scorched rice topped with pork floss, mixed scorched rice, scorched rice and goat meat soup... Each of them has a typical flavor completely different from the others.

2. Mountainous goat meat - The special flavor you can find nowhere else in the world
Ninh Binh goat meat is typical for its tightness, fat-free and sweet-smelling. It is because the goats are raised on local rocky hills and mountains. They have to go around to find out their foods which are mostly qualified herbs and vegetables. Moreover, the dish is more delicious when enjoyed with some local veggies.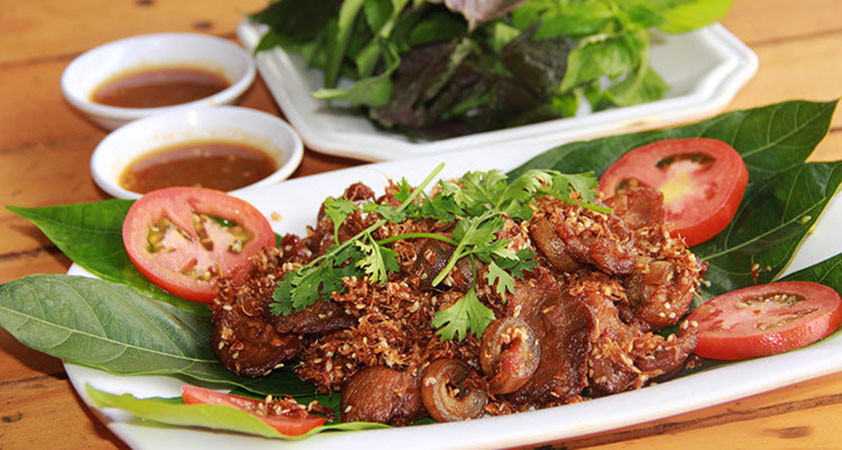 3. Mountainous snails -  A local cuisine with complication and perfection
This kind of snail is hard to find because they only live in rocky shelters and only come out to find food and breed from April to August. Tam Diep, Yen Mo, Nho Quan, Hoa Lu mountain ranges are the home of theirs. Local people have to go to the mountains in the early morning to collect them. The meat is gently sweet and included in different dishes such as grilled snail, roasted snails with tamarind, boiled snails with ginger and citronella,...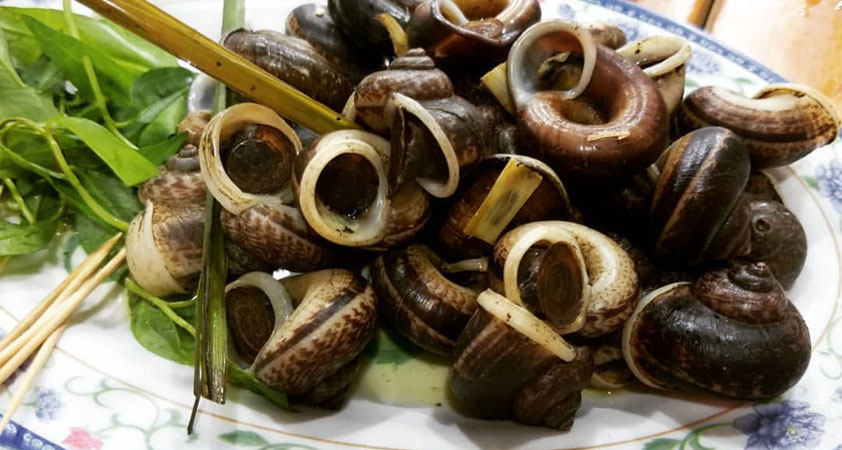 For this information, we do hope there is no worry about Ninh Binh places to visit. Spend them enjoy yourself and get more energy for your upcoming events. Contact us if you have any more questions.
ONLY WITH US : 100 % MONEY BACK GUARANTEE within 10 days from the date of booking if not satisfied.
For further information, or simply a free quote, please
contact us
at any time via our email:
info@galatourist.com
, our experienced consultants will reply to you within 48 hours.
Sincerely yours & see you soon!
GALATOURIST
since 2005.