Filter tour
Myanmar Beach Holidays
Myanmar
is known as the homeland of "
Golden Pagoda
" with a cultural and constructive favor of Buddha. However, it is also famous for
Ngapali beach
with the seven-kilometer seashore. The most suitable time for a
Myanmar beach holiday
on Ngapali is from October to May of the next year. At this time, you will have the opportunity to immerse in perfectly blue water with a white sandy seashore. 
Let
Galatourist
be your trustworthy fellow on your
Myanmar beach vacation 
for the following reasons: 
Free quote within 24h
Rate without intermediary
Off the beaten track
Fully customizable
Attractive Tour
Please
contact
us for more suggestion and enjoy your travel every moment of your own !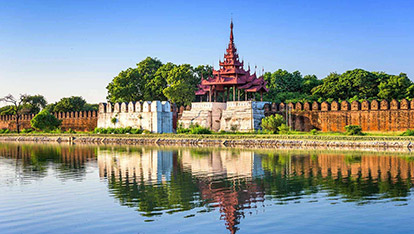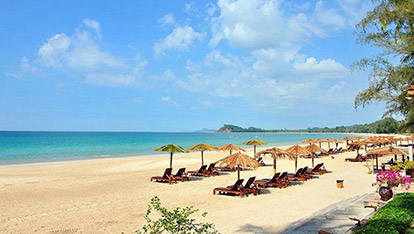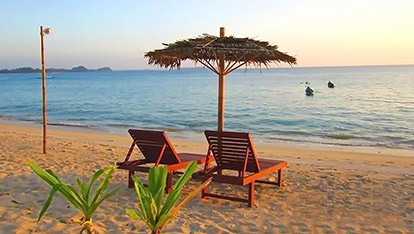 7 exciting activities on Ngapali Myanmar beach holiday

1. Relax on the beach
When going on
Myanmar beach holiday
on Ngapali beach, you will get a fantastic feeling without worry or stress, just lie on the seashore and enjoy a cool drink juice. The beach has a length of seven kilometers with rows of coconuts, white sandy, and yellow sunshine. You can see the sound atmosphere together with a clean environment. Especially, the local residents here will not bother you but keeps the atmosphere as peaceful as possible.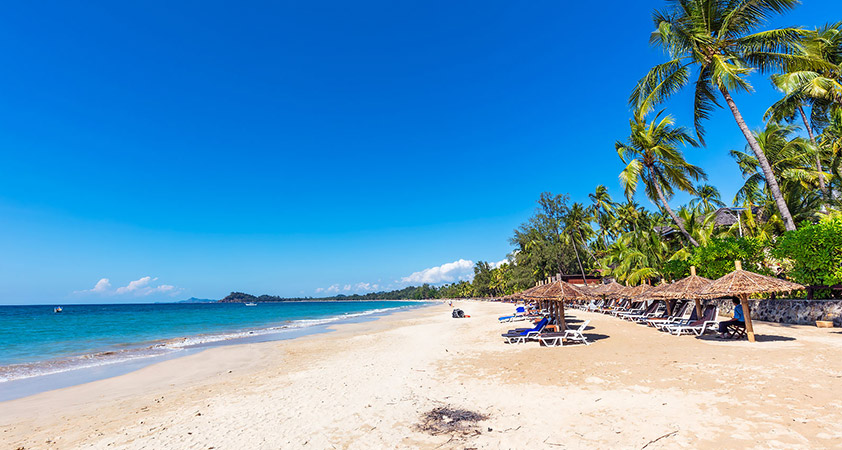 The best time for a relax on the Ngapali is in October. For travelers looking for tranquility, Ngapali
Myanmar beach tour 
is worth considering.
2. Enjoy Fresh seafood
Although the beach still keeps the wild natural beauty, the services here have developed recently for the development of tourism. Not all the restaurants are so good, but you can easily find the consultancy to have a great meal during the
Myanmar beach vacation
. Most of the dishes are made of local fresh seafood which is then cooked in Asian cuisines or Myanmar style. They include grilled shrimps, seafood curry,...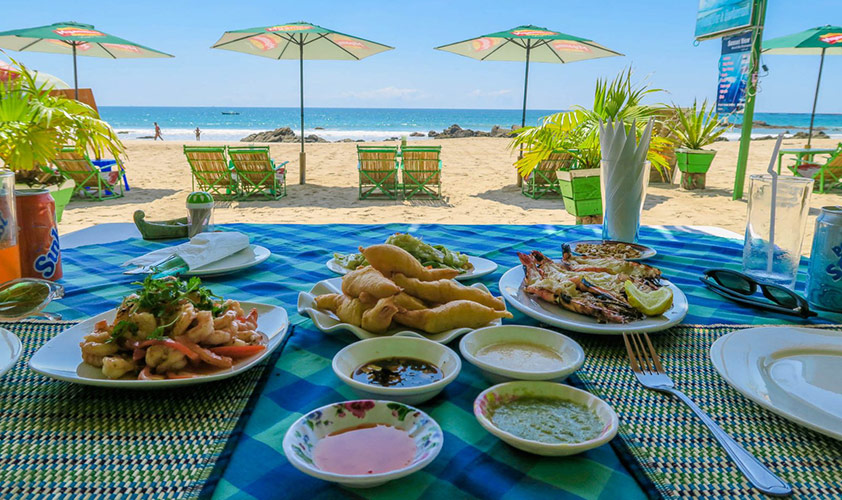 Top 5 most high-appreciated restaurants that you can have a trial are
Seagull Seafood Restaurant, Sea Queen, Ngapali Kitchen, Ocean Pearl, and Original Sunset View Beach Bar & Restaurant
.

See more:
Experience tour of Myanmar and extension in the beach Ngapali | 12 days 11 nights
3. Water games
After relaxing on the beach, you can continue to go fishing along the seacoast. The local fishermen who are full of experience will help you to have a fun journey. Or you can hide a boat to discover other islands which are far from the coast to capture more images of the Ngapali. Besides, the most popular water game is scuba-diving which is available for even inexperienced travelers. A completely new world deep under the sea will certainly surprise you. The beach is famous for a diversity of sea organism and colorful corals.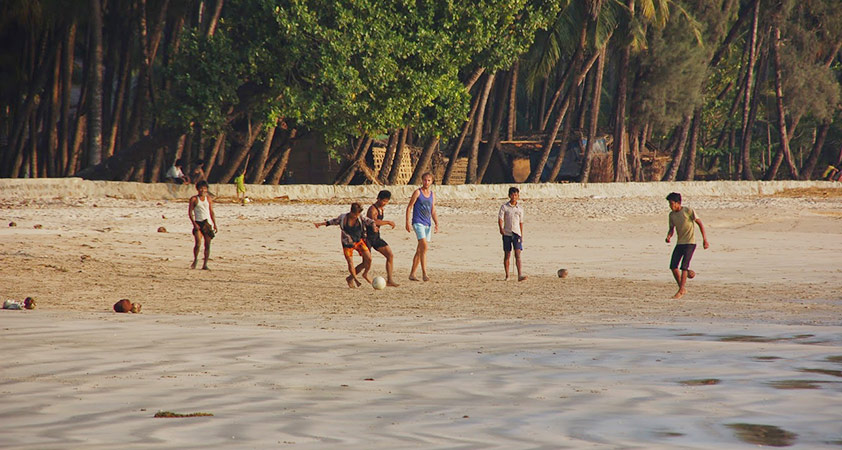 Moreover, if you are good at swimming, snorkeling is another impressive choice for an exciting Ngapali
Myanmar beach holiday
.
4. Visit fishing village
To have an understanding of the local daily life, a visit to fishing villages near the beach is recommended for you. You can combine the visit with the ride tour or boat tour of
Myanmar beach tour
package. At the afternoon, you can go around some villages such as
Thandwe
- modern but not too luxurious, famous for the market, the fishing village
Jate Taw
with many carefully-prepared resorts or hotels, or other traditional agricultural villages.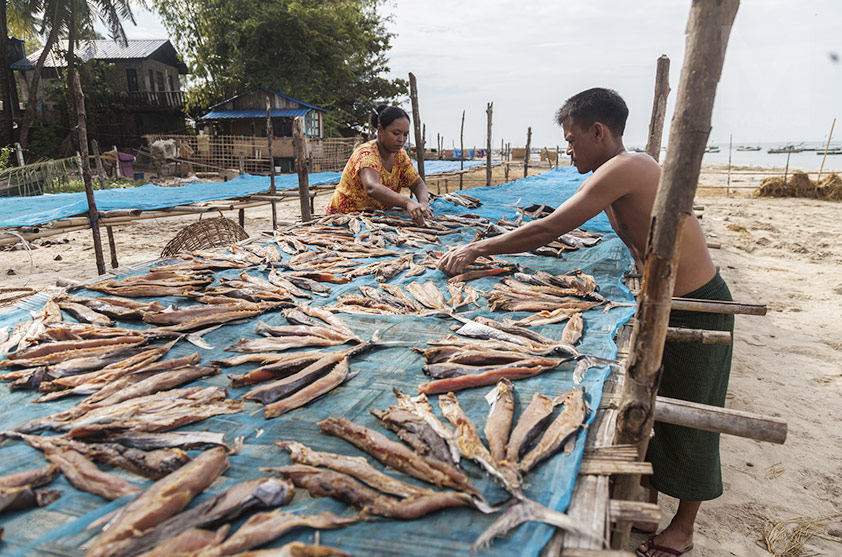 With the friendliness of the local citizens, you will be warmly welcomed and have experience of discovering the natural and cultural beauty of the "Golden pagoda" country Myanmar. 
5. Ride horse along the beach
Besides walking on the beach, the choice of riding on the Ngapali beach is another exciting choice that many tourists have been satisfied with. The local service has recently provided this new experience in Ngapali beach tour that travelers can free go around to discover the seashore. From the seashore, you can easily access to some near villages to discover the daily life of local fishermen. 
As Galatourist's suggestion, the climate in October is the most perfect for
Myanmar beach vacation 
moments listening to the bird melody, the sound of trawling and the laughter of the local men. 

See more:
Amazing Myanmar beach travel itinerary 2 weeks | 14 days 13 nights
6. Experience Modern Resorts
As an attractive destination, Ngapali has a range of hotels and resorts which are both modern and safe for travelers. They not only provide a place to rest at night but offer many relaxing services such as restaurants, spa or swimming pools. Moreover, the staff are all friendly and well-trained so that you will not have to bother for any reasons.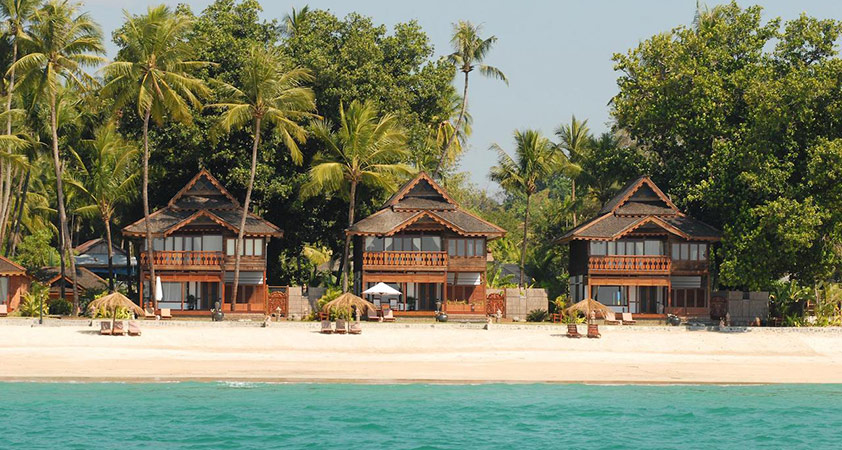 The prices are different at each hotel or resort. Therefore, you have a wide choice to get the most suitable one for your Myanmar beach tour. According to some famous review websites, there are 5 best hotels, resorts and spa including Amata Resort and Spa, Amazing Ngapali Resort, Bayview - The Beach Resort, Jasmine Ngapali Resort, Thande Beach Hotel. 
7. Combine the tour with other attractions
Myanmar is famous for its mysterious religious constructions that capture the traditional culture features. Therefore, to bring the best value for the money of tourists, Galatourist offers many destinations included in the
Myanmar beach holiday
package. During the journey, you will have chance to visit nearby cities such as
Mandalay, Bagan and Yangon
.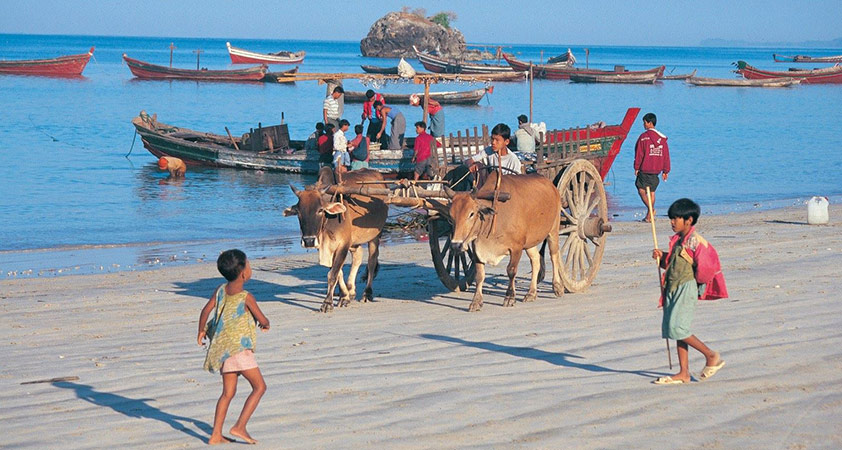 For example, you will visit Mandalay, a booming and vibrant city located on the banks of the 
Irrawaddy River
, which is known for 
Mahamuni Pagoda 
and 
U Bein Bridge
. Then you will discover 
Yoke SoneKyaung monastery
of Bagan city... Each city has its own unique beauty which is all worth visiting.

See more:
Best price of nice trip in Myanmar beach | 12 days 11 nights
Ngapali
Myanmar beach holiday
is considered as the best
Myanmar tour
, not only for recreation and tourism but also the discovery of local culture. Not including heavy industry and chemical waste, the beach is perfectly beautiful and safe. Contact
Galatourist
to have more information for the journey.