Attractive and impressive experiences in Yangon, Myanmar
Yangon is one of famous places in Myanmar, where well-known tourist attractions, tourist services are diverse and attractive. If you want to enjoy adventure travel in Yangon Myanmar, you should read the post carefully to known about wonderful experiences in there.
1. Visit Shwedagon temple
Myanmar has long been considered a sacred land of Buddhism with gold pagodas. This symbol has become the pride of the people of Myanmar, and one of them can not fail to mention Shwedagon Pagoda. Built over 2,500 years ago, the Shwedagon pagoda was the home of eight Buddha hairs. The main tower of the temple is 98 m high and covered with over 30 tons of gold and hundreds of diamonds.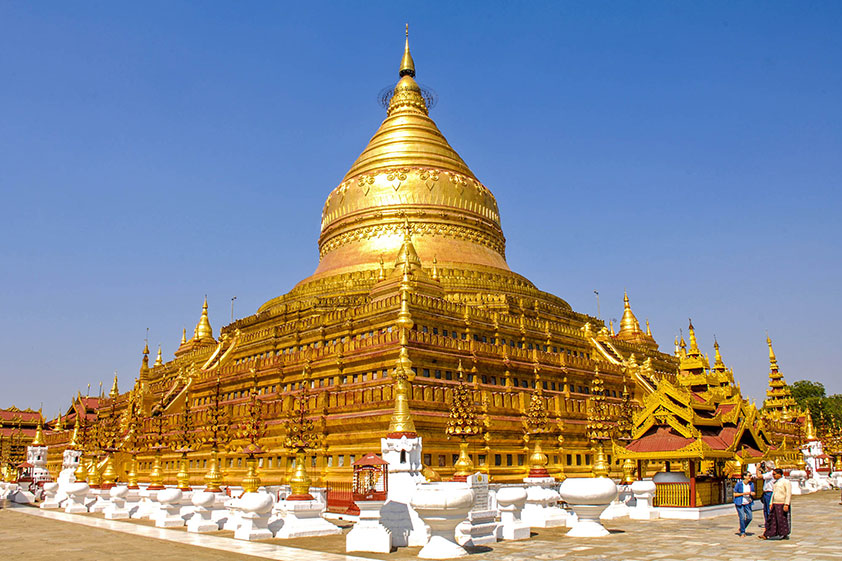 Furthermore, when visiting Yangon, you can come to Shwedagon Pagoda at any time of day, you will be overwhelmed by yellow. However, at different times, the yellow color will turn into a different level, which makes this place a less attractive attraction for tourists.

2. Discovery of Botataung Pagoda
After visiting Shwedagon Pagoda, the next destination is Botataung Temple, an interesting sights in Yangon. The temple is located along the river bank of the city, the name of the temple means thousands of generals, because it was built with the contribution and support of military generals in Myanmar.
The first impression for tourists visiting the temple will be dazzled by the bare ceiling and the walls of the temple are gold plated. This temple also holds a treasure that is the harem of the Buddha. Just pure and formal space will help visitors better and retreat comfortably.

3. Shopping handicrafts and jewelry at Bogyoke Aung San Market
Bogyoke Aung San, the largest in Yangon, was built in 1926 with British architecture. This market is always busy, and customers in this market are mostly foreigners.
Bogyoke Aung San is considered as a miniature Myanmar, because you can find any unique items of Myanmar culture here. However, visitors to the Bogyoke Aung San Market most often ignore the shopping of handicrafts, and especially the elaborately designed jewelry is here.

4. Visiting the area around Sule Pagoda
Sule Pagoda is not only a pagoda with religious and historical significance, but also serves as a landmark for this city, because it  is at the center of the crossroads which is the largest and most beautiful roads in the city.
Therefore, after visiting the pagoda's door, visitors can stroll on the side streets and feel a nostalgic Yangon, still preserving many colonial vestiges with ancient buildings or European style such as City Hall, Independence Hall, Mahabadola Park and etc. Like other famous old town in the world, this place is also an ideal place for souvenir shopping and photographic memories.

5. Travel around local markets
For travelers, there is no better way to experience the lives of locals by exploring cuisine, through local markets. In addition, exploring the colorful markets of Yangon will bring you an exciting experience.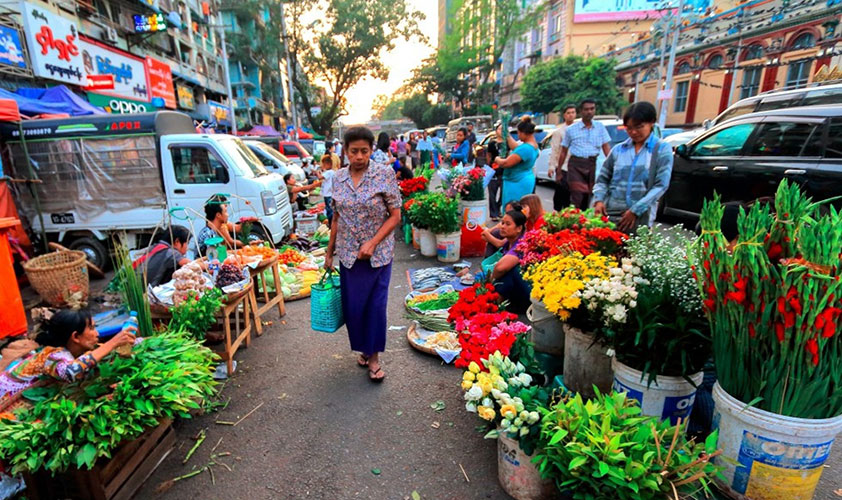 Next to the famous Bogyke Market, there are many other attractive markets in Yangon, especially the markets located on the curbside. Although it is a street market, here you will find a full range of valuable food items from meat, fish, eggs, cheese, and even the charcoal ice cream, which is usually local people used to apply on the face to make sunscreen.

6. Enjoy cuisine at China Town Yangon
Extremely bustling are the words that travelers favor the Chinatown in Yangon. When visiting there, visitors will be immersed in the shopping paradise with a variety of goods such as clothing, electronics, souvenirs, antiques, musical instruments, and etc.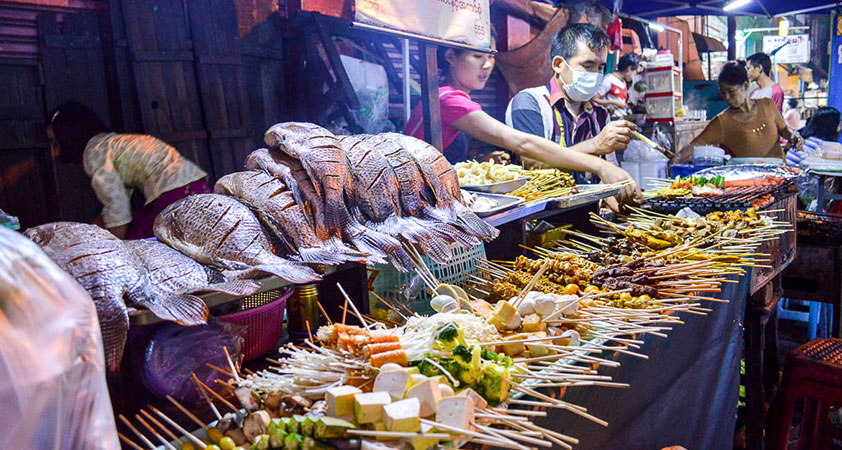 However, the most special feature in China Town Yangon is the dining area which is always busy guests, even always lights all night. Moreover, traveling to the place, you can enjoy the specialty snacks of Myanmar such as cake, coconut milk quail eggs, Shan noodles ... or enjoy the tropical fruits such as watermelon, durian, mangosteen and etc.

7. Relax at Kandawgyi Park
If you are a nature lover, and want to take a stroll in a quiet place, Kandawgyi Park is the best place for you. You can take a walk in the park, not only admire the beautiful trees and flowers, but also see many rare animals. In addition, the park also has a large lake, where you can sail along the lake and enjoy the beautiful view around.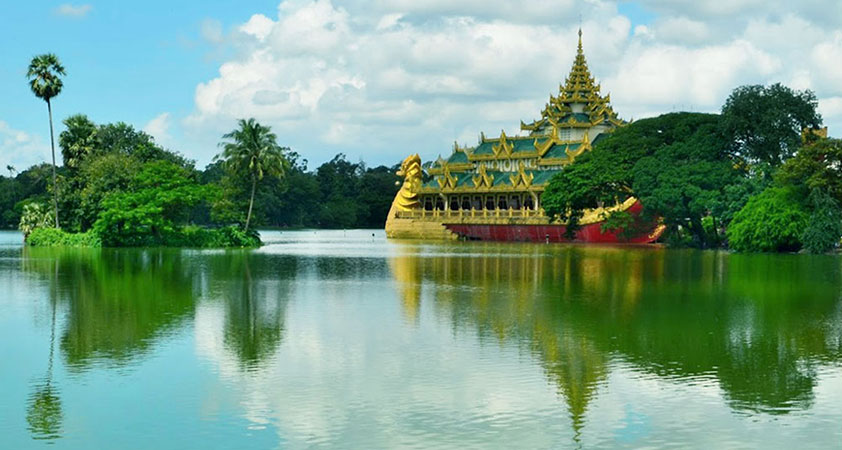 Hope that the post will help you understand more about famous and popular experiences in Yangon which is one of must-see destinations in Myanmar.
ONLY WITH US : 100 % MONEY BACK GUARANTEE within 10 days from the date of booking if not satisfied.
For further information, or simply a free quote, please
contact us
at any time via our email:
info@galatourist.com
, our experienced consultants will reply to you within 48 hours.
Sincerely yours & see you soon!
GALATOURIST
since 2005.