Filter tour
Sapa Excursions
Noted for both amazingly enchanting scenery and cultural exchange with ethnic minority groups, Sapa features typical tours for both domestic and foreign travellers. With Sapa Vietnam tour, you can experience 4 seasons on 1 a day with trekking trip through some traditional villages of H'mong locals and visits of cultural markets in Sapa like Bac Ha where lots of ethnic minority groups with different customs gather together to purchase goods.

In addition, Sapa offers different excursions like classic or adventurous Sapa tours for Vietnam travel with family or friends. Exploring Sapa is one of the best way for you to immerse yourself in Vietnamese cultural because this land is home to lots of ethnic minority groups where you can easily gain more knowledge about our country's spirit and culture. 

Sapa is truly a must-visit destination in Northern Vietnam. Join serious & local travel agent like Galatourist to enjoy your holiday with families and firends in Sapa trip. Come on!
Top 5 worth-visit places in Sapa Vietnam tour

1. Mount Fansipan
For adventurous lovers, trekking trip to the highest mountain of
Vietnam - Fansipan
with 3143 meters will make you have unforgettable experience. It takes you 2 to 3 days to conquer the Peak of Fansipan. Especially, on the way, you can see different fauna and flora, ranging from precious woods. 
If you are foreigners, we recommend you to choose a travel agent with local guides in Sapa for your safety throughout your conquer. Another way to to get to the highest peak of Fansipan is by cable car, which takes into operation in 2016, allowing travellers to see the whole view of the rugged mountainous landscapes in
Sapa
. Love adventure, join
Sapa tour Vietnam
with
Galatourist
now.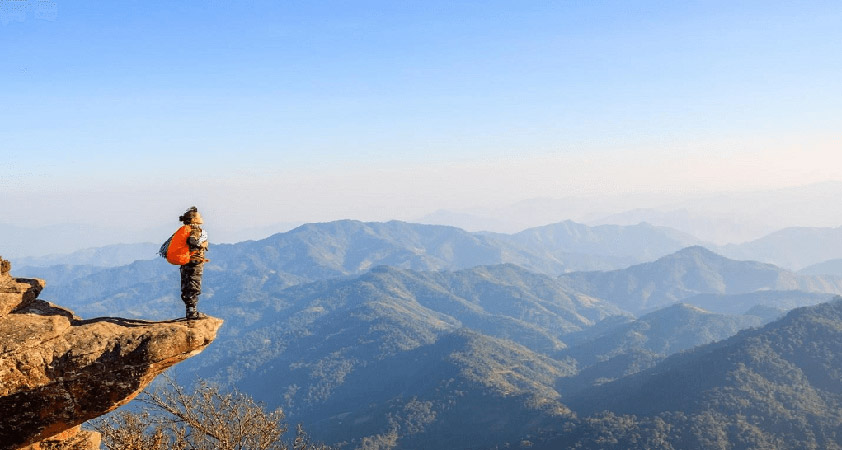 See more: Best Cultural Discovery of Charming Ethnic Travel Sapa | 4 days 3 nights

2. Bac Ha market 
Lying in amazingly rugged mountains of Lao Cai, about 100 km from the center of Sapa,
Bac Ha market
is considered the most famous ethnic market in Sapa, Lao Cai, featuring the culture and spirit of the locals here. This traditional market only opens every Sunday so if you love to discover Bac Ha market, you should plan your trip to Sapa on weekends.
Exploring Bac Ha market is one of the best way for foreign travellers observe tradition & culture of various ethnic minority. Come here and immerse in the atmosphere of ethnic market in 
Sapa Vietnam tour
.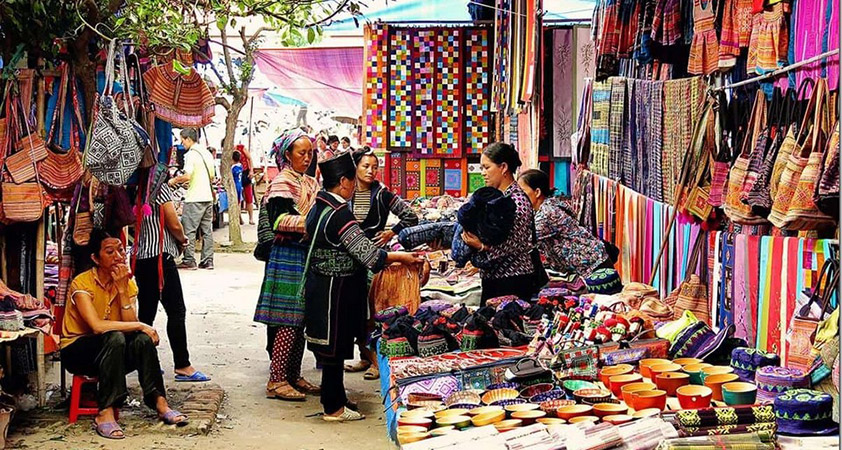 3. Ta Van village
Located in
Muong Hoa valley
, about 11km from Sapa town,
Ta Van village
is a traditional one where lots of ethnic minorities like Tay, Mong, Dao live. Visitors can go trekking or go by motorbike from Sapa center to reach there.
Ta Van village features tranquil space and breathtaking scenery with terraced fields. If you go in the ripen season, you can be overwhelmed by a wonderful picture of yellow ripen rice fields and green moynatinous landscapes. Just wonder around the village, admire the scenery and witness the daily life of the locals here to feel their traditional value. Try
Vietnam tours
 and you will never forget this feelings.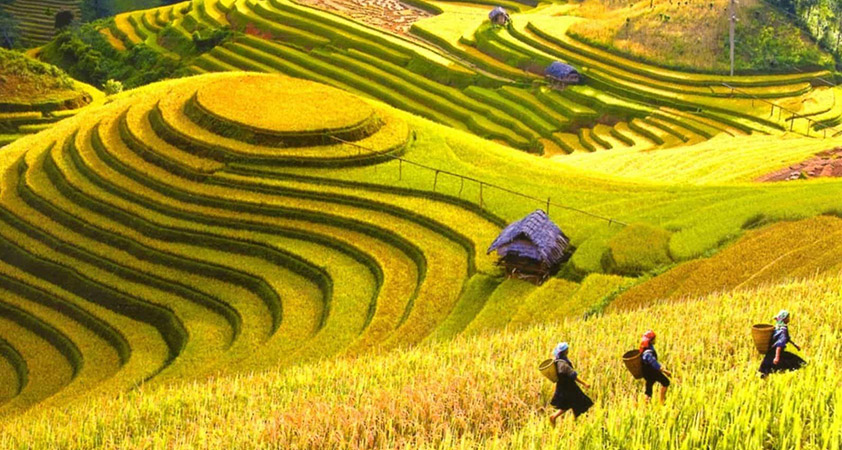 See more: 
Non-stop Discovery of Sapa Homestay Trekking Tour | 6 Days 5 Nights

4. Ta Phin village
About 17km to the eastern part of Sapa town, lying opposite
Ham Rong mountain
– another spotlight in Sapa, Ta Phin visit is the home to Mong and Dao ethnic minority groups, featuring their daily traditional life.
Joing
Sapa itinerary
, travellers take the opportunities to see the meticulous steps when making a brocade or traditional costume of Mong or Red Dao or you can even buy a product made from brocade as a gift for your friends. Another unforgettbale experience is that you can sleep in the stilts hourses of
Ta Phin village
with the locals to feel the unique culture of this peaceful place.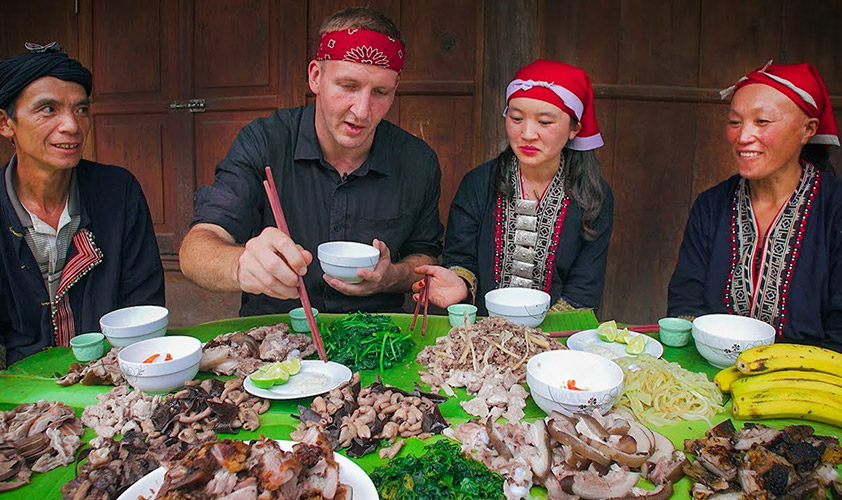 5. Silver Waterfall Sapa
The Mother Nature has gifted
Silver Waterfall
to become of of the worth-visit places in Sapa, appealing hundreds of tourists every year. The waterfall falls down from the height of more than 100m. Standing at the foot of Silver Waterfall Sapa, see the huge heaven and earth and the amazingly rugged mountainous landscapes, travellers joining
Sapa Vietnam travel 
will have a feeling of being so small among the huge wonders of nature. For fully overwhelmed by the beuty of Silver Waterfall, you should come here in the rainy seasons.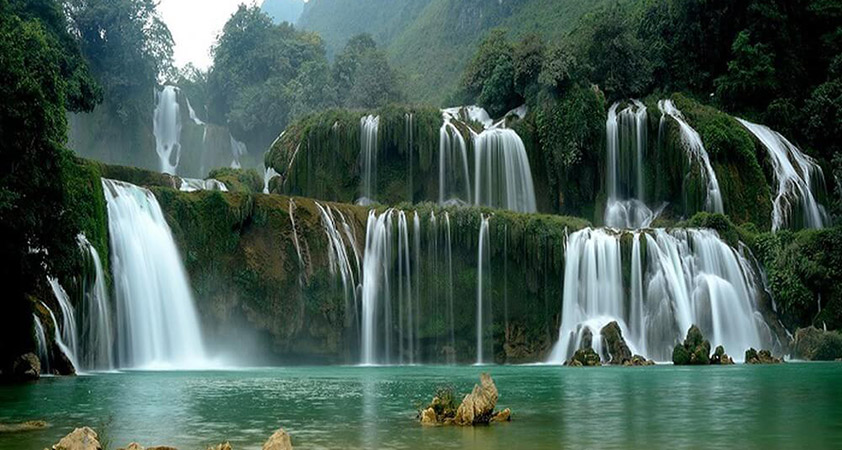 See more: 
Best Price of Sapa Ethnic Travel by Train | 4 Days 3 Nights
Sapa is truly a must-see destination for both domestic anf international travelers. For more convenience anf safety,
contact
a serious and local travel agent like
Galatourist
to customize your own
Sapa Vietnam tour
.