Top 31 best places to visit in the dew city Sapa, Vietnam
Sapa is an incredibly picturesque village located in the marvelous valley of Hoang Lien Son mountains near the Chinese border in the northwest of Vietnam. The town was discovered by Jesuit missionaries in 1918, who were attracted by its stunning scenery and cool climate.
Sapa is located at an altitude of 1,650 meters. Therefore, there are many
places to visit in Sapa
that hold spectacularly misty views. The town is covered with fog, mist, and clouds all year round. Nicknamed as 'Tonkinese Alps', the area features rice terraced fields, lush vegetation and Vietnam's highest mountain peak, Fansipan, which elevates the village to an altitude of 3,143 meters. However, with its challenging conditions, wet and cold, this place has become a premier tourist destination for backpackers and trekking lovers.
Ancient constructions are also worthy
places to visit in Sapa Vietnam
. In 1920, the French constructed it to be a pleasant hill station and formed numerous works such as churches, hotels, tennis courts, summer villas, an airport, and a hydro-electronic station. However, most of these constructions were abandoned or destroyed, but the colonial influences still remain nowadays.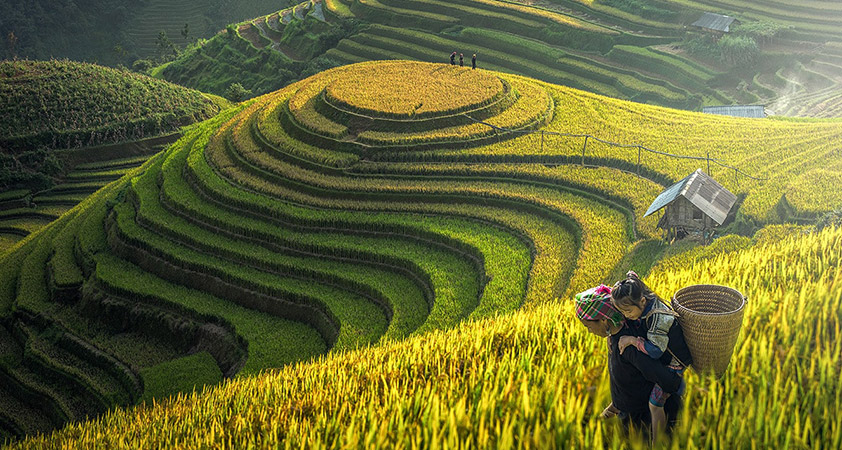 People choose these places to go in Sapa not only to admire its scenery but also to discover the lives of the local ethnic minorities. Sapa is a big home of different Vietnamese hill tribes, including Hmong, Dao and Dai who cover the majority of inhabitants in this area, outnumbering the Vietnamese living in the lowlands. 

1. Fansipan Mountain – The roof of Indochina
The place is in the Southwest of
Sapa town
, Lao Cai Province, Vietnam.
Fansipan Mountain Vietnam
is one of the most popular
places to go in Sapa Vietnam
. With a height of 3.143 meters, it is the highest peak in Indochina. Tourists choose it as the destination to conquer this challenge and admire the breathtaking scenery of Northwest Vietnam mountainous landscapes.

2. Tram Ton pass - An exciting challenge for venturous travelers
Before you reach
Fansipan Mountain
, you will go through
Tram Ton Pass
. It is in the list of four great passes in North Vietnam. Enjoy every challenge on the road and admire the huge landscape surrounding. From the place, you may access to other outstanding attractions such as
O Quy Ho Pass
, which will be introduced below.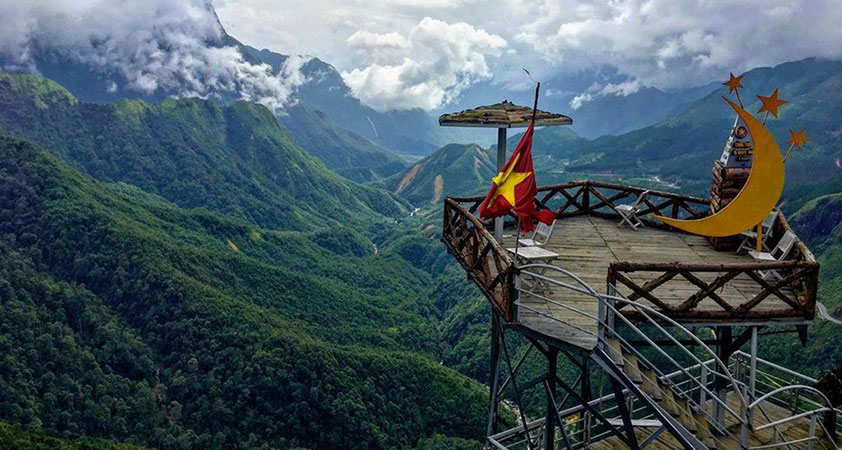 3. Ham Rong mountain - Dreamy scenery when the peach blossoms
Ham Rong Mountain
belongs to
Hoang Lien Son mountain range
. It is 33 kilometer far from the center of
Lao Cai city
.
From the peak of the attraction, you will certainly amazed at the overview of Sapa. Getting immersed in thick dew layers makes it hard to distinguish between the real and dreamy scenery. In addition, there are a lot of scarce orchids typical for Hoang Lien Son Mountain.
4. Heaven's gate Sapa - Sapa view from the halfway up the slopes
Located 18 kilometers far from
Sapa town
, 
Heaven's gate of Sapa 
challenges travelers with a  twisted and turned, rose and fell road halfway up the slopes, along the sunny side of the mountain.
From the gate, you can capture the overwhelming landscape of the valley below with colorful fields of flowers stretching endlessly. In addition, you can also see the peak of
Fansipan Mountain
above.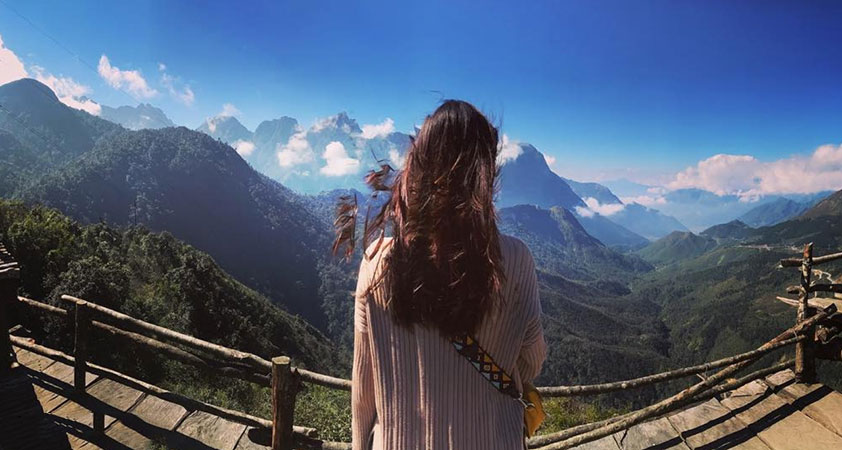 5. Muong Hoa Valley - Sapa trekking journey in the world of yellow rice
There is a beautiful stream stretching about 15 kilometers long through Lao Chai, Ta Van, Hau Thao and Ban Ho villages, all of which are also the
best places to visit in Sapa Vietnam
.
The most impressive feature of this valley is the ancient rocks in different shapes alternating with flower and terraced fields of the local ethnic minorities. They are perfect
places to go in Sapa Vietnam
for check-in lovers.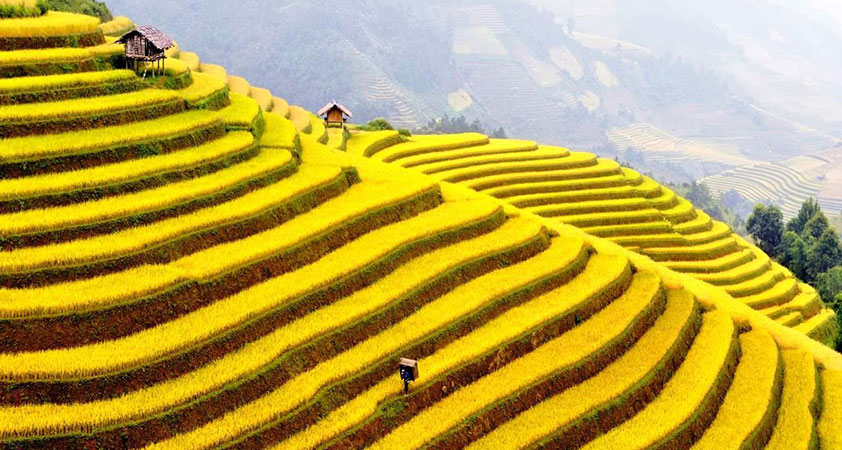 You may also interest: A trip to wonders of Hanoi Sapa Halong Bay Itinerary in 5 days 4 nights

6. Cat Cat Village - Learn about the typical structure "Trinh Tuong House" of H'mong Minority
Cat Cat
is one of the unique
places to go in Sapa
, just 2 kilometers far from the center of
Sapa town
.
The place still remains many traditional crafts of H'Mong ethnic minority such as cotton planting and silk weaving. When coming here, don't miss to go to
Tien Sa Waterfall
, which has developed Cat Cat into a tourism center recently.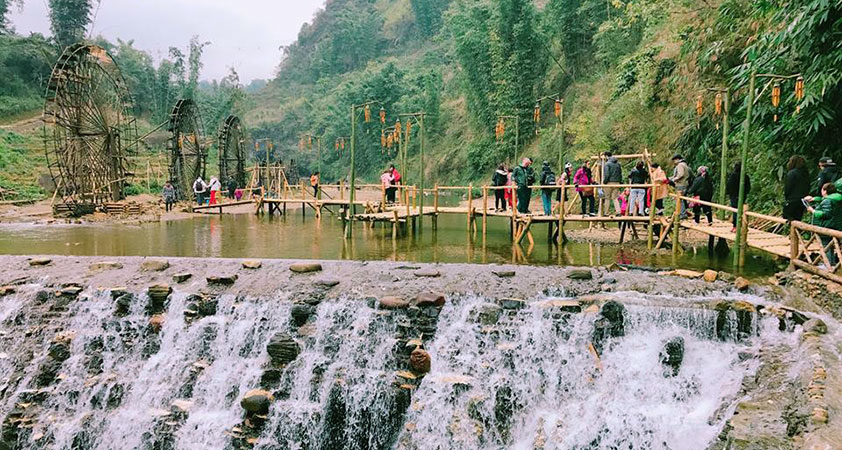 7. Ta Phin Village - Undiscovered mystery of Ta Phin Stalactite Cave
Ta Phin Village
belongs to Dao Do ethnic minority, keeping its own features in house construction, decorations, letters, costume and especially their customs and festivals. They provide brocade items, a popular gift for tourists visiting Sapa. Moreover, there are many beautiful corners for check-in such as an ancient monastery and
Ta Phin cave
, which has a limestone mountain belonging to
Hoang Lien Son Mountain Range
. The mouth cave opens a new space underground and there are a lot of stalactites hidden.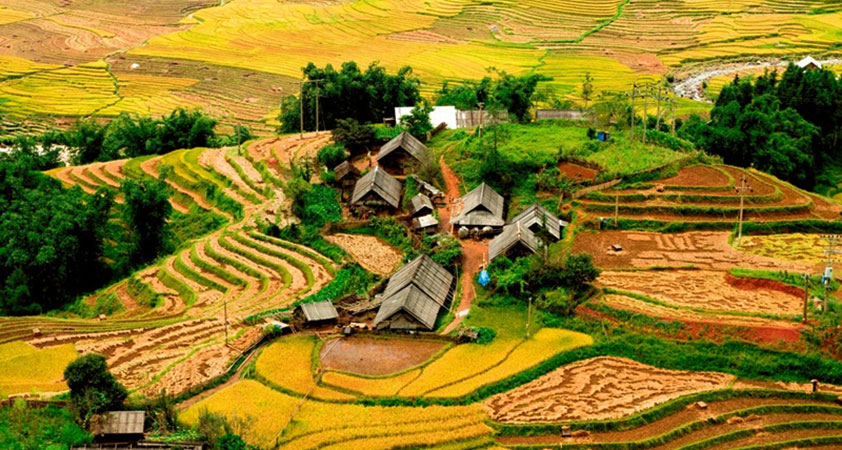 Having existed for nearly a hundred years, Ta Phin Monastery still keeps its original cultural and architectural features that you can find in no other
places to visit in Sapa
. It was built in 1942 at the foot of the mountain. Originally, it was the home of 12 Kito nuns until 1945, they left for Hanoi and the construction was abandoned. 
However, the specialties in structure still attract thousands of tourists to visit every year for check-in and discovering the Western ancient architecture.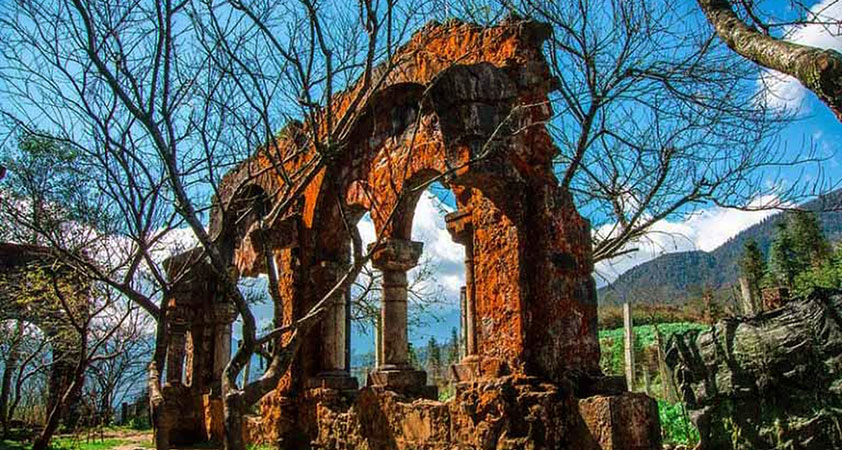 9. Lao Chai village - Take part in exciting festivals of local residents
Lao Chai Village
is one of the most most popular
places to go in Sapa
for its poetic beauty of yellow terraced rice fields stretching from valleys to the halfway up the hills. 
If you come here in spring, tourists have a chance to immerse in the pink color of peaches, the white color of plums and take part in many exciting festivals of local residents like Roong Pooc of Giay's people.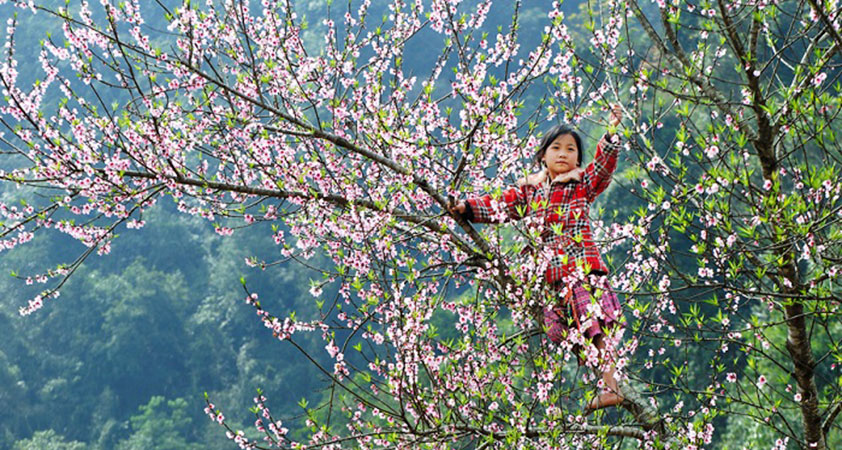 10. Ta Van village - Check in at a range of traditional ancient houses 
The best impression about
Ta Van Village
in the mind of experienced tourists may by a range of ancient houses. You should ask for some of them like Mr. Hoang Din's and Lo A Muc's. The most ancient one is Mr. Lo A Muc, which was built by wood in 1934, typical for the construction of Giay ethnic minority. Entering the house, you will understand more about the culture hidden in every old wooden or copper items.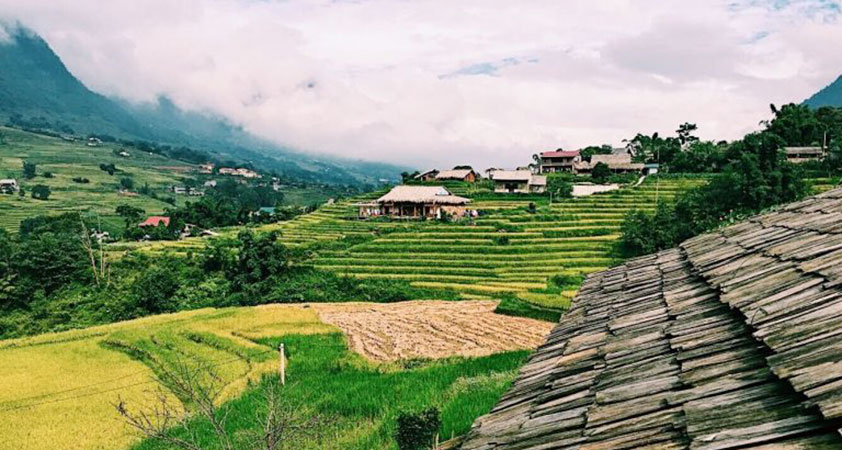 11. Fairy cave - Small duplicate of Halong Bay in the mountainous area
Fairy Cave
looks like a
Halong Bay
 (One of seven wonders of the world by UNESCO) in a smaller size hidden among wide ranges of mountains in Sapa. There is a legendary story about
Ba Co Shine
in the cave. 
Don't miss to admire the charming beauty of the lake and the waterfall outside the cave while sitting on the boat, then gaze at the majestic structure inside the attraction.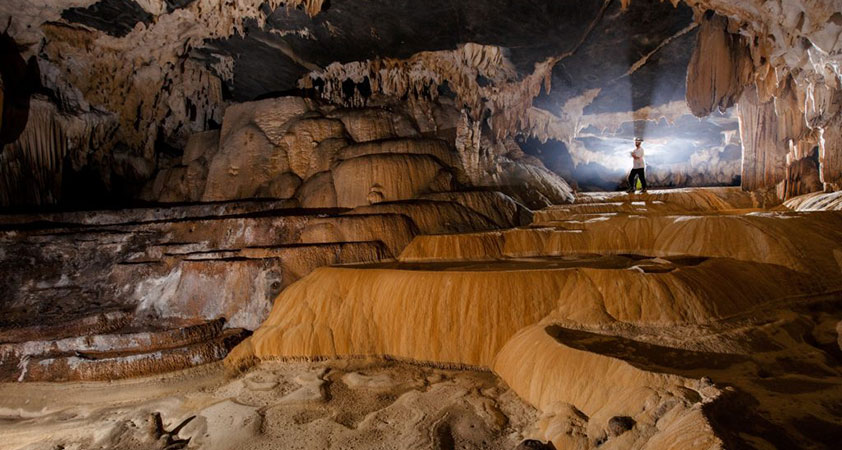 12. Bac Ha market - Find a nice gift for the journey to North Vietnam
Bac Ha Market
is at the town center of
Bac Ha District
, about 60 kilometers far from
Lao Cai City, Lao Cai Province
. The market opens every Sunday not only for trading but also for entertaining. 
You can find almost domestic items in the market as well as the traditional food of local residents. Pay a visit to the town and discover the custom and normal life of Vietnamese ethnic minorities.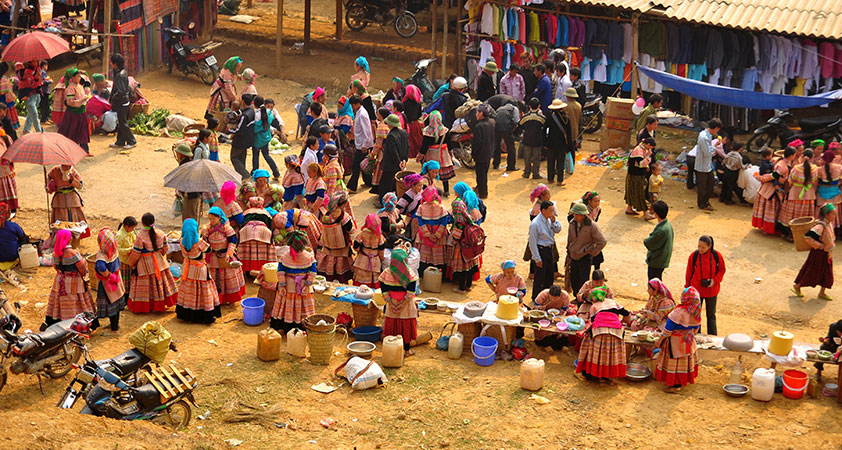 13. Ban Pho village - Have a cut of traditional corn wine on-site
If you once hear about
Bac Ha Corn Wine
, then you should pay a visit to
Ban Pho Village
in
Bac Ha District, Lao Cai Province
. Besides the picture of green fields stretching out endlessly, you will have the chance to see in person the corn wine-making procedure of local residents. All the ingredients are local products, from the corn to the water, which makes it different from any other kind in the world. For wine-lovers when coming to the village, they have to keep some as special gifts of Sapa.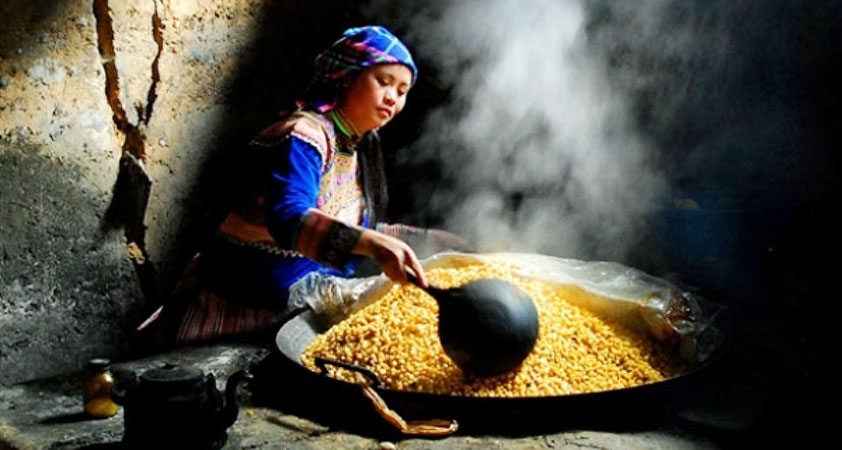 14. Muong Khuong market - Dreamy picture of mountains and small streams alternatingly
Muong Khuong
is a district of
Lao Cai Province
bordering by China. Visit the place to admire the dreamy picture of mountains and small streams alternatingly. Seen from above, the terraced rice field
Tung Lau
is covered in yellow, spotted by local farmers in the harvesting time.
Don't forget to visit the
Muong Khuong market
, which is open all day. There are full of products mostly collected by local residents in forests. Especially, seven-colored sticky rice is the most famous specialty you should once try in this market.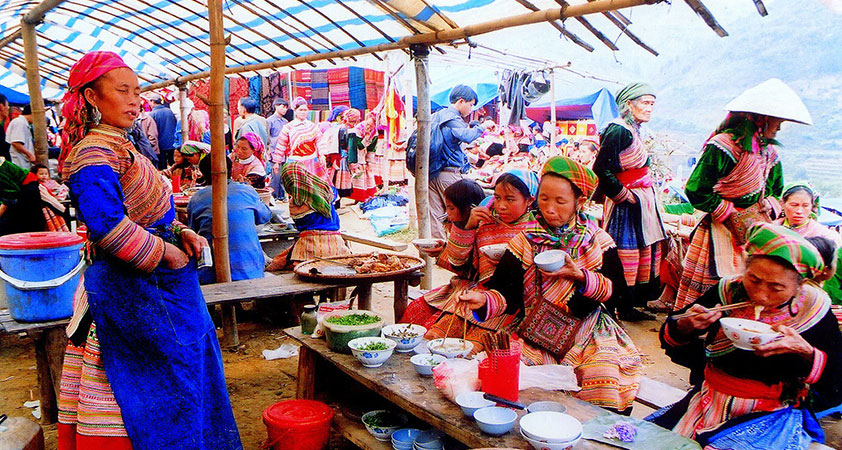 15. Coc Ly market - The place of local ethnic minorities' culture exchange
Coc Ly market
is one of the
places to visit in Sapa
- Lao Cai Province. The market is only open on Tuesday every week. It is not a big one, but it has a significant meaning to local ethnic minorities. The place is not only somewhere to purchase but also the gathering center of Mong Hoa, Dao Den, and Nung people.
About products, they are local-made or brought from the lower areas or imported from China.

16. Sin Chai village - Endless terraced fields sparkling under the sun
Sin Chai
is one of the largest tourism villages in
Sapa
. It is located in
San Sa Ho Commune
, about 5 kilometers far from the town center. The village is hugged in the heart of the
Hoang Lien Son Mountain range, 
famous for its hundred-year-old terraced fields.
The best time to visit the place is in September and October when the rice is ripening and the area is in glorious yellow. However, other seasons around the year are all worth visiting with their own beauty. Then from the village, you can continue to visit
Cat Cat village
too.
17. Y Linh Ho village - Have a trekking tour around to enjoy the harmony atmosphere 
According to local residents, the village is named after the man who had discovered the land and established this one. It is well known by tourists for its wild and poetic beauty. Apart from the mountainous scenery, there are small fresh streams, terraced fields, corn gardens... all of which will certainly impress you for the first time seeing. Inside the village are old simple houses mostly made of woody bamboo.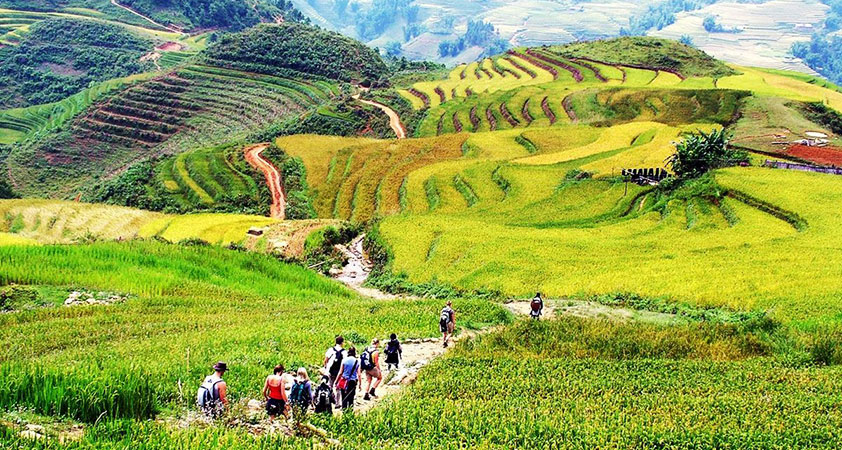 18. Can Cau Market - a busy trade center full of local products
Can Cau Market
is in Can Cau Commune, Si Ma Cai District, Lao Cai Province. It is still mysterious when it was first open but every Saturday morning, the market turns into a busy trade center full of products such as brocade costumes, foods, handy craft items... made of local residents.
The fairground stays along the hillside. It looks like five plots of a terraced field, each of which presents a particular product, creating a colorful area among the green color of the mountain.
19. O Quy Ho Pass - One in four great passes in North Vietnam
O Quy Ho Pass is listed as one in four biggest passes in Northwest Vietnam, attracting thousands of travelers every year to come and discover the hidden beauty of nature.
The landscape is changing around the year. In Lao Cai Province side, it is covered with dew. However, in the Lai Chau Province side, it is quite sunny. Moreover, there are thin layers of snow in winter and fluffy clouds in summer. All of them contribute to the heavenly beauty of the Sapa attractions.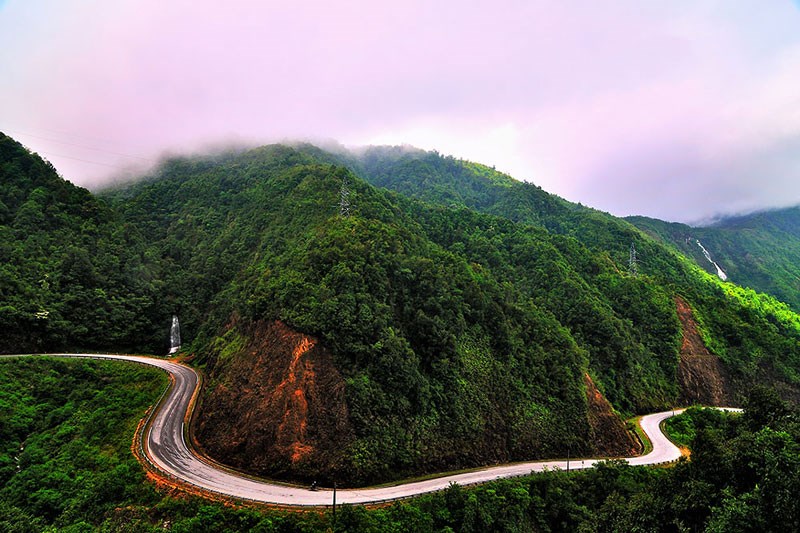 20. Sapa church - A typical symbol of this mountainous city
Sapa church
is a famous stone church built in the early 20th century by a French architect. It is considered as the only trace left of French people in Sapa. The most impressive feature is the church architecture designed in the Gothic style of Ancient Romans, which you can see in the rooftop, ring tower, the dome,... They are all shaped pyramid, contributing to the overall gentle beauty.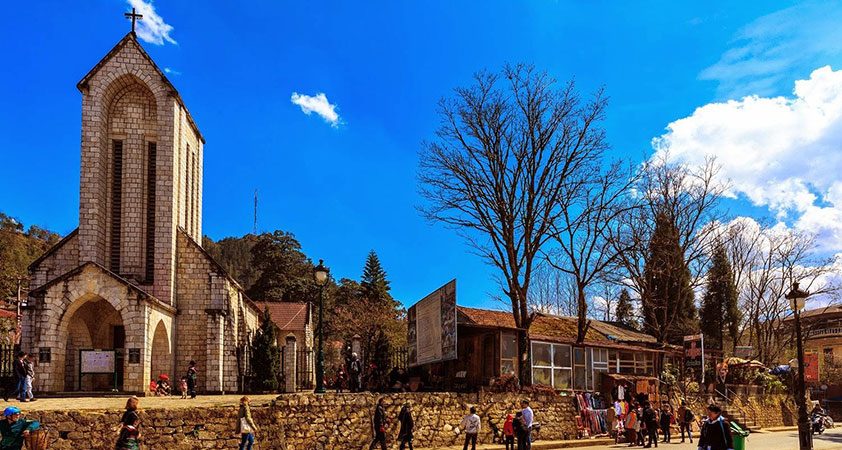 21. Sapa town square - The biggest entertainment center among the dew city
After a long day traveling around Sapa town, if you are a shopping lover and need an exciting atmosphere, the Sapa town square is one of the best choices of
places to go in Sapa
, especially when the lights have been turned on. There are always a large number of tourists gathering to play sport games or admire the scenery of this city at night. Moreover, you can take part in some games guided by ethnic people, portrait drawings,... Then pay a visit to the night market nearby to have some souvenirs for the journey.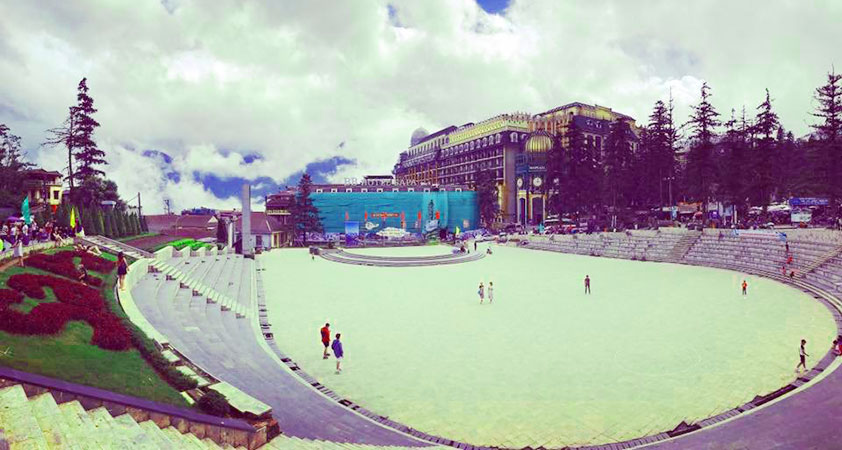 22. Sapa Love market - Special market not to purchase goods
Many people visit the
Love market
not to buy a product but to enjoy the special atmosphere here, and the local young residents come to make friends or find their love. It may be the reason that the market becomes one of the most popular
places to visit in Sapa Vietnam
. It is always hustle and bustle with people singing, fluting,... Especially, young people who take part in the night will wear many attractive costumes, so that you will learn more about the beauty of the Vietnam ethnic minority culture.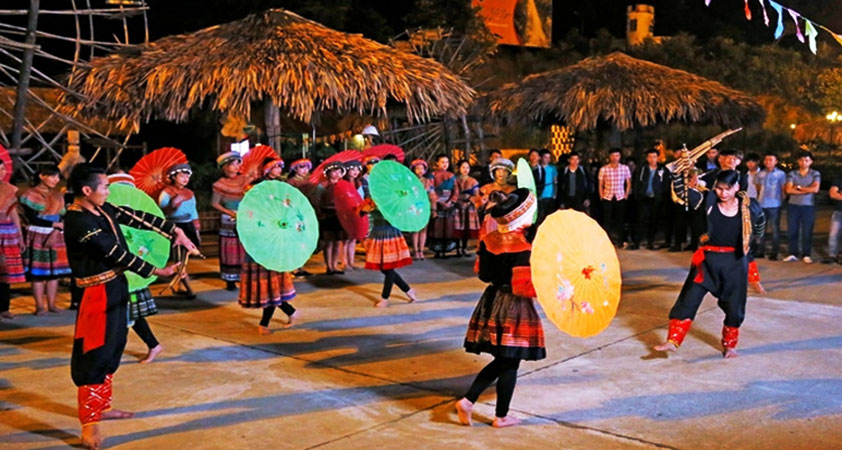 23. Silver waterfall - The majestic landscape of waterfall on the road to Fansipan
Silver Waterfall Sapa is always in the list of the best places to visit in Sapa Vietnam. Tourists will have the chance to see in person the huge but romantic scenery. The sound of a brook curling over some rocks, with fish jumping and birds singing will create a feeling of experiencing a fairyland. Especially, in summer, tourists will immerse in the cool fresh water, getting away from the worries of daily life.
After that, you will have a stop and enjoy Sapa specialties such as bush meats, mountainous vegetables, stream fish... to get energy for the journey to O Quy Ho Pass or Fansipan.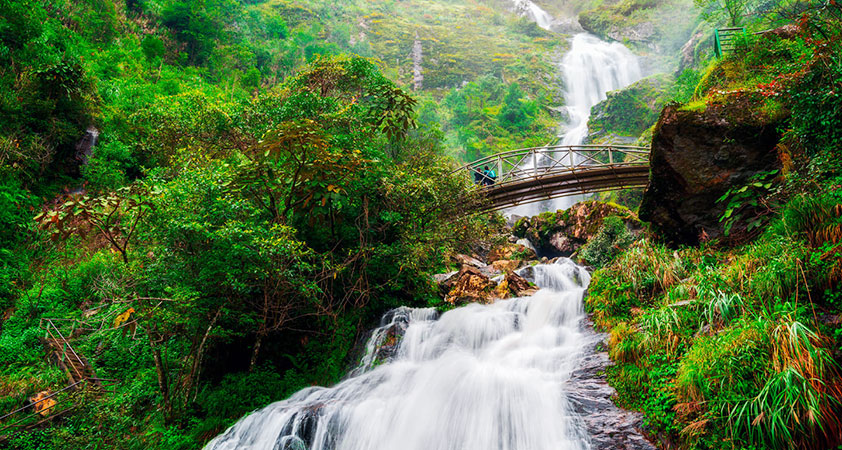 24. Love waterfall - A great palm-leaf conical hat sparkling under the sunlight
Love Waterfall
is in
San Xa Ho Commune, Sapa District, Lao Cai Province
. It is one of the unmissable
places to visit in Sapa
journey. Before reaching the attraction, you can admire the beauty of original forests covered with roots and moss and colorful flower areas next to. The waterfall looks like a palm-leaf conical hat sparkling under the sunlight. At the height of 100 meters sourced from the peak of Fansipan, it still brings the cold air down to
Golden Stream
. Listen to its legendary story to understand more about its meaning.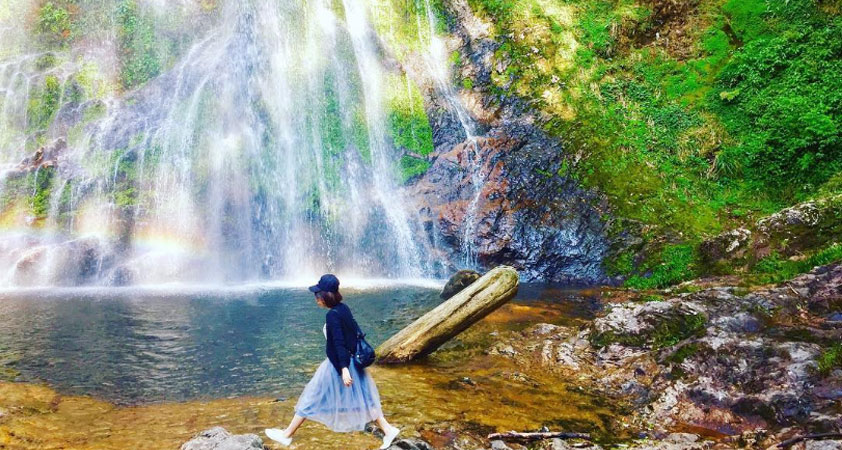 25. Cloud bridge Sapa - Experience the feeling of walking on the clouds
The bridge is originally built for traveling purposes. However, recently it has become a favorite check-in destination of travelers. If you are lucky to come here in snowy winter, you will experience an exciting feeling of stepping on a rope bridge covered by a thin layer of snow and cold dew surrounding. From the bridge, you will see
Muong Hoa River
through the morning mist.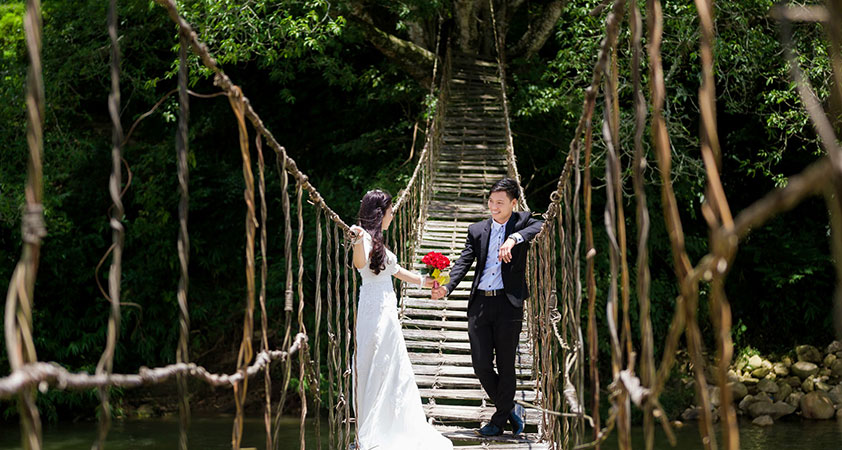 26. Sapa Museum - The house storing the history and culture of Sapa
Located in Sapa town, open free all the days in the week, the museum is one of the must-see places to visit in Sapa to discover the tradition and culture of this city.
It was recommended to establish in 2007 by a French tourist Arcachon. Now it stores about 200 artifacts as well as patterns and movies about the daily life, history of local ethnic minorities in the area. You will understand more about H'Mong, Giay, Xa Pho, Ha Nhi, Dao Do people who you meet every day during the journey.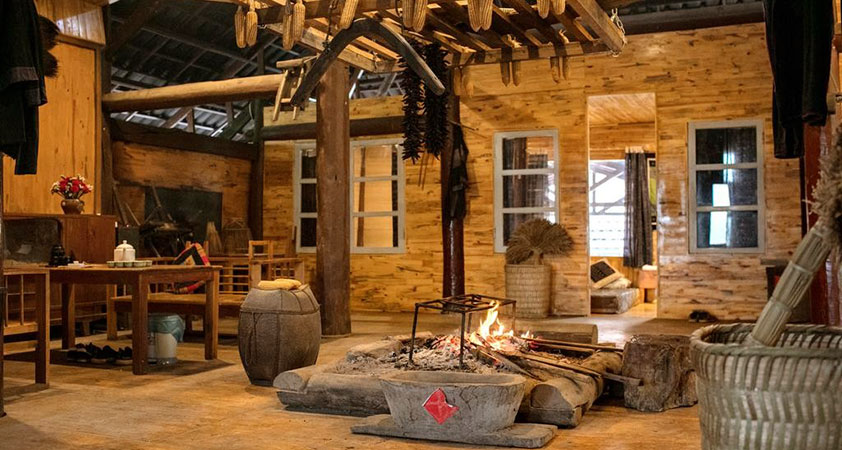 27. Hoang Yen Chao Castle (Hoang A Tuong Palace) - A old palace in the center of Bac Ha Town
You may get surprised at a majestic palace located at the center of
Bac Ha Town, Lao Cai Province
. It is
Hoang A Tuong Palace
, which was named after the owner of the house, also the most powerful leader in the area in the past. The construction was first built in 1914 and finished in 1921. After 100 years, it is now covered with moss of age but still keeps the ancient majesty among the crowed city.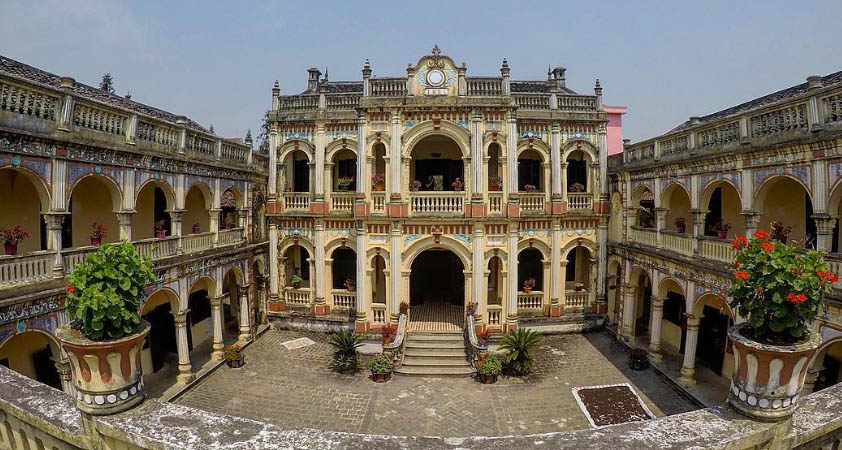 28. Sun Plaza Sapa station - The paradise of shopping, food and drinks services
Sun Plaza Sapa
is indeed a shopping mall in the city, located next to the stone church. It is the paradise of shopping, food and drinks services. With modern and attractive architecture, the place is one of the most famous
places to visit in Sapa Vietnam
. Every corner can become a perfect background for your check-in photos. More impressively, there is a railway station inside to bring tourists to discover
Muong Hoa Mountain
. On the top floor, you can capture the overall scenery of the city.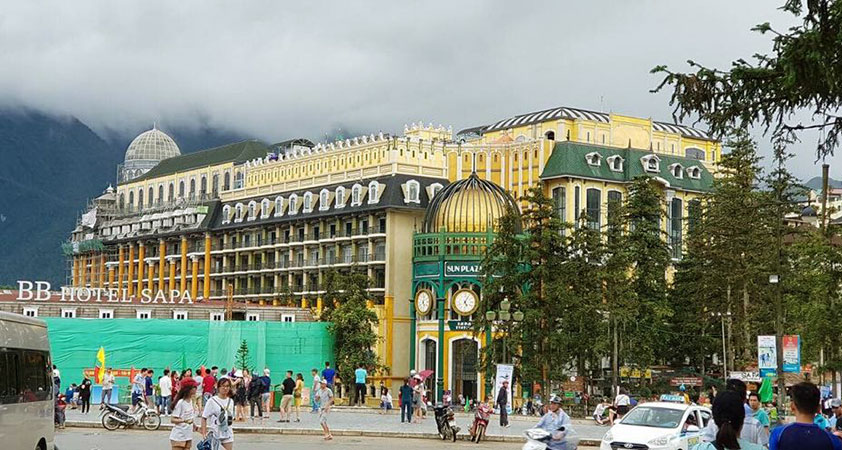 29. Coc San cave - The mysterious beauty of the cave, waterfall and forests
Coc San Cave
is located in
Bat Xat District
,
Lao Cai Province
, about 7 kilometers from
Lao Cai town
. It is one of the most attractive
places to visit in Sapa
showing how much deal the Creator gives to this place. Hidden among the huge landscapes of mountains and forests, it almost keeps the original beauty. There are not only attractive caves but also some breathtaking waterfalls. From the place, you can admire the scenery of
Coc San Commune
and
Cao Son Mountain
range through the mist.
30. Sapa ancient rock field - Strange traces of history among the terraced field scenery
Muong Hoa Valley
is not only for its famous terraced fields but also for its ancient rock field. This strange are is 4 kilometers long and 2 kilometers wide. It used to be a scientific research center attracting scientists from many countries all over the world such as Vietnam, Rusia, French, Australia,... There are more than 200 stones, each of which maintains different meanings of its own. Come to discover this mysterious land in Sapa.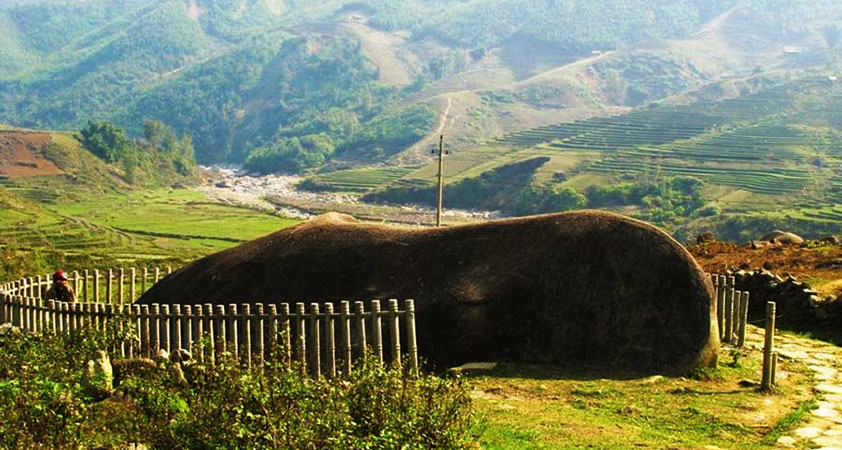 31. Terraced rice fields in Sapa - The unique landscape you can see in North Vietnam
Terraced rice fields are unique
places to visit in Sapa Vietnam
, which you can find nowhere else except for North Vietnam. In every season, these endless field has its own beauty, but it is suggested to come here in September and November when the rice is ripening. There are some areas stretching in hundreds of hectares, giving you a feeling of admiring a great picture draw by local farmers.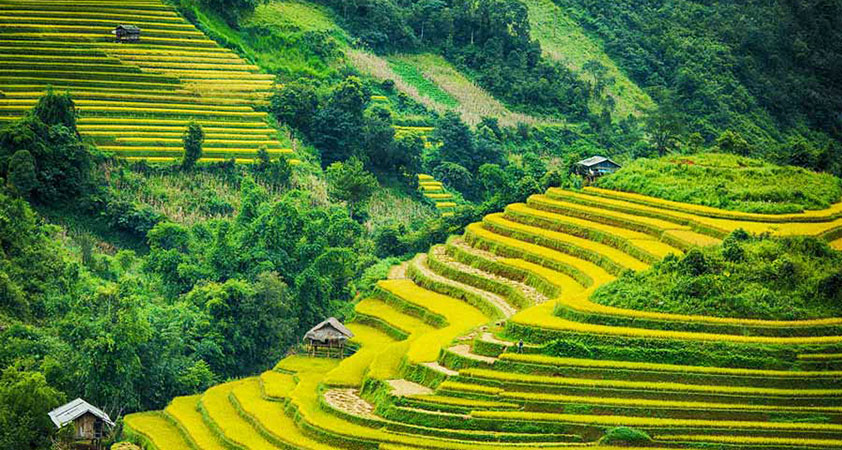 The peak tourism period for these attractive
places to visit in Sapa
begins between March and May or between October and November as this is the dry season which is suitable for a
Sapa tour trekking
. And the best period of time to admire misty scenery is during winter, between January and February, when it is very cold at night and sometimes there is snow.
ONLY WITH US : 100 % MONEY BACK GUARANTEE within 10 days from the date of booking if not satisfied.
For further information, or simply a free quote, please
contact us
at any time via our email:
info@galatourist.com
, our experienced consultants will reply to you within 48 hours.
Sincerely yours & see you soon!
GALATOURIST
since 2005.