Admire the majestic but charming beauty of Dai Yem Waterfall in Moc Chau
Moc Chau Vietnam is famous for the tranquil sceneries such as the grass fields, flower valleys and other nice corners to hide from daily life. However, you may get surprised at the majestic landscape of Dai Yem Waterfall with fierce flows of water pouring down day by day.
1. Where is Dai Yem Waterfall ?
Dai Yem has some other names like
Nang Waterfall
,
Ban Vat Waterfall
. Therefore, tourists should pay attention when asking local for help on the roadway to the attraction. It is located in
Muong La Commune, Moc Chau District, Son La Province
. The spot was named after a legend saying that a girl had saved a boy from the flood there.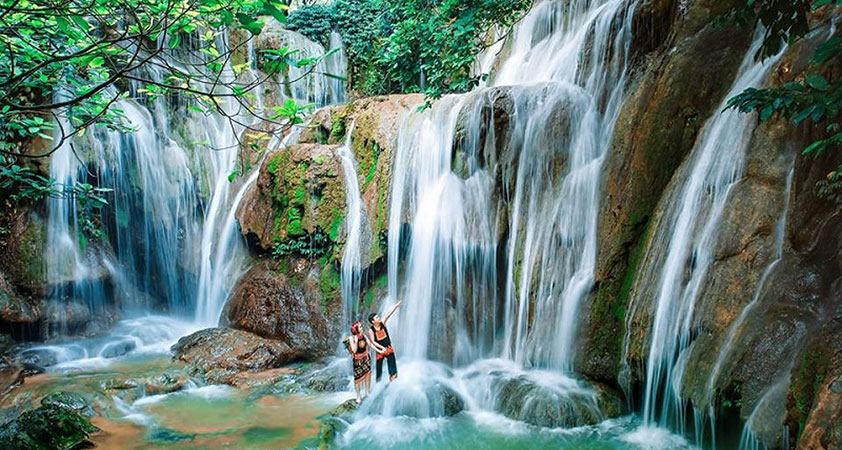 The waterfall is 5 kilometers far from the center of
Moc Chau District
. When you travel to
Pa Hang Border Checkpoint
, you continue alongside a stream to reach the final spot. It is on Vat Stream, which is originated from two smaller streams
Bo Co Lam
and
Bo Ta Chau
in
Vat Village
, also the longlasting home of Thai ethnic minority.

Newest offer:
Vietnam classic tour 9 days discovering the soul of the charming land
2. When to visit Dai Yem Waterfall ?
From April to September is the best time to visit Dai Yem the attraction. It is when the amount of water rises to the peak, creating a majestic but still charming landscape among the green mountain with vapor rising like the mist.
In summer, maybe there is nothing better than taking a fresh breeze among green scenery or immersing in the cool water falling from above. Many tourists even have a camping party there. The price for entrance is only 10.000 VND per ticket.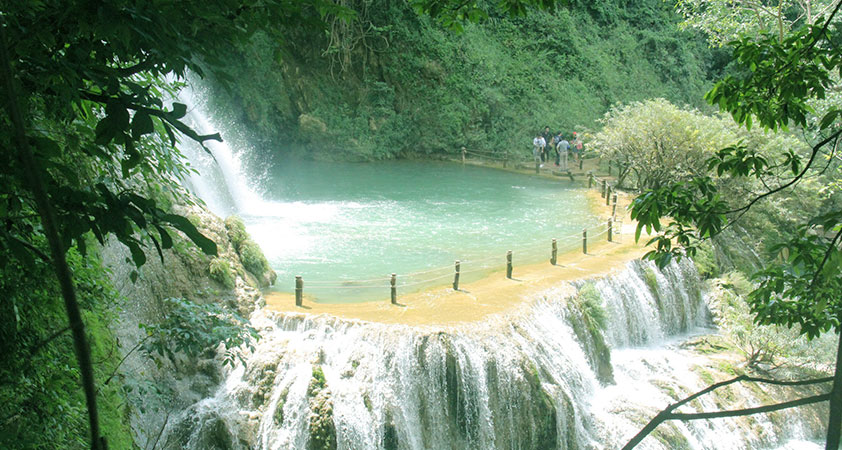 Hot deal:
Cheapest classic itinerary in Vietnam tour 14 days
3. What to see in Dai Yem Waterfall ?
The waterfall is 100 meters high and divided into two main areas. The higher has nice grades, standing for 9 nice steps of love in local legend. The lower is 200 meters far and has only 5 grades. Between the two of them is flat land where tourists can stand and admire the scenery.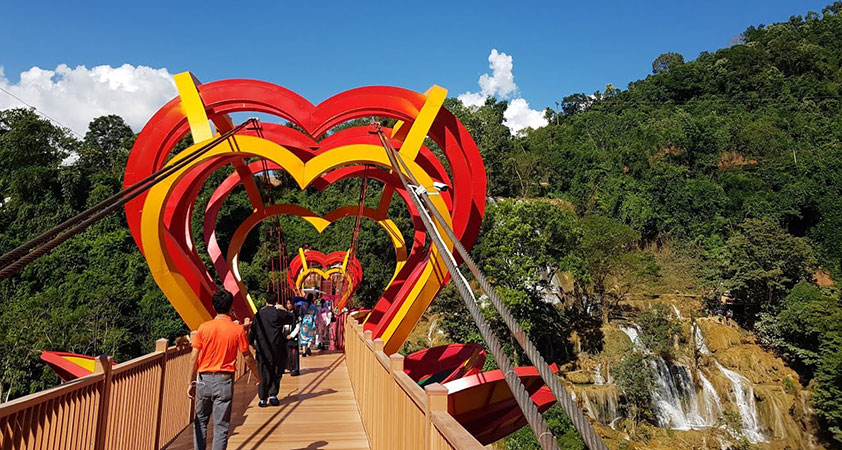 Bo Sap Stream
below is sparking with thousands of tones in full shapes inside. On the surroundings, there are many old trees giving shadow for a large area. The roots intertwine and spread to the water flows. If you would like to discover more, you can continue the journey to the waterfall peak to see in person a diversity of plants and flowers. From there, you can also capture all the plateau in your eyes. Do not forget to have nice check-in photos with your friends and family to keep nice memories of this land.
Besides sightseeing, tourists can take part in local festivals nearby
Dai Yem Waterfall
to watch traditional performances. The journey, therefore, will certainly more exciting and interesting. From the spot, you can visit other attractions in
Moc Chau Son La Vietnam
such as the cave complex
Ngu Dong Ban On
.

 Click here

to take the chance to visit the paradise of Moc Chau Happy Land 
With our recommendation above, we do hope you will have the first impression of the waterfall with excitement. If you need more information, contact us for the best recommendations for the journey.
ONLY WITH US : 100 % MONEY BACK GUARANTEE within 10 days from the date of booking if not satisfied.
For further information, or simply a free quote, please
contact us
at any time via our email:
info@galatourist.com
, our experienced consultants will reply to you within 48 hours.
Sincerely yours & see you soon!
GALATOURIST
since 2005.