Filter tour
Thailand Classic Tours
The Kingdom of
Thailand
is a country located in Southeast Asia, divided into 76 provinces, including 2 central cities:
Bangkok
and
Pattaya
. Provinces in Thailand are divided into five regions: Northern Thailand, Northeast Thailand, Central Thailand, Eastern Thailand and Southern Thailand. Each region has its own impressive tourist attractions.
Thailand tourism
is a paradise with very friendly and hospitable people, unique tropical country, long culture and history. Thailand is famous for magnificent temples, golden beaches and Thai smiles.
Thailand tourism
has everything: beautiful pagodas, temples, beaches, cities, and great cuisine.
Galatourist
is happy to introduce you the
Thailand package tour
to contemplate and try all of them.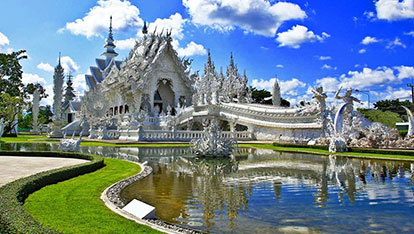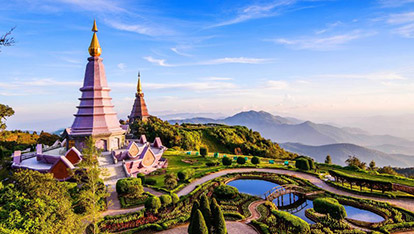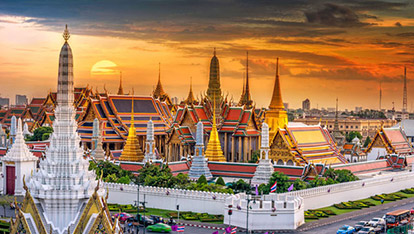 Top 7 remarkable tourist attractions in Thailand package tour
Coming to Thailand through Thailand package tour, visitors will have the opportunity to admire everything such as bustling Bangkok city; beautiful beaches in Phuket, a beautiful island located in southern Thailand or Pattaya - famous tourist destination language and familiarity for visitors. Here, you will have the opportunity to admire Coral Island, dive with the sea or participate in sea games such as diving and snorkeling...

1. 

Grand Palace
The Grand Palace is also known by its Vietnamese name, Royal Thai Palace. Thai tourist area is not only a place to live and work of the Thai royal family, but it also possesses very beautiful architectural features. Therefore, it became one of the places that no one could overlook. The pinnacles are also inlaid with gold leaves creating persistent yellow color over time and especially shining in the sunshine of Bangkok city. In short, it is an essential part of Thailand travel package.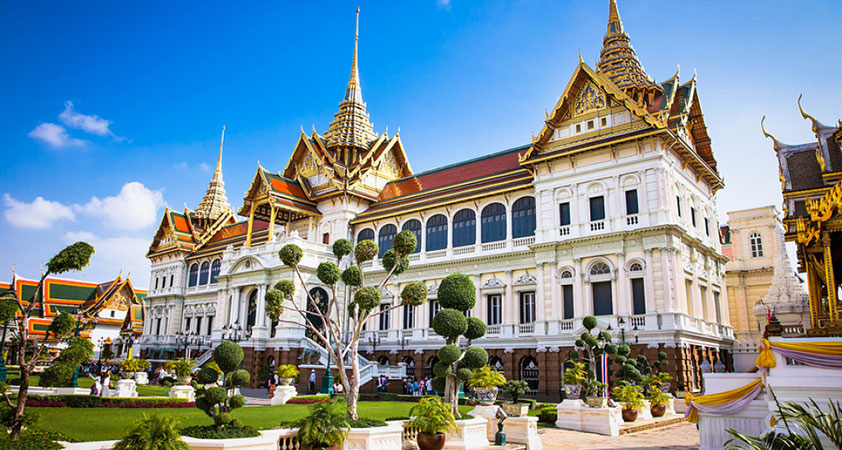 2. Wat Phra Keo
Taking part in Thailand packages, you have chance to see the statue which is also a symbol for the Thai king - one of the most revered people in Thailand. Wat Phra Keo is located on the campus of the Royal Palace. Although the Palace also includes quite a number of large and small temples, but Wat Pra Keo is the largest and most prominent temple. It possesses statues of gods, huge Buddha and especially an extremely important and meaningful Buddha statue for all Thai people.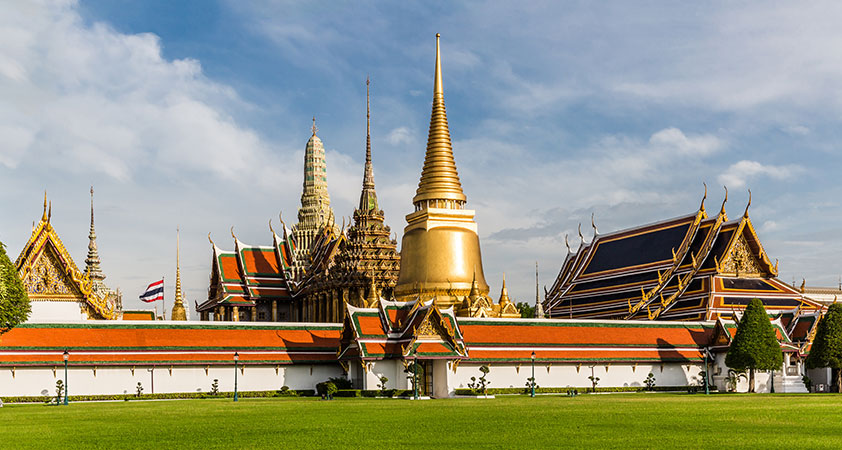 3. Wat Doi Suthep
Recently, Chiang Mai is a great destination of Thailand tour package. Not only Chiang Mai  possesses romantic natural scenery, but it also has the famous Doi Suthep temple. This temple is more than 600 years old, and is a place that any visitors to Chiang Mai cannot ignore. Being famous for its sacredness, the temple is also intrigued by the ancient architecture of Thai style. More specifically, the natural view from the temple is sure to give visitors a sense of calm and comfort.

See more: Thailand North discovery with tour package | 8 days 7 nights

4. Chao Phraya river
This is the largest and most famous river in Bangkok city and most of the famous attractions here are located along the river banks such as Binh Minh temple, Asiatique complex... In particular, this Chao Phraya River seems to have become one of Bangkok's symbols and when coming here, what visitors should not ignore is sailing on the river, admiring the view of the city.
When sitting on a boat on the river, the tourists not only feel the beauty of this city, but also can admire the peaceful life, the simple and bustling images of the city. This untouched splendour will make your tour in Thailand packages more interesting.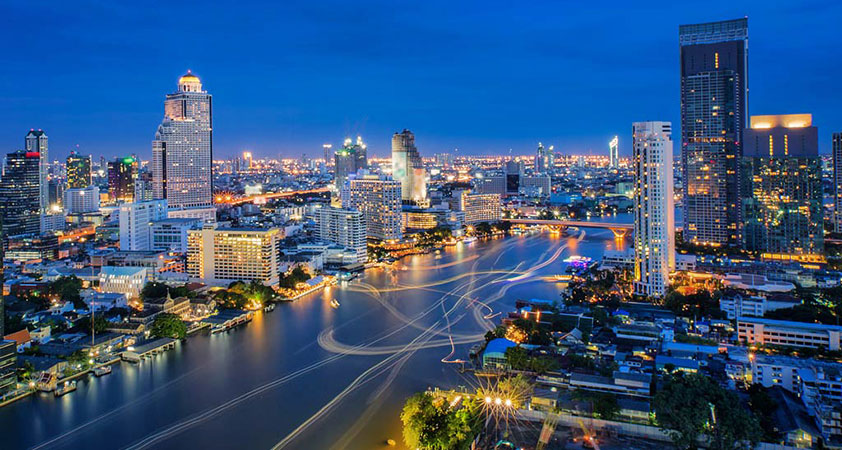 5. Patong Beach
The three kilometer Patong beach with golden sand is probably the most popular beach in Phuket. It is a good place to observe everything or participate in activities such as swimming, parasailing, jet skiing. Along Patong beach, it is full of peddlers with many different dishes, drinks, snacks and ice cream. You can also find sarong, beach mats, sunglasses, handmade souvenirs, even more.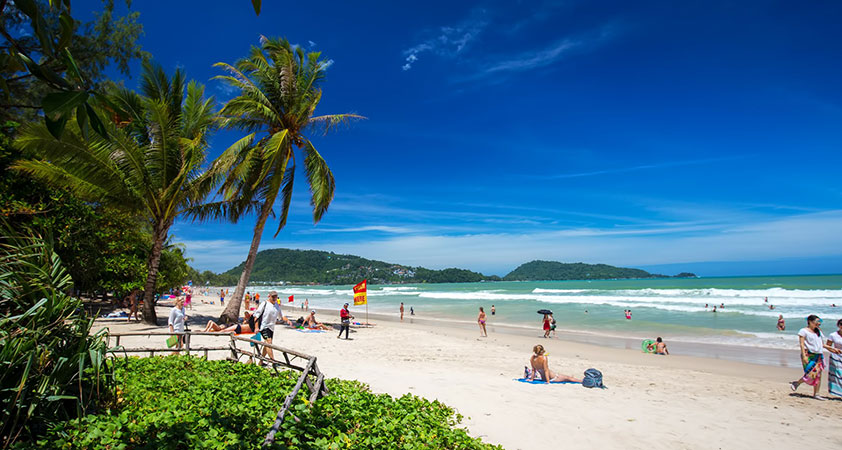 The best time to travel to Patong beach is from November to April because the water surface is very calm and quiet. From May to October larger waves and waves become dangerous. Although it is possible to enter the water on some days, you should always pay attention to the red flags warning the danger before swimming. In general, Thailand package tour are arranged so that it is appropriate with the weather.
6. Ancient Ayutthaya capital
Ayutthaya is only about 80km from downtown Bangkok and was once the capital of this country. And until 1991, this place was recognized as a World Cultural Heritage. It is famous for the statue of Buddha face wrapped in tree roots. It is an image that is not only special and unique but also sacred and brings a sense of peace. In addition, there are countless ancient places where tourists can explore and find an old piece of memory of this country. That is the reasons why Ayutthaya is recommended in tour package to Thailand.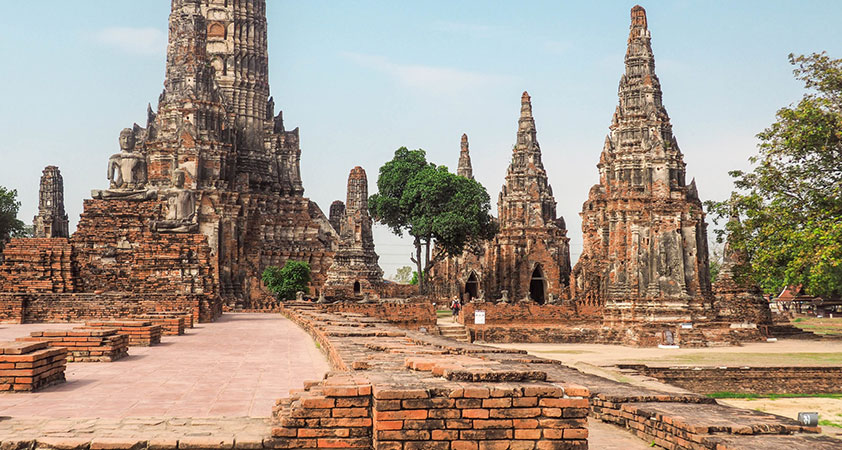 See more: Thailand classic tour 8 days 7 nights | Experience Thailand 7 nights package

7. Wat Traimit
Wat Traimit is located in Bangkok's China Town. This place owns the largest casted Buddha statue in gold in the world. Besides this highlight, this temple also attracts tourists by its extremely beautiful luxury architecture. Still with the image of the familiar yellow roof of the temples in Thailand, the Golden Buddha temple appears as a large palace, making visitors admire praise. All in all, Wat Traimit cannot be missed in tour of Thailand package.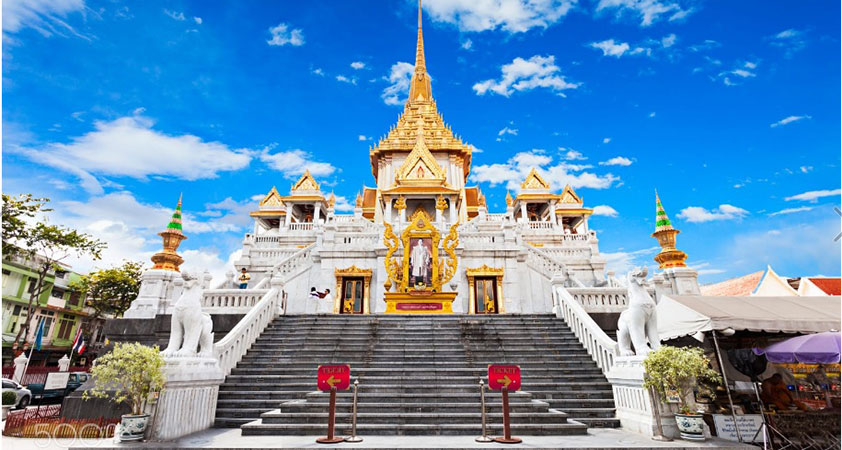 Join
Thailand package tour
with us!