Filter tour
Cambodia adventure Tours
Cambodia
is currently one of Southeast Asian countries that thrives on tourism, and is a neighboring country of Vietnam. Cambodia attracts tourists by famous monuments like
Angkor
,
Silver Pagoda
,... or new destination suggested by
Cambodia adventure tours
such as:
Bokor Plateau, Shihanoukville Sea, Korong Saloem Island,
... Let's join Galatourist's
Cambodia tours
to have a wonderful and interesting trip because of 3 following reasons: 
Discover the Kingdom of Cambodia, which is close and mysterious with the Phnom Penh capital over 500 years old near the Tonle Sap.
Admire the magnificent Royal Palace with architecture characterized by Theravada Buddhist culture and sanctuary temples.
Admire the creativity of the Khmer people in each architecture.
Contact
Galatourist
right now and get the best price of the
Cambodia adventure tour
.
Top 5 incredible travel destinations in Cambodia adventure tours
Inspite of simple beauty, those places attract plenty of tourists from all over the world. Because of their myterious stories and ancient monuments, they make the visitors so curious to adnventure them. Don't hesitate to go along with
Galatourist
. 

1. Silver pagoda
Silver Pagoda
has the official name Wat Preah Keo Morokat, meaning "Emerald Buddha Temple". As its name, Silver Pagoda is a place to store priceless treasures of Buddhism with more than 1050 very valuable treasures made from gold, silver, copper and precious stones. Known as the Silver Pagoda because the temple is covered with 5000 silver bricks. When visiting Silver Pagoda, you will learn about architecture information, the name of the temple and understand religious beliefs of Cambodians. You will also know the art of architecture, culture and the characteristics of the history of the country.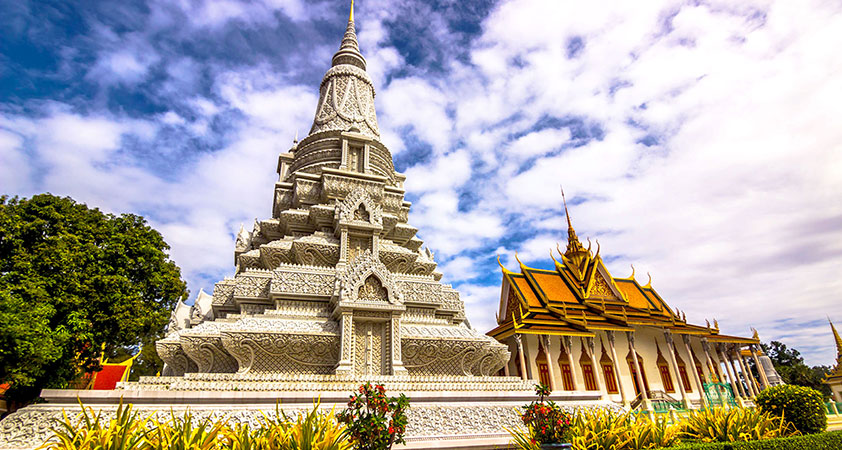 Silver Pagoda is the pride of the people in Phnom Penh, an attractive destination for domestic and foreign tourists. With unique and eye-catching architecture, Silver Pagoda is a work in the complex of Cambodian royal palace that always attracts a lot of visitors. Don't miss the opportunity to admire this cultural and architecturally significant building by choosing
Cambodia adventure.

2. National museum
Adventure tour in Cambodia
 becomes more amazing because of
the national museum.
The national museum is home to the oldest archaeological, religious and artistic artifacts of the Khmer. You can admire more than half a million specimens from the 4th to the 13th centuries. They all show the richness of the culture of the ancient Khmer kingdom. Arrangement of antiques suitable for each stage helps visitors easily learn about the history of this country.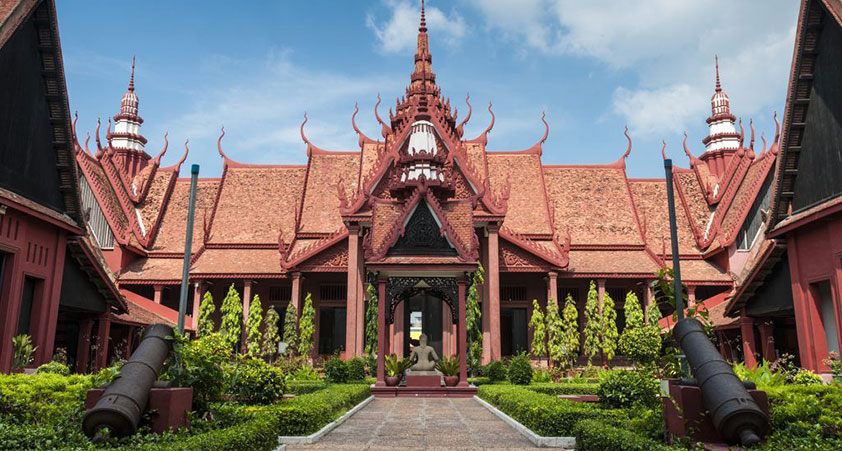 Not only is the space for exhibiting antiques, but small landscapes and cool trees are also built around the museum. Therefore, the best time to come here is noon and afternoon to avoid hot sunshine or harsh, unpleasant weather outside. A traditional dance performance in Cambodia takes place from 19:00–20:00everyday. Dancers and musicians bring the journey from Angkor's palace to the scenes of daily village life. This is also the perfect introduction about Cambodian culture. 

See more: Captivating scene in Cambodia itinerary | 10 days 9 nights

3. Kampot
Kampot
is a popular tourist city of Cambodia, only two hours away from Xa Xia and Ha Tien border gate. If you want to stay away from the bustle, Kampot is a great choice. Some tourist attractions visitors can not ignore when visiting Kampot are Bokor Mountain National Park, Kep Sea, cave system near Kampot, Rabbit island... Come here, don't forget to watch the sunset on Kampot River! It would be a waste to miss the scenery on the other side of the river such as bungalows located next to the rows of coconut water, far away the legendary Bokor mountain. Such a fascinating scene in
Cambodia adventure tours
!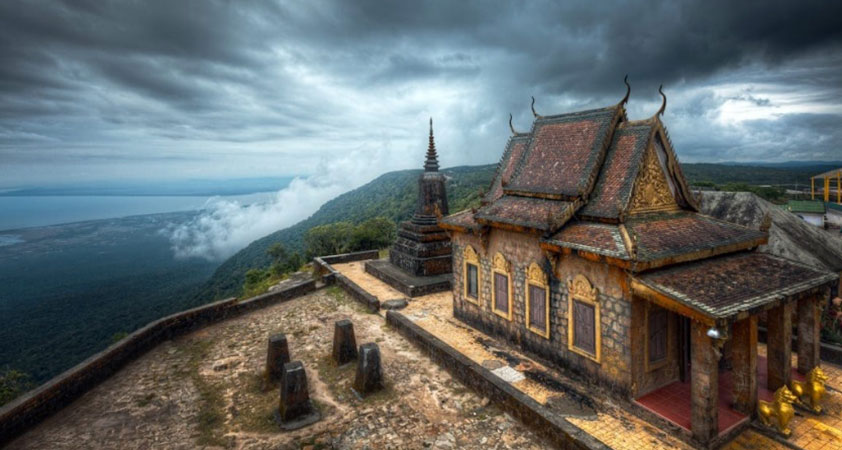 See more: Adventure cycling itinerary throughout Cambodia | 7 days 6 nights

4. Koh Rong Island
Koh Rong, the new destination of Cambodia adventure trip, is the second largest island in Cambodia. Koh Rong Island is famous for its fine white sand beaches, crystal-clear water. November to April is the peak tourist season in Koh Rong because at this time, the weather is less rainy, the waves are quieter. This is a great place to dispel the heat and relax after stressful working days. From May to October, fewer visitors come to Koh Rong due to constant rain and storm, sometimes. If you decide to book Cambodia adventure travel in these months, you should check the weather first and prepare carefully. There are a lot of recreational activities for you to explore.
5. Mondulkiri
Mondulkiri
is the eastern province of Cambodia. Because the terrain is mainly high mountains with vast pine forests, rolling hills and three large waterfalls: Bou Sra Waterfall, Sen Monorom and DakDam Waterfall, the climate is cool all year. Although it is a province having sparsely population, tourism has also developed quite strongly, the number of hotels and homestays increases for last 2 years. This will be a great choice for the guys who love nature, freedom. Especially, you can wake up early next to endless grass hills with coffee cup to welcome sunrise or sunset on hillsides. This is the gift of
Cambodia adventure tours.