Top 5 attractions must - see in Siem Reap, Cambodia
As a Cambodian tourist capital, Siem Reap is the unique old city with hundreds of natural and man-made attractions. From beautiful temples to unique museums, cultural parks, vast lakes and mountains covered with green grass. Discover this special land with Galatourist !
1. Angkor Wat
Location:
Angkor Archaeological Park
Price:
20 USD (1 day), 40 USD (3 days) and 60 USD (7 days)
Angkor Wat is the main reason that almost all visitors come to Siem Reap. It consists of 5 tower-like 65m high lotus with Khmer architecture of 12th century. There are also about 2000 stone carvings of the Apsaras (also known as dancers in heaven).
As a UNESCO world heritage site, Angkor Wat was built to worship Vishnu (a Hindu god), and according to wise people, this place is a funeral temple for King Suryavarman II. Angkor Wat is located inside the Angkor Archaeological Park. Visitors are required to have Angkor Pass, you can purchase this pass for 20$ for a day, 40$ for 3 days and 60$ for 7 days.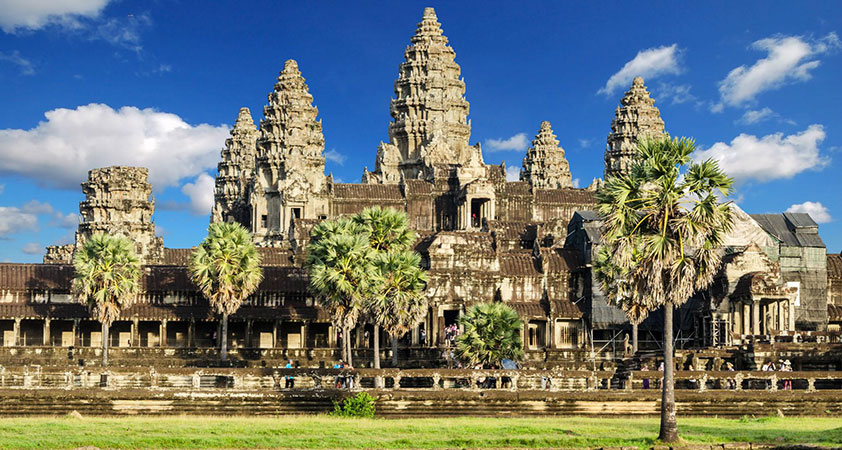 There's no right or wrong way to explore Angkor Archaeological Park, but you can be strategic about it. Start with official 'Wonder of the World' and the largest religious site on Earth, Angkor Wat but get up early to see it at sunrise as they'll be a lot of people with the same idea.
Alternatively, you will go for a hilltop complex like Phnom Bakheng at dawn to avoid crowds (most people visit here at sunset). It's best to do most of your exploring before the midday sun hits, although the 'Tombraider Temple', Ta Prohm, is a good one to go to in the afternoon, as it's shaded by tightly-knotted banyan trees.
Get the three-day temple pass (62$) if you're here for anything longer than a weekend break, as it's worth taking time to explore the smaller, off-road temples like Preah Pithu, in and around the main city of Angkor Thom.

2. Ta Prohm temple
Location:
1km east of Angkor Thom
Price:
20 USD (1 day), 40 USD (3 days) and 60 USD (7 days)
Ta Prohm is a quiet monastery built in the middle of the 12th century by King Jayavarman VII to commemorate his mother. It is believed that the 600-room monastery and its campus used to house more than 70,000 people, and most of them were priests, clergy, auxiliaries, dancers and employees.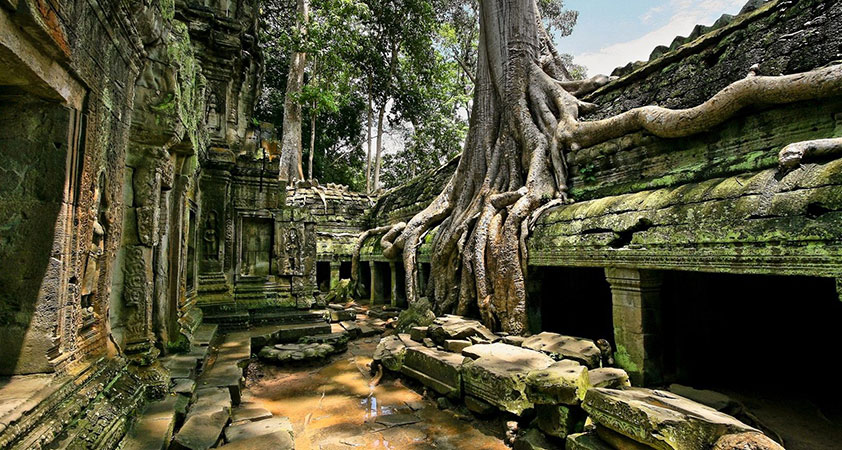 3. Bayon temple
Location:
Center of ruins of Angkor Thom
Price:
20 USD (1 day), 40 USD (3 days) and 60 USD (7 days)
Bayon Temple has approximately 50 towers along with 4 giant stone statues of the Bodhisattva Avalokiteshvara. It was built in the late 12th century to serve as the official temple of Mahayana Buddhist Jayavarman VII.
Placed in the middle of Angkor Thom, you can easily recognize the sculpture architecture of the ancient Khmer Kingdom. Along with the serene expression, the four statues here are 4m high and represent the four directions of the compass.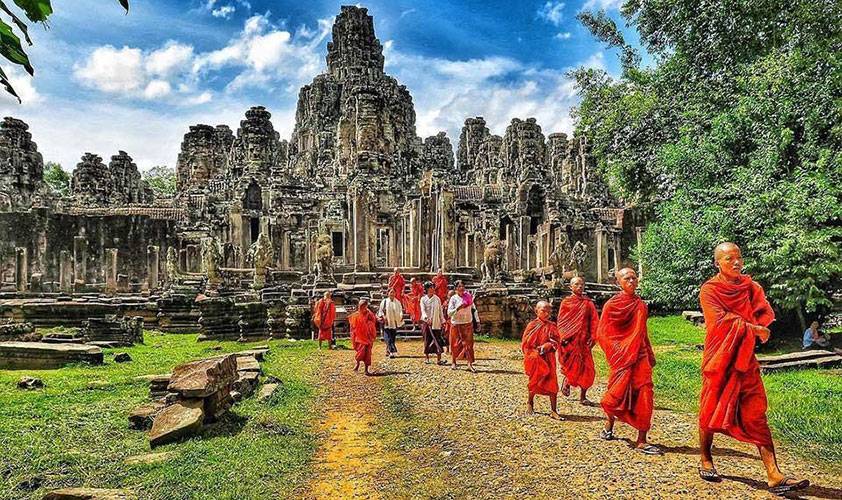 Besides the four-faced Buddha statue, the Ba Yon Temple is fortified on two sides with two long walls with elaborate figures on what happens in daily life along with images of battles and religion rituals. If looking for a place to visit Siem Reap to "reverse the time line" then Ba Yon is the choice that we think the most appropriate.

4. Phnom Kulen National Park
Location:
47km north of Siem Reap
Price:
20 USD
Phnom Kulen National Park (Kulen Mountain) is located 45km north of Siem Reap. It is believed to be the most sacred mountain in the country. Mount Kulen has more than 55 ancient temples and a 16th century Buddhist temple, along with a sandstone statue of a lying Buddha.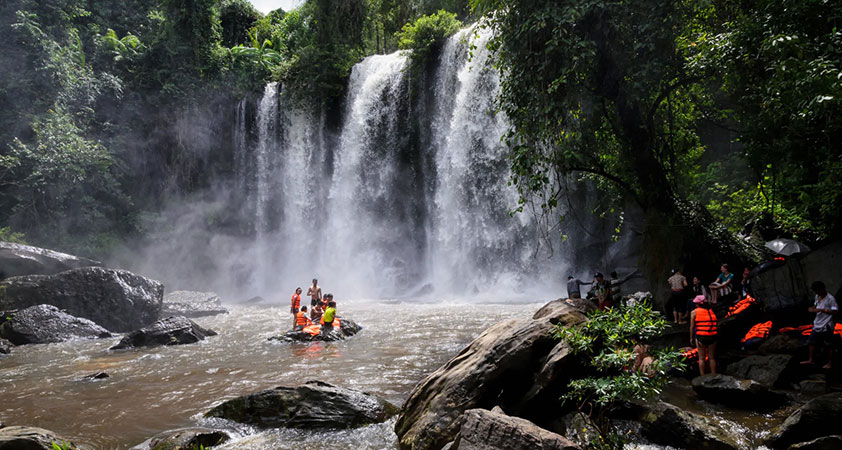 The entrance price for this Siem Reap sights is 20$. Although the price may seem unreasonable when compared to the Angkor Archaeological Park, visitors can visit 2 impressive waterfalls and the focal point of Phnom Kulen with so many rocks and waterfalls, the waterfalls here are great for swimming and picnicking.

5. Wat Damnak Pagoda
Address:
Wat Bo Road, Siem Reap
Opening hours:
8 am to 5:30 pm daily
Wat Damnak pagoda is located on Wat Bo Road, a Royal Palace under the reign of King Sisowath. Today, it's a school, a charity and a training center for young indigenous girls. This place is best known for being the center of Khmer Studies.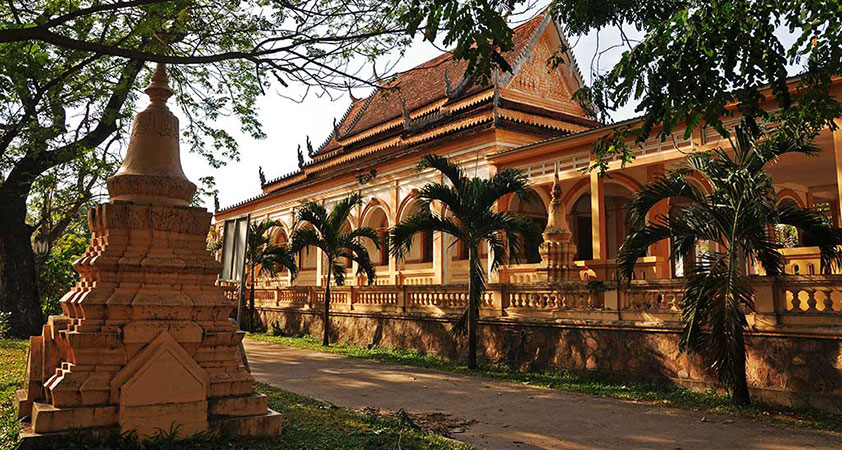 It also has a large library filled with over 11,000 books, newspapers, encyclopedias, guides, maps and daily newspapers in English, French and Khmer. Take in tranquil and tranquil atmosphere, retreat from the bustle of the city center or other Siem Reap sights. You can spend your time reading or walking around Wat Damnak.
ONLY WITH US : 100 % MONEY BACK GUARANTEE within 10 days from the date of booking if not satisfied.
For further information, or simply a free quote, please
contact us
at any time via our email:
info@galatourist.com
, our experienced consultants will reply to you within 48 hours.
Sincerely yours & see you soon!
GALATOURIST
since 2005.