Filter tour
Myanmar Classic Tours
If you love ancient landscapes, Myanmar is a great tourist destination for you. Myanmar is famous because it is an ancient country with 1000 temples in Bagan, Shwedagon pagoda in Yangon,... These are places that anyone who likes to explore buildings and monuments wants to visit once.

Not only attracting tourists by great architectures, Myanmar is also outstanding by the pristine beauty and diversity and unique in culture. It is so happy to discover the unique beauty of Myanmar Buddhist land with your friends and don't forget to contact Galatourist for the easiest and most convenient experience with tour package in Myanmar. Let's travel in Myanmar !
Top 7 spots make the tourist never forget tour package in Myanmar.
With these famous tourist traps, the visitors are able to broaden your knowledge about the new land, new country and new culture. They are also impressive factors making tour package in Myanmar stand out. So let's see them.

1. Sule pagoda
The pagoda is located not far from Yangon  downtown. Visitors should also go to Sule Pagoda to see the features of architecture from ethnic Mon. Especially, around the pagoda there are 10 bronze bells, on which the names of those making ceremonial oferings are engraved and 8 Buddha statues of the days in week. It was built with a domed structure, and it topped with a golden spiral. Looking down from the top, the golden light gleamed like a splendid palace in fairy tales that attract all the visitors of Myanmar tour package.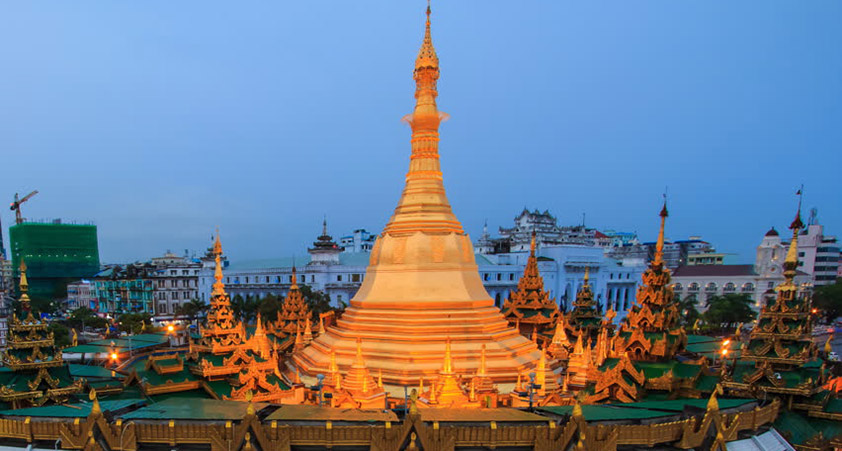 See more: Travelling to beautiful Myanmar for itinerary | 10 days 9 nights

2. Inle lake
Inle Lake is located about 600km from Yangon city and is voted in the top 5 new tourist destinations in tour package to Myanmar that visitors all over the world should explore by the world-famous magazine Condé Nast Traveler.
Coming to Inle Lake, you will feel that your soul return to peaceful childhood because the panorama of it looks like a simple and rustic village picture. Stay here until the sunset, when the sun sets, the water is like being dyed red, a peaceful beauty that is rarely available.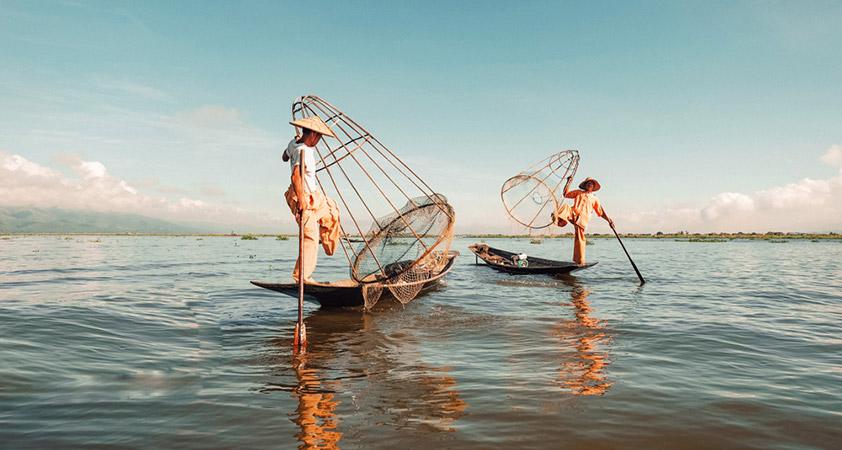 Around Inle Lake also has a lot of places for tourists to visit such as: the vestiges of the architecture of the ancient Indein city built in the 11th century, Phaung Daw pagoda, Nga Hpe Kyaung monastery and so on.

3. Mandalay Palace
Being located in the city with the same name, Mandalay Palace is Burma's last imperial capital so it is also known as the Royal Palace. Unlike other splendid places, it was completely built of wood in the 50s of the 19th century in traditional Burmese style. For this reason, if you pay close attention, all towers must be in the right center and facing the East, buildings in the Palace must have the same height and importance of each tower shew in the number of towers. It is this "rigidity" that brings unique and solemnity in Mandalay Palace.
If joining Myanmar package tour without visiting this Royal Palace, it will not be perfect journey.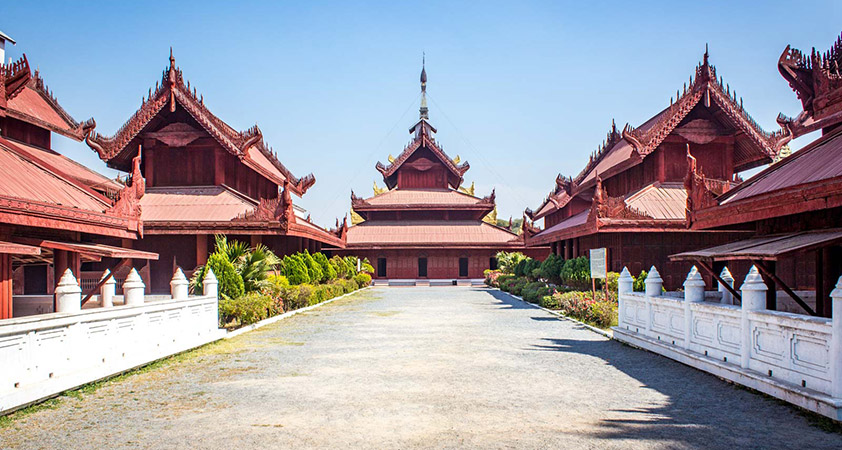 4. Kyaikhtiyo pagoda
Kyaikhtiyo pagoda is a masterpiece of nature and is one of the famous beautiful monuments not to be missed in Myanmar. The pagoda is located at an altitude of over 1,000 m above the sea level. It is located on an egg-shaped stone lying on a steep slope. It is also called the Golden Rock pagoda because both the pagoda and egg are inlaid with gold and in different terrains you will be able to observe the different shapes of the extremely interesting Golden Rock. However, just men are allowed to be close to the rock instead of women.
Staying here still night falls, you will find the temple and the rock bright and shimmering in the smoke of the prayers. Book Myanmar travel package right now to visit these exciting things.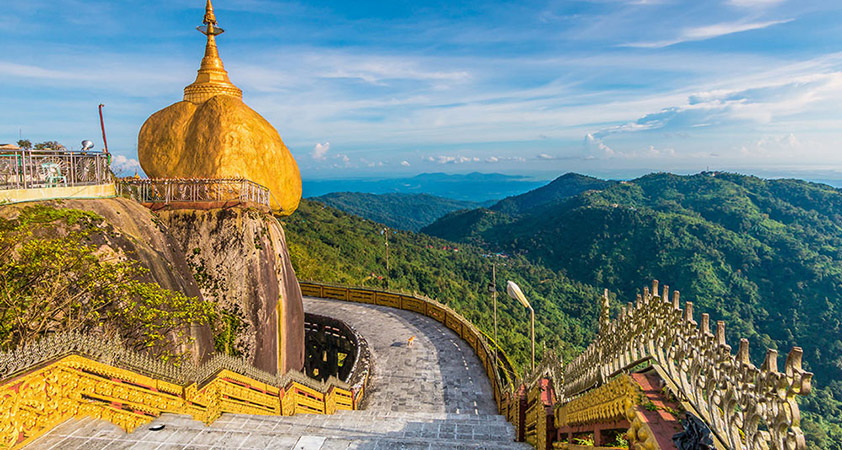 See more: Antimated beauty of Myanmar travel itinerary | 5 days 4 nights

5. Sagaing Hill
Surrounded by forests and stupas but Sagaing hill is still very quiet. Therefore many monks come here to cultivate and it has become an important Buddhist temple in Myanmar. The mountain roads in Sagaing hill are very steep so you can see all kinds of stupas of all sizes at all roads.
It is said that there are more than 500 stupas and temples in the mountains, and up to 6,000 monks practising. You can catch monks resting or chanting at any time on the road. There is a semicircular temple in the middle of the mountain and more than 30 Buddha statues per hectare. The surrounding walls are carved with Buddhist scriptures. Ingeneral, you cannot miss Sagaing hill when you join tour package in Myanmar.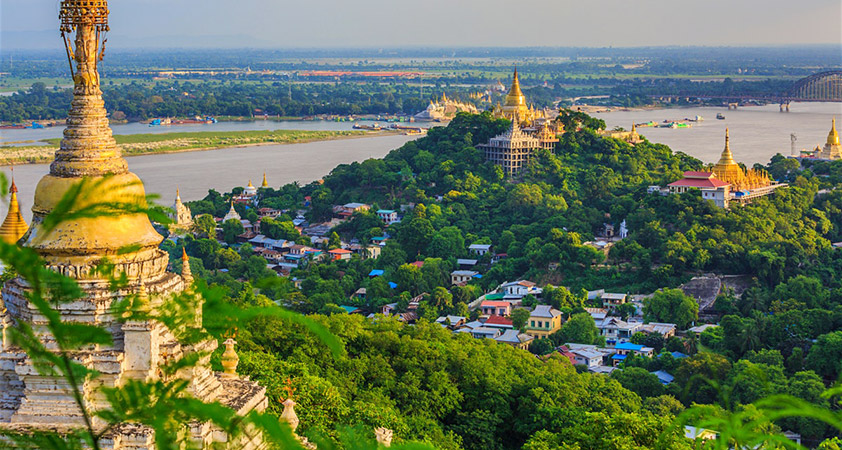 Wish you a memorable trip !