Filter tour
Halong Bay Tours
Halong Bay
with breathtaking beauty recognized by UNESCO as a world heritage site has long been the most worth-visit destination in the
Gulf of Tonkin, Vietnam
. The bay features more than 1,600 islands and islets, shaping an amazingly wonderful seascape of limestone pillars. Ever setting foot in Halong Bay, travellers will be overwhelmed by the shimmering beauty of the caves, and the wonders of the limestone mountains rising above.
The best way to explore Halong Bay, the "
Green Pearl of Vietnam
" is by Junk or for a different experience, you can choose to discover by helicopter. So let us suggest you attractive places of Halong Bay which is the best choice for traveling in summer. We offer various
tour Vietnam Halong bay
. 
​​​​​
As stating above,
serious & local trave agent Galatourist
 will surely give our customers the discovery of
Halong bay
at a good quality for money.
Contact
Vietnam travel agent Galatourist right now and customize your own
tour Vietnam Halong bay
2019. 
Top 5 Worth-do activities  of Tour Vietnam Halong Bay
Truly known as an ideal summer vacation with more than 3000 islands, grottos and limestone mountains, Tour Vietnam Halong Bay offer a variety of activities such as swimming on beautiful beaches, kayaking through amazing islets, visiting breathtaking caves & grottos for both family and friends travel, making your summer more interesting.
1. Join a cruise trip on Halong Bay
Halong bay tour offers different cruise trip around the bay with lots of attractive activities throughout the journey. On junk, travellers can join lots of interesting activities, from admiring the sunrise & sunset view among 1600 islets with a cup of coffee; participating in Vietnamese cooking class to learn how to make a traditional dish; squid fishing at nighttime to simply sunbathing on boat. 
In addition, besides a cuise trip along Halong Bay, the Green Pearl of Vietnam, travellers can join a trekking trip to conquer Bai Tho mountain, overlooking the whole majestic view of Halong Bay from above and have a deeper insight into tour to Vietnam.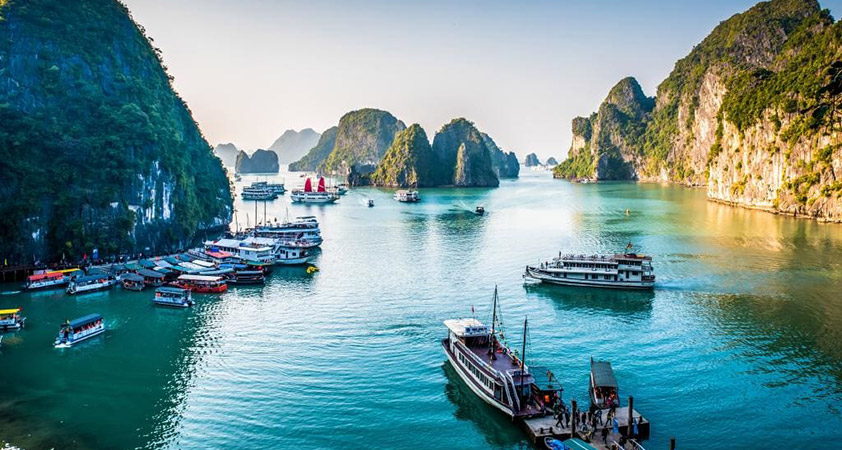 See more: Discover the stunning beauty of 2 day tour Halong bay | 2 days 1 night
2. Paddling by Kayak
A must-do activity in trip Halong bay is exploring the Bay by kayak. In a kayak, travellers can go through some amazing islets and caves of the Bay like Luon Cave and Dark and Light lagoon or even pass a floating market on Halong bay to observe the way the fishermen catch fish as well as making their life.
In addition, the flora and fauna of Halong Bay is typical and it will be great if you take the opportunity to see a charming Sea Hawk swooping down or various fishes around. A daytime kayaking will reveal the incredible phenomenon of phosphorescence present in the water, each paddle stroke leaving a trail of glitter.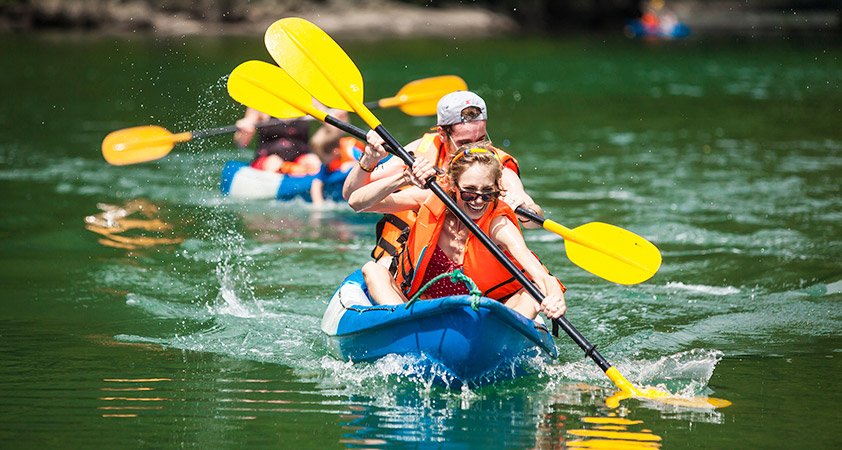 3. Swimming on beautiful beaches of the Bay
Due to its clear tranquil water, Halong Bay is an ideal place for swimming with lots of beautiful beaches like Bai Chay beach. Tour to Halong bay will be much more pleasurable if you have a chance to swim far away from the beach, especially when diving from a Junk at some islands like Rang Dua islands or Sim Soi island because the water there is much more blue. Wallowing in cool water of the Bay, travellers will feel free and extremely relaxing.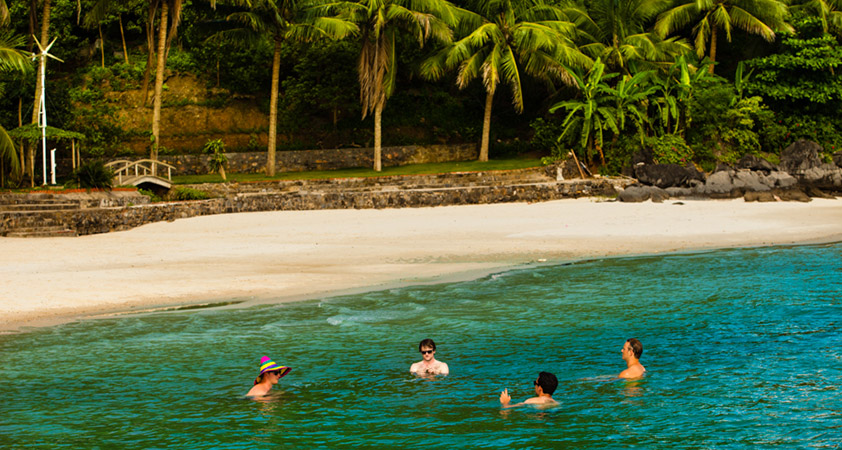 See more: Best price of Halong bay 3 day cruise with kayak | 3 days 2 nights
4. Exploring Halong Bay's floating villages
Not only famed for breathtaking scenery of world-class caves and grottos, Halong Bay also is home to lots of floating villages where the locals there mainly make their living by catching fishes, aquaculture, and hybrid seafood farming as well. Thanks to the development of tourism, the life of the fishermen on Halong bay nowadays is improved.
With trip to Halong bay, visitors can choose to visit Vung Vieng floating village or Cua Van floating village and spend half day there experiencing the life of a fisherman.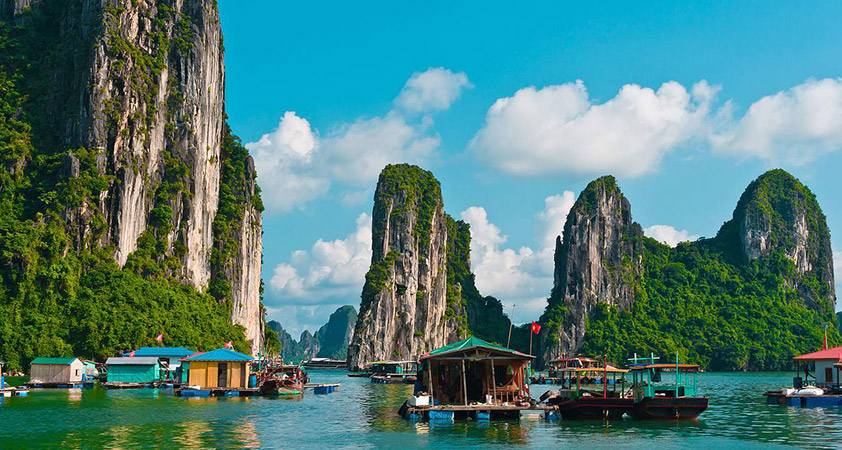 5. Explore some amazing caves on Halong Bay
Noted for the majestic natural scenery, Halong Bay is a heaven of breathtaking caves such as: Fairly Lake cave – featuring the enchanting beauty & geological and historic beauty; Sung Sot cave - the most spectacular and largest caves with wonderful things from nature; Trinh Nu caves – attaching to a love story between a beautiful girl and a fishman; Thien Cung cave – where you can be overwhelmed by countless blocks of stalactites, stalagmites with strange shapes of tour Halong bay. 

See more: Competitive price of Halong bay tour by Seaplane Hai Au | 2 days 1 night

Hope that after the post, travellers will have a full and useful information of Tour Vietnam Halong Bay. Do not hesitate to contact our local and experienced agent Galatourist to plan your own cheapest Halong tours 2019.