Tien Ong Cave - A rising star in Halong itinerary
Tien Ong Cave possesses pristine landscapes and a system of thousands years old stalagmites and stalactites. It is also a cradle of ancient Vietnamese people.
Tien Ong cave's introduction 
Tien Ong Cave is located on the rock of Cai Tai, behind the Cua Van Fishing Village in Halong Bay. About 75 years ago, in 1938, an archaeologist named Anderson, a Swede interrogated the trace of the ancient Vietnamese people along the coast and on the islands of Halong bay and Bai Tu Long, including Tien Ong cave. Here he discovered giant streams filled with sediment, seashells and stone tools some rather rough cobblestones. The cave of Tien Ong is marked on the archaeological map of the distribution of the relics of ancient Ha Long.
To create a highlight for the destinations of route 3, build an interesting and attractive tourist product in Ha Long Bay, the management department of Ha Long Bay has studied and collected archaeological artifacts to exhibit in the Tien Ong cave. Most of the caves in Halong Bay have a moderate entrance of the cave. The mouth of the cave is very wide (70m), like a "frog jaw", the ground of the cave is about 5m above sea level today.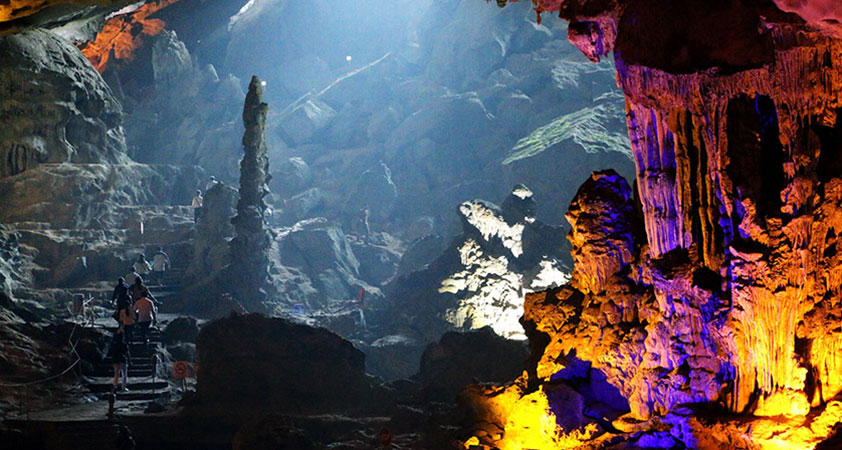 Outside Tien Ong cave, there are many falling stalactites - a trace of tectonic nature. The cave gradually tilted inwards, about 50m deep. According to research conducted by the management of Ha Long Bay, Tien Ong cave is estimated to be over 1000 m2 wide. In the middle of the cave, the bamboo shoots fall from top to bottom and rise from below to form the screen, dividing the cave into two compartments. There is research on terrestrial animal bones, ceramic fragments and many shells, snails and other mollusks with stone tools like axes and knives in the cave.

The typical features of Tien Ong cave
A special feature of Tien Ong cave is the place displaying the archaeological artifacts. In particular, the use of natural light at the entrance of Tien Cung cave makes the value of the monument and display space impressive and mysterious.
The exhibition inside Tien Ong cave attracted both domestic and international tourists to visit and explore archaeological values of Vietnam. Tien Ong cave is considered a unique tourism destination, contributing to protecting the value of cultural history as well as developing sustainable tourism products and services on Ha Long Bay.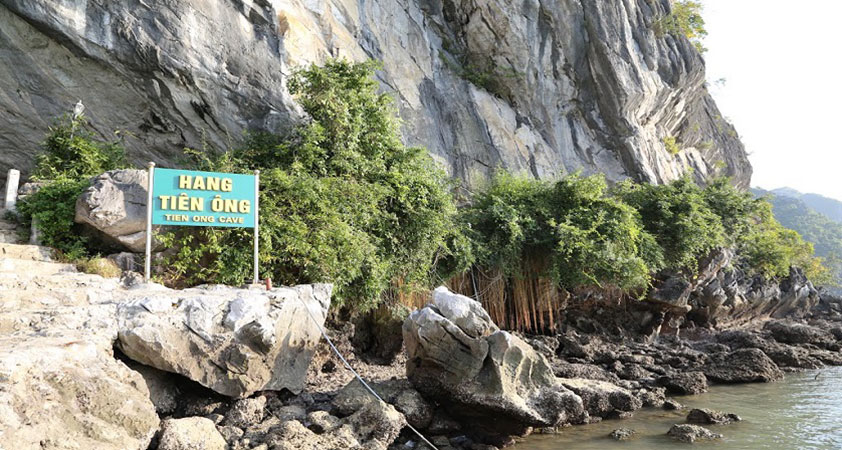 How to go to Tien Ong cave of Halong Bay 
Tien Ong cave is an attractive destination for tourists on Halong Bay. You cannot go to Tien Ong cave on Halong Bay on your own so you have to choose a boat along Halong Bay including the visit of Halong Bay. You should go to Halong Bay first then board the boat heading to Tien Ong cave. The road from Hanoi to Ha Long is quite convenient. From Hanoi, visitors can choose a variety kind of transportation such as motorbike, public car, Halong Express train or Halong coach.
By motorbike/ private car: If you choose to go to Halong Bay Vietnam by motorbike, the nearest distance from Hanoi to Halong is 155 km, which takes about 3-5 hours.
By Halong express train: Currently, to meet the demand of people to go to Halong Bay, visitors can go by train. Halong express train departs from Gia Lam station, which costs about 15$ (foreigners) and 5% (Vietnamese) per one-way ticket. The total time of moving from Hanoi to Halong Bay is 5 hours.
By public car: Another way to reach Halong Bay Vietnam is going by public car, which is always available at Nuoc Ngam, My Dinh or Giap Bat station. The price ranges from 150 000 VND to 200 000 VND depending on the seats.
By Galatourist's coach: If you are foreigners, you will have difficulty in booking a public car or Halong express train to Halong Bay. For more convenience, visitors should book a coach from Galatourist then we will pick you up at your hotel in Hanoi and transfer directly to Halong Bay.

Some famous caves on Halong Bay 

Me Cung Cave
Me Cung Cave (Maze cave) is on the Lom Bo island in Ha Long Bay, about 25 meters above sea level and about 2 km south of Titop island. The geographical structure of the cave is quite complex, consisting of several levels and subdivisions in the reach of the roof of the rock with a corridor of more than 100m long and about 40m2 wide, leveled up to the west. The door of the Me Cung cave is oriented towards the east, seen from afar, it is like a very large roof at the bottom of the island. Inside the cave is cool and dry, the back of the cave is a system of small caves in zigzag and very private.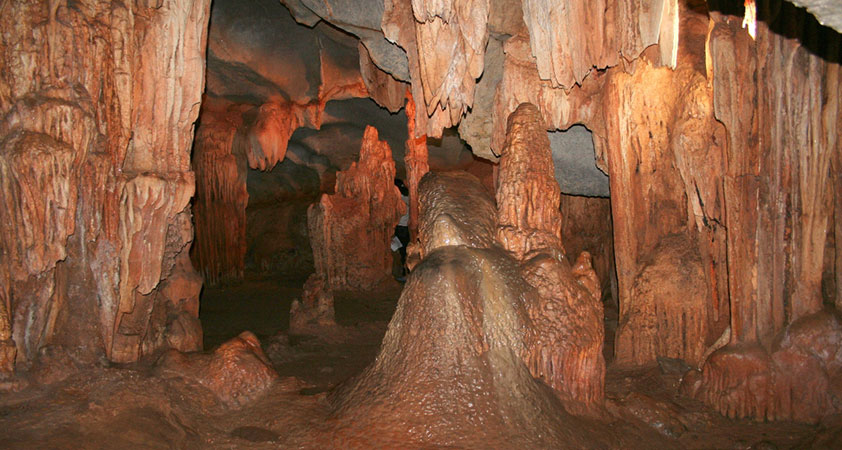 Sung Sot Cave
Sung Sot Cave (Surprise cave) is located in Bo Hon island, the central part of Halong Bay world heritage, Quang Ninh province. It is a pretty big and beautiful cave and also is a place where many rock islands are formed very interesting and unique. Sung Sot cave is the most famous cave in Halong Bay which is in the center of the UNESCO World Heritage area.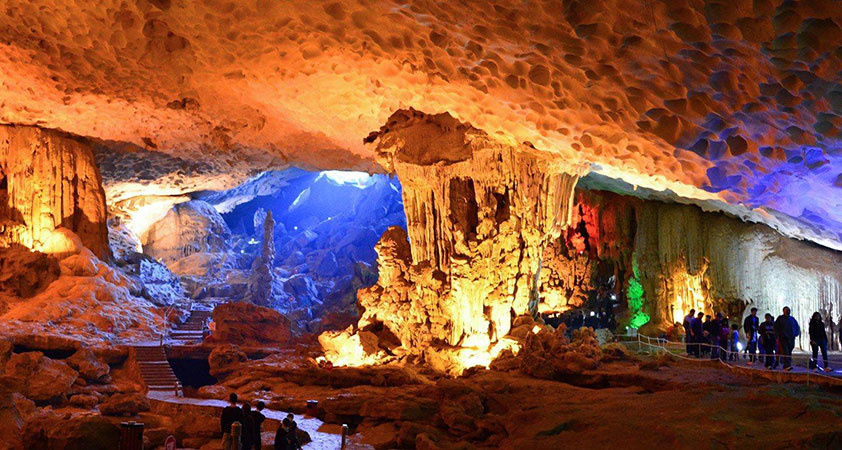 Tam Cung cave 
Tam Cung Cave (Three Palace cave) is located on the island of May Den in the center of Halong Bay - a lush island is located almost separated from other islands, about 5 km from Sung Sot Cave to North-east. The cliffs of May Den are extremely vertical, while its forest is flourishing. When you enter Tam Cung cave, you will be amazed by the stunning beauty and color of the oddly shaped stalactites. Sneaking into the narrow passages, you will find a glow in the distance, which signals the exit of the cave. As you come out of the cave, you climb several sturdy stone steps and look down, you see a round lake, surrounded by the mountain. That's wonderful !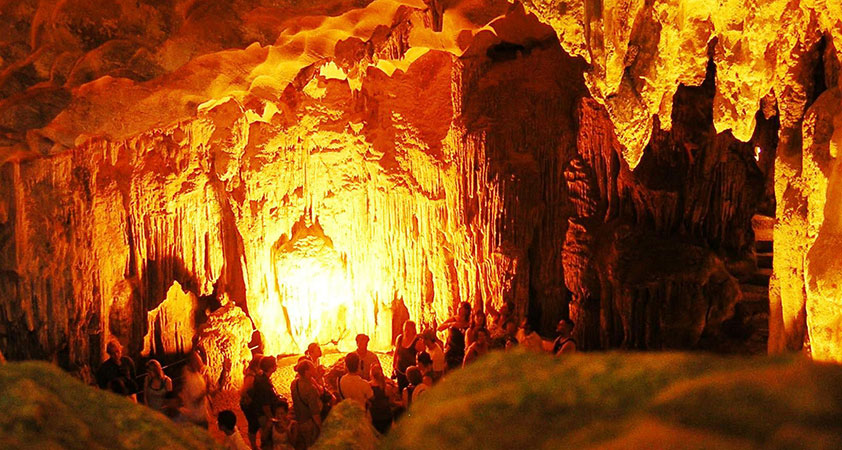 With the caves as Me Cung, Thien Long, Soi Nhu, Dong Trong ... Tien Ong cave is also an interesting destination that you can not ignore especially the scientists and visitors who want to search the history of Halong Bay.
ONLY WITH US : 100 % MONEY BACK GUARANTEE within 10 days from the date of booking if not satisfied.
For further information, or simply a free quote, please
contact us
at any time via our email:
info@galatourist.com
, our experienced consultants will reply to you within 48 hours.
Sincerely yours & see you soon!
GALATOURIST
since 2005.