Top 27 best places to visit in Hoi An, Vietnam
Hoi An is an ancient town on the bank of Thu Bon River, located 30 kilometers to the South of Danang city. The charm of the ancient town lies in the ancient atmosphere from different places to visit in Hoi An as well as overall structure of a tourism center...
I. Hoi An ancient town location
Hoi An ancient town
Vietnam
is an ancient town on the bank of
Thu Bon River
, located 30 kilometers to the south of Danang city. It used to be one of the most important trading ports of Southeast Asian in the 16th century, known as "Faifo" among Western traders. TIn the 16th and the 17th centuries, Hoi An commercial port was the international trade center in Southern Vietnam. Foreign merchant ships came to Hoi An in great numbers and a bustle for annually commercial fairs, each lasted from 4 to 6 months. Right in this town, Japanese, Chinese, Dutch, Indian traders set up their emporiums or established their own quarters for permanent habitation.
Thanks to fortunate opportunities, the old town of Hoi An, a unique concentration of architectural monuments of various forms: living house, assembly hall, communal house, pagoda, shrine, temple, water well, bridge, wharf, market...has been preserved rather intact. They are along the streets that cut one another, forming palaces and giving a good example of symbolic oriental cities in the Middle Age. So wonderful with its old aged and traditionally well-kept habits and customs, the town is now an excellent model of a living museum of architecture and urban lifestyle.  On the 4th, December 1999 the Old Town of Hoi An was inscribed on the World Heritage list.
With a time limit in your itinerary, do not miss the detailed list of
Hoi An best places to visit
below to have suitable choices during your tour.
II. Places to visit in Hoi An
1. Hoi An Ancient Town - The main area with ancient attractions
Hoi An ancient town
is an old town in
Quang Nam Province
. It keeps almost all the original beauty with more than 1000 architecture heritages like the roadways, house blocks, temples, pagoda, wells,... Moreover, food specialties are famous not only in Vietnam but also around the world. You will certainly have moments of relaxing in such a simple town. A lot of top
best places to visit in Hoi An
are in this main area.
2. Tan Ky Ancient House - The ancient house of seven generations
The house is always full of tourists, especially foreign ones who come to admire the architecture having existed for more than 200 years. It was built in 1741, having been the home of seven generations. Located right on the river, it looks like a mini-museum that presents all the ancient items collected in Hoi An. Although it has suffered from great floods, the structure still remains the original design, making it outstanding among
places to visit in Hoi An Vietnam
.
3.Cu Lao Cham island - A wild pearl among the blue ocean
Cu Lao Cham island
is in Tan Hiep commune, Quang An province. From Cua Dai beach, you take a boat for 15 kilometers to reach the island. Tourists usually come there to get away from the noisy atmosphere. The services have not been really developed but you can have a relaxing moment sleeps right on the beach, admire the sky full of stars, or go diving to discover the sea,... Especially, there is no nylon waste in the land, assuring it an ecofriendly destination.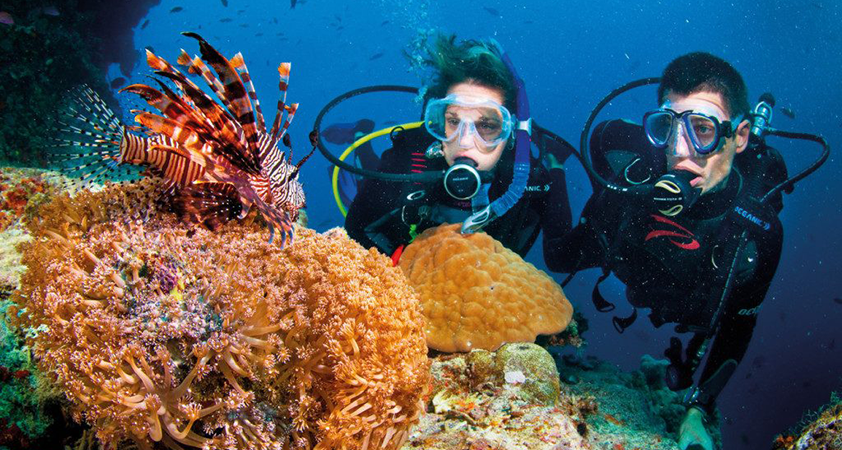 4. Duc An Old House - The architecture typical for Asian style
The ancient house is at
No.129 on Tran Phu Street
, right at the center of the town. The house is 180 years old, bringing about a sense of nostalgia. Not only the architecture is kept well but also small items are. Therefore, tourists can image truly about the old culture of the locals. Therefore, do not miss it among
Hoi An best places to visit
.
5. Cau Pagoda - A hallowed pagoda typical for the town
The pagoda is also called
Japanese Covered Bridge Hoi An
, located right on the bridge connecting the two sides of a small river in Hoi An ancient town. It was built in 17th century by the Japanese tradesmen. Legends say it plays an important role in avoiding the monster in the river to flap its tail, then earthquakes. It is completely made of wood, specific with a canopy. A lot of festivals and art events are held there, attracting thousands of tourists to visit every day.
6. Phuc Kien Pagoda - Admire the Chinese architecture right in the town
The attraction is at No.46 on Tran Phu Street, Quang Nam Province. It is one of the most famous Chinese architecture and religiosity in Hoi An. The Chinese living in the area will gather there to exchange together, also pay their gratitude to their home country. Tourists will have a chance to admire the majestic design indoor typical for Chinese style. In 1757, it was reconstructed but still keeps the original appearance.
7. Hoi An Historical-Cultural Museum - All the local values presented
The museum is in No.10B on Tran Hung Dao Street, Hoi An town. It was built in 1989, presenting more than 212 artifacts made of ceramic, copper, paper, wood,... involved in the development of the town throughout different periods of history. Especially, there was a time the area was known as a strategic trading center in Indochina. The culture, therefore, was also affected by the outside.
8. Museum of Trading Ceramics - The proof of the town's most thriving period
The house was built in the 19th century. It is quite large and divided into many separate areas. In 1994, it was reconstructed and then in 1995, the house was designed to be a museum you can see today. There are a lot of documents and artifacts involved in Hoi An ancient town presented, through which you can learn more about the attraction.
9. Gem Art Museum - Have a coffee and admire the private gem collection
Gem Art Museum was built in 2014 to present the art value in the area. It is in No.78 on Thach Thang Ward, Hai Chau District, Da Nang city. There are more than 1000 modern artworks together with traditional handicraft items. Tourists come here not only to admire these products but also have check-in photos with artistic backgrounds.
10. Quang Dong Assembly Hall - The place of Eastern culture exchange
Located at
No.176 on Tran Phu Street
, the attraction is one of the
best places to visit in Hoi An
. It was built in the 18th century with impressive architecture. At that time, Hoi An is the main trading port in Vietnam, and a great number of the Chinese came there for business. Then the assembly hall was built to be the meeting house where they exchange their trading experience as well as making friends with countrymen.
11. Quan Cong Temple - One of the remarkable spiritual tourism places to visit in Hoi An
Quan Cong Temple
is also called Ong Temple, located at 24 Tran Phu Street, Hoi An. The attraction was built in the 17th century but has gone through many times of reconstruction. This is a religious heritage of great value, also one of the most popular
Hoi An places to visit
. Therefore, in 1991, it was recognized as a National Historical Heritage.
12. Thanh Ha pottery village - Items absorb infusions of history and memory
Thanh Hoa village has been there for more than 500 years. They specialize in producing pottery products that have been famous around the country. Especially, the locals have developed ecotourism services that give you a chance to experience in person these activities. On visiting the place, you may get surprised at the colorful scenery with pottery items presented here and there. The pottery park together with other pottery houses are interesting
Hoi An places to visit
.
13. Kim Bong Carpentry Village - Visit boat workshops in a peaceful village
Kim Bong Village is in Cam Kim Village, Hoi An town, which specializes in carpentry. It is on the side of Thu Bon River, opposite to Hoi An ancient town. There are more than 1000 houses earning their living with this traditional job. Especially, they have created a number of great seaworthy boats to provide to the surrounding areas. Moreover, they also dedicate to maintaining Hoi An ancient heritages that are mostly made of wood.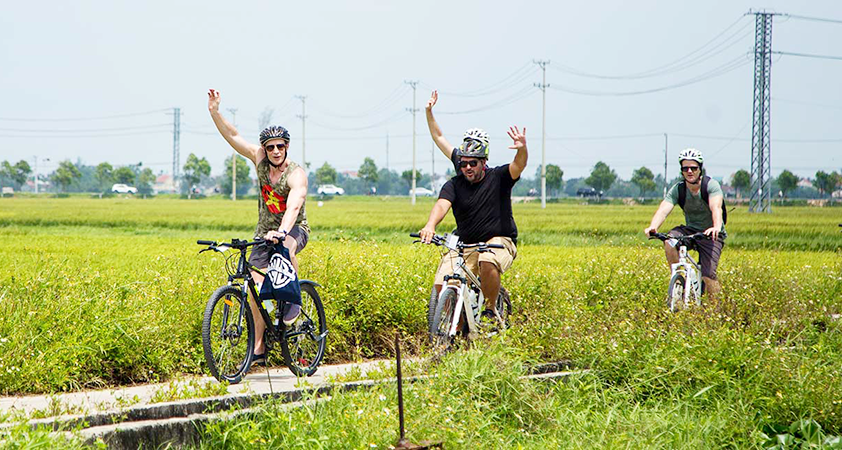 14. Tra Que Vegetable Village - Exciting experience of turning into a real farmer
Tra Que village is famous for endless fields of vegetables, especially various kinds of herbs. It is in Cam Ha Commune, Hoi An. These products have contributed to the diversity of local food cuisines. Besides
Hoi An tourist attractions
, it is also known as a paradise of food specialties. Moreover, the village has provided eco-friendly experience so that tourists will turn into a real farmer on these local fields.
15. Cam Thanh Fishing Village - Eco-tourism attraction you must visit
With a short boat tour, tourists will reach Cam Thanh village, one of the best fishing
places to visit in Hoi An
. From a far distance, it looks like a separate oasis hidden in the green forests of coconuts. The area of coconut forests may be up to 200 hectares. You can take a boat to travel around the attraction, or walking in the fresh atmosphere. Especially, the village is also known for paintings made of coconut paper.

Consult now: Visit Cam Thanh and Tra Que villages with Hoi An half day tour
16. Tra Nhieu Fishing Village -  Have a fishing tour with the locals
Tra Nhieu Village
is in
Duy Linh Commune
,
Duy Xuyen District
,
Quang Nam Province
. The village still keeps its own traditional cultural value as a simple and peaceful village. The spot is full of green trees, making these winding roadway much more outstanding. Alongside the road are tea ranges with gentle flavor giving off a large area. Besides catching fish, the locals also make marble products to earn their living.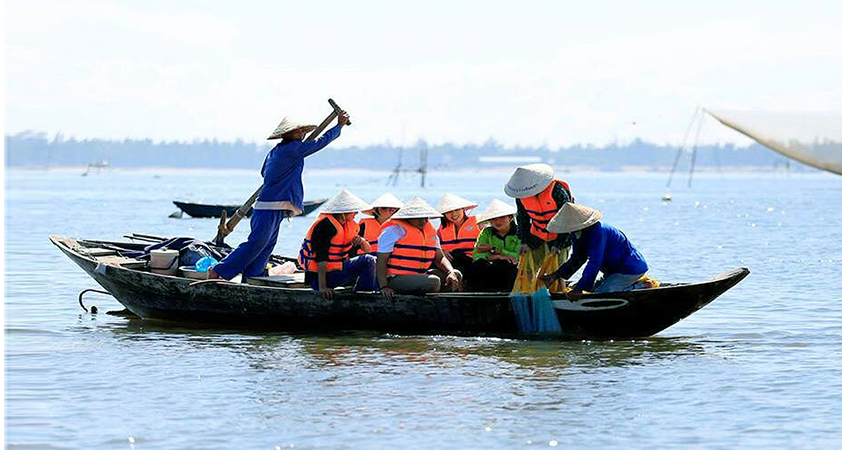 17. Hoi An Silk Village - Learn how to make the best-qualified silk item
The spot is one of the most unique choices of
Hoi An best places to visit
, which is located on
Nguyen Tat Thanh Street
that is only 1 kilometer far from the town center. Tourists will immerse themselves among the silk paradise in various colors. The village has been there for more than 300 years, attracting thousands of visitors with ancient architecture of
Ruong House
, silkworm rearing houses, silk reeling houses, and the product presentation area. In addition, the atmosphere is charming with white lotus lakes in the village.
18. Cua Dai Beach - One of the most famous places to visit in Central Vietnam
Cua Dai Beach is five kilometers far from the center of Hoi An, located in Hoi An city, Quang Nam province. It is one of the most popular
Hoi An places to visit
among tourists with a lot of modern and eco-friendly resorts surroundings. Tourists will certainly be impressed by endless white sandy seashores, where a lot of activities are held such as badminton, parachuting,... The best time to visit the attraction is in summer while the temperature is perfect for swimming.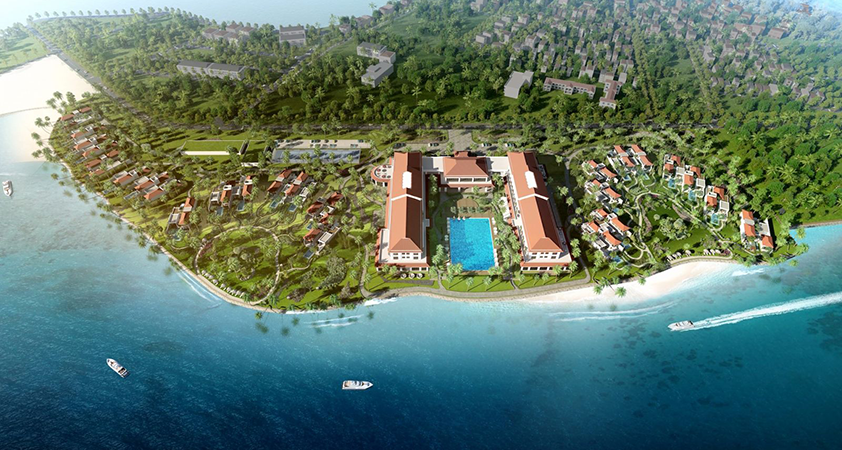 Cheap classic tour: More of Hoi An places to visit  with Vietnam tour 12 days
19. An Bang Beach - The beach of peace and tranquility
An Bang Beach is popular among
places to visit in Hoi An Vietnam
, in Cam An Commune, Hoi An ancient town. It was originally a commune bathing place of the locals so that now it still wild and clean. Unlike other beaches in Hoi An with a lot of water activities, the beach is suitable for relaxing moments in a tranquil atmosphere. The surrounding sceneries also contribute to its unique charm. The seashore is gently slopy, and a wide area of which is covered with purple flowers.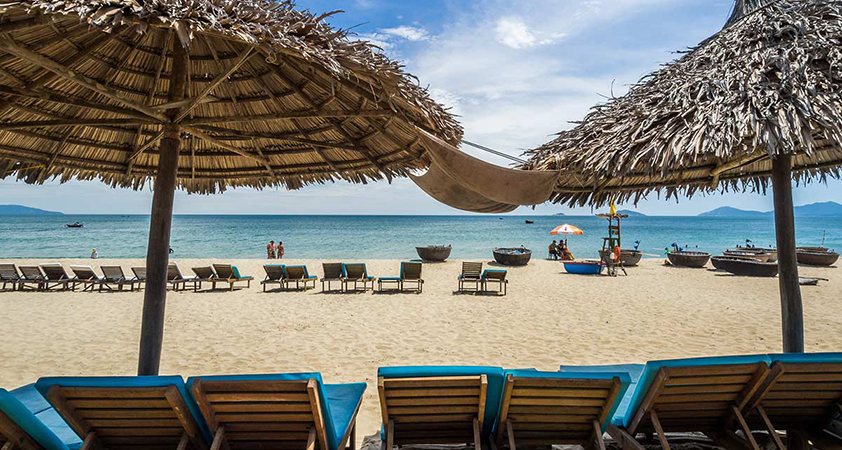 20. Bay Mau Coconut Forest - Join a basket boat tour in the shade of coconuts
Do not miss
Bay Mau Coconut Forest
in your upcoming tour to Da Nang, and Hoi An. It is in Cam Thanh Village, Hoi An city, right next to Cua Dai Beach. The area has been invested in tourism development so that a lot of activities have been available for your discovery. You will take a boat tour alongside the river, admiring two sides full of coconut ranges. The locals, also your tourism guides, are very friendly and caring with cute handmade gifts made from coconuts. It is also compared with a tour to Southeast Vietnam, where coconut forest is much more popular.
21. Thu Bon River - Visit traditional villages alongside the river
Thu Bon River
is also a famous attraction among
Hoi An best places to visit
. The spot is peaceful around the year, then tourists can visit it at any season available. Besides sitting on the boat, you also led to some traditional villages alongside the river. Moreover, some small islets also hold some activities like the cooking program which allows tourists to cook some local specialties by themselves. It is much more exciting if you can catch a boat carrying you with return tickets.
22. Hoi An Central Market - Visit the "food paradise" of the ancient town
Completely different from the peaceful atmosphere in Hoi An center, the market is located opposite to Cam Nam island. The place is also called the food paradise, attracting thousands of tourists to visit every year. You can taste, maybe, all the specialties in Central Vietnam. The price is not really expensive. Especially, the sellers will not overcharge the price as you are afraid. The market is open from early morning to late at night. Besides, you can visit the Japanese Pagoda nearby and other impressive constructions and architectures.
23. Lantern Market - Have check-in photos with colorful lantern background
The market is opened at night, presenting a wide choice of specialties, souvenirs, and especially the foods most typical for the land. On visiting the place, you can walk around to learn more about the lifestyle here. According to experienced tourists, they are most impressed by the handmade lanterns hanging all around the attraction, together with galleries of handicraft products presented there. Come to see in person the atmosphere there.
24. My Son Cham Ruins - A mysterious heritage of humankind
My Son Cham Ruins
is in
Duy Phu Commune
,
Duy Xuyen District
,
Quang Nam province
. It is one of the most impressive places to visit in Central Vietnam with a lot of ancient temples and towers in specific architecture. The place shows great value in both the history and culture of the ancient country Cham Pa. Therefore, it was first recognized ass a world heritage in 1999. Every year, thousands of tourists come to admire and learn more about this great complex.
25. Cam Kim Island - A green oasis right next to the ancient town
It takes about 10 minutes to visit the island from Hoi An center. It is one of the
best places to visit in Hoi An
to go far from tourism mass. You have to take a boat to reach the attraction, then start a biking tour to discover the island. Surroundings are a lot of fruitful gardens, farmers working on green fields,... Do not miss to visit some area of performing traditional jobs, also the main incomes of the locals. Then, join a basket boat tour to discover the coconut forests, have a lunch with local specialties. At last, visit the wine-making area.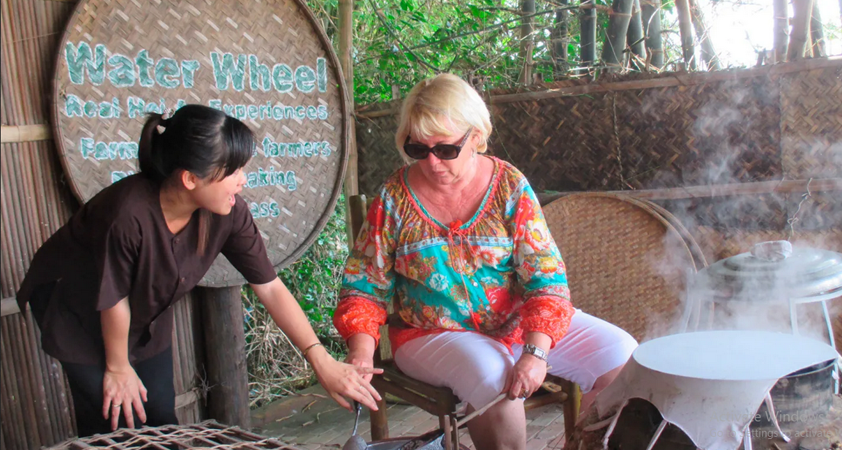 26. Tran Family Chapel - The chapel of more than 200 years old
The house is located at No.21 on Le Loi Street, also one of the most ancient
places to visit in Hoi An Vietnam
. The house is in 1500 square meters, surrounded by high walls together with green trees. The house is divided into two main areas, both of which follow the Oriental architectural style. The place is the commune house for Tran descendants to gather every year. Therefore, it contributes to the traditional sense of gratitude.
27. Ba Le Well - Meet the oldest water carrier
Ba Le Well
is an ancient construction in
Minh An Ward
,
Hoi An Ancient town
, having been there for a thousand years. It is on Tran Hung Dao Street, near the road leading to Hoi An Ancient Town. The village brings our memories back to these old days when Cham people first come to this land. Thick layers of moss have covered the well's mouth. However, the water is still clean. The locals still use this source in making local foods such as Vietnamese Vermicelli, Vietnamese sweet dessert soup,...
With our suggestions for the
best places to visit in Hoi An Vietnam
, we do hope you will enjoy every moment on the tour of this ancient town. We are always honored to give you the best information about Vietnam tourist attractions.
ONLY WITH US : 100 % MONEY BACK GUARANTEE within 10 days from the date of booking if not satisfied.
For further information, or simply a free quote, please
contact us
at any time via our email:
info@galatourist.com
, our experienced consultants will reply to you within 48 hours.
Sincerely yours & see you soon!
GALATOURIST
since 2005.