The light festival in Japanese Covered Bridge in Hoi An, Vietnam
Japanese Covered Bridge Hoi An is the only ancient bridge in the area. Have you ever imagined a world without lightbulbs but full of silk colored lanterns above and flower garlands below?
1. Japanese Covered Bridge Hoi An location
The attraction is on a creek in Hoi An ancient town Vietnam which is a branch of Hoai River going through the ancient town. It was recognized as a National historical and cultural heritage in 1990, also printed on 20 000 VND paper. With its appearance, Japanese covered bridge Vietnam is also known as a perfect combination of both ancient and modern charm. According to experienced tourists, it is always listed among the best Hoi An Vietnam attractions.


There is an impressive legendary story about the bridge. In the 17th century, also the time it was built, Hoi An ancient town is a thriving international port. The town attracts thousands of tradesmen from surrounding areas, including the Japanese. Then they built the bridge with an aim to keep the land safe and sound.

The attraction played a role as a sword plunging into a monster called Mamazu, which was lying deep underground of India, Vietnam, and Japan. Before that time, whenever the monster flapped its tail, an earthquake happened, scaring all the locals there. Nowadays, there is no other Japanese construction left in Hoi An apart from The Japanese Covered Bridge.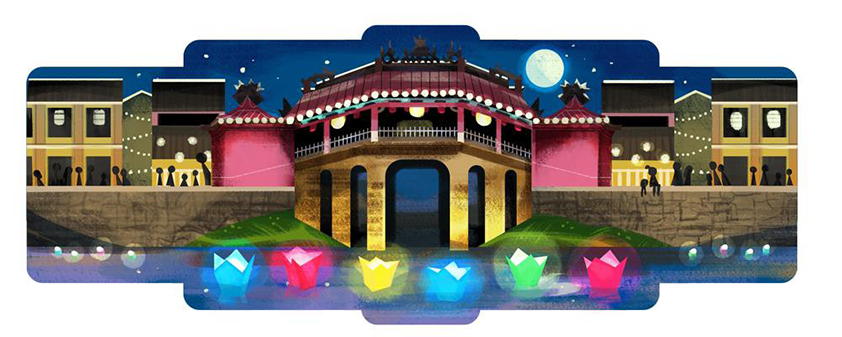 Hot ecotour: Hoi An half day tour from Tra Nhieu fishing village to Cam Thanh village

2. Japanese Covered Bridge Hoi An attractiveness
Looking from a far distance, the pagoda attracts your eyes with gently curvilinear bridge-shape. It even looks like a rainbow at night when lights in different colors installed. Especially, in mid-month, all the light in the area surrounding will be turned off. The locals will hang up silk lanterns instead, creating a mysterious but charming world in tourists' eyes.


The bridge is 18 meters long and completely made of wood. It is designed in the combination of Vietnamese, Chinese and Japanese styles. You may get excited to discover every item carved carefully in the wood. They can be dragons, birds, flowers,...
Especially, there are narrow corridors on the two sides of the attraction. Together with the tile-roof above, it creates seven space areas for tourists to have a rest and admire the surrounding.



Discover more: Overwhelmed the beauty of classic Vietnam tour 2 weeks
3. Flower garlands and colored lanterns festival
To enjoy it fully, do not miss Flower garlands and colored lanterns festivals alongside Hoai River, also in Japanese Covered Bridge Hoi An. Whichever day you visit the attraction, from the bridge, you can see these garlands adrift on the creek, creating a fascinating scenery of colors. In the Buddhist faith, the activity is to pray for good lucks and fortunes. Tourists can easily buy these items alongside the attraction at a cheap price.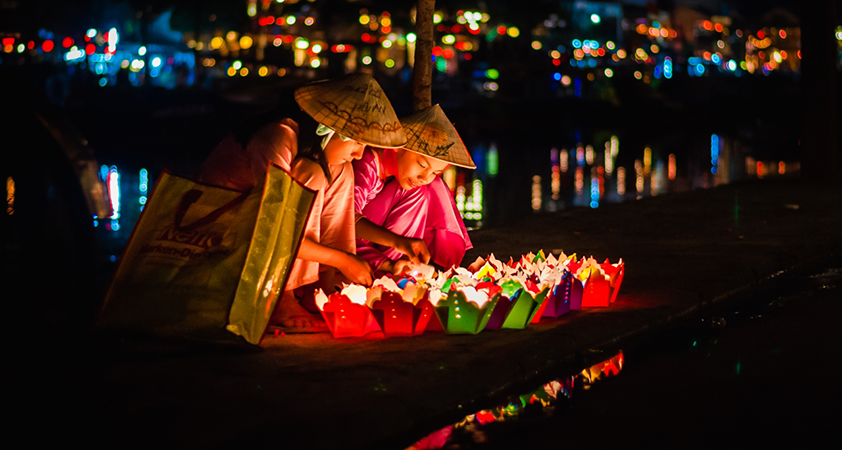 Especially, on 1st, in mid-month or every Saturday, vehicle traffic is banned from 18 o'clock, the locals will turn off all the lightbulbs. Instead, long ranges of colored lanterns are hung up on the street and Hoi An Japanese Covered Bridge and flower garlands are floated on Hoai River. The area is covered up with a different atmosphere, more charming and brilliant.
From the attraction, you can easily continue to other tourist destinations such as Tra Que Vegetable Village, Phuc Kien Pagoda,...
ONLY WITH US : 100 % MONEY BACK GUARANTEE within 10 days from the date of booking if not satisfied.
For further information, or simply a free quote, please
contact us
at any time via our email:
info@galatourist.com
, our experienced consultants will reply to you within 48 hours.
Sincerely yours & see you soon!
GALATOURIST
since 2005.