Filter tour
Laos Classic Travel
Different from the two neighboring countries, Thailand and Vietnam,
Laos
gives visitors a lot of treasure to find the simplicity and peace of mind. Referring to Laos, people immediately think of
Vientiane
, the rich ancient monastery of
Luang Prabang
, the mysterious highland and paradise of
Vang Vieng
. The simple beauty of Laos is a tonic that should be tasted.
There is nothing more interesting that you spend your
Laos tour packages
with
Galatourist.
This is
5 reasons why you should accompany our Agency:
Free custom quote
Serious local agency
Attractive tour
Good value for money
Fully customizable
Contact

 Vietnam travel agent Galatourist
 right now to get preferential price. 
Contemplate 5 breathtaking tourist traps through Laos tour packages
Being a person loving something ancient, you should book for yourselves Laos tour packages. There are a great number of outstanding spots to explore which will make you wallow in. See these places and believe us.
1. Pha That Luang
Pha That Luang
is a remarkable place in
Laos tours.
It is a large Buddhist stupa located in the center of Vientiane. This stupa was established in the 3rd century and it has undergone many reconstruction and restoration.
Pha That Luang is considered as a world cultural heritage, a sacred symbol of the Lao Theravada Buddhism. The largest and most beautiful pagoda tower in Laos is also printed on the national paper curency and emblem. Pha That Luang is inlaid with bright gold, especially bright and more glorious when it is sunny.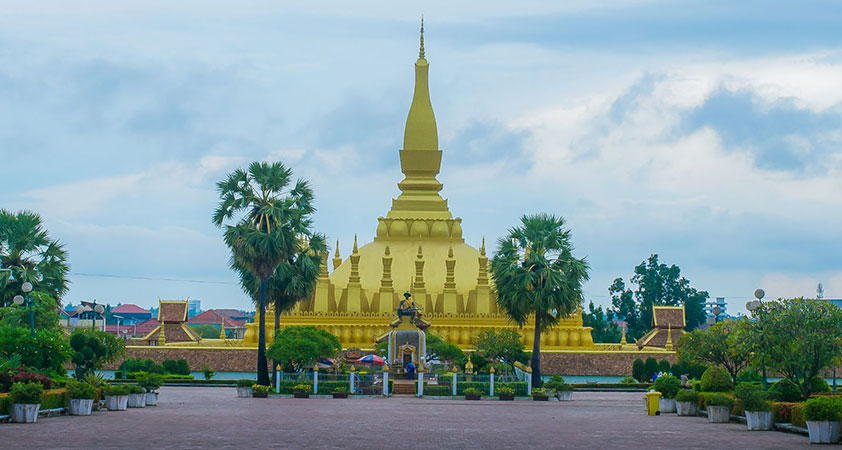 If being in Laos holiday packages in November, you will be lucky to participate in the biggest festival in Laos. You can join the Buddha bathing ceremony, the rice offering ceremony, the preaching ceremony and the procession of candles.
2. Wat Phra Keo temple
Wat Phra Keo is a highlight spot in Laos vacation packages. Famous and important only after That Luang, Phra Keo is not only a sacred, precious temple, but is also likened to a museum that holds artworks representing the religious beauty of Laotians. Here, there are many sculptures, precious pictures inlaid with gold, silver-plated, rhinestones and many other precious stones. Standing in the middle of Phra Keo temple, you will feel like you are lost in a peaceful fairy scene where there are many jewels and glass.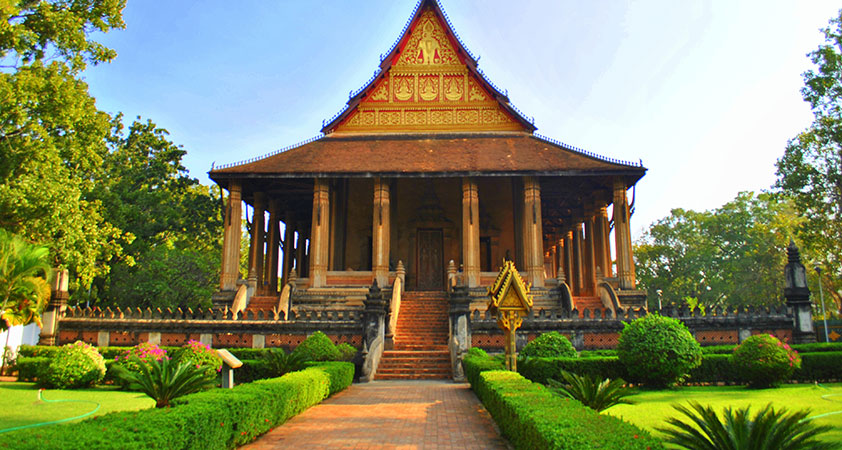 See more: Exploring Laos tourist itinerary 2 weeks | 15 days 14 nights
3. Wat Sisaket temple
Located on Sethathirath Road, near Lane Xang Avenue, Wat Sisaket is the original temple since the construction of 1818 by King Chao Anou, a Buddhist monk. Wat Sisaketis impressed by the corridors with statues decorated with over 2000 images of bronze Buddha, precious wood, ceramics, gold and silver plating. The total number of Buddha statues in the temple is 6,840 that are very rare, large or small. To an ancient temple, this is an amazing number. To see all the Buddha statues here, a whole day in Laos packages is  not enough for you.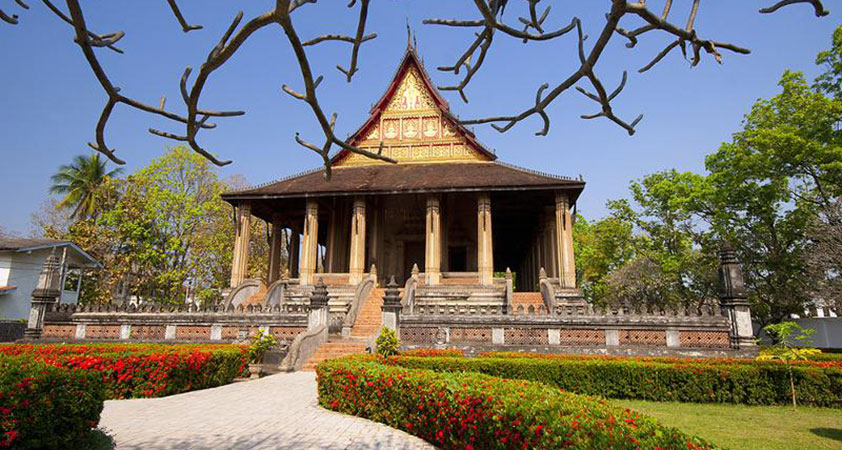 4. Liphi waterfall 
Liphi Waterfalls
, also known as Tat Somphamit Waterfalls, is home to the largest waterfalls on Don Khon Island. Liphi means spiritual trap in Laos language. Local people believe that these raging rapids trap evil spirits of dead people and animals. This Laos tourist destination will provide visitors with a quiet, romantic space. It will also be extremely interesting for couples of
Laos travel packages
to visit.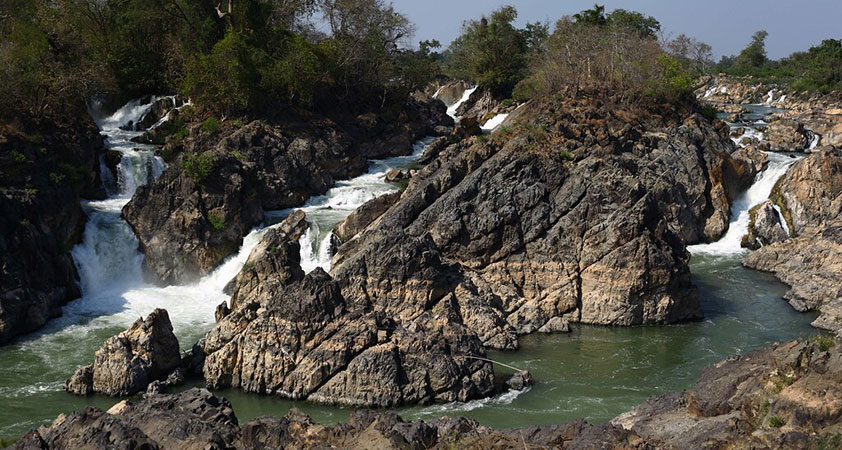 5. Nong Khiaw
Final destination in Laos tour packages is Nong Kiau, also known as Nong Khiaw, is an attractive tourist destination in Luang Prabang province thanks to its type of mountain climbing tourism. The bridge connecting the banks of Nong Kiau across the Nam Ou River is a place visitors should not miss.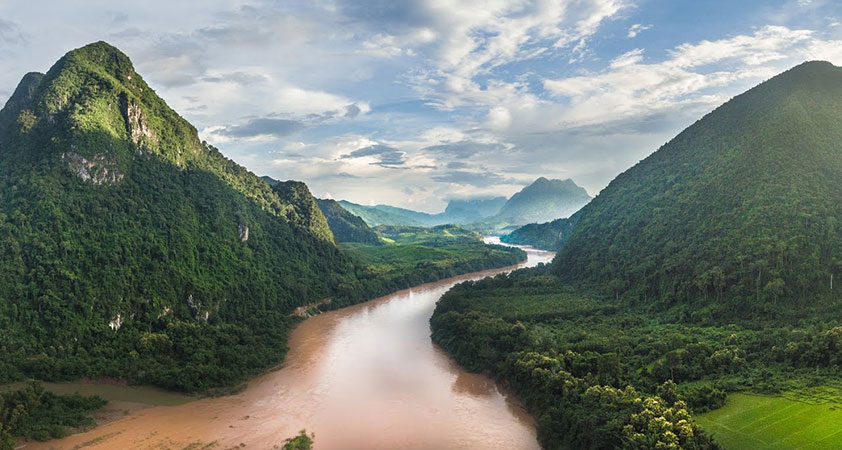 From this bridge, visitors can admire the majestic scenery of mountains and rivers. Adventure lovers can explore Pha Tok cave located about 2km from the village. This is also the residence of the villagers during the Indochina war. Nong Kiau is a relatively backward village, so visitors should not expect too much on the quality of service here.



See more: One week itinerary in Laos overland | 7 days 6 nights

Galatourist believe that he tourists all over the world will be impressed by these exotic places in Laos tour packages.