Best places to visit in Oudomxay, Laos - Oudomxay attractions
Oudomxay, also referred to as Muang Xay, is the capital city of Oudomxay Province in Northern Laos. A place where you can experience untouched nature as well as cultural life.
Introduction
Legend has it that in the year 1323, the inhabitants of the village Ban Luang Cheng in "Takka Sila" town were in the forest to cut bamboo. While they were making some fishing utensils out of it, they saw a monk coming from the forest walking towards them. He had gone to the forest long before to meditate. The monk asked the villagers what they were doing and they replied that they were making a fishing basket. They offered him food. Because of that experience, the villagers changed the town's name from "Takka Sila" to "Muang Xay", as the monk's name was Paxay.
In 1987, Muang Xay became the capital of Oudomxai Province instead of Ban Nahin.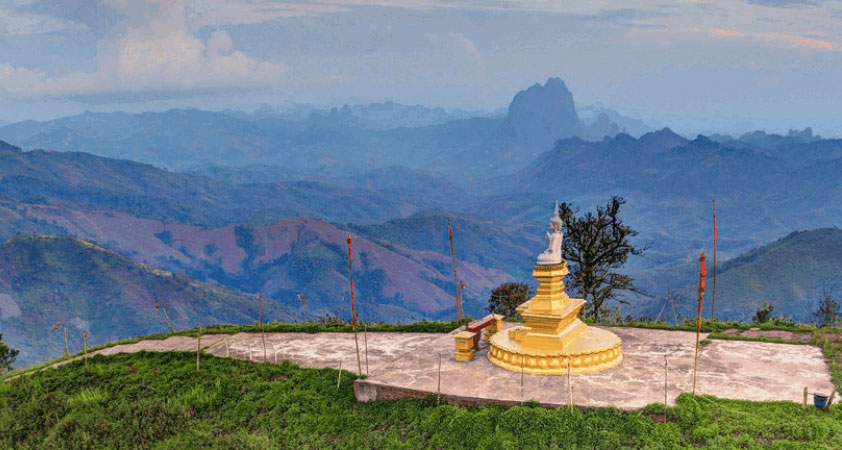 Tourist attractions
Most of the town's highlights are within walking distance from one another. For some years, efforts have been made to encourage tourism in Muang Xay in order to ameliorate the region's poverty. Since 1997 there has been a tourism office in Muang Xay, supported by the German Development Service (DED) since 2005. The support of DED aims to raise the incomes of the rural population and small-scale enterprises via tourism and thereby protect natural resources. In August 2007 the tourism office was upgraded to a Provincial Tourism Department.

1. Oudomxay Museum
Unless in the Museum there are just few items to look at, the view you have from the top of "Phou Sebey" mountain is very nice. Go there early in the morning, when the sun is still low - you may watch the town centre waking up and enjoy the morning light as it starts caressing the roofs before the day gets too hot.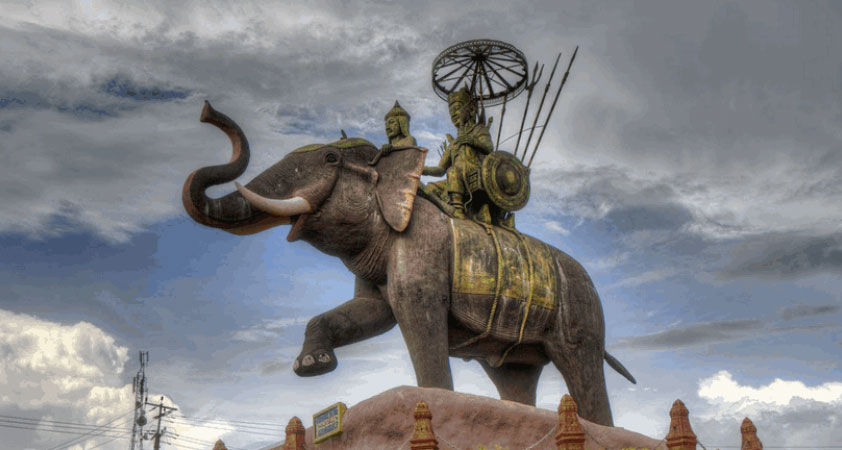 2. Phuuthat-Stupa
Just opposite of the stairs to the museum there are similar stairs to climb, leading to an 18 meters high Stupa. The stupa was built in 14th century to allow all people of the region to come together, to celebrate religious festivals. When under French control, the area of the stupa was made into a war camp. During the first Vietnamese war the stupa was destroyed and only bricks were left. Reconstruction started in 1994 and was completed 3 years later.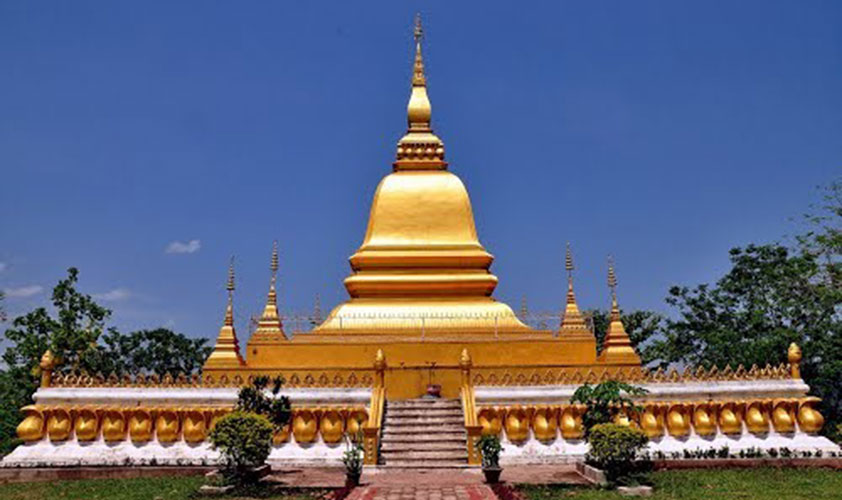 Religious celebrations are held at the stupa during the day of each full. Since April 2010 there is also a golden, 15m-high Buddha statue watching over Oudomxay from the top of Phou That, seeming to spur Oudomxay people to new religiousness. Enjoy the view over the town and see the stupa and Buddha shining in the sunset. The monks at the nearby temple are always happy to practice their English with foreigners.

3. Chom Ong Cave
Located 45 km from Muang Xay, Chom Ong Cave gives the visitor a dazzling feeling of entering Tolkien's Mines of Moria. The biggest cave in Northern Laos is a recently discovered system of more than 16 km natural tunnels, adorned with pretty sparkling sinter formations, huge stalagmites and stalagtites. Passages have ceiling heights up to 50m and there is a stream course flowing in the cave. The natural attraction is accessible in a 50min walk from the village "Ban Chom Ong".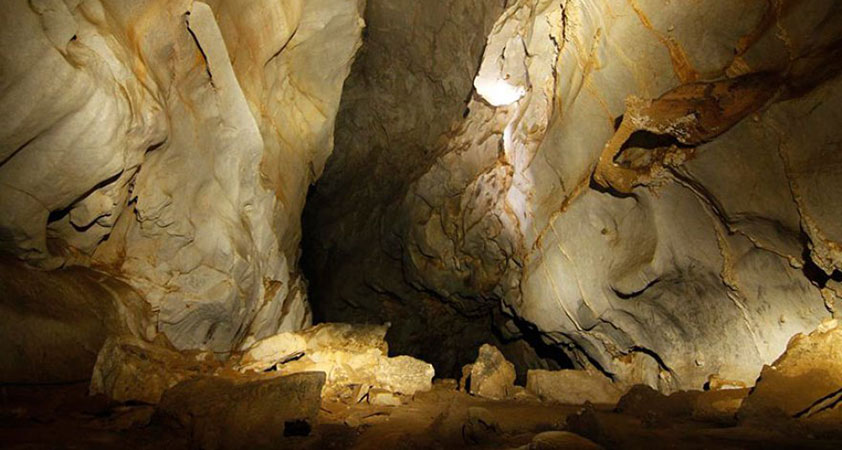 4. Ban Chom Ong
This is is an outstandingly beautiful village of about 500 people of the ethnic group Khmu. It is starting point to the biggest cave in Northern Laos. Surrounded by paddy rice fields, locked by mountains, it is still largely untouched by modern influences. There is no electricity nor mobile phone signal in the village, but as a compensation you'll get the chance to observe authentic village life as for example handicraft production - most of the people still wear their traditional Khmu clothes.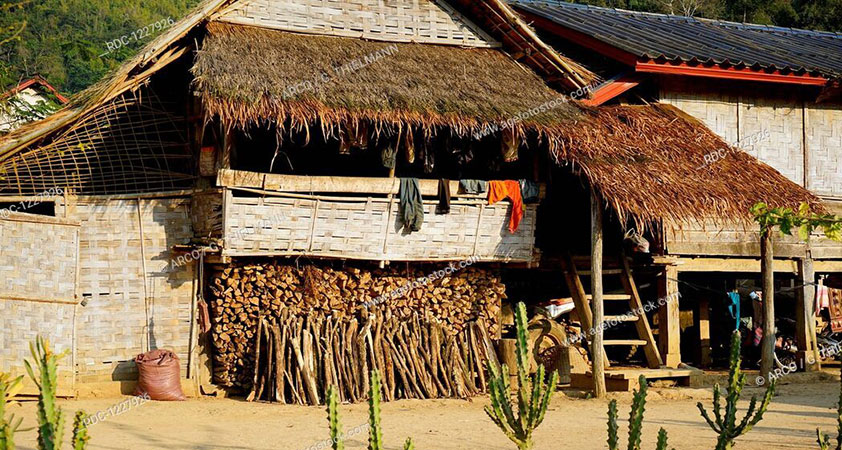 For their scarce visitors, the villagers have a basic bamboo guesthouse with an outside Lao style bathroom, and they will be happy to cook meals for you. There is very little English spoken in the village, so prepare for communication problems or take a translator with you. If you decide to go on your own, you can rent a motorbike or a car to go on the (very difficult) 40 km dirt road from Muang Xay to the village.

5. Nam Heeng
If you're very adventurous, it is also possible to reach Ban Chom Ong going to a village called Ban Nam Heeng first. The village itself is not particularly interesting, but from it is a 16km walk to Chom Ong village, where the cave is located. So called "Packing" cars leave from a public transport station near the normal bus station. The challenging hike from Nam Heeng to Chom Ong takes approximately 5 hours. It is advisable to ask the villagers for directions to Ban Chom Ong.

6. Nam Kat Waterfall and Pristine Forest
While visiting Nam Kat Waterfall you can not only swim in the ice cold basin under the waterfall but also see one of the most untouched and beautiful pristine forests in Laos. Rent a motorbike and follow the sign which says "Nam Kat". At a village called "Ban Faen", turn right, and then just follow the road. You'll have to cross the winding river 5 or 6 times, which might be slightly difficult in the rainy season. When the road ends, it is a 30min walk to the waterfall in a wonderful jungle atmosphere. The distance from Muang Xay to Nam Kat is 23km.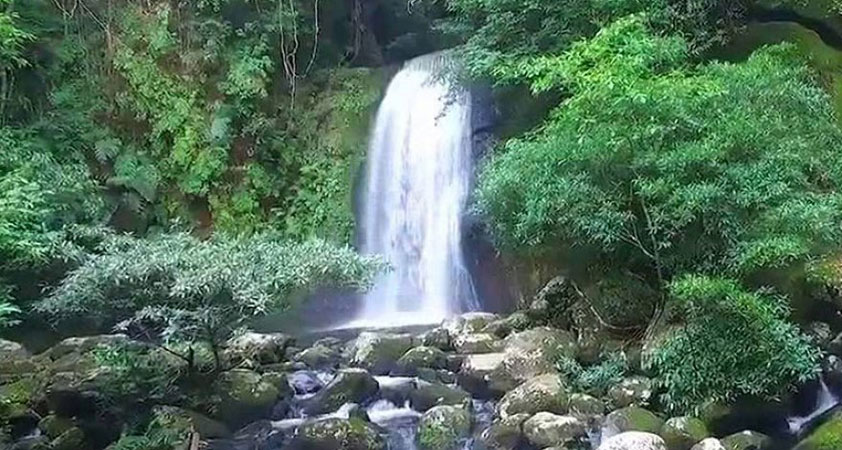 7. Phachaosingkham Temple
Phachaosingkham Temple is in Meuang La Disrtrict, around 28 Km from Xay town on the direction to Phongsaly. It's a sacred and famous temple in Oudomxay or we can say even in Laos. The temple was built more than 2,000 years ago. It used to be a very small temple in the past. People from different places go there almost everyday just for their own purposes. According to people - the most sacred temple. If you want to find out more about the temple we would suggest you to visit it just to see the real situation there. A place where you should not miss.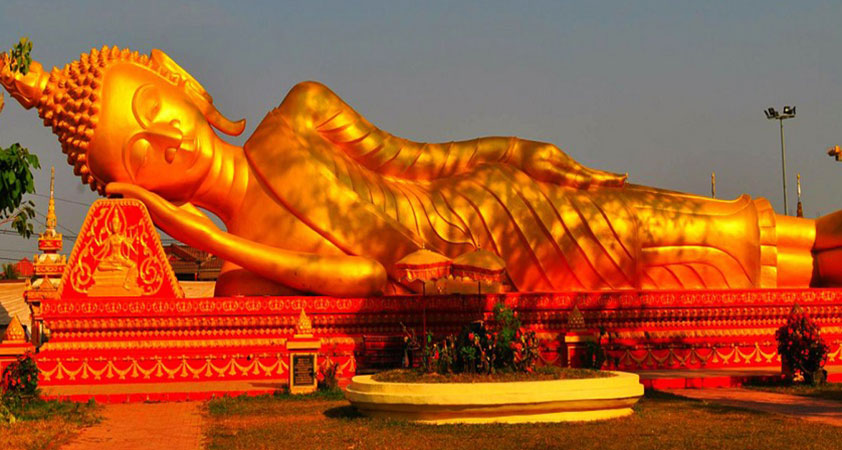 8. Ban Nyor -  Thai Lue minority with their handicraft production acitivities
Ban Nyor is situated in Meuang Beng, 53 km from Meuang Xay town on the road to Pakbeng in the economic corridor between Chinese in the North Vietnam in the East and Thailand in the West. This unique location provides many economic as well as touristic opportunities. In Ban Nyor you will also see and learn on hand-made pottery production system, cotton processing, textile weaving and natural cotton dying. These are their cash income generating activities. Moreover, their traditional food, Thai Lue homestay, traditional show and Baci ceremony are the most enjoyable things that you can share together with them (at least once in a life time).

9. Meung Pakbeng
Welcome to Pak Beng town, situated on the narrow banks between the Mekong and Beng river, in the Southwest of Oudomxay province. Pak Beng, which means "mouth of Beng river" offers a variety of tourism services including numerous hotels, guesthouses and restaurants. It is a popular location for taking a rest after a long boat cruise on the Mekong. During your stay you can visit the colorful market and the temples in town, and discover the unknown hinterland of the district.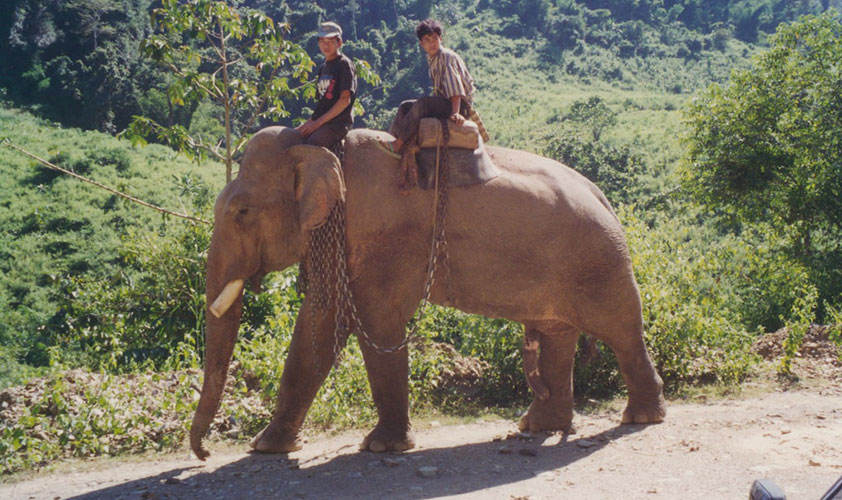 As an important doorway to Oudomxay province you can continue your journey from Pakbeng by traveling via Xay and La District to Muang Khoua, Nong Khiew, Phongsaly, Oudomxay town, Vietnam and China. The tourist office branch in Pak Beng (50m form the boat landing) is delighted to help you with any questions regarding travel possibilities throughout the province.

10. Talae waterfall
Talae  is an amazing waterfall, located in Ban Talae from Meung Houn town about 42 km. The waterfall is in the district protected area. When you reach the waterfall you will also get fresh atmosphere under the pristine forest. The length of the waterfall is about 600 meters and consists of 7 different beautiful waterfall levels. The best time to visit this waterfall is during June to February of every year.  A famous picnic place for the local people there.

11. Nam Haeng waterfall
Nam Haeng is an extremely beautiful waterfall in Ban Katangya Village, Meuang Houn District. (24 Km from Meung Houn to the waterfall). There, lots of natural plants and species can be found and seen. Every where is green and you can also swim in the pure water there. It's a famous picnic place for Meuang Houn residents, especially on weekends. It's said that people love to refresh themselves on weekends after 5 days working.

12. Nam Hin lake
It's a long lake and situated is in Ban Houay Oun village,  from Meuang Xay town only 8 km. Lots of small rivers flow down from the mountain to the lake. That's why the lake becomes wider and bigger. The local people there do organic farming around the lake. A famous place for weekend picnic for Lao families. Also a place where the government always release fingerings or young fishes every year there. There are restaurants there and some boats, so you can also enjoy the boat trip around the lake by yourself. How to get there? just by Tuk -Tuk or rent a motorbike. 

13. Akha ethnic group in Ban Aa No Village
Akha is one famous minority group in Oudomxay.This Akha tribe moved originally from China to Vietnam and finally to Laos in 1882 (around 129 years ago). Aa No is the name of the leader who led his people (40 families) to Laos and the village was named Aa No after he passed away. The village's population continued to increase, including through migration of Akha people from other places.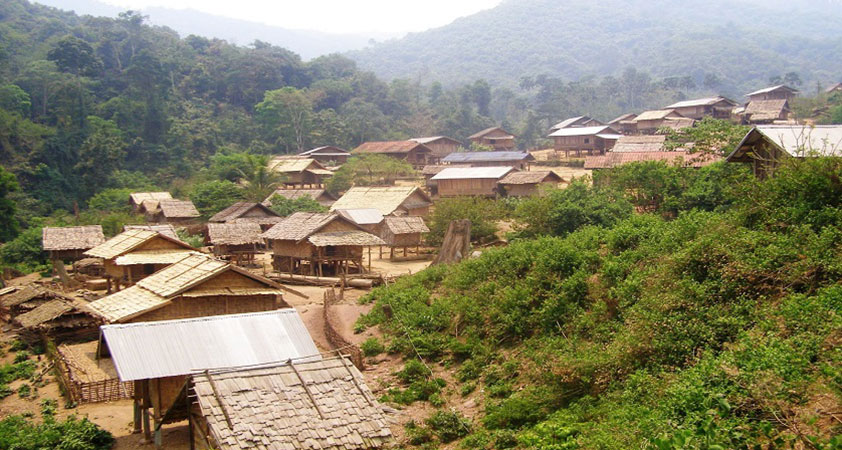 Aa No Village is situated in the Northeast of La District (Meuang La), about 32.5 km from Meuang La town. Access to the village is possible all year round, but it's quite hard during the raining season. There, you can experience more about their traditional culture, daily lifestyle, and many more things in the village. It's extremely a very interesting place for people to discover, especially during the Akha New Year celebration on February of every year.
ONLY WITH US : 100 % MONEY BACK GUARANTEE within 10 days from the date of booking if not satisfied.
For further information, or simply a free quote, please
contact us
at any time via our email:
info@galatourist.com
, our experienced consultants will reply to you within 48 hours.
Sincerely yours & see you soon!
GALATOURIST
since 2005.