Everything you need to know about Champasak, Laos
Champasak was once, 1400 years ago, the centre of power in the lower Mekong basin, later a revered outpost of the Khmer Angkor empire and later still one of the three kingdoms to rule over the remains of Lane Xang. A fine heritage that, according to the last prince of Champassak, was brought to hard times by a former queen's indiscretion.
Overview
Champasak was once, 1400 years ago, the centre of power in the lower Mekong basin, later a revered outpost of the Khmer Angkor empire and later still one of the three kingdoms to rule over the remains of Lane Xang. A fine heritage that, according to the last prince of Champassak, was brought to hard times by a former queen's indiscretion.
The beautiful Nang Pao ruled over Champasak in the mid-17th century. But it's lonely at the top and the queen found comfort in the arms of a prince from a neighbouring kingdom. Alas, for the lady's pennyroyal was ineffective, and Nang Pao fell pregnant. A great scandal ensued and, though the queen remained in power and was succeeded by her illegitimate daughter, Nang Peng, the unhappy Nang Pao decreed that all unmarried mothers in the kingdom must sacrifice a buffalo for their sins. The practice survived in some local communities until the 1980s, the unfortunate women being known as "Nang Pao's Daughters".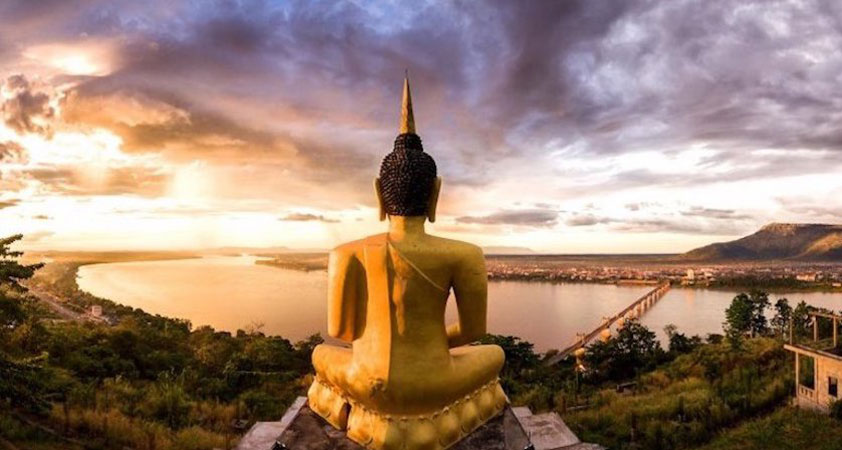 Though the Kingdom of Champasak prospered for a while after the final dissolution of Lane Xang, at the beginning the 18th century, its fortunes faltered quickly and it was reduced to a vassal state of Siam before the century had passed. For its part in Chao Anou's abortive attempt to win freedom from the Siamese for the Lao kingdoms, Champasak lost all of its territory east of the Mekong. Under French rule the once mighty kingdom became a mere administrative block; its royalty stripped of many of its privileges.
"With an unmarried mother as queen," Prince Boun Oum na Champasak, the last of the kingdom's royal line, once said. "Everything started so badly that the game was lost before it began."
Boun Oum, who died in French exile in 1980, may have griped about his family's downfall (though he was not a direct descendent of Nang Pao), but it did not stop him from using his remaining royal privileges to loot the nearby Wat Phu. The magnificent Angkorian temple complex was recently made a UNESCO heritage site and is considered one of the finest Angkor-inspired edifices outside of Cambodia. 

Champasak Attractions
One of the most visited provinces of Laos; Champasak has a population of around 50,000 and is formed by Pakse, the Bolaven Plateau, Paksong, Champasak and Si Phan Don (Four Thousand Islands). Bordering Thailand and Cambodia, Pakse sits at the confluence of the Mekong and is the province's capital, as a result of the Lao-Japanese Bridge spanning the Mekong, the town has quickly grown as an area of trading importance and is a popular tourist destination.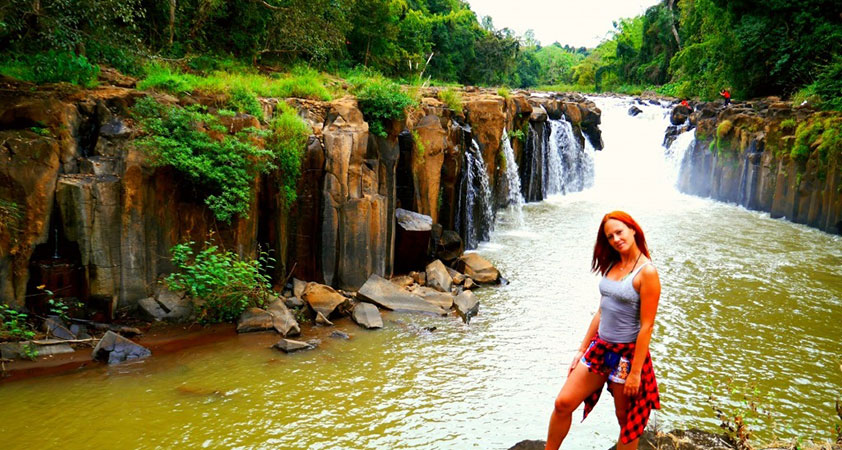 The Mekong River flows past the ancient Khmer religious compound at Wat Phu Champsak, before dispersing at Four Thousand Islands, an area of utter tranquility. The Bolaven Plateau is renowned for its production of coffee, rattan, fruit and cardamom, while the vast number of wats (temples) across the terrain make for interesting viewing.
The Champasak cultural landscape, including the Wat Phu Temple compound, is a well-preserved planned landscape more than 1,000 years old. It was shaped to express the Hindu belief of the relationship between nature and humanity, using an axis from mountain top to river bank to lay out a geometric pattern of temples, shrines and waterworks extending over some 10 km.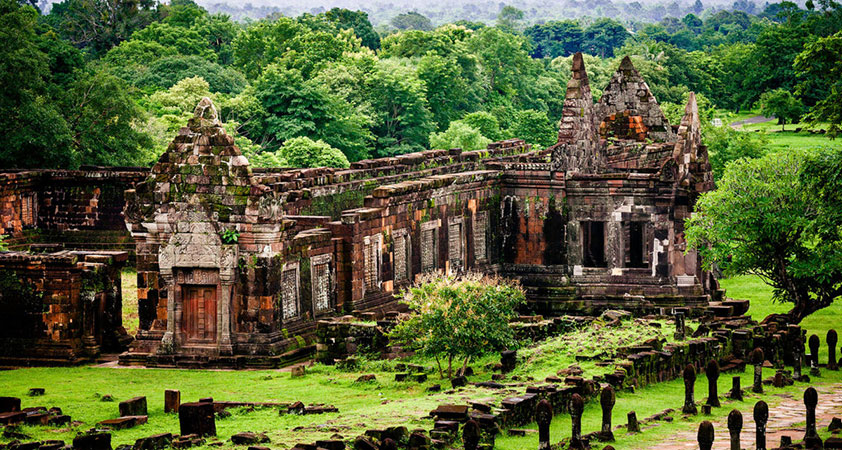 Champasak Activities
Champasak has a rich menu of activities to enjoy, all of which strongly encompass Laos' most distinctive features and defining cultural traits. Like the rest of Southeast Asia it does not disappoint when it comes to getting a sensuous massage or taking a scenic hike. The province is widely considered to be Laos' newest and most appealing tourist destination. The obligatory elephant trek can be done as can some extensive hiking on foot, giving way to some impressive sights and scenes. The southern part of Laos has a more diverse congregation of ecology and ethnicities, claiming some of the highest concentration of wildlife and forested land in Southeast Asia.

Cycling
Situated across the river, this charming spot can be reached after a short boat ride. The small district of Xiang Men houses the once important temple of Wat Long Khoun. Neither the most awe-inspiring nor grand of the temples but definitely worth taking a look at. Few tourists and locals venture over so expect it to be a quiet affair even by Laos standards.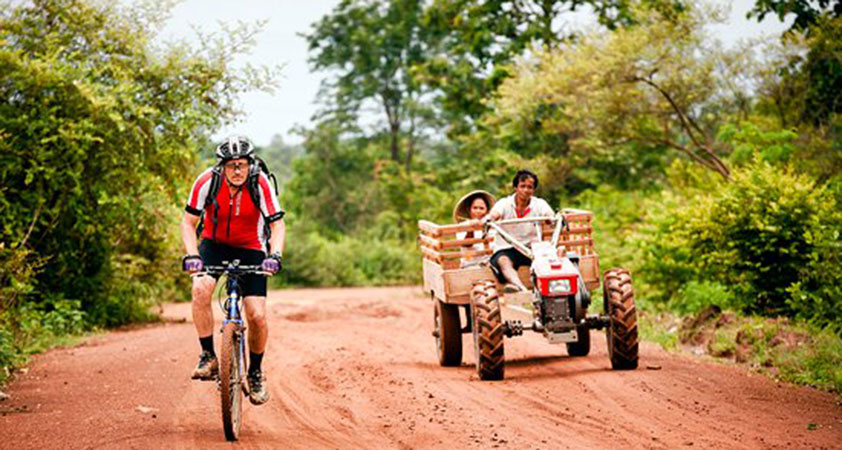 Dolphin Viewing
The freshwater dolphins that live in the Mekong are believed to have saved the lives of locals and travellers who have faced difficulty in staying afloat when facing the river's tough current. They are know as Irrawaddy dolphins and can sometimes be seen off the southern tip of Don Khon. The best time to view the dolphins is early morning or late afternoon and can be reached by chartering a boat (the fee is paid regardless of whether they put in an appearance or not) from the beach at Kong Ngay.

Eastern Loop Hike
This walk will lead you to the eastern edge of Don Khon where the French built concrete walls. There arechannels for logs that were floated downstream from the forests in Sainyabuli. If you venture out to the village at the east end of Don Khon you can still see the walls. To reach this area, head northwest from the bridge reached from the Railway Hike and walk through a wat and the surrounding rice fields to see where fishermen still trap fish to this day.

Elephant Riding
For those who feel compelled to learn how to ride and elephant, here is your chance. The are a few elephant trekking opportunities around the area that will take you off into the jungle on lengthy treks. Feeding and tending to your elephant is part of the trip's package.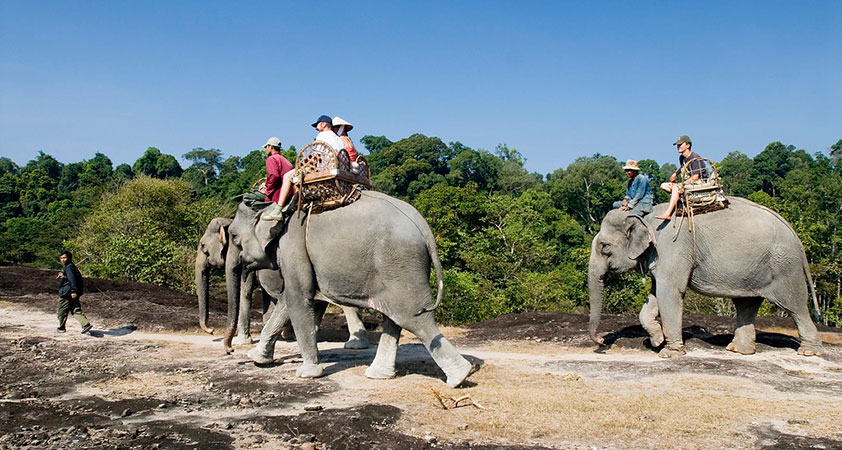 Festivals
Laos festivals are usually linked to agricultural seasons or Buddhist holidays. A highlight is the Lunar New Year which begins in mid-April; the entire country comes to a standstill and celebrates. Houses are cleaned, offerings are made in wats and everyone enters into the massive waterfighting mayhem. Bun Bang Fai (Rocket Festival) takes place in May with plenty of processions, music and dancing, accompanied by the firing of bamboo rockets, that are meant to symbolise a demand for rain. The most important festival in Champasak is Bun Wat Phu Champasak, which goes on for three days, during the full moon of the third lunar month. Events during this period include boat racing, Thai boxing matches, cockfights, comedy shows, music and dancing.

Railway Hike
This trek follows the old railway line five kilometres across Don Det island passing stretches of lush forest, rice fields and villages eventually ending up at the French pier, across the river from here is Cambodia. The hike is difficult due to uneven land making it difficult to bike ride across and it's better done on foot. A great experience with some startling scenery along the way.

The Ho Chi Minh Trail
The logistic Ho chi Minh Trail was used mostly during the second Indochina War as a means to transport material and manpower, running from North Vietnam to South Vietnam, through Laos and Cambodia. Consisting of a network of dirt paths and gravel roads that begin east of Phonosavan, all of the jungle area of the Trail, previously destroyed with defoliants and herbicides has grown back. It is possible to visit parts of the trail - but this must be done with a guide, since there remain tonnes of unexploded ordnance (UXO) in the area. Be cautious: Venturing off by yourself is not recommended!


Champasak Shopping
As with every city in Laos, there is a Morning Market selling fresh meats, vegetable, and food ingredients. Souvenirs like weaving silk, silverwares, jewellery, antiques and hill-tribe products can be found at stalls located surrounding most of Champasak's attractions. When in Champasak, don't forget to try (or even buy) the famous Lao Arabica Coffee grown in Bolovens Plateau (on the east of Pakse is the best place to grow coffee in Southeast Asia.) 

Dao Heuang (New Market)
A massive market (compared to the diminutive city size) situated on Road 13 near the Japanese Bridge over the Mekong River. The new market offers everything from fresh food to metal items. The market is well organized and divided into zones like; clothes zone, silver and accessories, and food. Certainly the best one-stop shopping spot in Champasak. Dao Heuang (New Market) is about two kilometres southeast out of town.

Shoppers should note that Champasak is not a major tourist city and so it is best to learn some Lao numbers or at least have a calculator with you since you might just get a friendly smile or a laugh from vendors when asking for prices. There is an ATM machine in Pakse (yes - only one) that accepts international cards. Although the amount of money is limited per transaction, one can withdraw an unlimited number of times, but when the machine is empty it can remain so for as long as a week.

Morning Market
The market's location is about 200 metressouth from the town centre. Pakse Morning Market sells fruit and vegetables grown in the back yards of locals and also sells goods like clothing, crafts, silverwares, and household items. Although prices are negotiable, it is already inexpensive. Several stalls in the surrounding area offer food and Lao coffee and this is certainly a perfect spot to rest after a tiring morning shopping.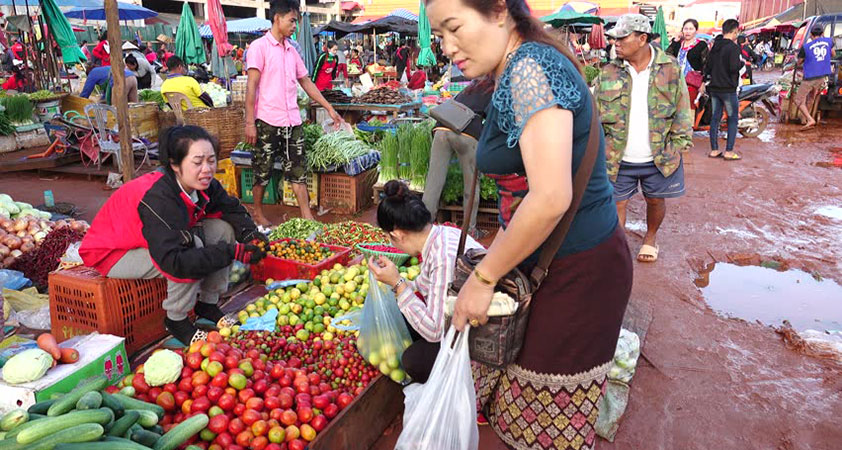 ONLY WITH US : 100 % MONEY BACK GUARANTEE within 10 days from the date of booking if not satisfied.
For further information, or simply a free quote, please
contact us
at any time via our email:
info@galatourist.com
, our experienced consultants will reply to you within 48 hours.
Sincerely yours & see you soon!
GALATOURIST
since 2005.