Top attractions in Luang Namtha, Laos
Luang Namtha may be best known for its adventures in nature, but it also presents plenty of cultural and heritage attractions that are easy to reach.
Nature 
The mountainous 2,224 km2 Nam Ha National Protected Area (NPA) stretches from the Chinese border to Bokeo, and Luang Namtha Province's natural attractions and activities are in or around it. Mixed deciduous and evergreen forest covers most of the NPA, with dozens of rivers and streams crisscrossing its rugged landscape, where more than 30 mammal species live.
Waterfalls are within easy reach for Luang Namtha Province's visitors. About 6-km north of Luang Namtha Town, you'll find Ban Nam Dee and a 5-minute walk along a trail to Nam Dee Waterfall. This rocky flume gushes into a pair of pools at the foot of a picnic pavilion, where you can enjoy lunch in the shade and take a dip on a hot day.
About 40 km from Luang Namtha Town on the road to Muang Sing, stop at Pha Yueng Waterfall. A 20-minute walk along a river on an easy trail leads to the falls and a pool for a cool swim. The grounds also offer a place to picnic, and is a perfect pause for cyclers on the route.
For those visiting That Xieng Teung Stupa on a trek or day trip from Muang Sing, go to nearby Nam Keo Waterfall. Akha villagers in the area can prepare a traditional picnic in the forest setting.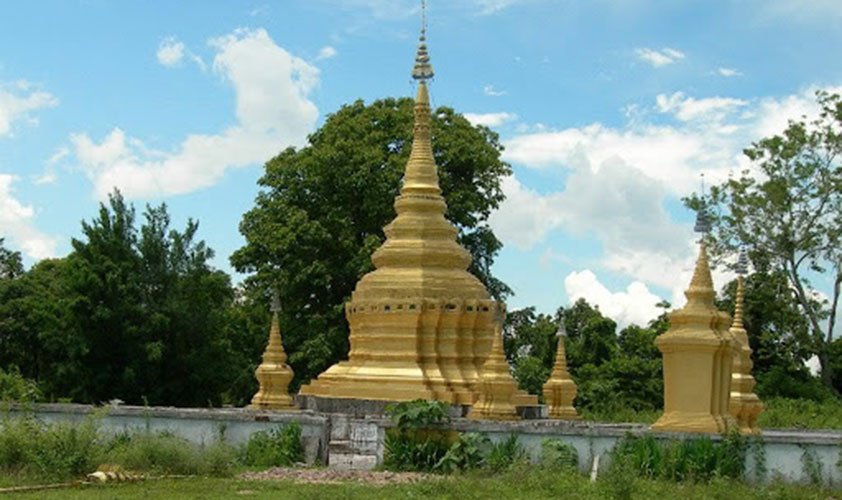 In Long District, you can trek or drive to Ban Nam Bo, the base for a short hike to Nam Bo Waterfalls, a pair of chutes diving over a 20-metre cliff into a pool. From the waterhole, it's a half-hour climb to the top of the falls for a great view.
A short drive along the dirt trail from Vieng Phoukha to Long passes tiny Ban Tok Lat Village, which presents a steep climb to Phou Phan Ha Waterfalls, hidden in the forest. Nearby, you'll find Ban Nam Mai and a trek to Prasat Caves.
However, the king of Luang Namtha's caves drills into the mountains off Route 3, about 13 km north of Vieng Phoukha Town at Ban Nam Eng. A short trail leads to Tham Kao Rao, which is among the longest mapped underground labyrinths in northern Laos. The subterranean limestone system includes "wet" and "dry" caves, both of which are fairly well lit. 
For those taking a Nam Tha cruise through Nalae, continue downriver from Ban Khone Kham to the Hat Ma Caves.
Visitors to Vieng Phoukha can find the 18-hectare Bor Kung Nature Park at the edge of town. A short trail in a sacred forest leads to the freshwater Bor Kung (Shrimp Sream) with an abundance of fish, crabs and sizeable prawns. Close by, Bor Kang (Stewpot Spring) spawns Sai Stream, which feeds the Nam Chook River. Both cool springs fill stone bathing pools for refreshing dips.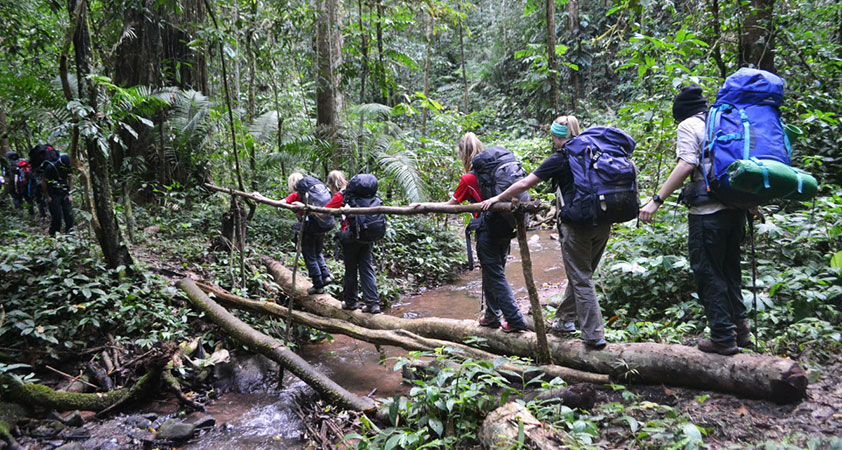 About 35 km south, Route 3 climbs to its highest peak at 2,094 metres at the Nam Phae Viewpoint. On a clear day, it presents spectacular southwest vistas over the lush mountainous landscape to the Golden Triangle, Thailand, and Myanmar.

Culture & Heritage
Luang Namtha Town hosts several cultural and heritage sites, and the Luang Namtha Museum is a good place to begin. Check out its display of Buddha images, hand-crafted weapons, bronze drums, farm tools, and indigenous clothing.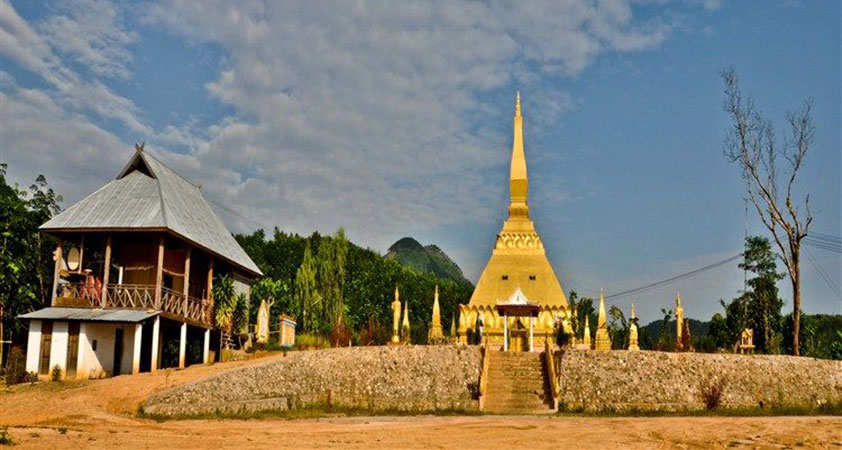 Just north of town, the ethnic Lanten village of Ban Nam Dee maintains their traditional way of life. You can observe bamboo papermaking, taste local meals, participate in their day-to-day work, and purchase handicrafts.
About 3 km south of town on Route 3, Vieng Neua Village, home of ethnic Tai Yuan, hosts baci ceremonies, cultural performances, meals, and cooking classes in their traditional community house.
Further south near the airport in "Old Luang Namtha", the Tai Yuan built two Buddhist temples - Vat Ban Vieng Tai and Vat Ban Luang Khone – which are worth a visit on a town tour.
A 15-minute drive from the airport leads to hilltop That Phoum Pouk Stupa. Built in 1628 to demarcate the Lane Xang and Lanna Kingdoms, the original stupa was tumbled by American bombers in 1966, but a new one was built next to the ruins in 2003.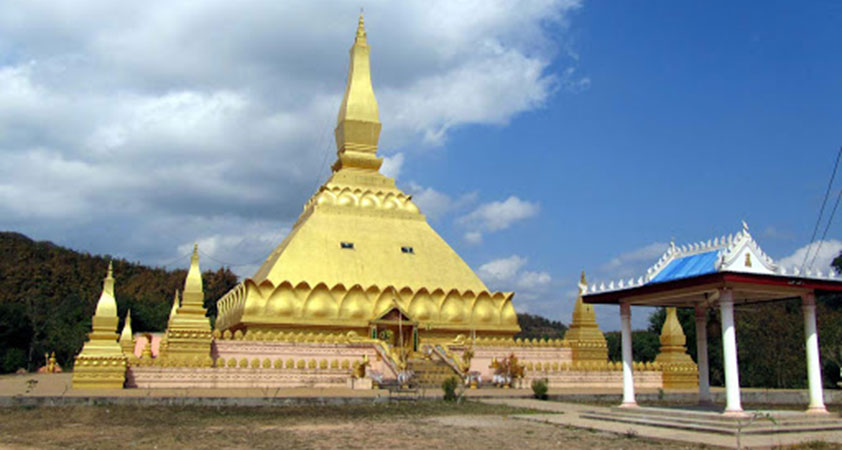 Nearby, Ban Nam Ngaen presents Tai Dam villagers producing potent lao khao rice alcohol. From here, walk to their Tai Daeng neighbours at Ban Pieng Ngam, and observe women weave intricately patterned cloth on a two-level loom.
Back in town, the Luang Namtha Night Market presents a square for dining on local foods, and in the back, you can purchase ethnic crafts from nearby villages.
When in Muang Sing Town, get up early to visit the Morning Market, where villagers come to sell fruits, vegetables, meats, forest products, and crafts.
The Muang Sing Museum, once the royal residence of Prince Chao Fa, presents displays of local culture, religion, and history. Visitors can also watch a film on the Akha.
About 6 km east of Sing Town, visit the hilltop That Xieng Teung stupa, which is said to contain Buddha's Adam's apple. Stairs at the stupa lead to a sacred fountain and stone, and a steep downhill path ends at an ancient moat and wall.
Nearby are the Tai Dam villages of Ban Nong Boua and Ban Xieng Yun, where you can observe weavers at large looms, and purchase their finished products.
Also east of town, Ban Koum is known for distilling the best lao khao in Muang Sing, and you can observe the production process before sampling the potent alcohol. 
About 9 km north of Sing Town towards the Chinese border, the Yao village of Ban Nam Mai produces bamboo paper used for religious ceremonies and books. Paper products and traditional Yao textiles are sold at the village handicraft cooperative.
Near Vieng Phoukha and hidden in the forest sits the remains of Vat Mahapot, and an ancient city dating to the 1300s. The city, which flourished as a 16th-18th-century trading hub between China and Siam, is believed to have once overseen hundreds of villages in the area. You can still see parts of the earthen ramparts surrounding the ancient city and dirt mounds used as kilns to make kong bang (bronze drums).
ONLY WITH US : 100 % MONEY BACK GUARANTEE within 10 days from the date of booking if not satisfied.
For further information, or simply a free quote, please
contact us
at any time via our email:
info@galatourist.com
, our experienced consultants will reply to you within 48 hours.
Sincerely yours & see you soon!
GALATOURIST
since 2005.