Filter tour
Vietnam + Laos + Cambodia tours
Trip to the heart of the
Indochina
to experience different authentic features of three countries namely Vietnam, Lao and Cambodia, giving guests of
Galatourist
the chance to indulge in the exotic world of Indochina.
Tour Vietnam Cambodia Laos 
takes you to World Heritage Sites there, from
Halong Bay
in Vietname with the mesmerizing mixture of the water & over 1600 islets rising on the sea;
Luang Prabang
with outstanding scuptures of traditional Laos and those constructed during the colonial times; to
Angkor temples
reflecting the culture and spirit of Cambodian. 

To fully enjoy your holiday in Indochina, go through three authentic countries with your friends, family or even individual, here are five reasons to choose Galatourist as a parner:
Local & serious agent 
Support 24/7
Authentic Experience
Attractions far from tourist mass
Competitive Price
With our carefulness, we will surely give you unforgettable experience each time you go to Indochina. Do not hesitate to
contact

Vietnam travel agent Galatourist
right now and customize your own
tour Vietnam Laos Cambodia 
2019.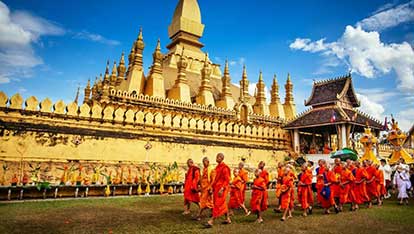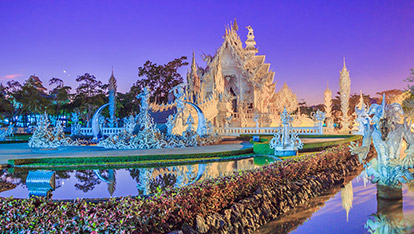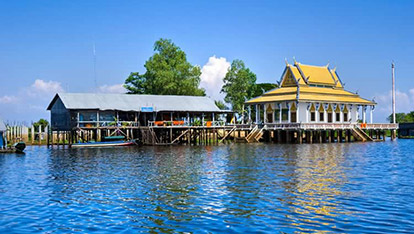 Discover highlights of tour Vietnam Laos Cambodia 2019

1. Highlights of Vietnam 
Vietnam
has long become a popular tourist destination for foreign tourists due to its mesmerizing blend of amazingly natural landscapes and cultural values, giving you the chance to discover both beautiful scenery and cultural exchange in an authentic country like Vietnam.
With
Vietnam Cambodia Laos tour
, save time for leisurely exploring Vietnamese worth-visit attractions like
Halong Bay
- the Green Pearl of Vietnam with more than 1600 islets rising on the water; moutainous
Sapa
with ethnic minority tribes with various tradition and stunning scenery of moutains and rice ripen fieds; formerly trading port
Hoi An
dating back to 17th & 18th century; and
Ho Chi Mih city
- the most lively one in Vietnam with both Vietnamese and Frech architecture.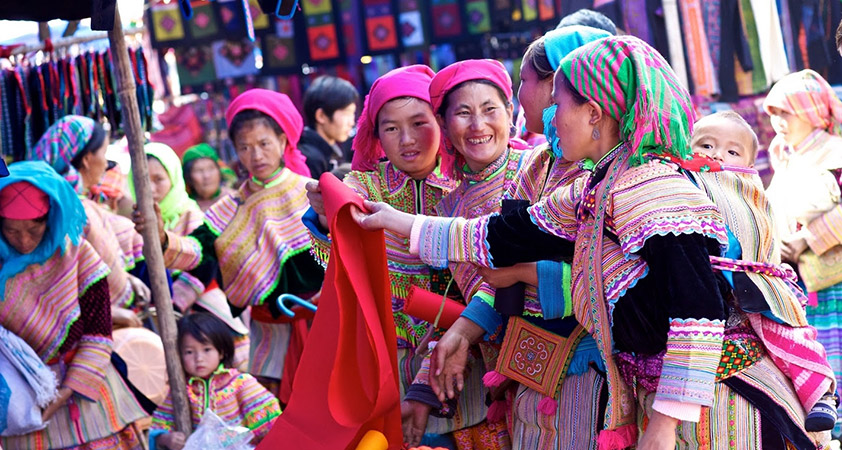 Just sightseeing is not enough, the best way for you to immerse yourself in a strange country's culture and spirit is trying some Vietnamese specialties like
Beef Noodle
or
Bun Cha
- the most popular dish in Vietnam. Moreover, each region has its own typical dishes relecting their culture such as 
Cap Nach Pork
, B
amboo sticky rice
in Sapa;
Vietnamese seafood set
on Halong Bay;
Cao Lau
- the royal dish in Hoi An; etc. 
Divided into three regions: North, Central and South; Vietnam is a long and vertically stretching influenced by monsoon season with different characteristics. The best time to visit all attractions of Vietnam in three regions is from February to April, when the weather is cool with little rain, suitable for family, friends or even individual
tour Vietnam Laos Cambodia
. 

See more: Endless discovery of Vietnam Cambodia Laos 3 week itinerary | 21 days 20 nights
2. Highlights of Cambodia 
Cambodia is blessed with cultural and natural attractions, featuring authentic beauty. Whenever travelling to Cambodia, exploring Angkor temples is always the first thing foreigners love to experience. The beauty of Cambodian anicent temples; rural scenery of Siem Reap will surely give guests of tour of Vietnam Cambodia and Laos unforgettable memory.
Visitors can encounter some temples such as Angkor Wat - the most beautiuful temple in Cambodia with splendid sculptures; Angkor Thom - the ancient large Angkor city housing lots of temples like Bayon one. Every year, millions of people head to Angkor Wat in Siem Reap to admire this amazing Khmer architecture as well as one of the Seven Wonders in the world.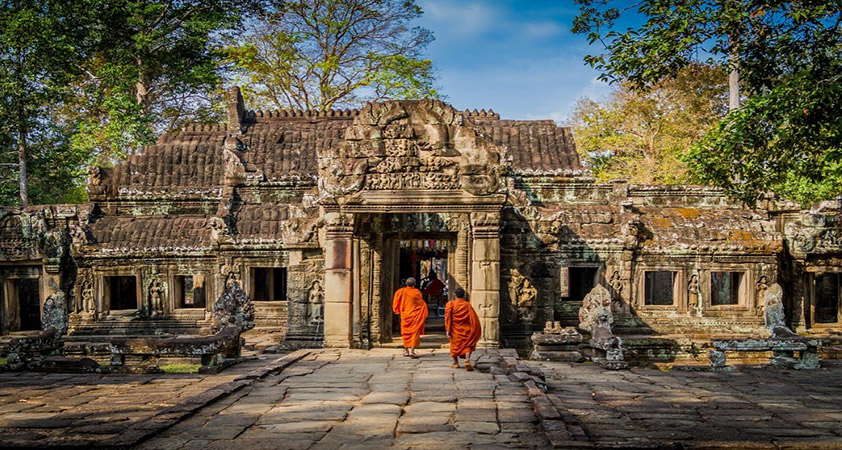 Besides Angkor temples, Cambodia highlights tourists the picturesque cruise trip on Mekong river, known as one of the most longest river in the world from Siem Reap to Phnom Penh, passing two banks of rural areas in Cambodia and giving you the opportunity to witness the real life of the Khmer locals. 
Cambodia is divided into 2 seasons: the dry (from Octorber to the following April) and the rainy season (from May to Octorber). For more convenience, visitors should explore Cambodia in the dry season, when there is a little rain and the weather is cool, suitable for group acitivities of  tour Cambodia Laos Vietnam.



See more: Bewitched panorama of Vietnam Laos Cambodia 2 weeks itinerary | 14 days 13 nights

3. Highlights of Laos 
Seeking for authentic experience, you should choose Laos as your next destination. This beautiful country highlights mountainous landscapes, French colonial sculptures, ethnic minority hill tribes and Buddhist monasteries. Travelling Laos, you can not miss exploring Luang Prabang, UNESCO World Heritage Site City with endless scenery of mountains & beautiful waterfalls and Buddhist temples, creating a harmonious landscape.
Visitors should explore such amazing attractions there as Khuang Si waterfall with breathtaking cascades; Mount Phousi for the whole view of Luang Prabang; charming Royal Palace Museum or Haw Kham (Golden Hall), a cultural and historical site of Laos; Pak Ou caves packed with over 4,000 Buddha icons and Luang Prabang night market.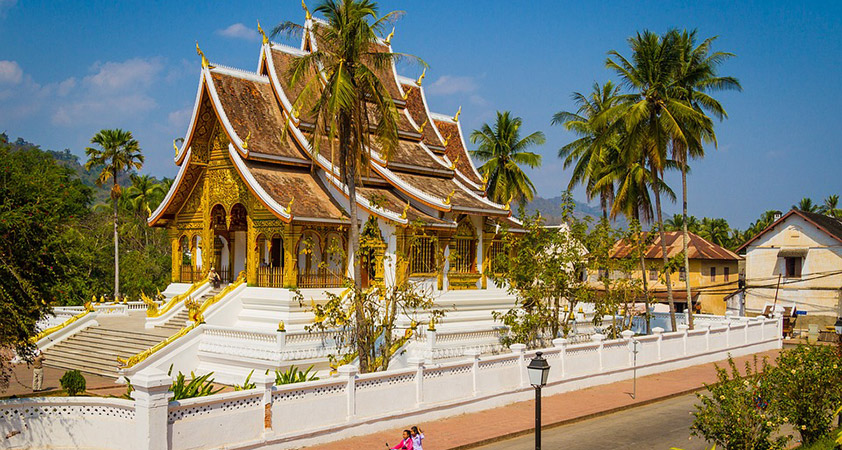 The best way to have a deeper sight into Laotian culture is tasting some traditional dishes in Laos. Visitors of tour Vietnam Cambodia and Laos can try such specialties as Khao Niaw, another kind of sticky rice of Laos; Green Papaya Salad typically made with shreds of unripe papaya and Steamed Fish steamed fish that is typically wrapped up in banana leaves and tied with bamboo string. 
Lying in the tropical area, Laos is comprised of 2 seasons: the rainy season (from May to Octorber) and the dry season (from November to April the after year. The best time to explore Laos is from November to February. At that time, the weather is cool with little rain, suitable for sighseeing and cultural exchange with Laotians. 



See more: Delightful travel of Vietnam Cambodia Laos tour packages | 12 days 11 nights
For first-time visitors to the Indochina, no worry, no longer. We offers amazing trip to three countries of the Indochina. For more information, do not hesitate to contact Galatourist right now to plan your own multi country cruise in tour Vietnam Laos Cambodia.