Top 29 best things to do and see in Halong Bay, Vietnam
Ha Long Bay is well-known for its wonderful landscape of limestone mountains and islands rising up from the emerald ocean, scattering over the area in spectacular formations naturally decorated by dazzling stalactite caves. Read the list of top best things to do in Halong Bay to have more information for an exciting journey to this place.
"Ha Long", meaning "descending dragon" in Vietnamese, is related to a legend telling about a dragon that created the bay and islands with its flailing tail. Halong Bay is one of the most famous Vietnam wonders, listed as one of the World Heritage Site by UNESCO in 1994. Thousand of travelers from all over the world coming here every year. For the development of tourism, what to do in Halong Bay Vietnam is worth considering before you join the trip. All the recommendations below are concluded from our reliable surveys on-site.

I. What to see in Halong Bay 
1. Bai Tu Long Bay - One of five natural wonders in Southeast Asia
Bai Tu Long Bay includes a beach area of Halong city, Cam Pha city and Van Don island district. There are hundreds of both big and small islands, many of which are the home of many fishermen.
One of the attractiveness that the bay is prominent is its diverse marine ecosystem with many beautiful caves and beaches. Moreover, it is complicated with numerous species of flora and fauna. Then Britain Gecko Travel Company has chosen the place in the list of the top 5 most wonderful attractions in Southeast Asia.

Click to read more details about Bai Tu Long Bay Vietnam
2. Tuan Chau Island - The world of water-sport lovers in the world
Tuan Chau Island is most famous for the bathing area. The bathing beach has a white range of sands and the waves are quite gentle, which is suitable for bathing for even children. A system of camps, professional staff and modern devices will certainly satisfy your expectations. Besides, it is famous for team building activities, windsurfing, canoeing, volleyball,...
With the development of tourism, there are also a lot of high-qualified hotels and resorts such as Lapaz Resort, Dragon Hotel, Sun Bay Hotel... with modern services up to your expectations.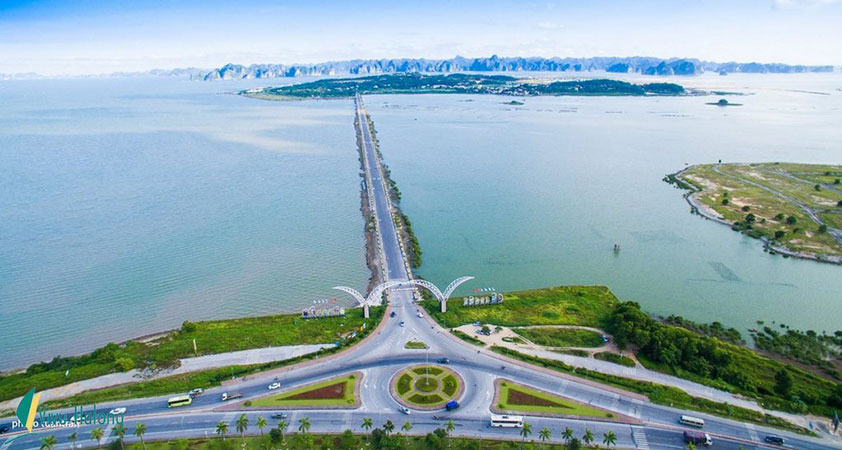 3. Lan Ha Bay - The pearl island of the heaven
Lan Ha Bay
is next to Halong Bay in the north with the are of 7000 hectares, includes a wild archipelago of 400 islands, which makes it like a huge perfect picture of scenery. The most special feature is that there are many sandy shores on the feet of the mountains, allowing tourists to have a rest after sailing to have a sunbathing or swimming there.
Another attraction is
Cai Beo floating village
, which is famous for more than 200 houses designed on floats. It has existed for thousand years and get much attention from domestic and foreign archeologists. Coming here to see the fish raising activities of local fishermen is in
top things to do in Halong Bay
.
4. Titov Island - Have an overview of Halong Bay from the peak
Titov Island is in the southeast of Halong Bay. It is about seven kilometers from the Bai Chay Wharf and surrounded by a small bay - Cua Luc. The island is famous for a wonderful moon-shaped bathing beach. Although it is not too big, the water is blue around the year. Moreover, you can go through 400 steps to reach the top of the mountain behind the beach, where you can have an overview of the bay. Then do not miss experiencing kayak sailing and other water sports here.

 Visit Titov Island on the tour package of Hanoi Sapa Halong bay itinerary
5. Soi Sim Island - Capture the beauty of downy rose myrtles among the sea
Soi Sim island is in the Southwest of Halong Bay, about 700 kilometers far from Titov Island. It is a recommended choice if you are looking for things to do around Halong Bay. The place is named after the popular flora in its wide ecosystem. The green forest on the island becomes much more impressive when the downy rose myrtles blossom in the summer. Besides, the wild environment here also keeps the fauna free on the area. The services also provide you a water motor tour around the island to capture the whole beauty here.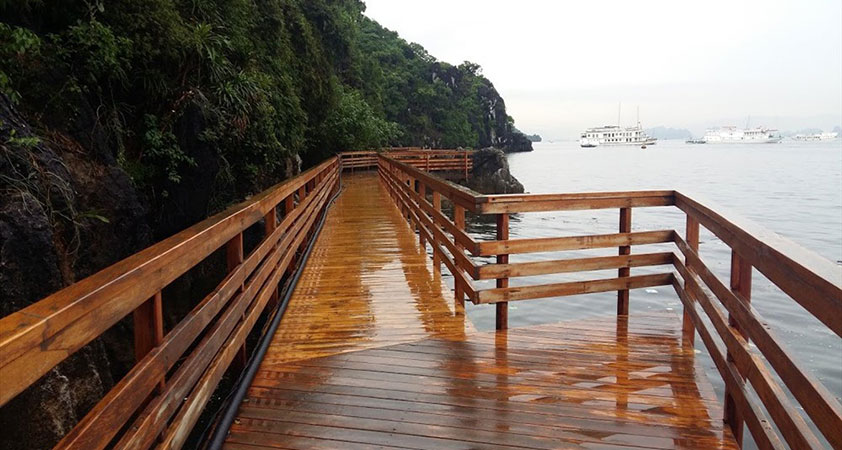 6. Coconut Tree Island (Rang Dua Island) - Enjoy fresh atmosphere with long ranges of coconut trees
Coconut Tree Island is located in the North-east of Halong Bay, also known as one of the widest islands in Halong. The area is covered by long ranges of coconut trees. They have not risen naturally but was brought to grow here a long time ago. The island brings about a great amount of water for the fishermen's villages surrounding thanks to its big fresh lake. It has been discovered as an attractive place of tourism recently so that tourists come here will have chance to have relaxing moments without the effect of commercialization.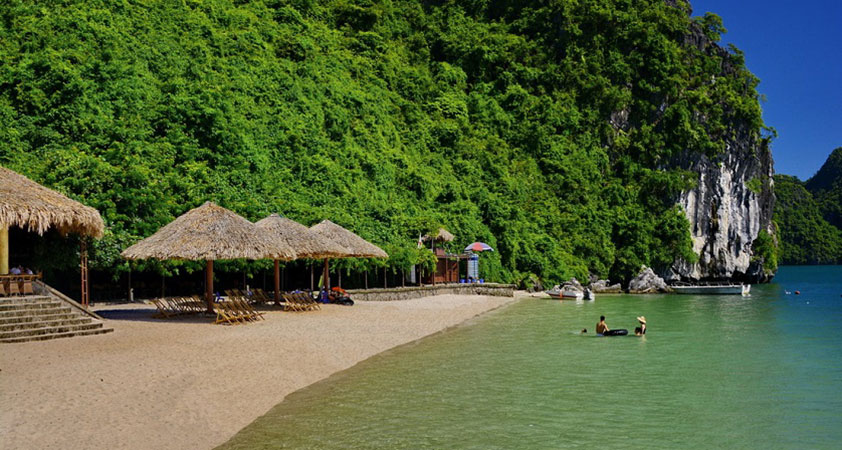 7. Mat Rong Island - Listen to the legendary story from the island owner
Mat Rong Island
is for those who love discovery because there are no restaurants, hotels or other services despite the sevice development of other 
Halong Bay attractions
. You may be like Robinson on a wild island. To reach the center, indeed a fresh lake, you have to go through about 100 meters of rocky mountains. Then you may get amazed at the heavenly atmosphere with a diversity of ecosystems here. No residents live here except for the island owner, who is willing to share with you a lot of information about this interesting place. For example, why there exists a shrine? After discovering the island, have a BBQ party with your families or friends.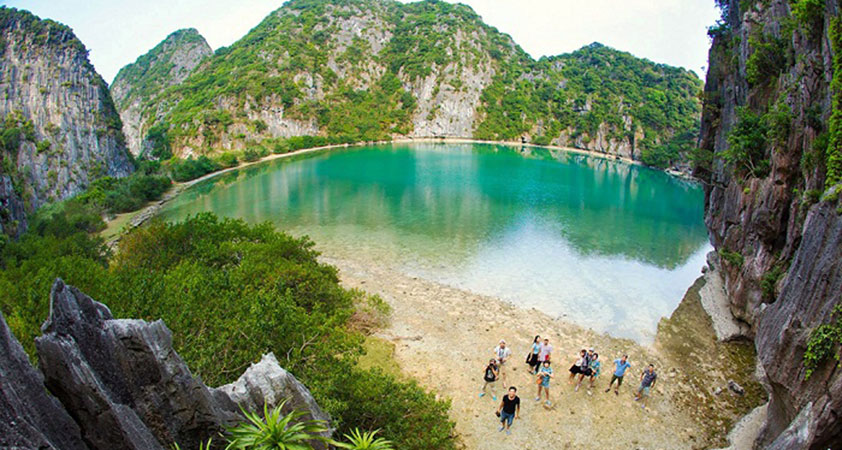 8. Thien Canh Son Cave - A heaven palace made of stalactites
Thien Canh Son is an attractive destination for its natural beauty, original stalactites and the scenic surroundings. Going into the cave, you have chance to admire unique shapes made of stalactites such as lotus, elephants,... Moreover, the ceiling is covered by a glossy and sparkling layer, all creating a mysterious world like a daydream.
To visit the cave, tourists have to go through about 100 steps, but it is worth when you can capture the nice pictures of the landscape. Right under the food of the cave, there is a white sandy beach, where you can have a  bath or join kayak sailing after that.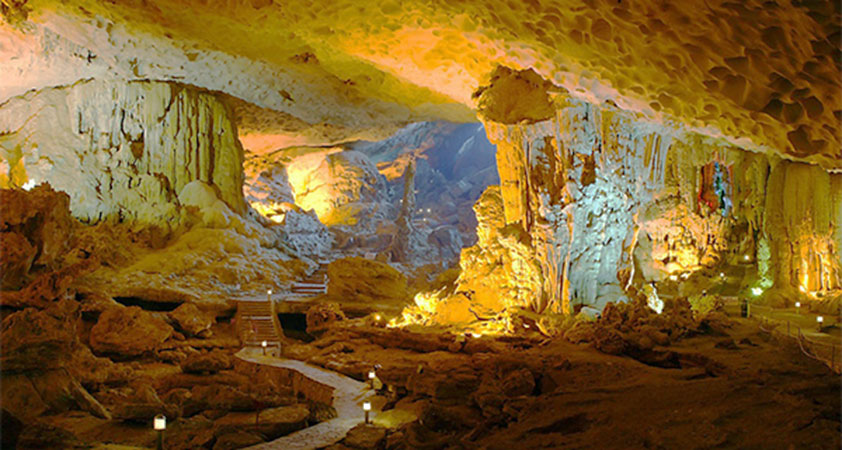 You may also like: 2 week Vietnam tour discovering the beauty along Vietnam
9. Thien Cung Cave - A mysterious cave under the ground
In Vietnamese, "Thien Cung Cave" means the palace in Heaven. It is named for its beauty and the legend about the cave. After going through a tight road, you will reach the cave gate and then meet a colorful space naturally made of stalactites.
The cave walls are like huge pictures describing ancient characters with every delicate detail. At the center, there are four big pillars which are embossed with a lot of strange items like birds, fishes, human activities, flowers,... Especially, from the dome, groups of stalactites droop like a gorgeous curtain. A natural stream provides fresh water for three small lakes at the end of the cave. Thien Cung is like a natural art museum with beauty beyond human imagination.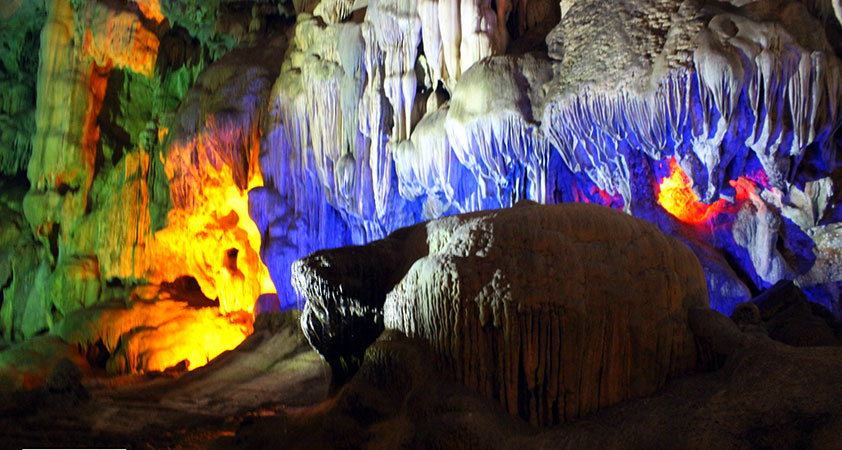 10. Amazing Cave (Surprise Cave, Sung Sot Cave) - The beauty makes you amazed for the first time seeing
Sung Sot Cave
is on
Bo Hon Island
, located in the tourism center of Halong Bay. There are two main areas in the cave. The first one is like a large theater. The ceiling is full of colorful items such as stone statues, elephant, seal, flowers,... to show off all the magic of Mother Nature. The next area is a completely new space led into by a small road. The place has a capacity of a thousand people. The stalactites create strange shapes like an old tree, dinosaurs,... At the peak of the cave is a "heaven garden" in front of you with a fresh lake, picturesque scenery, a diversity of flowers and birds. All make it the name
Surprise Cave
.
11. Dau Go Cave - The ancient beauty of a stalactite cave
Dau Go Cave has an area of five thousand square meters, having existed for 2 million years. Unlike other caves in Halong Bay Cave system, it looks like an ancient architecture complex. From a far distance, the gate has the shape of a green jellyfish. Thousands of stalactites droop like a strange waterfall. There are three areas in the cave with different beauty. The atmosphere gives tourists a feeling of wildness and quietude with many stone pillar, small stalagmites reaching to the ceiling. Besides, the place has a diversity of fauna and flora because the wide gate keeps high moisture and allows the sunlight to go inside.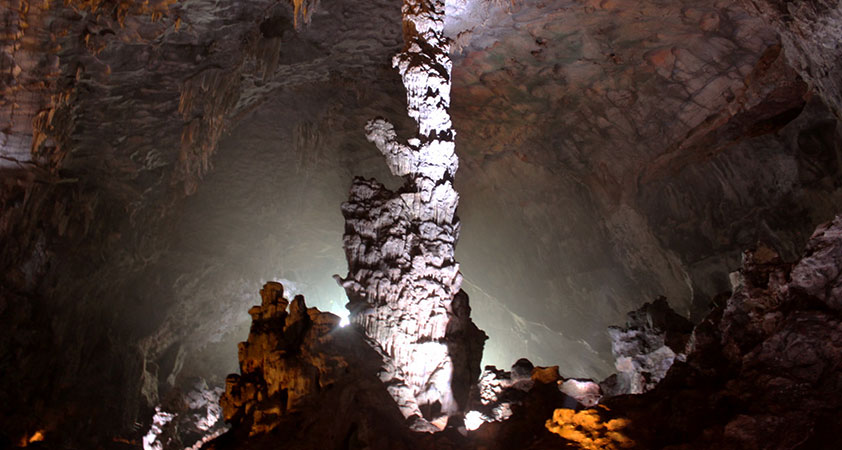 12. Me Cung Cave - A mysterious but romantic highlight
Me Cung Cave is an attractive spot in Halong Bay, on Lom Bo Island. The place is considered as one of the heritage belonging to the soon Halong Culture 10 thousand years ago. The cave is like a house in the mountainside. The indoor space is divided into many layers, separated rooms with a corridor of 100 meters long. The heart of the cave is impressive with a system of colorful stalactites drooping from the ceiling. Me Cung Cave is higher in the West. In the end, tourists will see a small road leading to another gate, from which you will look down to Me Cung Lake, a large square shape among the stone mountains, separated from the sea. With a high value of scenery and archaeology, the attraction is worth what to see in Halong Bay.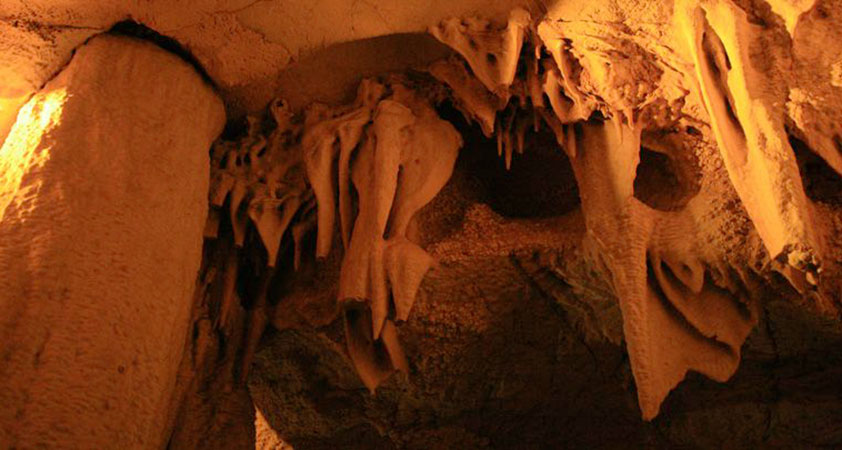 13. Tien Ong Cave (Fairy Lake Cave) - The home of Halong ancient people
If most of the caves in Halong cave system has a feature in common is that the mounts are quite small and the heart are much bigger, Tien Ong Cave's mouth is very large (about 70 meters) and the heart area may be one thousand square meters. Outside the gate are many stalactites left as the trace of naturally tectonic process. Entering inside, stalagmites together with stalactites create a screen dividing the cave into two main areas. After many times of surveys, a small area has been allowed to welcome travelers from all over the world. Most of the cave now still keeps its own story about the local ancient people.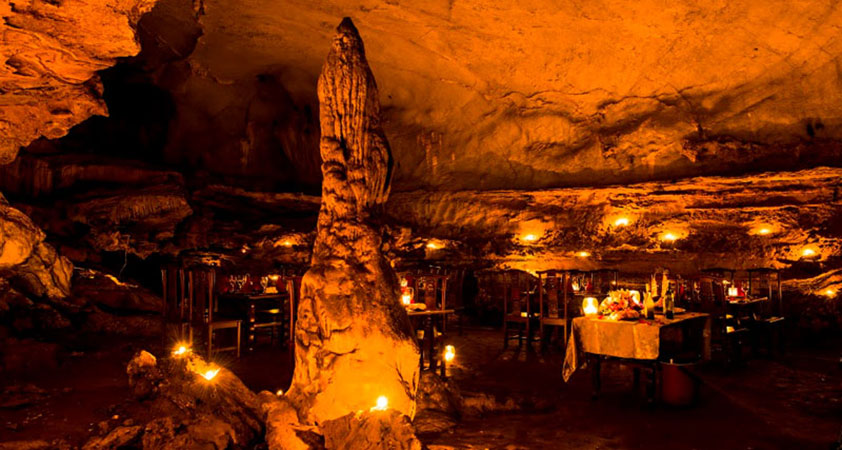 14. Tam Cung Cave (Three-palace Grotto) - The world of Vietnamese legendary characters
Tam Cung Cave is located on May Den Island, which is a wild island famous for tropical green forests and rocky cliffs. Besides the location advantage, the cave has a dominant area. It is divided into three main area, all are wonderfully decorated with stalactites of diverse sizes and colors. Moreover, you may get interested in the sound of breezes and big shapes of many characters in Vietnam legends. It is much more attractive with a great flower blossoming from the cave peak, making the cave more fascinating and gorgeous.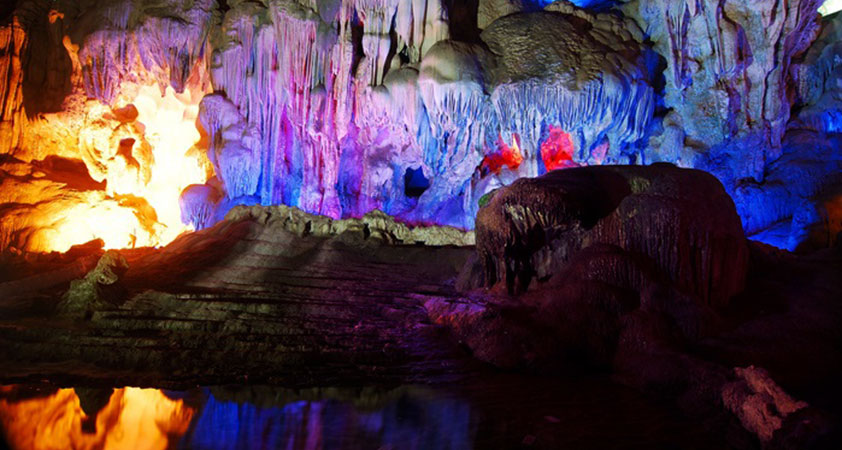 15. Luon Cave - Take a boat visiting the picturesque landscape on the island
Luon Cave
connects the sea with a round laked surrounded by mountains. The cave is 60 meters long, and just 2,5 to 4 meters high up to the tide. Therefore, tourists have to take a small boat to go into. Each boat only has a capacity of 10 to 15 people. The lake inside looks like a stadium with grandstands around. On the rocky cliffs is a diversity of flora and fauna such as orchids and ferns. It takes about 20 minutes to visit the attraction so that you can have time to visit other ones in the Halong cave system, and then you may understand why visiting the place is one of the
best things to do in Halong Bay
.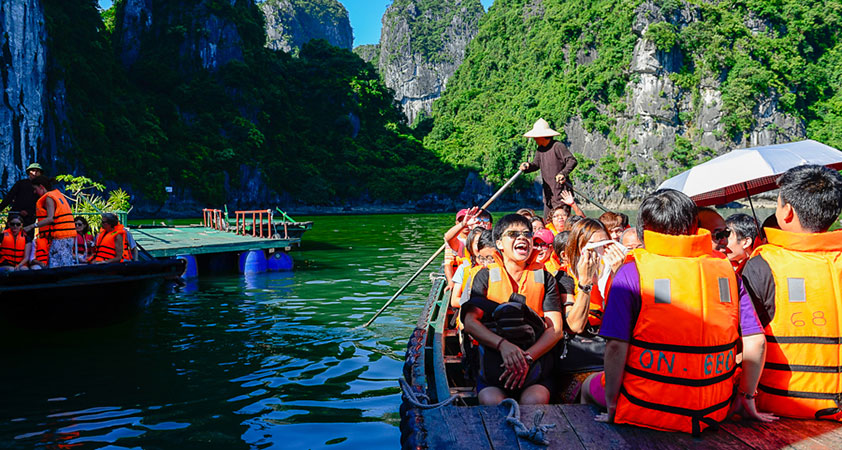 16. Kim Quy Cave - The story of a golden turtle's sacrifice for peace of the land
Kim Quy Cave
is one of the most attractive destinations of Halong Bay, famous for more than 30 stakes which are stalagmites indeed. They are densely arranged but in clear lines and look like a real wooden stake group. These items are said to have been used as a strategy of King Le Loi to beat the enemy. Moreover, tourists coming here will see a big stone which is like a turtle sleeping with a lot of wounds on his body. There is a story that the golden turtle had killed goblins to protect the peace for the area, then he swam to this cave and was petrified here. Come here to see in person these items and discover the original forest on the island near the cave.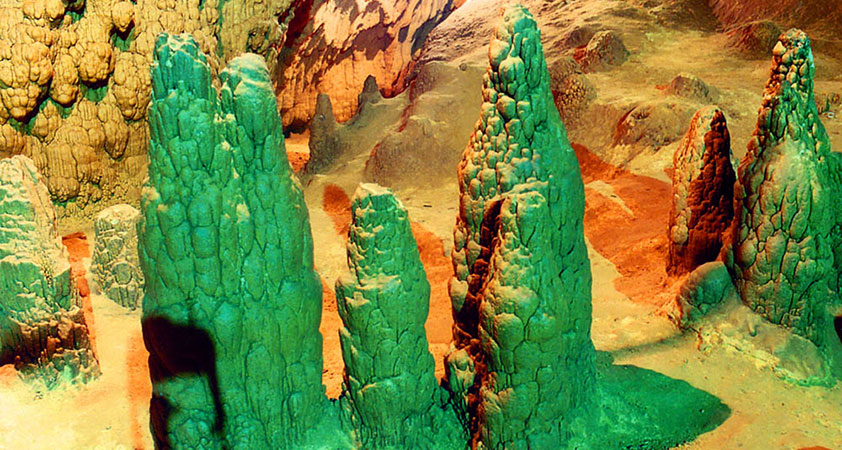 17. Trong and Trinh Nu Caves - Visit the place of oath for love
Trong Cave
and
Trinh Nu Cave
is a popular attraction of both domestic and foreign travelers for its legendary story. When you visit  Trinh Nu Cave, you will see a horizontal stone that looks like a long-hair girl stretching her arms toward the sea. The other one has a high stalactite in a great boy shape. It is said that the girl and the boy had fallen in love with each other, but they met the protest from others, then they both turned to stone waiting for the lover. Therefore, the place is not only the home of local fishermen but also the place of oath for love.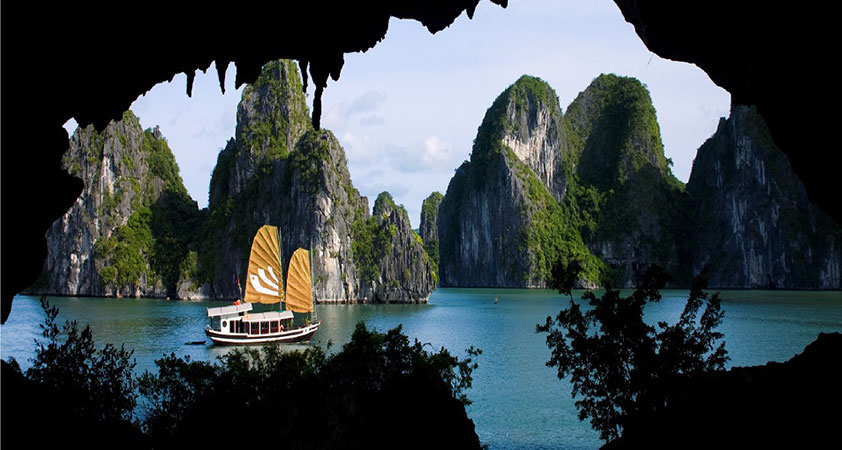 18. Ba Trai Dao Beach - Experience interesting water sports and activities
Known as one of the premier beaches in Halong Bay with charming scenery, Ba Trai Dao Beach is located 22 kilometers far from the tourist wharf. The area includes three small mountains in the shape of three peaches. 
The water is so blue and clear that you can see the bottom on sunny days. It is not too deep and very safe for water activities such as swimming and sailing. Besides, you can admire rocky islands and cliffs in strange shapes next to the beach. There are not too many tourists come across then it is still wild and original. Many top things to do in Halong Bay are available in this area but the most popular one is Kayak sailing through the streams among three islands.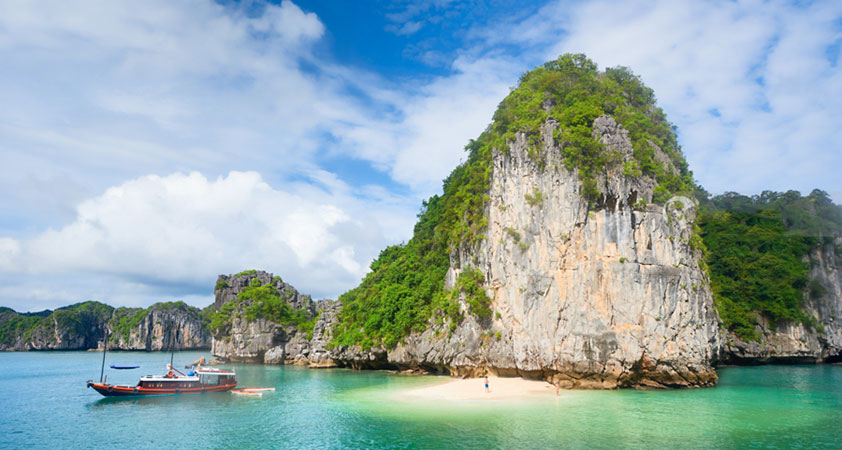 19. Bai Chay Beach - The most bustling and exciting beach on Halong Bay
Bai Chay Beach
is an artificial beach stretching about 1000 meters, famous for the blue seawater and the clean seashore. Rows of green trees create a fresh and peaceful atmosphere, together with beautiful villas and famous hotels alongside. 
Do not miss
Bai Chay Bridge
- the symbol of the
Halong City
and the popular place for a gentle breeze at night. Moreover, travelers are suggested to visit the night market which provides nice items of souvenirs and special local foods such as sea sam, peanut worm, fried snails. It may be considered as the most tourism-developed beaches in Halong Bay.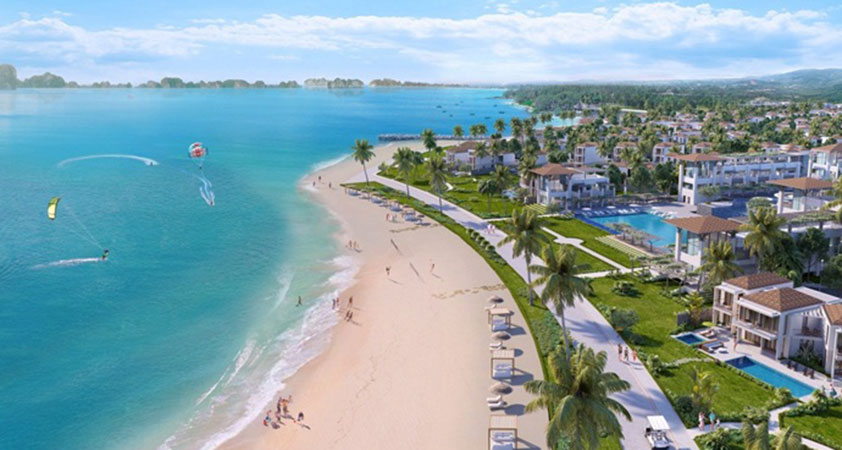 20. Bai Tho Mountain (Poem Mountain) - A perfect view for check-in lovers
Recently, a new place that you can see in many pictures of both local and foreign tourists in Halong Quang Ninh is Bai Tho Mountain, where you can capture the overview of the beach city from above. It used to be called Truyen Dang, until 1468, when King Le Thanh Tong came across and admire the scenery here and then carved a poem on the cliff of the mountain, it was renamed Poem Mountain. 
Climbing to the top of the place is not too hard because it is only 200 meters high. It usually takes you about 30 minutes. The most suitable time for sightseeing is in the early morning or the late afternoon.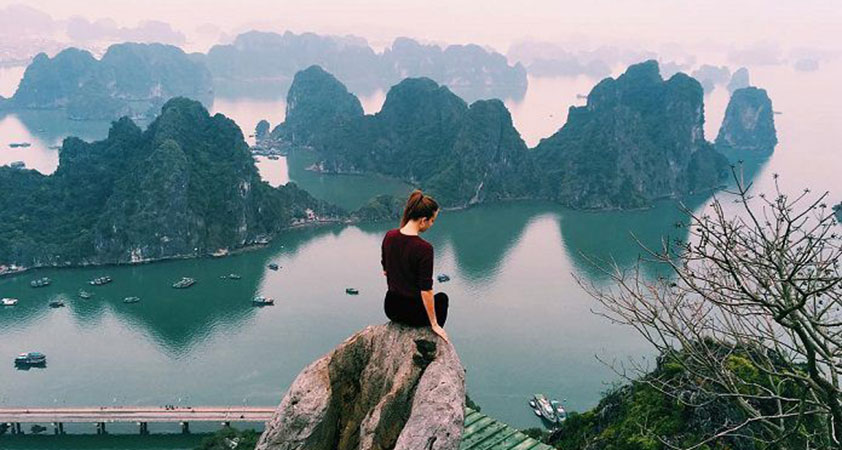 21. Vung Vieng Fishing Village - Have fresh seafood you have caught by yourself
Vung Vieng
is a small fishing village belonging to
Bai Tu Long Bay
. The natural beauty of the bay and the village make it one of the most popular places to visit in Halong Bay. To reach the destination, you have to take a small boat, on which you can admire the picturesque scenery on the sea. The gate of the village is indeed
Cao Cave
- a huge natural cave. Inside the place are about 60 homes catching fish for a living. Therefore, travelers can take the chance to buy fresh food in person. Moreover, from the place, you can visit other attractions on Halong Bay easily.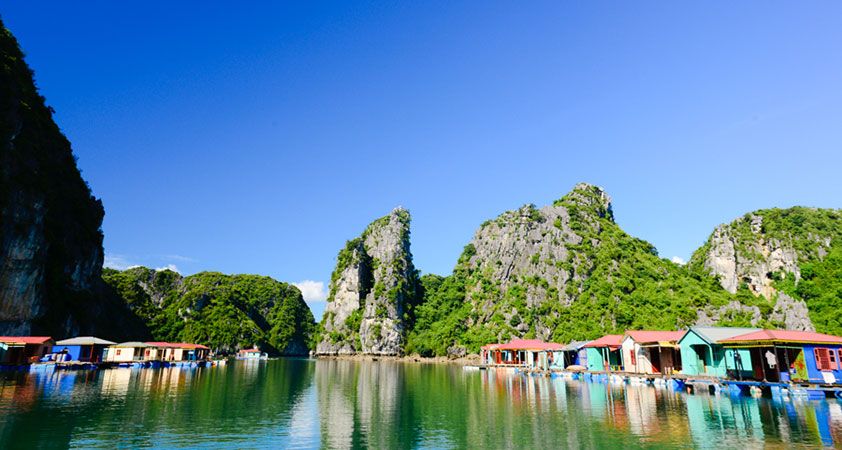 22. Cua Van Fishing Village - Experience local daily activities like a fisherman on the village
Have a relax on Cua Van Fishing Village, tourists will not only immerse in the gentle and tranquil scenery but also see in person the daily life of local fishermen. Local girls will guide you to go around and show you how to sail, throw up a net, catching shrimps,... There are about 750 people living in the village. In addition, travelers are welcomed to try other interesting tours such as Tien Ong tour, Ba Ham Lake area, climbing, squid fishing, fishing swamp tour,... To reach these places, you will be carried on a wooden ferry or a punt by local fishermen. Especially, you should have a trial on a night's sleep on cruise ships - one of the best things to do around Halong Bay.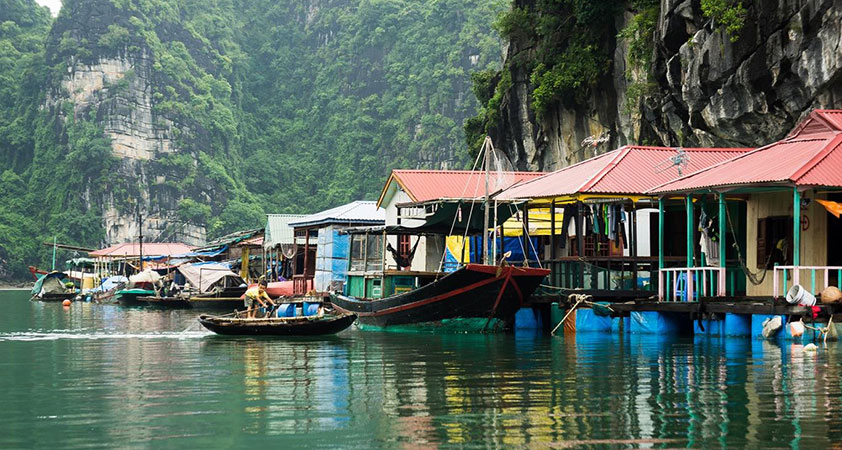 23. Ba Hang Fishing Village - Fellow friendly fishermen to discover the ocean beauty
Known as a simple fishing village next to
Thien Cung Cave
, a beautiful wonder in Halong Bay, Ba Hang is always on the top places in Halong tours. The village is the home of 50 families living with traditional fishing. You may get surprised at the houses in the village which are just about 5 to 10 square meters large and provided with simple houseware items. However, you always see their friendly smiles welcoming you to visit the place. At night, you will fellow these fishermen on boats to have real experience of fishing and discover the beauty of the attraction.
II. What to do in Halong Bay 
24. Take a Halong Bay cruise and overnight on boat
To discover this natural wonder, the best way is to take a boat cruise through the bay whereby you can visit the outstanding islands and their stunning caves, the most popular of which are the Tam Cung Cave, Thien Cung Cave, and Trong and Trinh Nu Caves with their magnificent stalactites and stalagmites. All the best staff and services are provided to make sure that you will have the nicest moments, which are worth your spendings.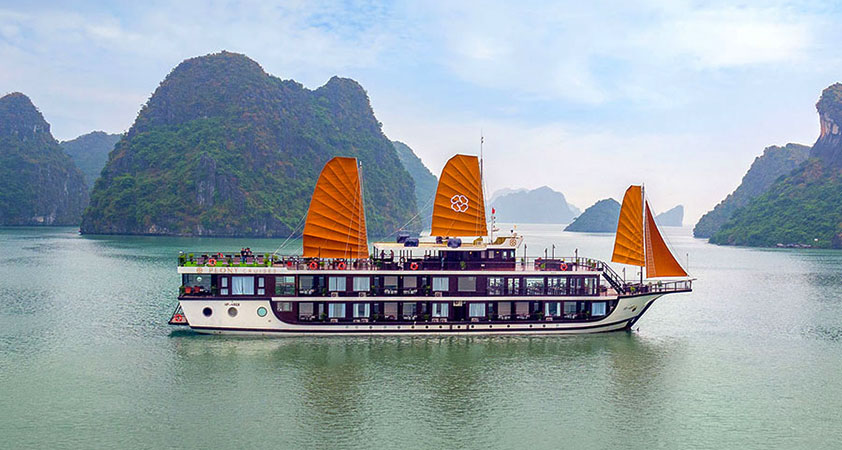 25. Learn Tai Chi lesson on deck
Besides the familiar list of
what to do in Halong bay Vietnam
for tourists to discover the natural beauty of Halong Bay, the target to offer leisure travel, health program is also paid more attention. Recently, the Tai-chi morning classes for tourists have been open and received a lot of nice comments from participants. This activity is available on four-star or five-star cruises and they are usually free. Tourists just stay here for two or 3 days, so Tai-chi is a scientific and suitable for them among the open atmosphere of the ocean.
26. Attend a cooking class
Cooking class is another interesting service of
top things to do in Halong Bay
on cruises. Taking part in this program, foreign tourists will have chance to discover the unique cuisines for the diverse food world of Vietnam. You will be taught carefully in person and create your own dish, usually Spring Roll - a traditional food that you should not miss when visiting Vietnam. They are suitable for participants of all ages. Especially, the practice shows that children have special attention to these classes and enjoy their own works on the sundeck.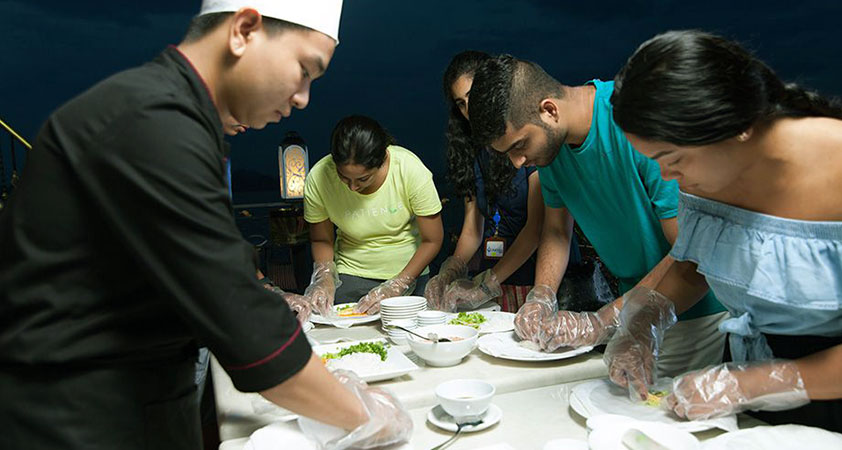 27. Night squid fishing - Nicest things to do around Halong Bay at night
What to do in Halong Bay Vietnam at night? Squid fishing on Halong Bay is becoming more popular among foreign tourists. Travelers will have exciting moments catching squid on-site, admiring the sparkling and mysterious view of the bay and then enjoy fresh food you have prepared yourself with the help of local fishermen. If you come here in the right seasons, you may have a fruitful basket. The squids here are not big because the water is not too deep, but this night squid fishing experience will certainly be beyond your expectations.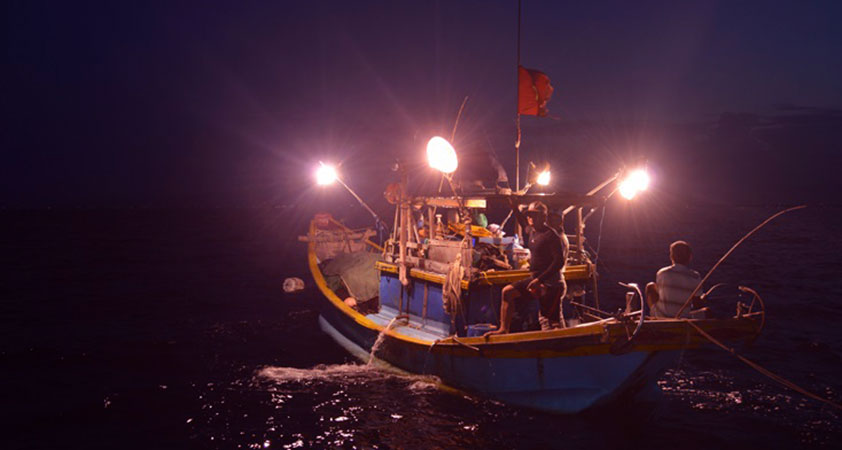 28. Kayaking in Halong Bay
The most exciting activity among
top things to do in Halong Bay
, according to many foreign travelers, is Kayaking on the blue ocean. Halong is always described as a beautiful, picturesque or peaceful destination with thousands of limestone mountains and caves. However, only taking a kayak boat to go through every tight stream that you can absorb all the magical beauty that Mother Nature has created. It may be a challenge for you at first, but you will quickly confidently enjoy the moments with the help of experts.
29. Swimming at Halong Bay beach
Visiting Halong Bay on these high-temperature days, it is irresistible to immerse in the cool water of the ocean. There are many famous beaches in the area such as
Ti Top, Tuan Chau, Soi Sim
,...each of which has its own typical features but all will satisfy your expectations for the first experience. Especially, Bai Chay is an artificial beach is one of the largest and most beautiful ones belonging to the tourist destination Ocean Park. Come here to enjoy the modern, convenient and especially blue beaches.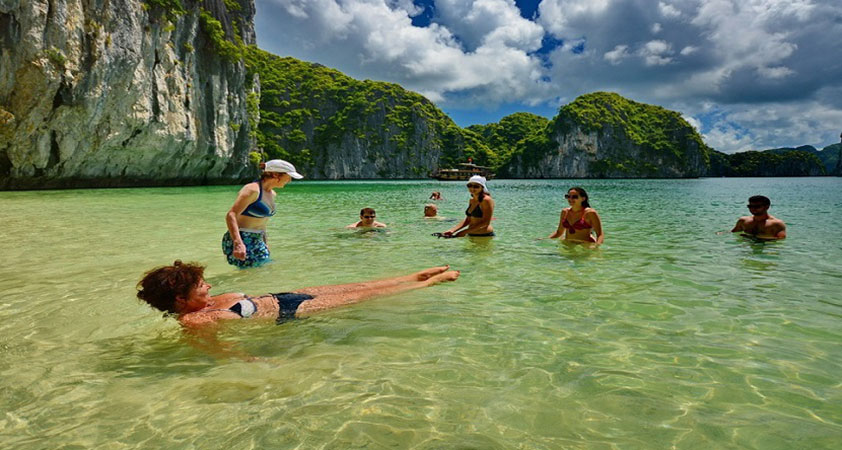 For these attractive recommendations of
things to do in Halong bay Vietnam
that
Galatourist
gives above, we do hope you will have exciting moments on your journey, then you can refill your energy for forthcoming days of study and work.
ONLY WITH US : 100 % MONEY BACK GUARANTEE within 10 days from the date of booking if not satisfied.
For further information, or simply a free quote, please
contact us
at any time via our email:
info@galatourist.com
, our experienced consultants will reply to you within 48 hours.
Sincerely yours & see you soon!
GALATOURIST
since 2005.