Filter tour
Vietnam + Cambodia + Thailand tours
If you are seeking for Indochina trip, Vietnam Cambodia Thailand tour is one of the best options. From breathtaking coastlines to elegant temples, tour Vietnam Cambodia Thailand highlights a tour around Southeast Asia in just a short time, giving our guests the chance to experience the different culture of Vietnamese, Cambodian and Thai locals with friendly smile and the mesmerizing scenery of three countries. 

So why Galatourist, a travel agent in Vietnam? Here are five reasons for you to choose Galatourist as a partner to customize your own Vietnam Cambodia Thailand tour 2019. 
Reliable & serious agency
Rate without intermediary
Far from tourist mass
Good value for money
Free custom quote
Tour Cambodia Vietnam Thailand will surely give you unforgettbale experience with best service throughout your journey. Contact Galatourist for more information of our tour right now. 
Top 5 Worth-visit attractions of Vietnam Cambodia Thailand tour

1. Hoi An ancient town 
Considered as an amazingly well-preserved symbol of a trading port dating back to the 15th - 19th century, Hoi An ancient town is a peaceful land with full of history and cultural values. Travelling to Hoi An ancient town in Vietnam is the best way for you to go back to the past and experience Vietnamese culture with lots of ancient architecture such as Tan Ky ancient house, Phung Hung ancient house, Cau pagoda or Phuc Kien pagoda. All of such amazing architectural sculptures create a very different Hoi An, attracting hundreds of tourists every year.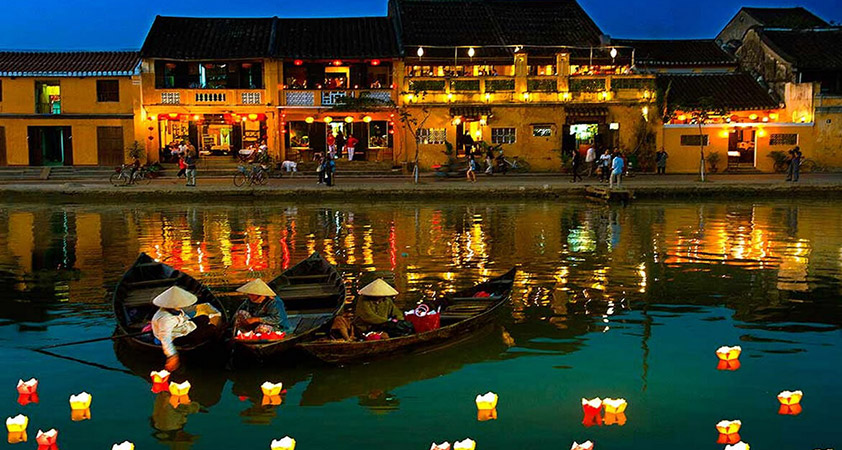 In addition, go further to the countryside of Hoi An, visitors will take the opportunity to experience the real activities of Vietnamese farmers in Tra Que village or move deep into the water coconut forest in Cam Thanh village with locally handmade bamboo basket boat. Join Vietnam Cambodia Thailand itinerary to enjoy it !



See more: Bewitched Indochina of Thailand Vietnam Cambodia itinerary 4 weeks | 28 days 27 nights
2. Angkor Wat 
It would be a great regret if you take Vietnam Cambodia Thailand tour but ignore the exploration of Angkor temples, especially Angkor Wat because this amazing wonder has long become the symbol of the locals of "pagoda land". First constructed in the 11th century during King Suryavarman II's reign, until now, Angkor Wat is still well preserved with its countless sculptural decorations, reflecting the culture and the history of Cambodian.
Coming there, travellers take the chance to admire the wonderfull vast lake lying in front of the Wat with surrounding lotus flowers. The entire Angkor Wat is covered with a large wall. Besides taking a trip around the Wat, visitors can admire the sunset view on Bakheng hill in the middle of Angkor Wat. 

3. Phnom Penh 
Lying at the confluence of Mekong River and Tonle Sap river, Phnom Penh is the current capital of Cambodia, housing lots of tourist attractions and various interesting activities. The best way to explore the whole beauty of Phnom Penh is sitting on the cyclo then discover it.
Tour of Vietnam Cambodia and Thailand will take you to some fantastic places there such as Royal Palace and Silver Pagoda, the symbol of the Cambodian; beautiful Wat Phnom temple; and especially Tuol Sleng Genocide Museum. In addition, wandering around some Phnom Penh night market is regarded as a typical experience for travellers, giving them the chance to immerse in the real life of the Cambodian locals at night time.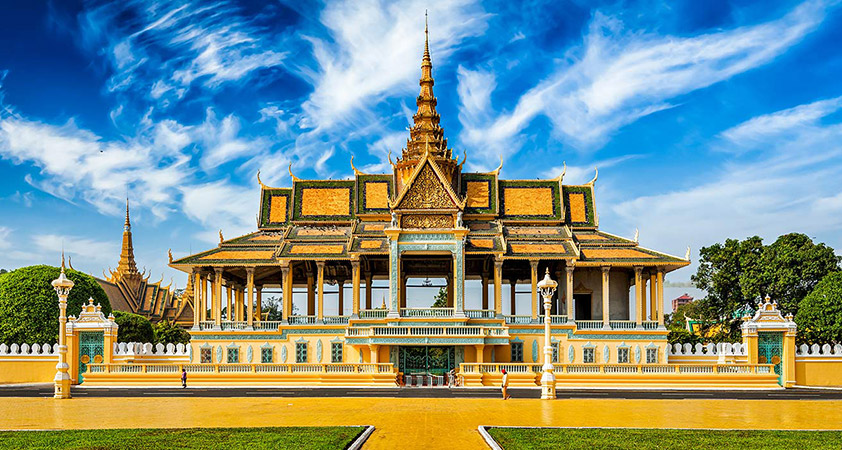 See more: Discovery of Thailand Cambodia Vietnam itinerary 2 weeks | 14 days 13 nights
4. Chiang Rai 
Considered as the peaceful land of historic values dating back to glittering Lanna dynasty hundreds of years ago, Chiang Rai, along with Chiang Mai, is another tourist attraction with full of ancient and colorful atmosphere but has a more relaxed and down-to-earth feel. Gradually stepped in history of Thailand, this former Lanna Kingdom offers great authentic adventure, from witnessing the routine life of Long neck hill locals to joining Akha elephant camps, or sitting on long tail boat to wallowing in the natural volcanic hot springs.
If guests of Thailand Vietnam and Cambodia tour want to see & experience the real Thai culture, Chiang Rai is the first place to come. In addition, if you visit Chiang Rai in the "Water Festival", it would be great, giving travellers the chance to gain more a part of culture & spirit of Thai people through this special festival.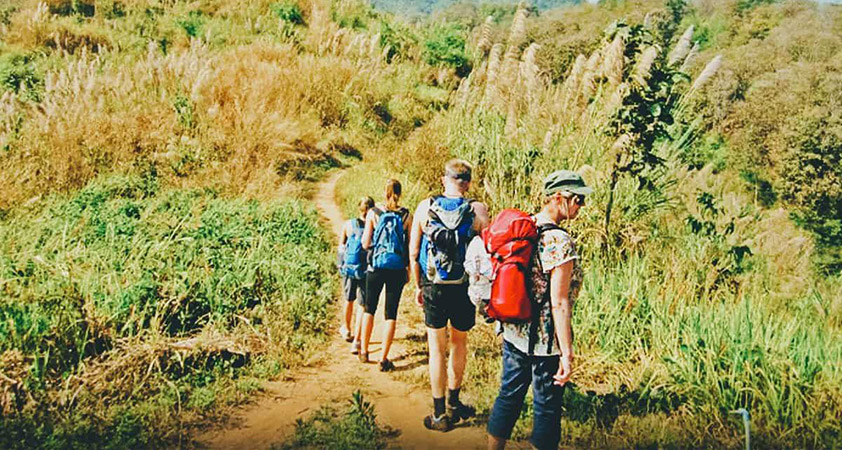 5. Phuket islands
If you are seeking for a wonderful holiday with your friends or family on a beautiful beach with cystal blue water in Thailand, let head to Phuket islands which houses lots of amazing beaches there. Divided into four main areas, Phuket features different beauty. While the western and southern part of the islands highlights stunning beaches and bustling resorts; the northern and eastern coats own unique touches with rural areas and floating villages. Coming there, visitors can visit some great attractions like Phang Nga bay. Besides immersing in the clear water of Phuket beaches, visitors can wander around Phuket town for a quaint historical exploration and shopping.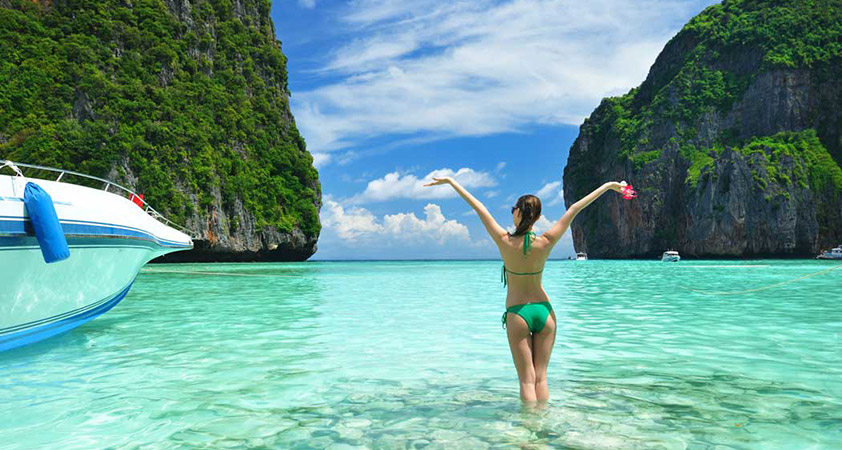 Vietnam Cambodia Thailand tour is truly an ideal choice for those who love to discover both culture and scenery of the Indochina. Do not hestiate to contact Galatourist right now to customize your own multi country cruise.