Experience the beauty and things to do in Ta Phin village, Sapa
You come to Sapa tours et visit the villages like Cat Cat village, Ta Van village, Ho village. You can't miss visit Ta Phin village, it is located 17km east of the town center Sapa.
1. Sapa Vietnam's overview
Situated in northern Vietnam, Sapa is an attractive destination attracting any visitors coming to Vietnam. Thanks to the Mother Nature, Sapa is renown for both its rugged scenery and its rich cultural diversity. Sapa is also known as an incredibly poetic town that lies in the Hoang Lien Son mountain range near the Chinese border in north-western Vietnam.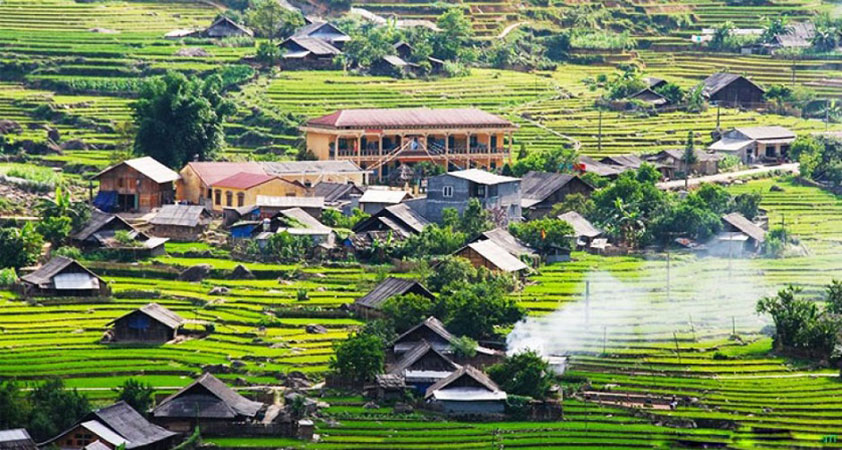 Traveling to Sapa, tourists will take the great chance to meet and talk with the local ethnic minorities who still preserve their own traditional culture. The ethnic groups there are also various, including 5 main minorities of Hmong, Yao, Tay, Zay and Xa Pho. Instead of living in the center of Sapa district, they usually live in hamlets scattering on the beautiful valleys.
Especially, if you are foreign tourists, you don't have to worry about the differences in languages when coming here because many of minority people in Sapa can speak English very well.

2. Introduction of Ta Phin village Vietnam
Known as the home to Red Dao's ethnic minority people,
Ta Phin village Vietnam
appear both domestic and international tourists each time to go to Sapa Vietnam. Time passed, but, villagers of Ta Phin still preserves its own unique culture where you even take the opportunity to take part in the wedding of Red Dao's people, watching how carefully they prepare and many complicated customs for this occasion. In addition,
Ta Phin village Vietnam
is also famed for lots of traditional festivals such as "dancing festival", "greeting for the new house", "oath-taking ceremony", offering you the chance to gain more knowledge about one of the Vietnamese ethnic minority groups.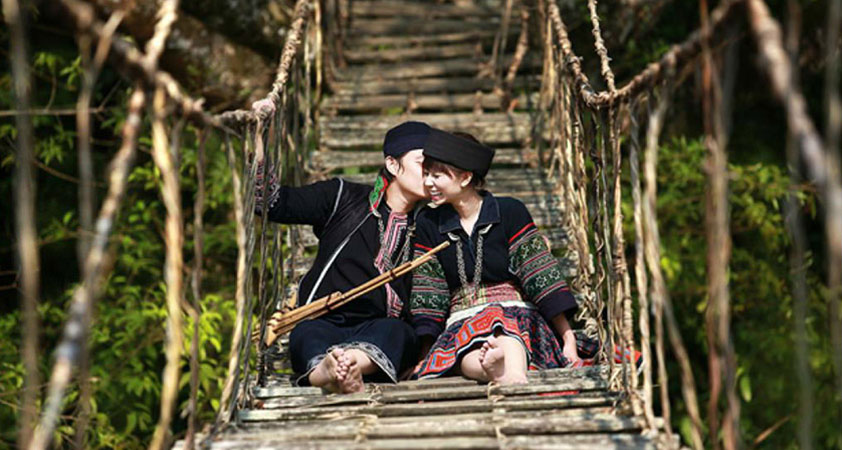 Due to its convenient location, Ta Phin village is the nearest ethnic village from the center of Sapa. From Sapa Vietnam, it takes about 30 minutes to 40 minutes to reach
Ta Phin village Vietnam
by motorbike. The mountainous landscapes of Ta Phin village make it difficult for private cars or taxi to move, so the best way to get here is by motorbike. Visitors can hire a  "xe om", or motorbike taxi, and the experienced driver will take you to the right place at a very reasonable price with many useful pieces of advice and tips.

3. What to do in Ta Phin village Vietnam ?

3.1. Visit The Red Dao
About 500 feet away from the center of the
Ta Phin village Vietnam
, a group of about 50 women with red scarves covered their hair. There are also belts, leggings, and shoes. Red Dao is the second most populous nation after H'Mong people in Sapa. The traditional Tet holiday of the Kinh people is also a chance for the Red Dao people to celebrate their "dance festival", a very lively festival.
Commodities of Dao women offering are backpacks, travel coats, scarves, handbags, wallets and other fashionable items such as compact camera bags. There are many prices, depending on size, pattern or simple. Price is 10,000 VND / product, the highest up to 1 million, such as silver earrings, sophisticated in each product.

3.2. Visit Ti O Cam cave
About a kilometer to the high mountain, where there is a local cave called Ti Ổ Cam. Before the door, on high, there are 6 words inscribed: "Dai Binh Ta Thanh Long". With 5,000 dongs, you will be local people carrying lights to take you to visit this cave.

In the cave, guests like to go to a realm, enamored of the stalactites are bizarre shapes. There is a fairy troupe dancing. There are many stalactites forming a lot of fairies. There are assemblies into a forest, the forest is glistening magic colors ...

Although a tourist destination seems wild, Ta Phin village Vietnam also attract many visitors to visit. Everyone is eager, enjoy watching the natural scenery with the gentle and hard Red Dao.

3.3. Sauna service, bathing medicinal leaves
To Ta Phin village Vietnam, most visitors are eager to buy some brocade weaving of local. But there is an attractive service, you should not be overlooked is to bathe medicinal leaves - a unique feature in the activities of the Red Dao here.

In Ta Phin village Vietnam, where there is a courtyard full of leaves, you naturally come in if you want to bathe leaves. In the past, Dao people often use the medicinal leaves from the forest and cook water to bath on the last day of the year to welcome the new year. Realizing that bathing leaves are good for health, Ta Phin people have turned it into a unique product, serving tourists.

To bathe the traditional medicine leaves of the Red Dao, each tank of bath water often use more than 10 kinds of leaves, sometimes even up to 120 different types. As well as spa salons, urban saunas, bathhouses here are lockers and personal belongings.

4. Some homestays in Ta Phin village
May Kieu's Homestay: Tel: (84) 168 354 2199
Stone Garden Homestay: Tel: 091 292 77 69
Heavenly Home Stay: Tel: 097 556 53 08

5. How to reach Sapa Vietnam as well as Ta Phin village ?
To explore
Ta Phin village Vietnam
, guests of Galatourist have to go to Sapa Vietnam then spend half-day to explore this special village. To reach Sapa from Hanoi, Visitors can choose to go by train or car, but nowadays, after the construction of the highway from Hanoi to Sapa, visitors should go to Sapa by car for more convenience.
By train:
 Most tourists arrive in Lao Cai, the province to which Sapa belongs, by train (read more about the train from Hanoi to Sapa) and it is definitely an impressive ride. The train leaves Hanoi train station in the evening and arrives in Lao Cai train station in the early morning. From Lao Cai train station to Sapa is another hour bus ride, which gives your eyes a massage with the endless blue sky and colorful terraced paddy field. The road is curved around the mountain and you will just go from one surprise to another. The further you go, the closer you are to the sky and to nature.
By car:
Another convenient transportation when coming to Sapa is going through the highway by car or coach arranged by galatourist.asia, which is always available during the day and take fewer hours than going by train. But be warned the mountain roads can be extremely dangerous.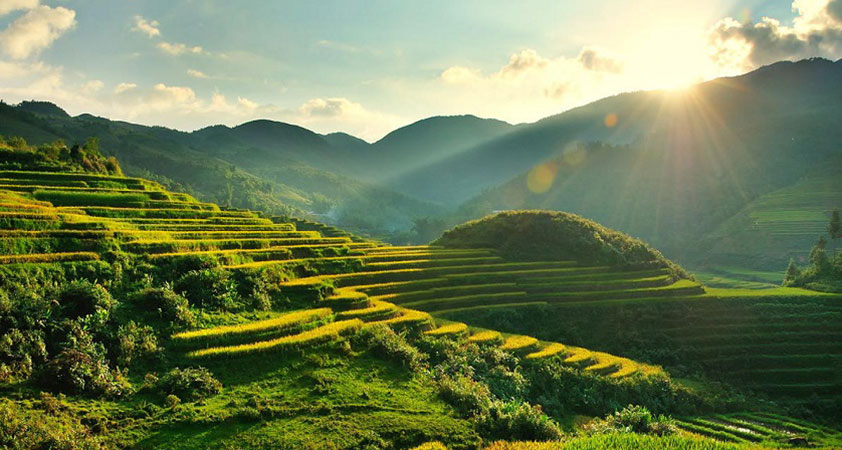 Ta Phin village Vietnam
is a fine combination of cultural value and natural scenery, an interesting tourist area near the center of Sapa Vietnam for both domestic and international tourists when coming to Sapa Vietnam. Whether the tourists choose to stay overnight in the village or just visit for a day, the locals will be happy to organize a tour. 
ONLY WITH US : 100 % MONEY BACK GUARANTEE within 10 days from the date of booking if not satisfied.
For further information, or simply a free quote, please
contact us
at any time via our email:
info@galatourist.com
, our experienced consultants will reply to you within 48 hours.
Sincerely yours & see you soon!
GALATOURIST
since 2005.