Filter tour
Cambodia Classic Tours
Cambodia
is a country bordering on
Vietnam
with famous monumental works such as
Angkor Wat
,
Angkor Thom
,
4-sided Bayon
statue
. It is also a country called "the country of the pagoda" containing many mysteries that fascinate many visitors. There, the pristine beauty and majesty of Angkor and the
Royal Palace
are imprinted with time. Being in Cambodia, you have chance of visiting the Royal Palace of Cambodia and enjoying unique insect food.
Cambodia is a new and impressive tourist destination in the region, attracting many tourists every year. It owns charming natural beauty and pristine with many wonders, beautiful scenery holding the heart of any traveler who set foot here. This country also has a convergence of diverse cultures but it is still a stand out unique and attractive features.
In
cheap Cambodia tour package 2019
,
Galatourist Travel Agency
suggests the visitors a lot of tours with a variety of fascinating sculptures such as Phnom Penh, Battam Bang, Rabbit Island,... Each of them has their own beauty value which you cannot compare to others. Besides, the local people are quite friendly and hospitable. That is the reason why
Cambodia tourism
is admired. It is sure that
Cambodia travel packages
wil be a good choice for you.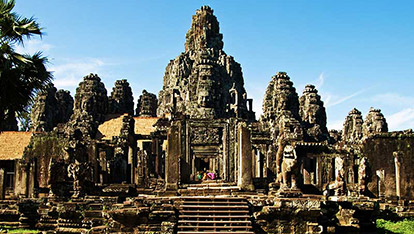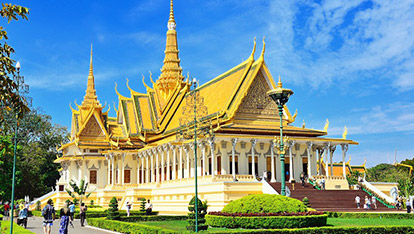 Top 7 amazing destinations not be missed in cheap Cambodia tour package 2019
Be famous for special cultural features, temples with specific architecture, delicious dishes suitable for Vietnamese taste, Laos is a destination chosen by many young people on their discovery journey. Galatourist Travel Agency will show you the reason for this through cheap Cambodia tour package 2019.
1. Angkor Wat
Awngkor Wat
is one of some tourist places attracting a large number of visitors all over the world although they travel freely or follow the tours. Annually, in holidays, Angkor Wat interests thousands tourists coming to enjoy its beauty because the architectural ruins of Angkor Wat not only are beautiful but also conceal something subtle.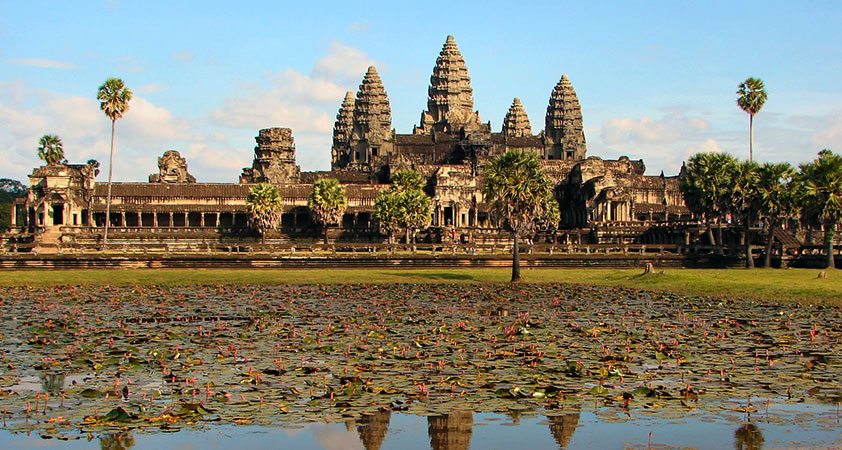 The Angkor Wat complex includes more than 1,000 temples and sanctuaries in 200 square kilometers. Howevers, Angkor Wat temple is the most popular Cambodian tourist destination. Cambodia tour package will be with you to visit it.

2. Sambor Prei Kuk
Sambor Prei Kuk is a complex of more than 100 temples located in a forest. It belongs to one of the first temples in Asia, called Isanapura. Sambor Prei Kuk was built during the Pre-Angkor period in the 7th century, for the god Hindu and Shiva. This archaeological site is still out of the slot, so only a few Cambodian tourists visit this site. At some temples you can observe the work of restoring archaeologists temple. Joining cheap Cambodia tour package 2019, dicoverring Sambor Prei Kuk will be more exciting and it will be memmorable experience.


3. Banteay Srei Temple
Banteay Srei is also a complex temple from the 10th century and it was bulit to worship immortals.  Unlike other temples, Banteay Srei temple was built of pink marble and gently sculpted. Every year, Banteay Srei temple attracts millions of tourists, because it not only  simulates Angkor Wat temple, but also it is considered as the most sophisticated architectural temple in Cambodia with unique lines of sculptural art. Until the end of the 14th century, Red sandstone carving works was completed and it is the most sophisticated and unique masterpiece of art, that researchers today have not proved and explain why humanbeing could do that. This spot makes Cambodia packages more impressive.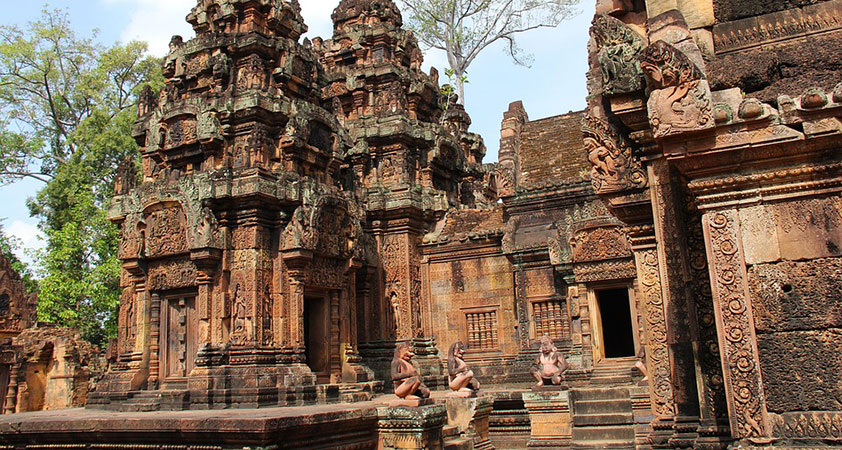 4. Phnom Penh
Located at the confluence of Tonle Sap River and Mekong River, Phnom Penh is the crowed capital of Cambodia with about 1.5 million inhabitants. Seeing Phnom penh at night is considered a special experience for travelers. With the number of buildings and bars increasing, visitors can see the whole city with beautiful lights from the top of buldings. It is interesting to sit on the cyclo and explore Phnom Penh city center, visit the beautiful Wat Phnom temple, Cambodia Royal Palace and the fair.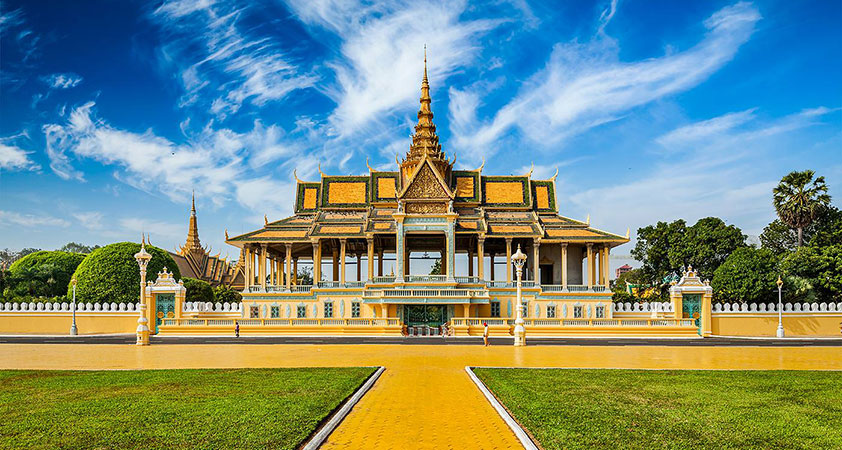 In Tuol Sleng Genocide Museum and Killing Fields you can experience and learn about Cambodia's gloomy history. In addition, along the streets there are 240 interesting shops located close together which easily satisfy the shopping pleasure of all visitors. Therefore, Phnom Penh is one of the 7 most amazing places in tour package to Cambodia.

5. Sihanoukville 
Sihanoukville
is located in southern Cambodia and surrounded by palm trees and rich tropical flora. This coastal city attracts hundreds of thousands every year, even millions of tourists. The beautiful beaches along with resorts are a paradise for you after hours of hard work.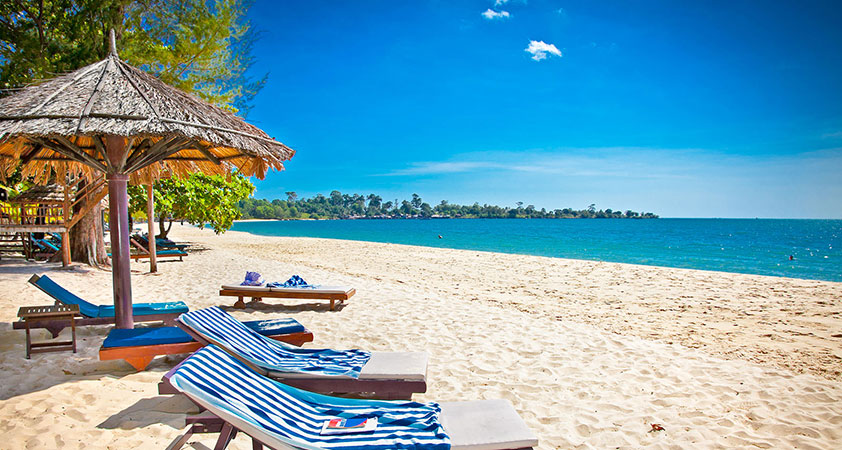 Sihanoukville is famous for its long and beautiful beaches. With the Cambodian tourism experience of many people, Sihanoukville is the best at night with sparkling lights from restaurants, hotels and bar. In this city, you can attend small bars, ship Angor beer or sit on rattan chairs, beach chain to enjoy seafood and fireworks. Joining 
tour package in Cambodia,
you cannot miss such a dreamy scene.

6. Preah Vihear
You will feel a sense of tranquility while watching the scenery from the summit of Dangrek. The sacred temple of
Preah Vihear
is located on a mountain with impressive architecture, built from the 9th century to the 12th century. The temple is an architectural masterpiece of the Khmer, showing a very high level of design, decorated by the most sophisticated stone carvings and a harmonious combination with the surrounding landscape environment. Preah Vihear is very a great part of 
travel packages to Cambodia
.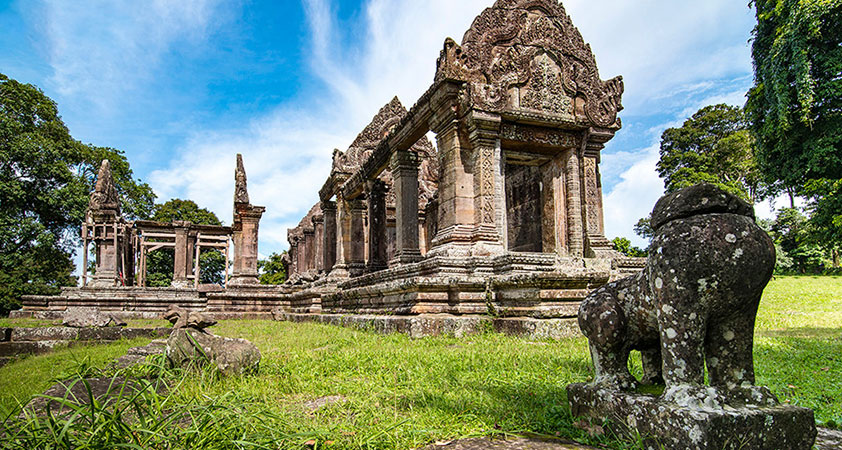 See more:
Enjoy splendid travel itinerary with 2 weeks in Cambodia | 15 days 14 nights

7. Banteay Chhmar Temple
Banteay Chhmar temples
are located in the northwest of Cambodia, 165 km from Angkor, near the Thai border. The Banteay Temple of Chhmar is the same size and splendor as Angkor Wat and Angkor Thom, so it is also one of the attractions that tourist of
Cambodia package
cannot miss. However, in this area visitors will not be able to find a hotel. Nevertheless, you can apply for an overnight stay in a family in Banteay Chhmar. This must be a unique experience that you should try. A special impression that Banteay Chhmar brings to visitors is the famous hand-carved Guan Yin figure. The discovery of the temple is like going back to another era. Banteay Chhmar is a place that brings great spiritual experiences.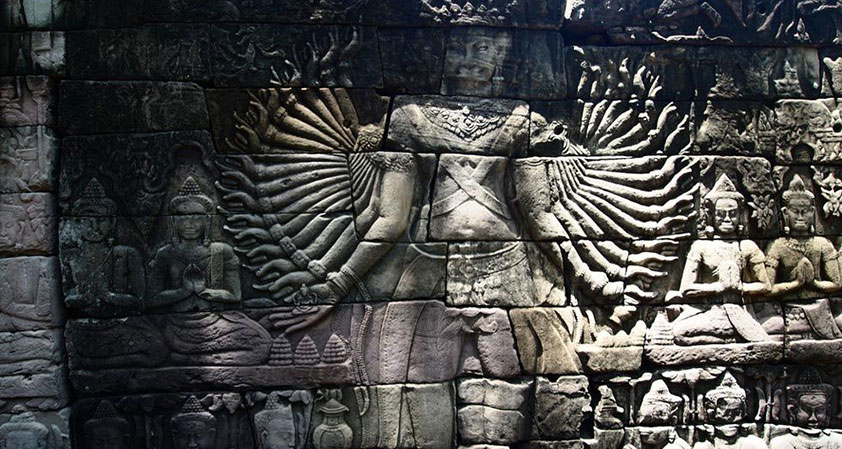 Let
Galatourist
bring you to beautiful sculptures through
Cambodia packages trip !