Things to know about Ta Van village, Sapa before travel
Ta Van village is hidden in the foggy cloud, far away from Sapa busy streets. All its nature beauty are well reserved by over 110 households living in this village. Though you can definitely to get there and back in a day, many choose to stay overnight at the homestay in Ta Van village to fully experience a day with the minorities groups culture other than H'mong, one of the most popular minorities group in Sapa region.
1. How to get there ?
Located at the mountain base,
Ta Van village
is approximated 7 – 11 km away from the center of Sapa, depending what route you take. The narrow road leads to the village is a great trek amongst the beautiful rice paddy and corn terrace fields. The complete
Ta Van village
trek is about 3.5 hrs long but it is an enjoyable trek that definitely worths your time, especially if you are planning to go trekking Sapa for amazing Sapa Tours.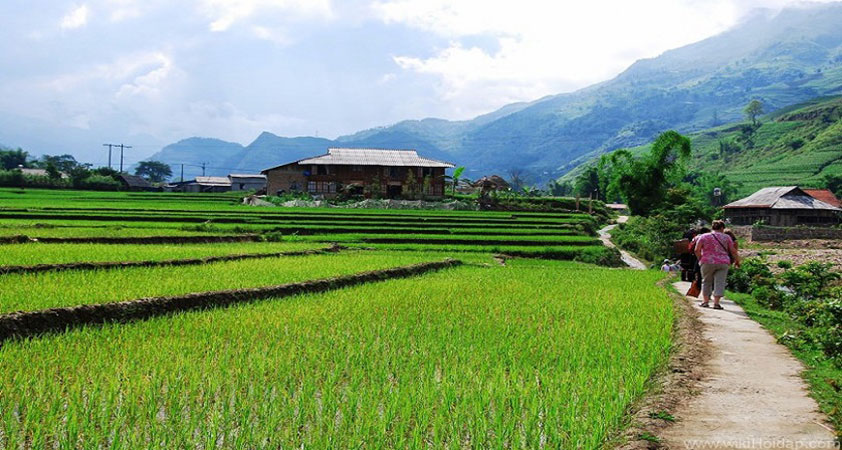 You might catch a minorities group walking together with you to
Ta Van village
. They will offer to sell their handmade bracelets, scarf, clothes, etc. to you. It's okay to say no and don't you worry, they will still carry on the conservation with you no matter what.
If you go during the summertime, you can rent out a scooter and get to Ta Van this way. It's not impossible to do it in other seasons, however, once it's rainy outside, riding a scooter on the slippery muddy road is not fun but rather dangerous to a certain extent.
It's best to find a tour guide to
Ta Van village
, he will help you out with the accommodation or transportation if you need one, making sure you don't miss out on any of the activities in the village and reveal all the perks of the trip (yes they do).

2. When to visit Ta Van village ?
Anytime between September to November or March to May is the best time to visit Sapa or go Sapa trekking as well as T
a Van village
. During these times of the year, Sapa weather is perfect, isn't too moody. It gets sunny in the day and just a bit chilly at night. The average temperature in Sapa is around 59 degree Fahrenheit and is the one and only place to get snow in Vietnam.

3. The Giay and Dao community
In
Ta Van village
, there are two major minorities groups: the Giay and the Dao. As soon as you cross over the wooden bridge through the Muong Hoa water stream, which connect
Ta Van village
to the outside, you'll be able to meet the Giay community. A bit further up the hill is the Dao community. The people here make their living mainly based on farming and occasionally homestay services.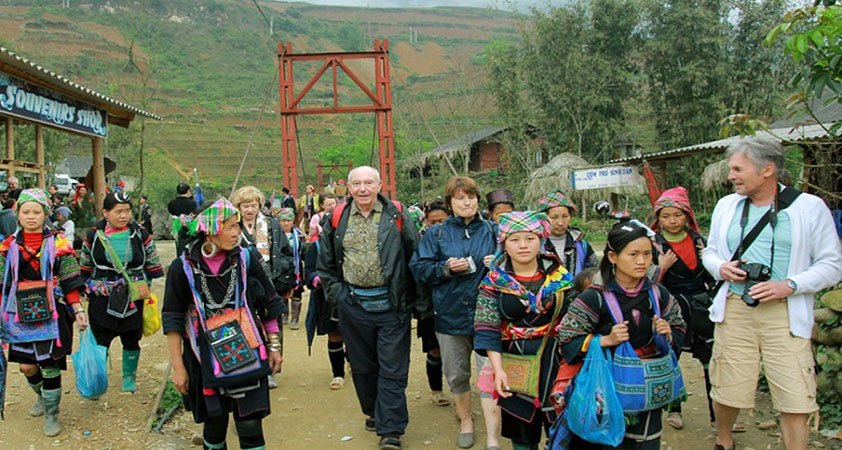 The month of October (according to the Lunar calendar, which often falls in mid-November or December depending on the lunar year) rolls around would mean the wedding season for the Giay community. If you ever visit the village during this period of time, be prepared to be fascinated with the Giay traditional wedding customs which involves a lot of dancing, singing and loud instruments playing.

4. Ta Van Village Homestay experience
Being far from the center of Sapa has the benefit of its own. Unlike Cat Cat, which is located nearer to the city, Ta Van village still is untouched. The fresh air, quietness, and peaceful scenery make any visitors who come to Ta Van Village would treasure the time being here.
Life in Ta Van village doesn't get much affected by the booming tourism service in the recent year. The minorities group would go on with their everyday activities as if nothing has happened. Some seldom get shy to start the conversation with the tourists, making the homestay services in Ta Van special. You get to truly enjoy a day as a part of the real minority group.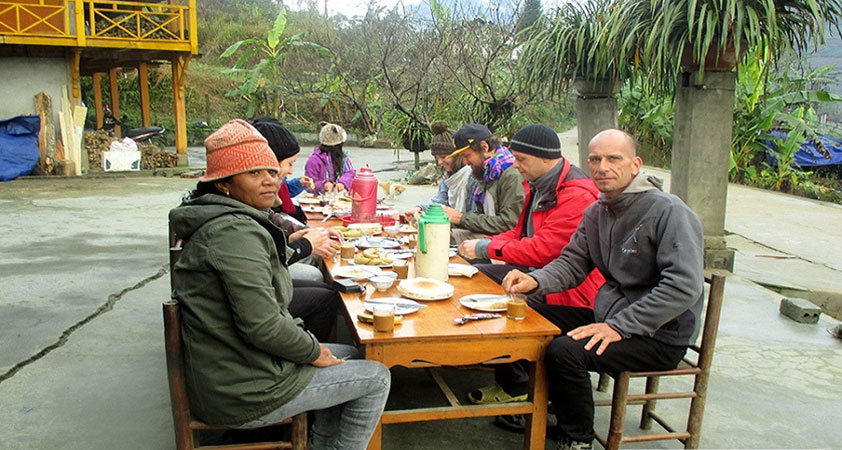 Houses here are built along the slope of the rice paddy terrace fields, and are made out of wood entirely. The view from these houses is simply stunning. Anyone who decides to stay overnight here will be speechless to wake up with such an amazing view, a view that you won't never ever see in your daily city life.
Despite the fact that electricity has been in Ta Van village for less than the decade, the people here don't heavily rely on it. They go farming at dawn and get back home at sunset. The village can actually get really quiet during the day and becomes exceedingly crowded with all sort of entertaining at night. The people in Ta Van village would gather together and do their usual nightly musical show routine to celebrate a whole day of hard working. There will be traditional fan dancing, bamboo dancing, multi bamboo flute dancing, etc.,  all are dancing around the huge campfire.

5. The Home Cooked Food
The best part of the Ta Van village's trekking trip might have to be the food. The homestay owners will be preparing all of your meals. Needless to say, each and every single ingredient is coming straight off their garden, and the poultry meats, eggs are from their farm. Everything here is as natural as it gets. Corn wine is served as a complimentary drink making everything superb tasty.
You will always have an amazing dining experience with the minorities people. Vietnamese spring rolls, regional steam veggies, stewed chicken with caramelized onions, and hot soup in the cool weather are absolutely irresistible.
Ta Van Village
trekking experience has always given the travelers the time to be close to nature, enjoy the simple life without all the superficial things out there, temporarily forget about the stress, the crisis, the troublesome and the doubts you might have at home. That's why the locals always choose to come to Ta Van village as if this is their safe escape, and same goes to the tourists.
Besides Ta Van, you can take into consideration the best villages in Sapa such as Cat Cat village, Ta Phin village, Sin Chai village, Ban Pho village, Giang Ta Chai village, etc. Each village will bring a unique and memorable journey to you !
It is time to pack your travel bag and start your trip! If you need more information about Ta Van village or you don't know how to make a perfect itinerary, please contact us !
ONLY WITH US : 100 % MONEY BACK GUARANTEE within 10 days from the date of booking if not satisfied.
For further information, or simply a free quote, please
contact us
at any time via our email:
info@galatourist.com
, our experienced consultants will reply to you within 48 hours.
Sincerely yours & see you soon!
GALATOURIST
since 2005.