Vang Vieng - a paradise with outdoor activities
Located about halfway between Vientiane and Luang Prabang is Vang Vieng, a small town on the Nam Song river surrounded by karst limestone mountains. Until recently, Vang Vieng was known as a major party scene for young backpackers. The small town attracted over 100,000 young people yearly, who enjoyed partying and tubing down the river.
Introduction of Vang Vieng 

The town of Vang Vieng is located on Route 13, about halfway between Vientiane and Luang Prabang. From Vientiane, catch a bus or minivan from Khua Din bus station near the Talat Sao market. The 155 kilometer trip will take about 4 hours and cost between 50,000 and 60,000 Kip per person. From Luang Prabang, the 185 kilometer trip by bus or minivan takes about 7 hours and cost between 130,000 and 150,000 Kip.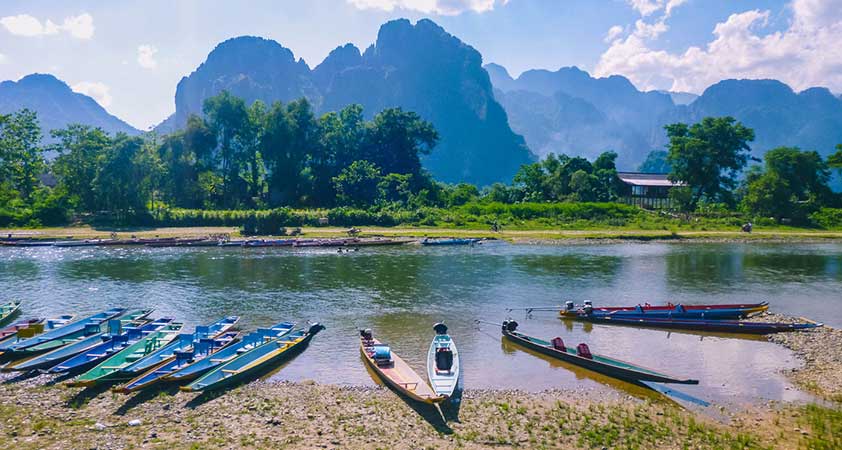 Thanks to its attractive setting, quiet and rural surroundings, the Nam Song river, the karst mountains and the many caves, Vang Vieng is now starting to attract a different kind of visitors. All kinds of outdoor activities are available to nature lovers like trekking tours, climbing, rafting, exploring caves and bicycle tours along local villages and rice paddies in the magnificent karst landscape.

To do & see in Vang Vieng

Just a few kilometers from Vang Vieng are the Tham Phu Kham cave and the blue lagoon. A 200 meter climb up the limestone cliff leads to the Tham Phu Kham, a large cave with chambers, galleries and crevices filled with stalagmites and stalactites. The main chamber contains a large reclining Buddha image. The blue lagoon with its crystal blue waters at the base of the cliff is an enjoyable place to cool down and wash off the dust. Of the many other caves in the area, the Tham Chang cave near Vang Vieng is worth a visit. The large, well lit cave in the limestone mountains requires a climb of some 150 steps to the top, from where great views of the surrounding area can be had.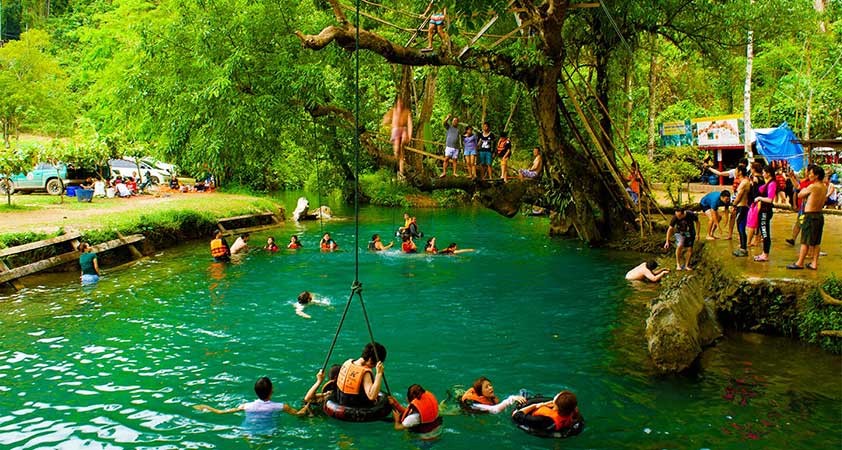 The Vang Vieng area is very suited for outdoor activities like kayaking, trekking and climbing. Several companies offer kayaking trips on the river, often combined with hiking, cave exploration or a visit to a local organic farm. Half day and full day trips can be booked at Vang Vieng travel agents.


The karst mountains around town provide an attractive setting for climbing. Several rock climbing schools offer courses for beginners and experienced climbers, from half day to several days. Climbers are rewarded with great views of the karst landscape surrounding Vang Vieng. A relaxed way to enjoy the area is make a bicycle tour. Bicycles can be rented at 10,000 Kip per day, mountain bikes double or triple that. Local roads will often be in poor condition with lots of pot holes and have little or no street lights at night.

ONLY WITH US : 100 % MONEY BACK GUARANTEE within 10 days from the date of booking if not satisfied.
For further information, or simply a free quote, please
contact us
at any time via our email:
info@galatourist.com
, our experienced consultants will reply to you within 48 hours.
Sincerely yours & see you soon!
GALATOURIST
since 2005.