Kuang Si falls, a beautiful 50 meter high waterfall
Khuang Si falls's introduction
About 30 kilometers South of Luang Prabang are the Kuang Si falls, a beautiful 50 meter high waterfall and a group of turquoise pools set in the tropical rain forest. The falls, locally called Tat Kuang Si are well visited by tourists and locals alike. The trip from Luang Prabang to the falls is a very scenic ride passing rice paddies, local villages and green hills. At the entrance to the falls are stalls selling food, snacks and drinks as well as a few souvenir shops. From here, well maintained walkways and bridges lead into the tropical forest. After a short hike you will get to a group of shallow pools, filled with turquoise waters.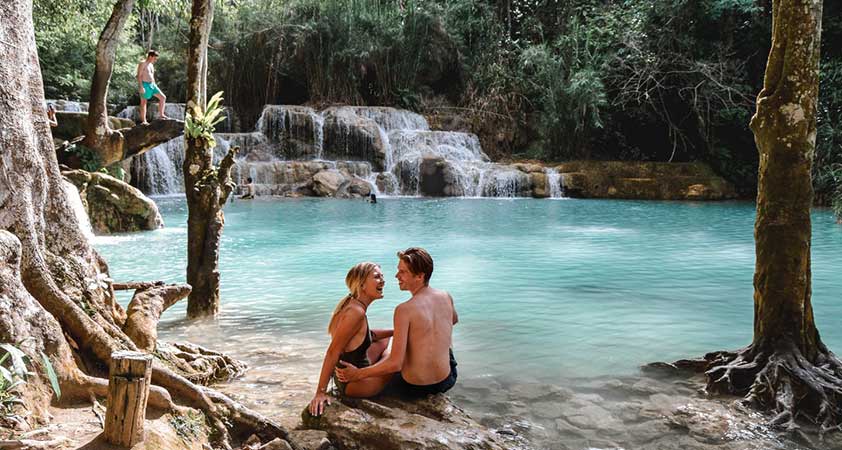 The pools are open to swimmers; the water is chilly providing a good chance to cool off from the heat of the country side. Children will enjoy swinging from a rope attached to a tree diving into the water. Near the pools are small changing rooms to change into swimming wear. A beautiful hike upstream through the jungle leads to the main waterfall which is about 50 meters high. To the left of it is a trail to the top, which can be slippery after rain. Swimming at the bottom of the falls is not allowed; swim in the pools downstream instead.
Tat Kuang Si Bear rescue center
A short walk past the entrance gate, before reaching the pools, is a bear rescue center. A number of Asiatic black bears rescued from poachers and illegal wildlife trade live in an enclosure with lots of trees, swings and other things to play with. From a viewing platform you can observe the animals as they play or search for food. There is no separate admission fee to the center. The center is supported by the Free the bears Fund, a charity working to protect bears in several Asian countries and to save them from the bear bile farms where they are milked for bear bile used in traditional Chinese medicine. For more information, visit the Free the bears or the Bear Lao website. If you want to support the center, you can buy a T-shirt or make a donation.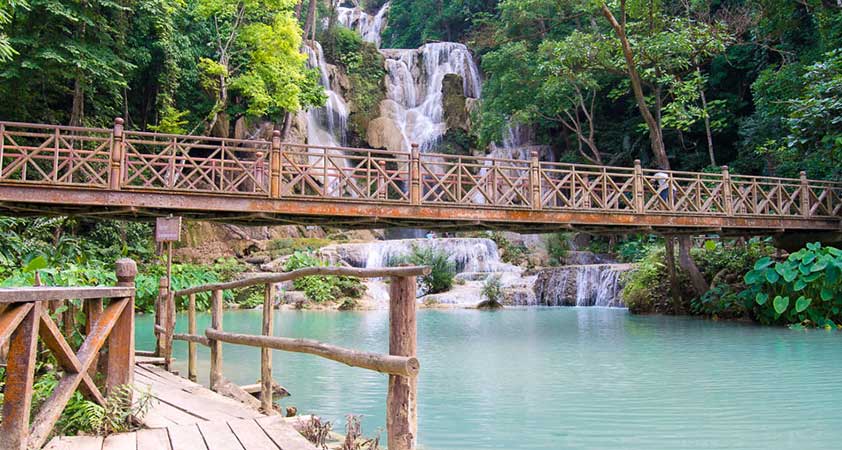 How to get to the Kuang Si falls
There are several ways to get to the falls. If you have a group you can charter a tuk tuk or a jumbo for about 150,000 Kip (about US$ 20) depending on your bargaining skills. Alternatively, you can share one with other travellers for about 40,000 Kip (about US$ 5) per person or book a ride by mini van from a travel agency at about 50,000 Kip (about US$ 6.50) per person. It takes 45 minutes to an hour from Luang Prabang to get to the falls.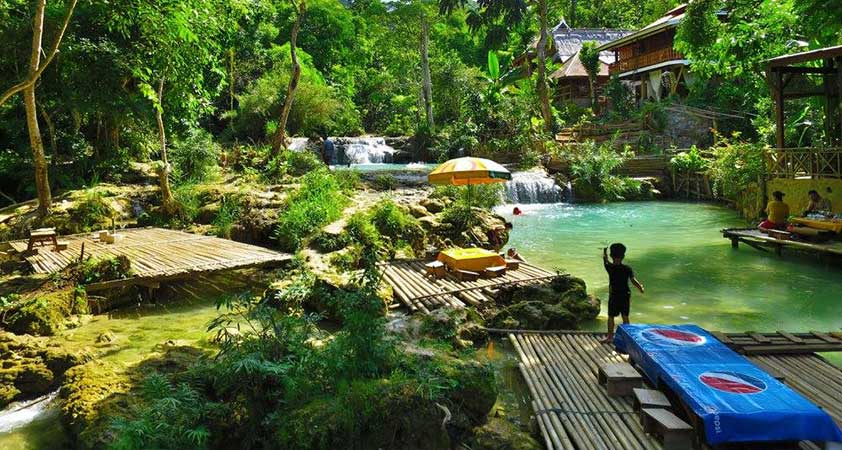 Entrance fee & opening hours
The Kuang Si falls open daily from 8 am until 5.30 pm. Admission is 20,000 Kip (about US$ 2.50) per person. There is no separate entrance fee for the Tat Kuang Si bear rescue center. During high season the place can get crowded, as during weekends and Laotian public holidays when local people enjoy the area for a picnic and a swim. Wearing modest swimwear will be appreciated. The Laos countryside is conservative, local women will bath fully dressed.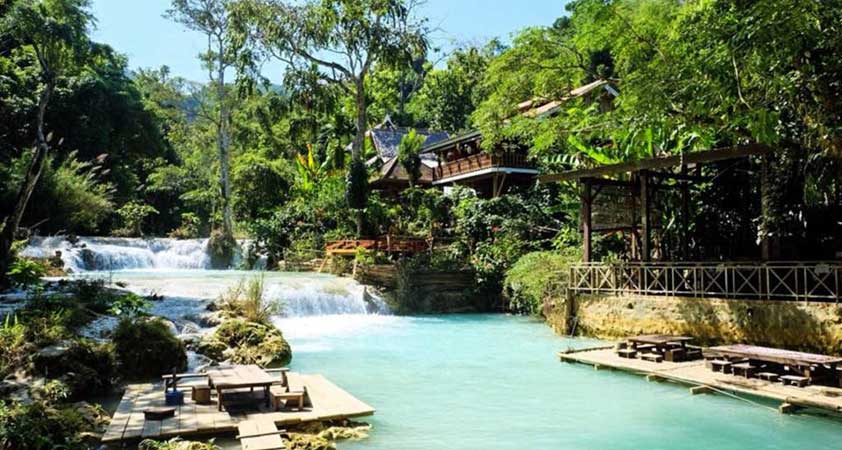 ONLY WITH US : 100 % MONEY BACK GUARANTEE within 10 days from the date of booking if not satisfied.
For further information, or simply a free quote, please
contact us
at any time via our email:
info@galatourist.com
, our experienced consultants will reply to you within 48 hours.
Sincerely yours & see you soon!
GALATOURIST
since 2005.