Two most exciting activities on Titop Island, Halong Bay, Vietnam
Fellow Galatourist to discover Titop Island - one of the best charming island in Halong Bay. The attraction is 7 kilometer far from Bai Chay Tourist Wharf and surrounded by Cua Luc Bay, Sung Sot Cave and Dam Nam Island.
How to get to Titop Island Halong Bay
If you go on a regular boat from the Tourist Wharf, you will reach Titov Island Halong Bay after visiting Soi Sim Island. However, we would like to introduce a new complete journey: a seaplane tour from Tuan Chau Island to the destination. You will have the chance to capture the view from 300 meters high. A ticket price varies from one to two million.

The history of Titop Island Halong Bay
A long time ago, there was few people learn about it among hundreds of
places to visit in Halong bay Vietnam
. It was named
Cemetery
to memorize a group of French sailors who had died on the bay and been buried here. You can learn more about the history of the place recorded on a stone stele in front of the island.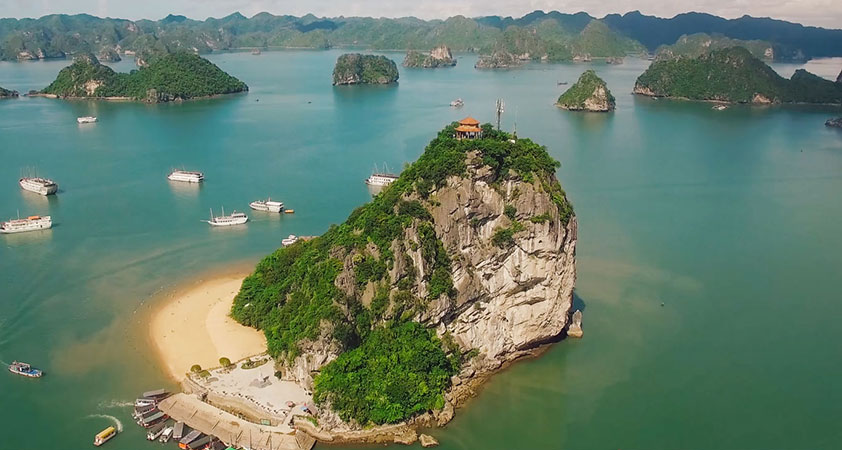 In 1962, to celebrate the trip of Vietnamese Great Leader Ho Chi Minh and the second astronaut German Titov, it was renamed
Titov Island (Titop Island Halong)
. Now
Titov Island Vietnam
has become the symbol of the fraternal relations between the two countries.

You may also like:

Hanoi Halong bay Sapa tour package in 7 days 6 nights
Activities on Titop Island Halong Bay
The island recently has been the pride of Halong residents, the destination travelers can not miss when visiting Halong with unique natural beauty which is completely different from 2000 other islands in the area. 

1. Sunbathing on Titop Island Halong Bay
Besides the beautiful natural scenery,
Titop Island Vietnam
owns a charming sandy shore called
Vang Trang Beach (Moon Beach)
. From above, the place looks like a waning moon hugging the island. 
In comparison with Soi Sim, Titop is not as big as, but the atmosphere is quite quiet and clear, the sand is white and water is blue around the year. Therefore, it becomes one of the most favorite destinations. Especially, many tourists come here to hide from the sun on hot summer. The least but not last, there are a lot of corners for young people for nice check-in photos.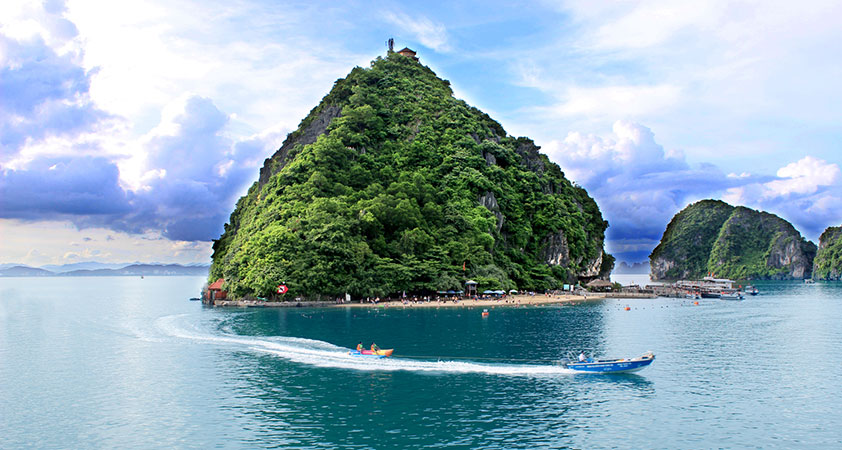 2. Capture the bay overview on the peak of Titop island Halong Bay
After going through 400 steps, you will reach the top of the
Titop Mountain
, where you can have a picture of the majestic landscape of Halong bay: All the islands of all sizes, green mountains rising from the waters, ancient caves like
Surprise Cave
and fishermen's boats busy earning their living. Right under our feet is a white-sandy seashore contributing to the amazing beauty of the place.
Apart from sunbathing, there are many other activities to attract tourists to visit
Tiptop Island Halong
like kayaking and skydiving.
Together with
Titop island Halong Bay
, you are also supposed to visit
Vung Vieng fishing village
to learn about the daily life of the local residents. Contact our agency to get more information.

A cheap price tour: 

Visit all the related attractions in
Halong bay tour 2 days
ONLY WITH US : 100 % MONEY BACK GUARANTEE within 10 days from the date of booking if not satisfied.
For further information, or simply a free quote, please
contact us
at any time via our email:
info@galatourist.com
, our experienced consultants will reply to you within 48 hours.
Sincerely yours & see you soon!
GALATOURIST
since 2005.