But Thap Pagoda
The pagoda was built under the dynasty of King Tran Thanh Tong (1258-1278) and rebuilt in 1647 in the Le Dynasty by Chinese Zen Buddhist priest Zhus Zhus, known as Chuyet Chuyet in Vietnamese.
Situated on the dike south of the Duong River in Thuan Thanh District, Bac Ninh Province is But Thap (pen stupa), one of the finest pagodas in the country's north and known as Vietnam's first Buddhist center. The pagoda was built under the dynasty of King Tran Thanh Tong (1258-1278) and rebuilt in 1647 in the Le Dynasty by Chinese Zen Buddhist priest Zhus Zhus, known as Chuyet Chuyet in Vietnamese. Legend has it that when leaving his former pagoda on the northern bank of the Duong River, priest Chuyet Chuyet saw a flock of flying swallows suddenly swooping down and perching on the ground on the southern bank, he decided to rebuild the pagoda there and named it Ninh Phuc Tu, which means peace and bless.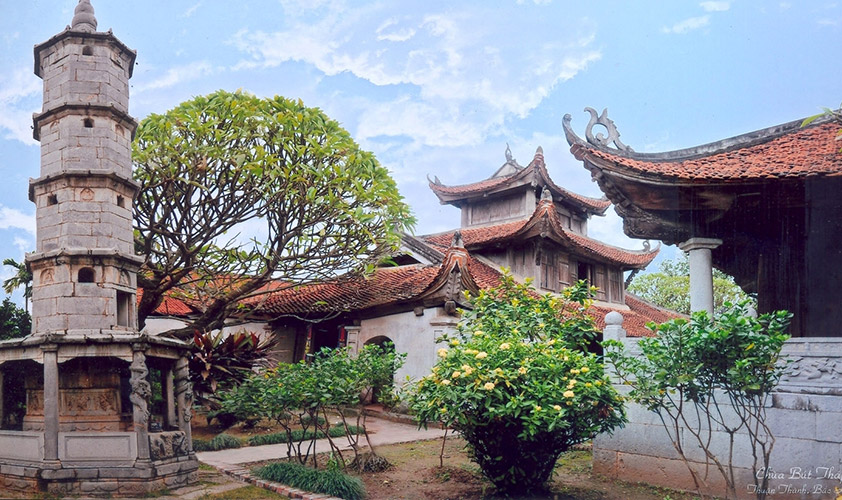 The pagoda's history is also connected with Queen Trinh Thi Ngoc Truc, a daughter of Lord Trinh Trang. After her husband died, her father forced her to marry King Le Than Tong (1619-1643). The Queen then devoted herself to the Buddhism religion and raised money to restore the Ninh Phuc Tu. During this time she wrote Ngoc Am Chi Nam, considered as Vietnam's first Han-Nom (Chinese-Vietnamese) dictionary.The pagoda was built according to Noi Cong Ngoai Quoc (Nei Kung Wai Kwo) architectural style, that means it has the shape of the Chinese script Kung inside and the script Kwo outside. With more than 100 compartments, But Thap is larger than many other pagodas in the north. Passing through its three-entrance gate, then a bell tower with eight roofs, visitors reach the main temple complex. The main entrance of the temple is open on big holidays only while on normal days visitors have to enter the temple through the small side entrances.
Inside the temple are more than 50 statues of different sizes including the Triad Buddha, Manjusri (Van Thu) on a blue lion and Samantabhadra (Pho Hien) on a white elephant. The most remarkable is a thousand-handed and thousand-eyed Guanyin, which is described as a sculptural masterpiece of Vietnam. Work on the statue began in 1656 and took several years for completion. The statue is 2.5 meters tall, excluding its pedestal, with 11 heads and 14 layers of 789 arms with an eye in each palm forming a circle 2.2 m in diameter. Forty-two more arms encircle the waist, making various gestures of the hands. The goddess is sitting on a lotus lifted up by dragons. Passing through a small stone bridge visitor reach Am Tich Duc (accumulated good deeds sanctum), then the Middle Hall (nha trung), followed by the Worship Palace (phu tho) where statues of Queen Trinh Thi Ngoc Truc and her children can be found. Behind the backyard garden stand two stone stupas, both some 20 meters tall, used to contain remains of priest Chuyet Chuyet and the pagoda's second priest Minh Hanh.The name But Thap was given by King Tu Duc in 1876 when, on a field research tour of Kinh Bac, or the former northern citadel, he saw the beautiful stone stupa shaped like a pen at this pagoda. The literary name of the stupa was Bao Nghiem, which means to pay a debt of gratitude to the master for his strict teaching.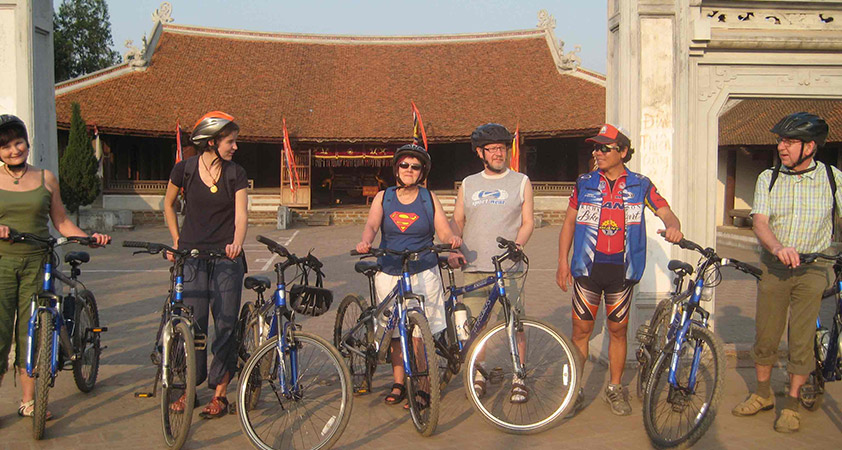 Being recognized as the country's cultural historic relic, But Thap Pagoda is not only an important place for pilgrims but also a tourist attraction.  From Hanoi downtown, drive along National Highway 5 some 15 kilometers to Sui region, then turn left and go straight around five kilometers you will reach But Thap Pagoda. Or you can take a boat ride up the Red River. Where the Red River meets the Duong River, the boat turns on the latter going downstream some 20 kilometers to reach But Thap Pagoda.
ONLY WITH US : 100 % MONEY BACK GUARANTEE within 10 days from the date of booking if not satisfied.
For further information, or simply a free quote, please
contact us
at any time via our email:
info@galatourist.com
, our experienced consultants will reply to you within 48 hours.
Sincerely yours & see you soon!
GALATOURIST
since 2005.