Detailed travel guide to visit Moc Chau Happy Land from A to Z
Moc Chau Happy Land is indeed a great park where thousands of flowers have been grown with some outstanding homestays beside. It has just been opened since 2017.
1. Where is Moc Chau Happy Land ?
Moc Chau Happy Land
is in
Lun Village, Muong Sang Commune, Moc Chau District, Son La Province
. It has an overall area of 5 hectares and is designed in heart-shape, attracting thousands of tourists to visit every year. Besides the large gardens of flowers, the area has also developed tourism services such as food and drink, homestays and entertainment areas. The attraction will certainly give you nice memories with your family and friends.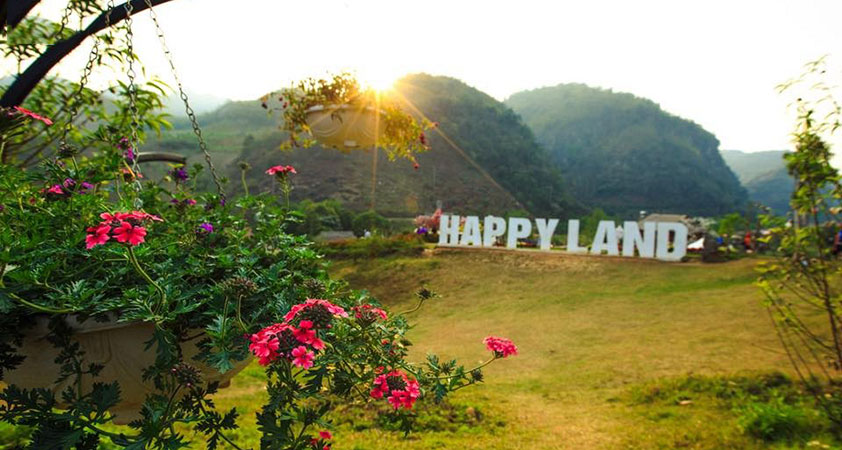 2. Moc Chau Happy Land ticket price
Please consult the ticket price below: 
Entrance fee: 20,000 VND/ticket
Game with balls on grass: 10,000 VND/turn
Traditional costume hiring: 20,000 VND/person
Dream ribbon: 10,000 VND/sheet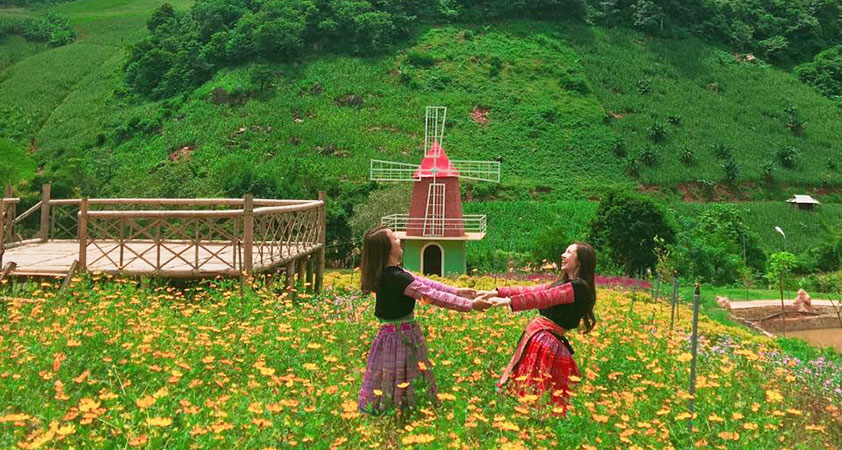 You can see the ticket is quite cheap and completely affordable. It is worth noting that the price values just a little at the weekend and holidays. Homestays are the most impressive with nice decoration and appearance. Therefore, travelers visiting
Pha Luong Peak
or other rural spots will choose the land to stay overnight.

 

You may also like:

Endlessly charming beauty of Vietnam 18 day itinerary at cheap price
3. Activities in Moc Chau Happy Land

3.1. Moc Chau Love Garden
Love Garden is in
Ang Village
, near
Dong Sang Stadium
. Especially, the area is located alongside the road to a tropical flower garden. The attraction has an area of 1 hectare. Tourists can have nice check-in photos at the spot all over the year. There are flowers typical for the land such as sunflower, rape flowers, rose,...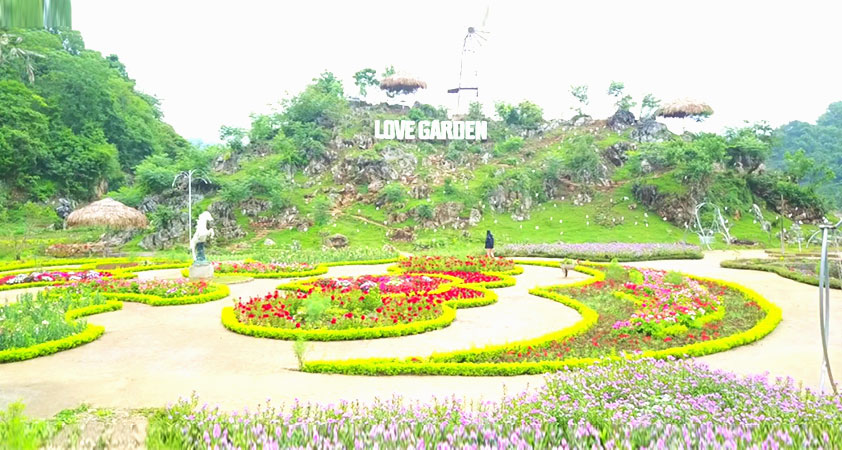 3.2. Moc Chau Container 
Moc Chau Container belongs to
Moc Chau Arena Village
. They are indeed 7 bungalows designed in container shapes. These houses are outstanding among the green background of tea hills surrounding, bringing you close to nature. Moreover, the houses are provided with modern facilities and comfortable space so that you will have the best experience there. Especially, each of the containers has its own color, indoor design and decoration. Besides, the arena village has two stilt houses of different capacities.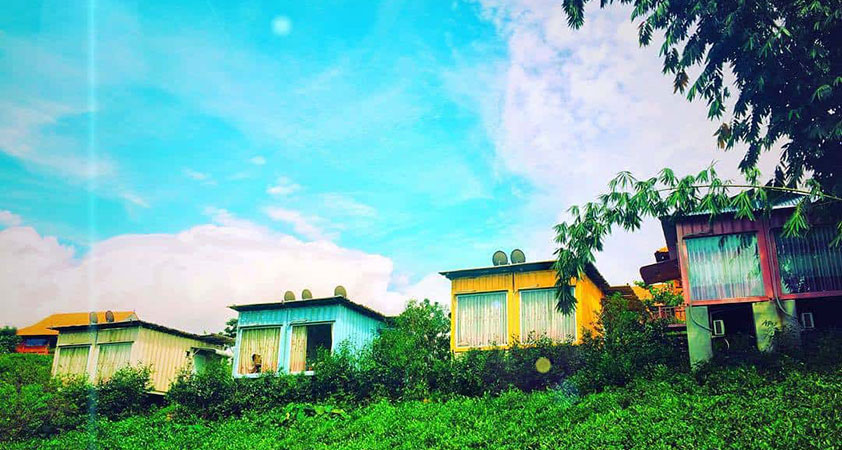 Challenging yourself: Join Vietnam tour 12 days discovering the charming beauty of the land

3.3. Moc Chau Bo House
When you visit
Moc Chau Happy Land
, it is regretful if you miss Bo House. There are a number of areas which are suitable for single, couple or group bookings. They are designed in dorm-style at the price of 70,000 VND/person/night for single rooms, and about 180,000 VND for couple or group bookings. Each room is carefully decorated, making it one of the most favorite choices in
Moc Chau Son La
tour.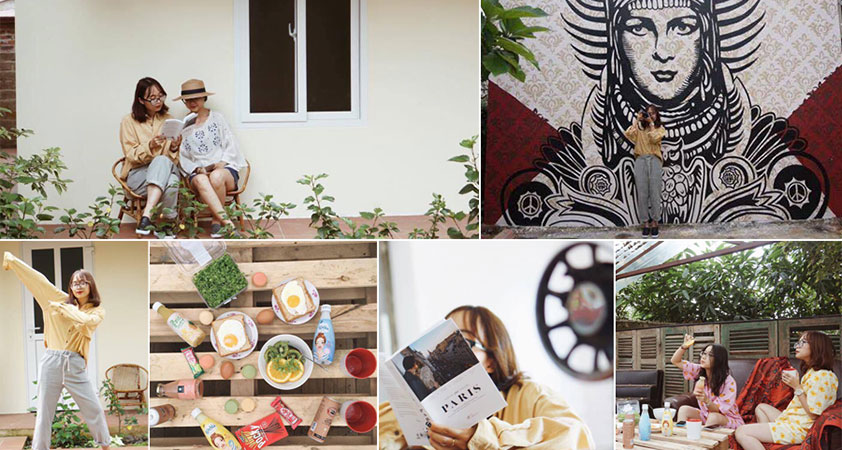 4. Other nearby attractions
The attraction is at the tourism center of Moc Chau, Vietnam. Therefore, it is convenient for you to visit other spots in the area. For example, from Love Garden, you can continue to relax in the pine forest, which is also in Ang Village. Or you can travel deeper into the area to visit plum and peach valleys. In spring, the land is covered in pure white flowers. Vice versa, in summer, come to taste the gently sweet flavor of these fruits along the journey. Especially, a 5D bridge called Love Bridge in 
Dai Yem waterfall
has been open for tourists to visit.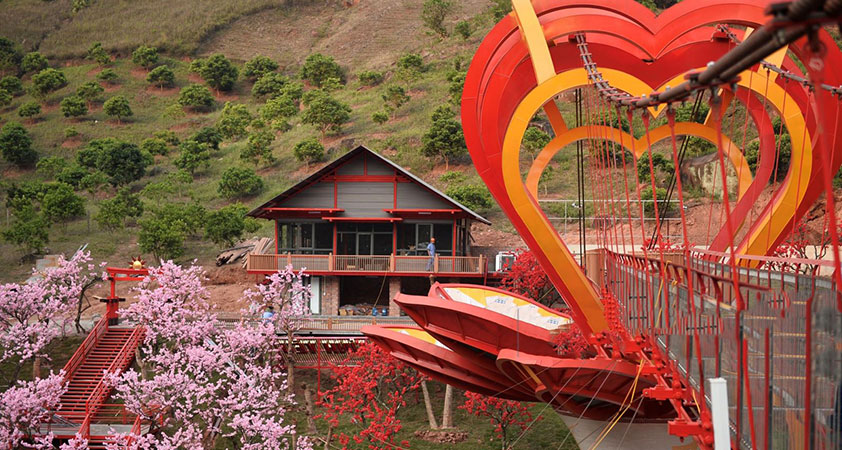 With our recommendations above, we do hope you will have a nice journey to
Moc Chau Happy Land
and Moc Chau attractions in general. If you are not familiar with Vietnam travel, please contact us to get more help and support.
ONLY WITH US : 100 % MONEY BACK GUARANTEE within 10 days from the date of booking if not satisfied.
For further information, or simply a free quote, please
contact us
at any time via our email:
info@galatourist.com
, our experienced consultants will reply to you within 48 hours.
Sincerely yours & see you soon!
GALATOURIST
since 2005.