Things to see and do in Myanmar
The small town of Hpa-an, in the southeast of the country, is a pleasant place to spend a few days. Moreover there are some excellent day trips from the town, and you can take a taxi or ride a rented motorbike through scenic rice fields to swimming holes, a pagoda perched on a vertical column of rock, and caves full of Buddhist art.
Hpa-an 
The small town of Hpa-an, in the southeast of the country, is a pleasant place to spend a few days. Moreover there are some excellent day trips from the town, and you can take a taxi or ride a rented motorbike through scenic rice fields to swimming holes, a pagoda perched on a vertical column of rock, and caves full of Buddhist art.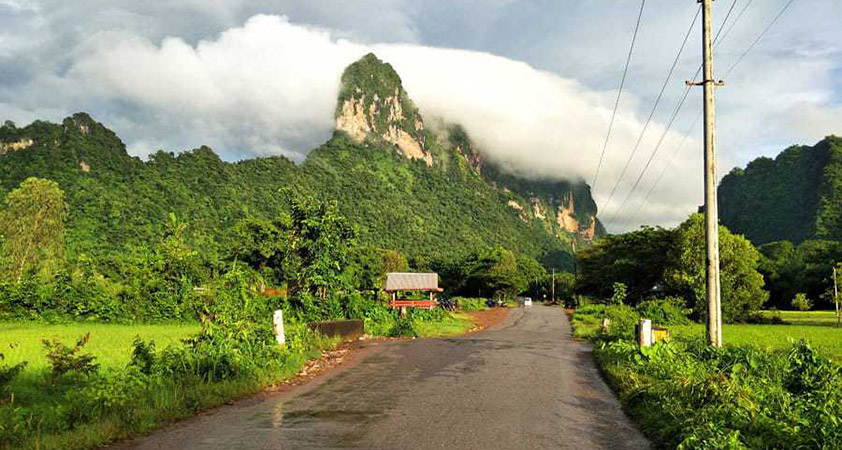 Inle Lake 
A busy tourist industry has grown up on beautiful Inle Lake, which has several resorts on the water, as well as in the nearby town of Nyaungshwe (which provides more affordable accommodation). Long motorised boats take day-trippers to thriving markets, interesting little workshops in stilt villages, and ruined temples.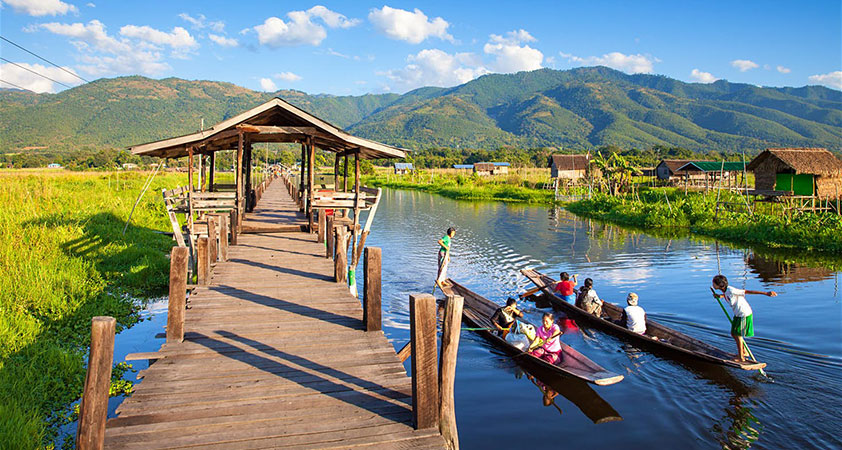 Irrawaddy River 
It's hard to overestimate the importance of the Irrawaddy River, which winds its way south through pretty much the length of the country, and a trip on the river offers the chance to see small riverside settlements. Tourist boats ply the Mandalay-Bagan route, while you can meet locals on ferries between Yangon and Pathein.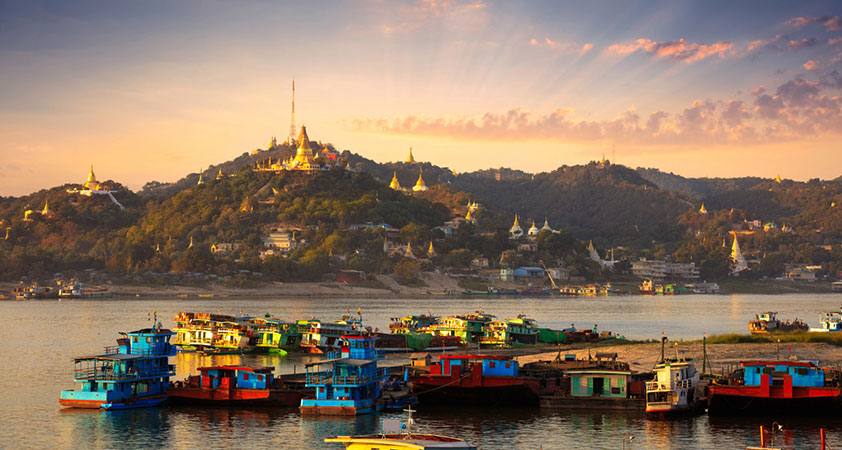 Mrauk U 
The collection of temples in the former capital of Rakhine – now a state but once an independent territory – may be on a smaller scale than in Bagan, but their appeal is increased by the fact that a settlement still exists around them. Mrauk U was, however, closed to foreigners at the end of 2012 following inter-ethnic violence. Check before travelling.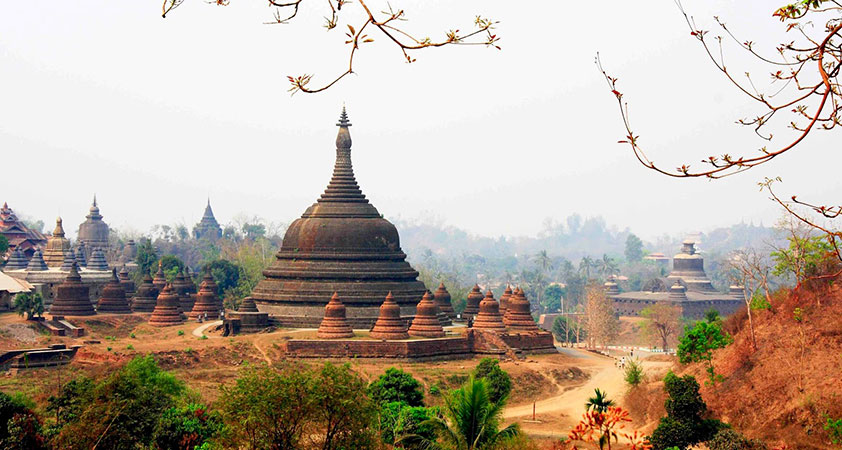 Ngapali Beach 
The most famous stretch of sand in the country is pretty idyllic, albeit hard to get to from Yangon other than by flying. Chaung Tha and Ngwe Saung beaches offer more easily reached alternatives, the former being popular with local families and the latter more international and upmarket.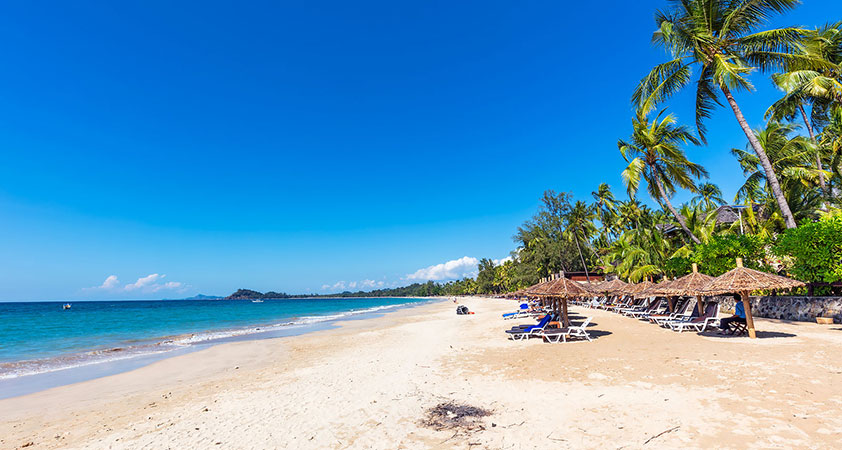 Pindaya 
The journey to the town of Pindaya from either Kalaw or Nyaungshwe is an attraction in itself – it's set in one of the lushest agricultural areas in Myanmar, and the colours of the fields can be truly spectacular. The main draw in the town is Shwe Oo Min, an atmospheric cave packed with Buddha images.
Taungoo 
It may be part-way between Yangon and Mandalay, but Taungoo is rarely visited by tourists. It's a shame though because, as well as having an interesting market and some lovely villages nearby, it's a good place to arrange a visit to a logging camp for the unusual experience of seeing elephants at work.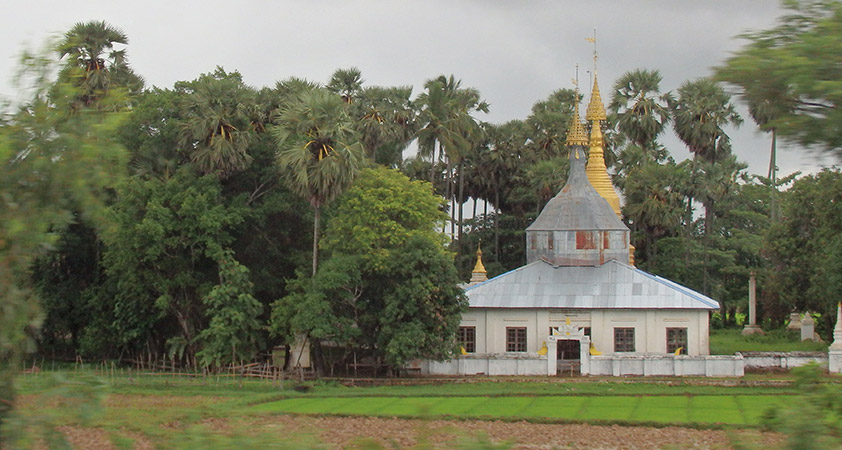 The hills of Shan State 
The parts of Shan State open to foreigners provide some of the country's best hiking opportunities and, unusually for Myanmar, offer the chance to stay in local homes or monasteries. Walk through stunning valleys to remote ethnic minority villages close to the northern town of Hsipaw, or take the three-day trek between Kalaw and Inle Lake.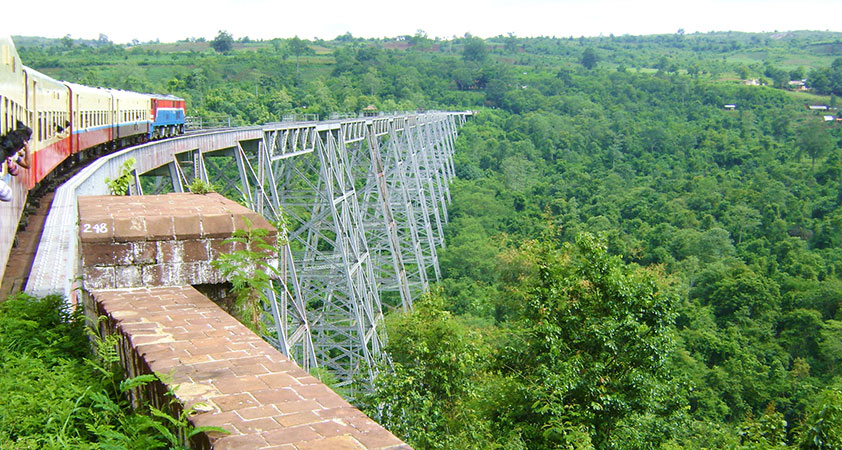 Bagan 
Covering an area of 67 sq km (26 sq miles), the astonishing archaeological site of the ancient city of Bagan is dotted with the remains of more than 2000 temples, pagodas and stupas, mostly dating from the 11th century. Visitors get around the site by car, bus, bicycle or horse and cart; many visitors take a river excursion to take in large stretches of the site, which is particularly beautiful at sunset or the more adventurous can take in the views from a hot air balloon.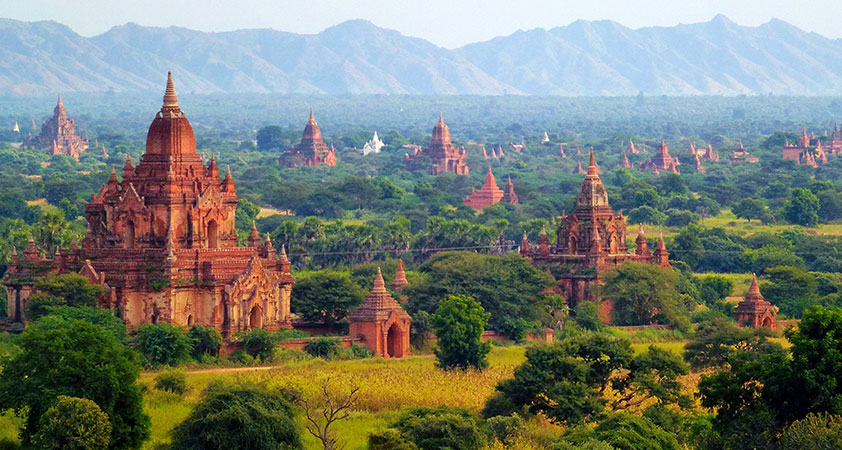 Bago 
One of the easiest trips from Yangon is to Bago, which has a collection of Buddhist buildings and monuments. They include the golden Shwemawdaw Pagoda – with the tallest stupa in the country – as well as the Shwethalyaung Buddha, which is considered one of the most beautiful reclining Buddhas.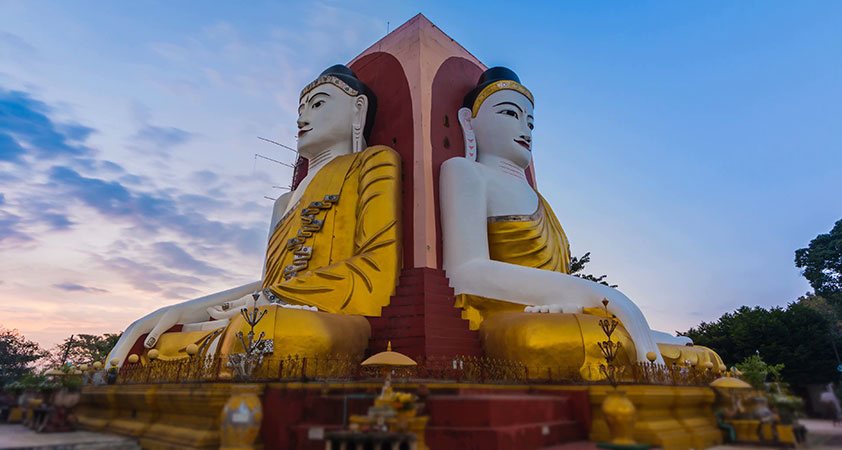 Buddhist festivals 
Catch one of Myanmar's frequent Buddhist festivals, many timed to coincide with the full moon. Highlights include: Amanda Pagoda Festival in January/February; Pindaya Cave Festival in March; Maha Thingyan (New Year) in March; and Thihoshin Pagoda Festival, Pakkoku, in June/July.

Catch a show 
Attend scheduled nightly performances of Myanmar's traditional dance, marionette theatre or anyeint (comedy) in Mandalay. Alternatively, look out for performances during religious festivals, weddings, sporting events and funerals – sometimes they last for an entire night, and include nat pwes, an event which pays homage to the spirit world.
Kyaiktiyo 
Marvel at Kyaiktiyo and its Golden Rock Pagoda: a 5.5m (18ft) shrine built on a gold-plated boulder balancing atop a cliff. It's a very busy pilgrimage site for Buddhists, and the experience of joining believers as they walk up is – for some people – as memorable as the pagoda itself.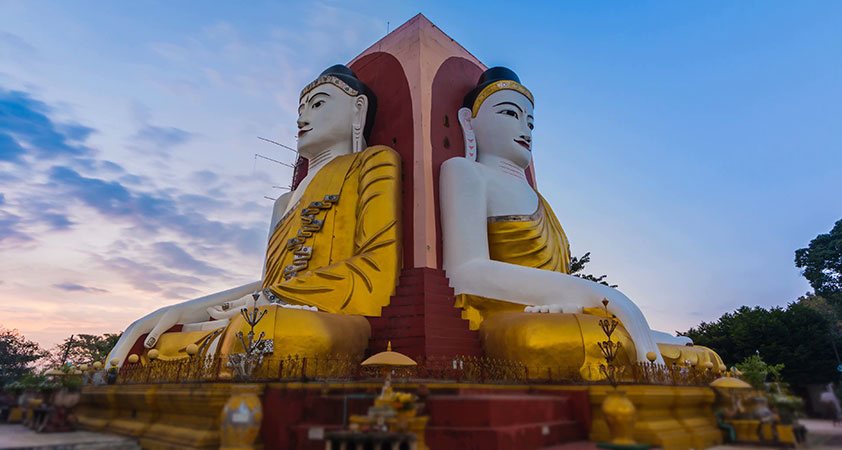 Lost cities 
Take a day trip from Mandalay to several former royal capitals. Sagaing has appealing hillside pagodas, while the highlight at Inwa is a 19th century teak monastery. Teak was also used to build the long U Bein Bridge in Amarapura, which is very photogenic at sunrise and sunset. Alternatively take a river trip to Mingun to see the world's largest intact hung bell.

Mahasi Sasana Yeiktha Meditation Centre 
This centre in Yangon is the most famous centre in Myanmar for the serious study and practice of Theravada Buddhism. Those able to commit to at least six weeks (requiring a special visa) can try to find balance and inner peace by participating in a Buddhist retreat.

Mandalay 
Roam the former royal city of Mandalay, which isn't as old as you might have thought but is rich in palaces, stupas, temples and pagodas. Take a walk up Mandalay Hill at sunset and help young monks to practice their English, or marvel at the gold-leaf-encrusted Buddha image inside Mahumuni Pagoda.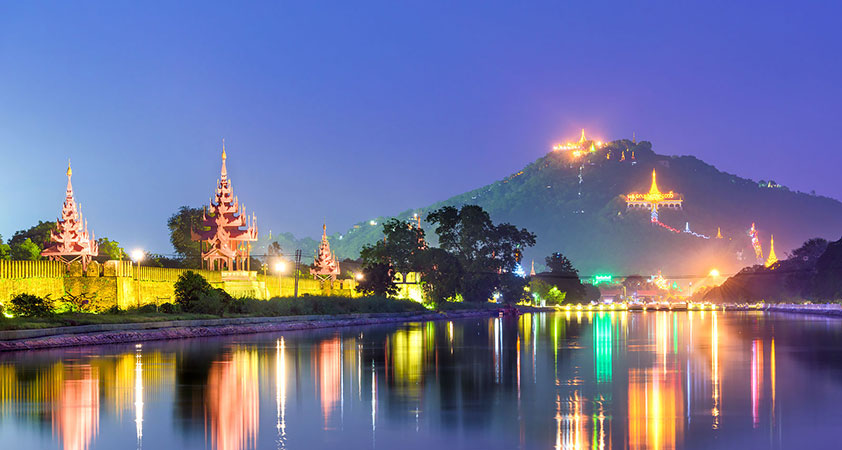 Naga-Yone 
Outside the capital, visit the Naga-Yone enclosure near Myinkaba, with a Buddha figure entwined and protected by a huge cobra - a combination of Buddhism and Brahman astrology.

National parks 
Myanmar's has rich opportunities for ecotourism, trekking and safaris to experience in its national parks. The best parks include the Alaungdaw Kathapa National Park (northwest of Monywa); Hlawga National Park (near Yangon); Popa Mountain Park (central Myanmar); Lampi Island (Myeik Archipelago); and Shwesettaw Wildlife Sanctuary (located in Minbu).

Watch traditional sports 
The national game chinglone, is played in teams of six, and the object of the game is to keep a cane ball in the air for as long as possible, using any part of the body except the hands. Burmese boxing is another popular sport.

Yangon 
Yangon (formerly Rangoon) is a city of temples, markets, food stalls and ill-maintained colonial architecture. Highlights include the golden Shwedagon Pagoda, one of the most spectacular Buddhist structures in Asia; Bogyoke Aung San Market, a great place to bargain for handicrafts; and the fascinating colonial district around Sule Pagoda.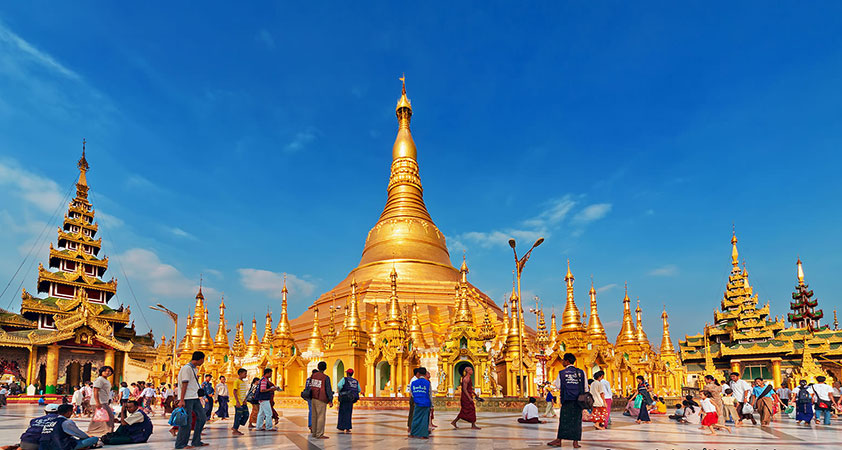 ONLY WITH US : 100 % MONEY BACK GUARANTEE within 10 days from the date of booking if not satisfied.
For further information, or simply a free quote, please
contact us
at any time via our email:
info@galatourist.com
, our experienced consultants will reply to you within 48 hours.
Sincerely yours & see you soon!
GALATOURIST
since 2005.