Top list of best things to do in Mai Chau Hoa Binh, Vietnam
Mai Chau is located in Hoa Binh province, approximately 135 km from Hanoi and 60 km from Hoa Binh. From the top of Cun Mountain, one can admire the superb panorama of Mai Chau surrounded by a green valley and stilt houses. Read below for top things to do in Mai Chau.

I. Where is Mai Chau ?
Located in the West of Hanoi Capital City, Mai Chau is a famous district in Hoa Binh Province and next to two other attractions in Vietnam: Moc Chau (Son La province) and Puluong (Thanh Hoa province). It takes about three hours to travel alongside 130 kilometers from Hanoi to the destination.
From the top of Cun Mountain, one can admire the superb panorama of Mai Chau surrounded by a green valley and stilt houses. Many minorities, including the Thai ethnic group, live in Mai Chau.

Stilt houses border both sides of the roads. The houses are quite large with palm leaf roofs and polished bamboo-slat floors. The kitchen is located in the center of the house; the cooking as well as the making of the colorful tho cam, the material used by Thai minority to make their clothes, takes place in the kitchen. The windows are large and decorated with patterns. Each house also has a pond to breed fish.
The Sunday market brings a lot of people into town. People from different minorities living in the mountains come to Mai Chau market to sell their specific products: honey, bananas, corn, and woven items made by skilled Thai women. The Sunday market is also an occasion to enjoy traditional Thai dishes and to participate in one of the exciting
things to do in Mai Chau
, traditional dances.
Maybe top activities within
things to do in Mai Chau Vietnam
are trekking or biking. The attraction can be a base for some trekking tours to the villages around, this is with homestay overnight on the traditional houses of the H'Mong and the Thai. Worth a guided trekking tour there. Hoa Binh is a mountainous province located in the North. It is bordered by
Son La Province
in the West,
Phu Tho
and
Ha Tay Provinces
in the North,
Ha Nam
and
Ninh Binh Provinces
in the East, and
Thanh Hoa Province
in the South. The culture of
Hoa Binh
combines six minorities with their own languages, traditional literature, and festivals.
Of all the
Mai Chau things to do
, tourists especially enjoy the minority specialty dishes including rice cooked in bamboo and grilled meat. They also enjoy watching traditional dancing, music performances (bronze, drums, gongs), and Thai minority singing and dancing. The remote minority villages are attractive sites for tourists.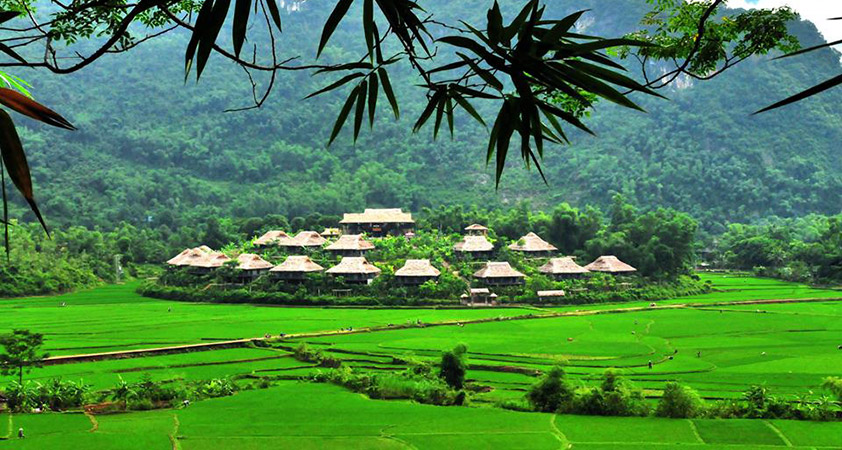 II. When is the best time to visit Mai Chau ?
Mai Chau is typical for a valley's climate. It is cool and comfortable all around the year, unlike common places in Northern Vietnam with two separated seasons: the summer is hot and the winter is cold. However, there are two periods that are most suggested to experience many
things to do in Mai Chau
:
From October to December: Besides nice weather, it is also time for peace and plum blossoms in Mai Chau. Therefore, it is a perfect combination for flower-lovers.
March and April: In these months, local residents hold a lot of exciting festivals. Especially, tourists will have a chance to admire Ban flower forests which are typical for the land.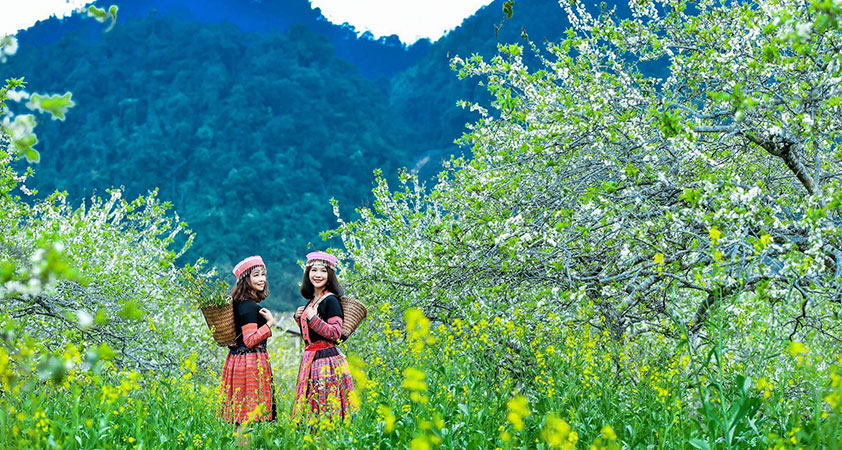 III. How to get to Mai Chau ?
For foreigners, it is much more suitable to have a tourism agency to arrange your itineraries because the road in Vietnam is quite complicated. Otherwise, tourists can choose yourselves one in two means of transports below:
Travel by motorbike: It is suitable for whoever loves the thrilling feeling. You will follow the road Hanoi - Xuan Mai - Luong Son - Hoa Binh. It is the shortest and quickest to reach the destination. Besides, following National Roadway No.12B is another choice but there are not a lot of nice spots alongside the journey.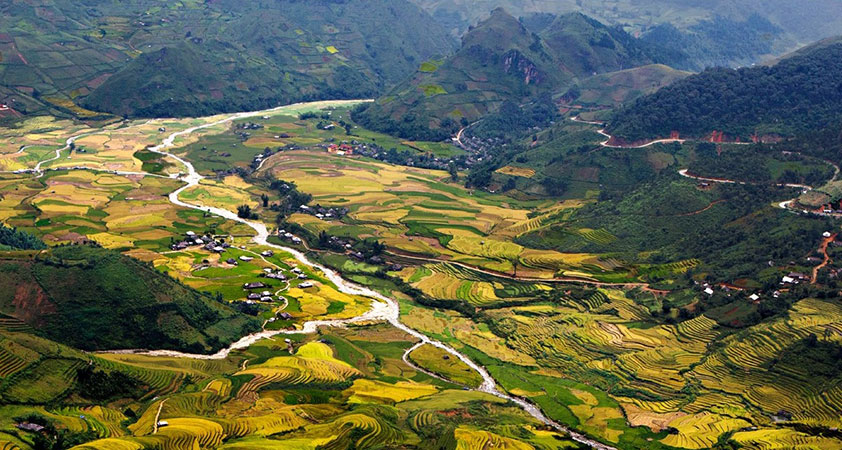 Travel by coach car: Recently, this kind of transport is more popular and available at different time in the day. Take the car at My Dinh coach station or Giap Bat coach station, Hanoi. The price is about 110.000 VND per ticket.
IV. Mai Chau what to see ?
1. Thung Khe Pass - The place challenging the most adventurous travelers
Thung Khe Pass
is about 1000 meters high above the seawater level on the National Roadway No.6 from Hoa Binh City to Mai Chau. It is known for the winding road on mountainsides and in the top list of
Mai Chau things to do
. Therefore, it is a favorite experience for adventurers all over the world.
From the place, you can have an overall view of the valley at the foot of the pass. Moreover, do not forget to enjoy some specialties presented along two roadsides like boiled sugarcanes. Especially, you will have a true feeling of experiencing four seasons' climate around the year.

 Explore more: Go with Vietnam tour 2 weeks to admire the overwhelmed beauty of the full-range landscape

2. Lac Village - A peaceful village among the mountains
Lac Village
gives a nice impression in tourists' minds thanks to the peaceful scenery of green bamboo ranges, endless rice fields and traditional tightly spaced houses.
If you do not have much time but just one day for
things to do in Mai Chau,
 then consider a short trip to the place to see in person colorful shelves of woven items, professional tourist services, delicious foods together with clean atmosphere.
3. Go Lao Waterfall - Immerse in the cool water in summer
Go Lao Waterfall
is in
Phuc San Commune
, which is 15 kilometers far from
Mai Chau town
. The road to the attraction is not so challenging. It is chosen as one of the most beautiful waterfalls in the province. However, you should pay more attention on rainy days because it will be more slippery. It completely deserves to be in the list of
Mai Chau attractions
to visit.
Immersed in the stream in the waterfall is always considered as one of the
top things to do in Mai Chau
.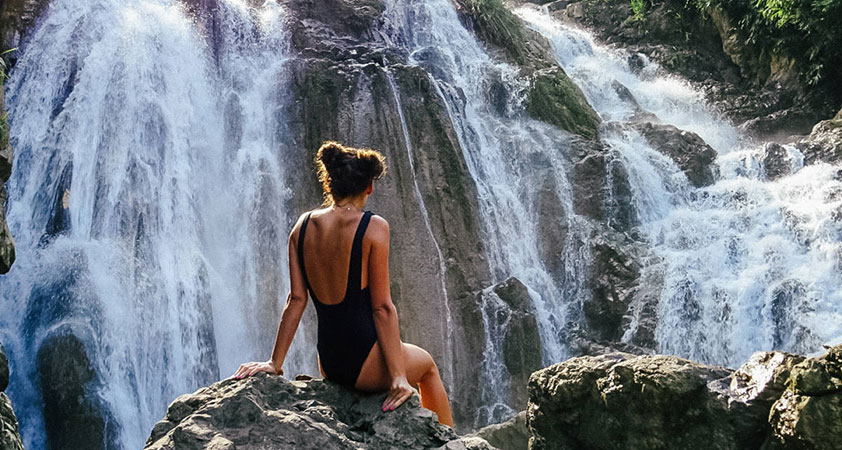 4. Mo Luong Cave - The magic creation of Mother Nature 
Moluong belongs to
Pu Kha Mountain range
. It is just two kilometers far from
Lac Village
and has another name
Bo Luong Cave
, which means a "great water source" in Thai ethnic minority's language.
The attraction includes four main cave, all of which are famous for groups of stalactites in full colors and strange shapes. At the end of the cave, you will see an underground stream flowing into a nearby lake. Experience it as one of the must-have
 things to do in Mai Chau
.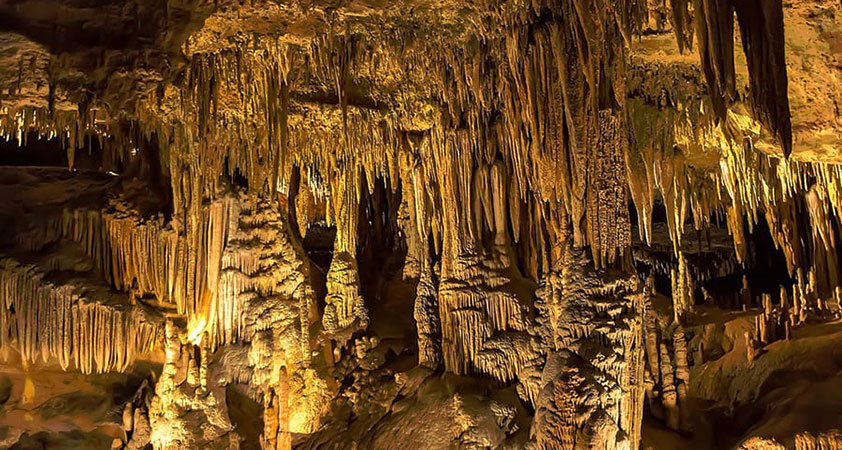 5. Chieu Cave - A work of stalactite and rock combination
Chieu Cave
is listed as a national heritage in Mai Chau. To reach the place, you have to go through 1200 stone steps with a total height of 700 meters. In the afternoon, sunlight enters the cave and makes layers of stalactites sparkle gorgeously. The price is 10.000 VND per ticket.
The attraction consists of two grades. The first cave has an open space with a length of 50 meters and a width of 40 meters. Therefore, you do not need to worry about the loss of air. After that, you will visit the second one with a more specific mystery.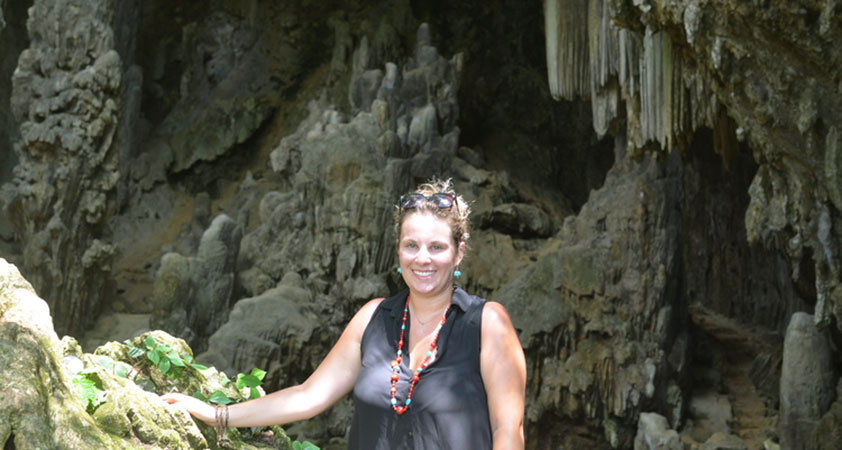 6. Thai ethnic museum - An ambition to keep the tradition of Thai ethnic minority
It is known as a special place of
things to visit in Mai Chau Vietnam
because it is established by Mr. Kien Kieu instead of the authority. In ten years, he has been searching for anywhere which is rumored to have ancient artifacts to bring back to the museum. It is not limited in Mai Chau but also in other provinces throughout Vietnam such as Son La, Thanh Hoa, Nghe An... and even in nearby countries where Thai ethnic minority lives such as Laos, Thailand,...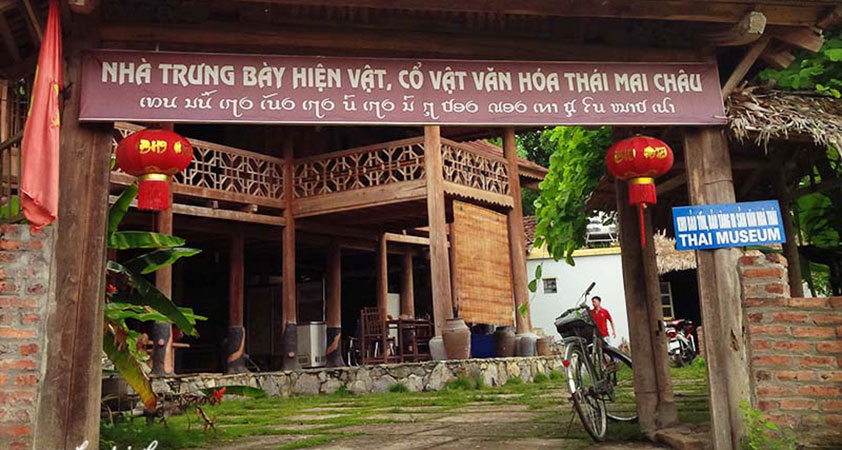 Therefore, he plays an important role in keeping Thai's cultural and traditional values so that locals feel proud of their livings.
7. Ba Khan Commune - Have a boat tour around Ba Khan Lake
Ba Khan is a small commune in Mai Chau, next to
Hoa Binh Hydropower Dams
. With a huge landscape of mountains and blue water, it is also called "mini Halong in Mai Chau" (Halong is another attraction in Vietnam, one of seven wonders of the world recognized by UNESCO). 
One of the most exciting
things to do in Mai Chau Vietnam
 is taking a boat to have a tour around the lake. Tourism has not been developed there so you can admire the original wild beauty of the attraction. The price of boat hire is about 300.000 VND per ticket.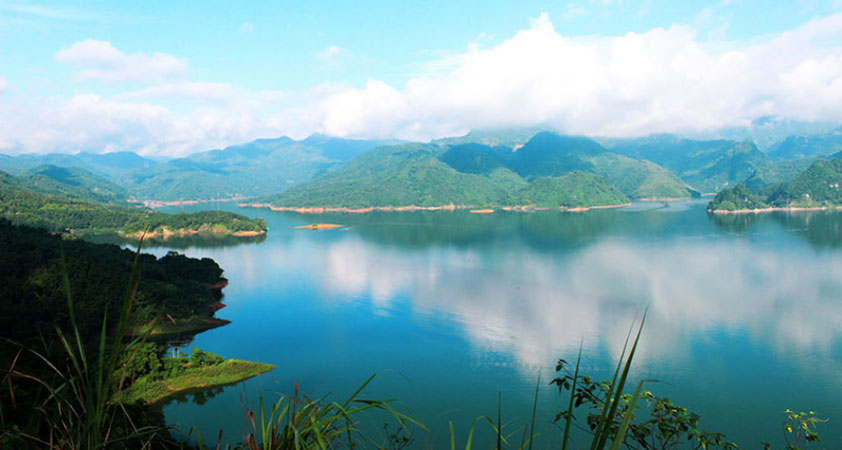 8. Pa Co Market - A colorful attraction of woven items inspired by nature
Pa Co Market
is 40 kilometers far from Mai Chau town and chosen in the
best things to do in Mai Chau
list. It is located at the intersection of three communes: Hang Kia, Pa Co, Loong Luong. The market is only open on Sunday every week when there are still dews covering the area. Despite that, it is always crowded and attractive as a festival. The items for trading are diversity, from farm products, pets to woven items, cosmetics,...  It is not only the trading center but also the place of making friends of the local residents. Come to see nice activities of
Mai Chau things to do
.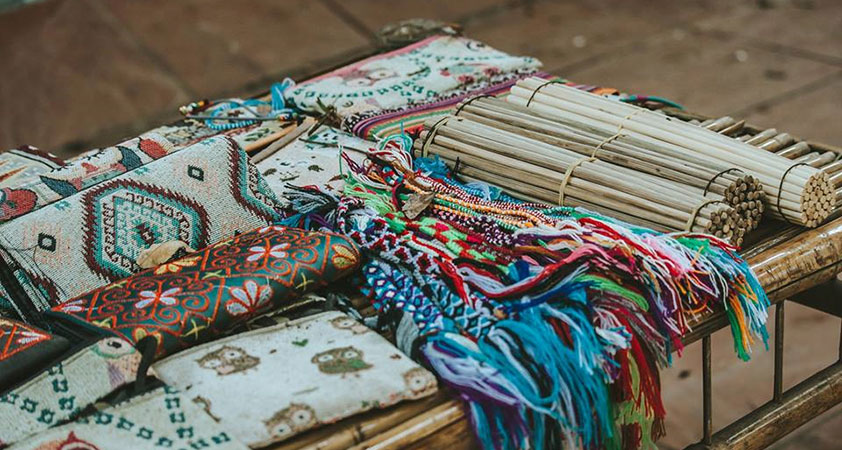 9. Pom Coong Village - The village of harmony and peace
Pom Coong Village
is in Mai Chau town, Hoa Binh province. It is a must-visit attraction of
Mai Chau things to do
and visit in the area. Besides the picturesque scenery of green mountains and blue sky, there are a lot of specialties presented in the place so that tourists can choose yourselves nice items as your gifts for the journey.
Nowadays, there are more than 70 households of 300 individuals. However, they all come from only seven clans and live together in harmony.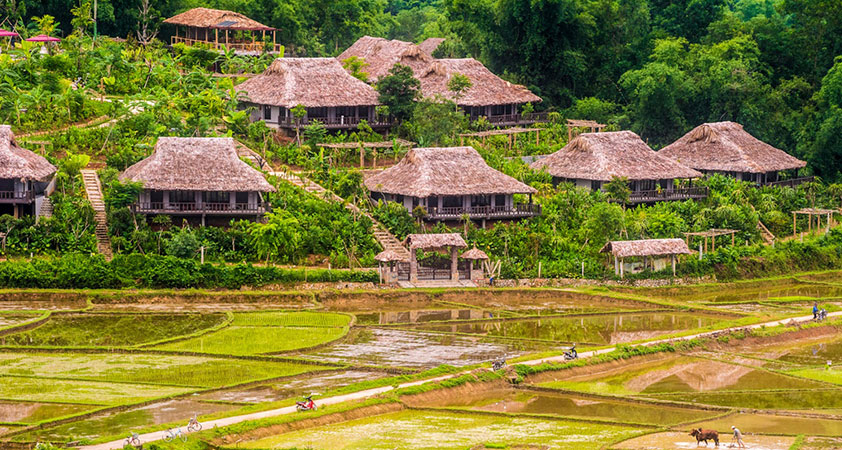 10. Van Village - Admire endless terraced fields of rice along the road
It is a small village located near Mai Chau town and has just developed tourist services for a short time. Therefore, it is not as well-known as
Lac Village
. However, the village is worth visiting for terraced rice fields staying in rapid succession alongside the road leading to the attraction. Wake up early in the morning to admire the glorious but peaceful landscape. 
Besides, local residents are so kind that they have grown a park of colorful flowers so that tourists will have a nice background to check-in when they visit the place.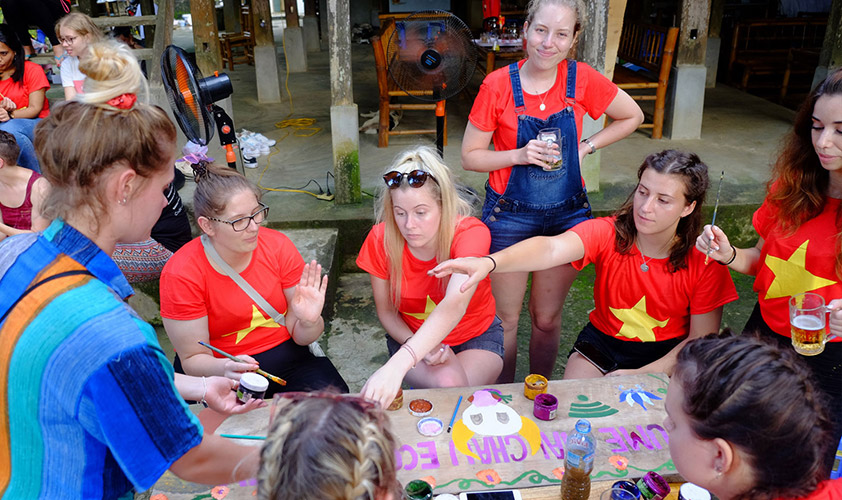 V. Mai Chau food 
1. Rice cooked in bamboo-tubes
Bamboo tube rice is a famous specialty not only in Mai Chau but all the mountainous ethnic minorities in Vietnam. It is not so complicated but brings about a special flavor that is hard to forget. Rice is put into bamboo tubes, then grilled on ember. Don't forget to list is in your 
things to do in Mai Chau Vietnam
.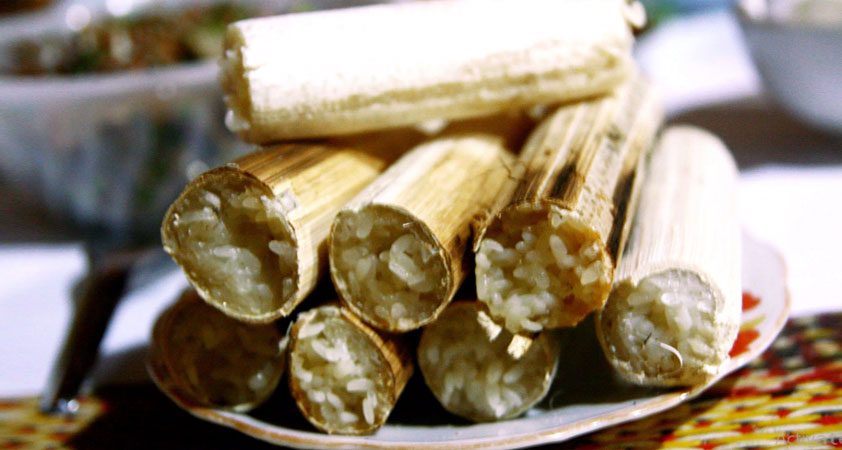 2. Grilled sticky rice
The sticky rice has the best flavor when it is made by local women in Mai Chau. Thai people always choose in person the rice grown on local terraces of rice to keep its original taste. Moreover, the procedure is also different and more complicated than in other areas. There are many different ways to cook the meat but all of them still keep the original unique flavor.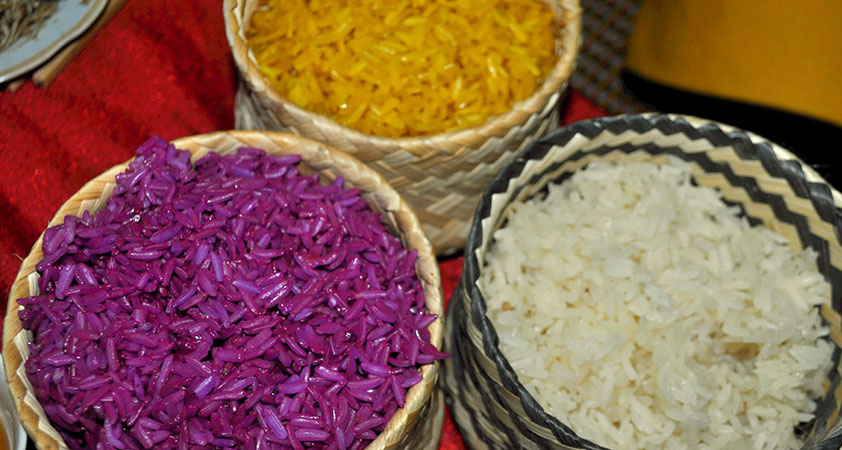 3. Muong black pig meat
Muong black pig is small, black and indeed the hybrid pig of wild pig and farm pig. It can be seen as the most special food when you visit Mai Chau that can satisfy even the most dainty guests. Moreover, like other local foods in the area, it is certainly free of industrial chemicals so that your health can be assured.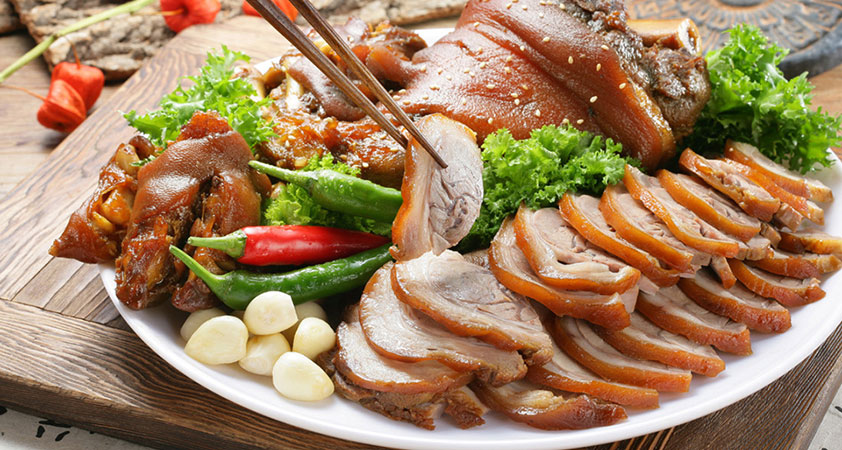 4. Bitter bamboo shoots
Bitter bamboo is a popular food you may always be recommended in the 
best things to do in Mai Chau
. Local people will go to the forest to collect the bamboo shoots to dry or pickle to maintain for a long time. Tourists may feel strange for the first time seeing this specialty, even more surprised when seeing the gentle sweet after a moment of the bitter taste.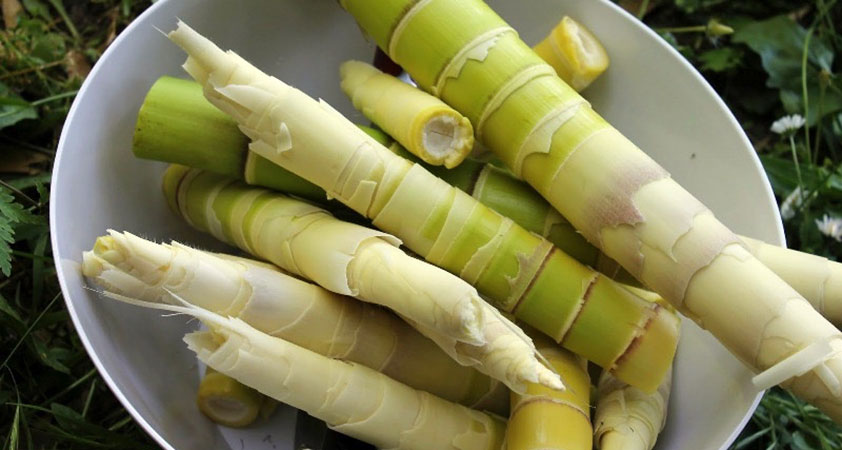 5. Mountainous chicken
In this area, chicken are free raised in gardens, mountains and forests. Therefore, the meat is clean and has a typical taste that you can not find anywhere else. To keep its flavor, chicken is usually soiled and enjoyed when it is still hot. Its taste is much attractive than others you usually buy in the market.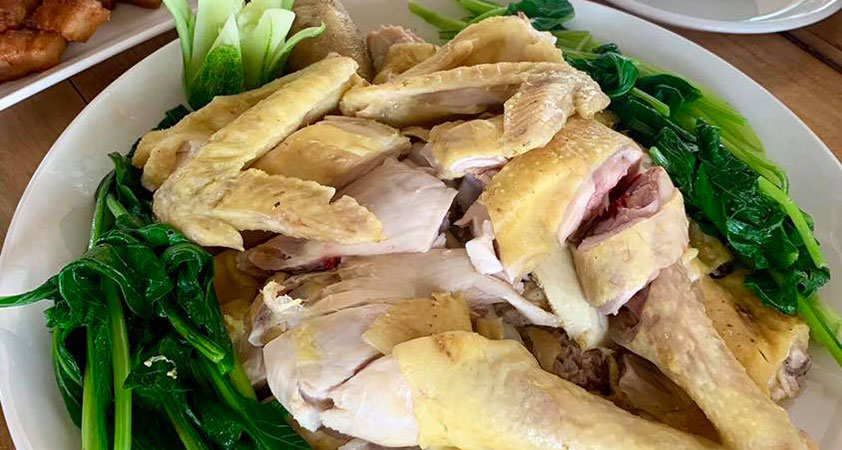 6. Fried wild bees with bamboo shoots
This unique food is only available in late summer. Young bees are collected deep in the forests and then fried with bamboo shoots. The taste is attractive with a perfect combination of tastes. Experienced tourists agree that it is the most unique flavor that they have during their 
Mai Chau tour
. Therefore, don't miss this food in 
Mai Chau things to do
.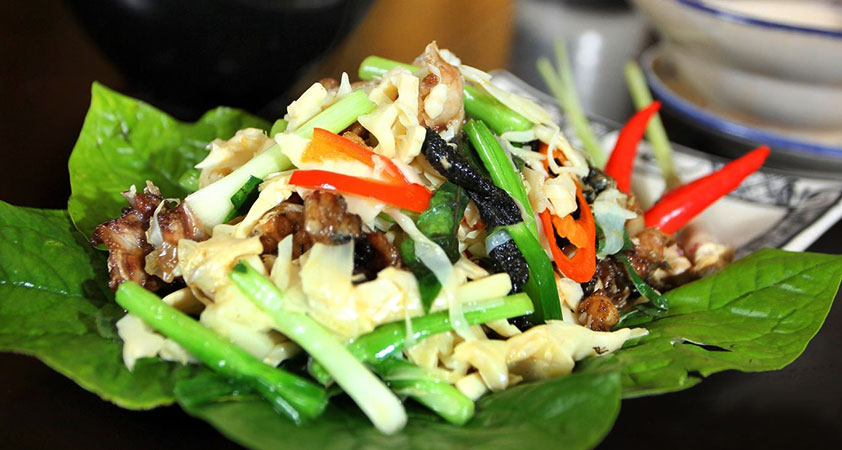 7. Mai Ha wine
It is regretful that you do not have the chance to taste this kind of wine in Mai Chau. The true sweetness of wine is one flavor that is hard to forget after once trying. Especially, it is not enjoyed in a casual way like other kinds of wine but drunk out of a big jar and through pipes.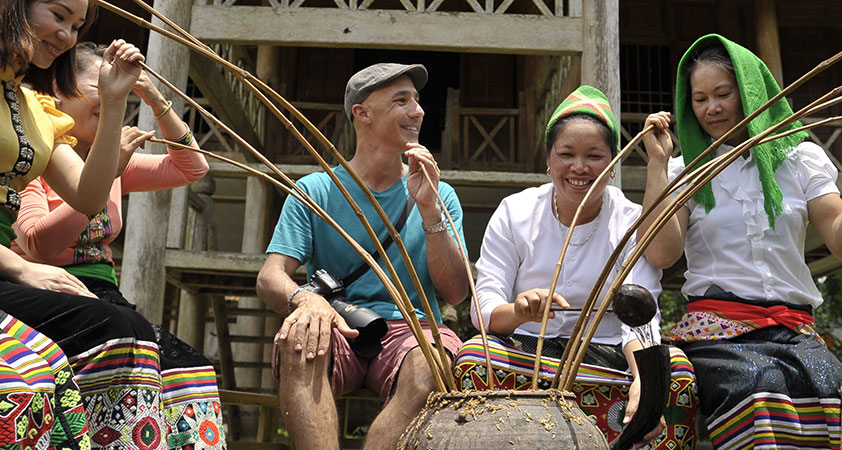 8. Phao tea
Phao is a typical leaf collected in mountains Mai Chau. After collected, it will be dry naturally under sunlight and then chopped to shreds. The taste is a little bitter but not too hard to drink. It is recommended for its value in human health. The leaf is supposed to improve digestion and build up immunity to protect your body.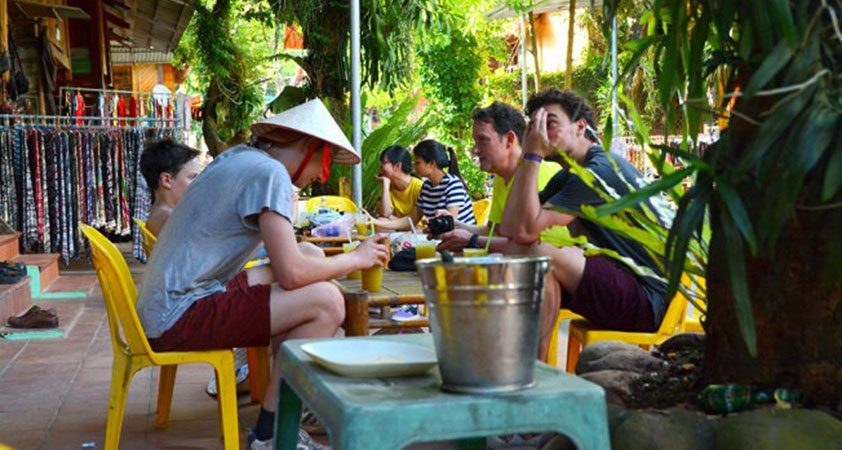 VI. Where to stay in Mai Chau ?
1. Mai Chau Lodge - Chieng Chau Commune, Mai Chau
Mai Chau Lodge
is a three-star hotel in Mai Chau town, Hoa Binh city. There are 16 rooms in total and all of them have nice views close to nature. Moreover, the hotel is fully facilitated with modern devices and services so that tourists will have the best convenience there. There is also a wide garden for walking and taking a fresh breeze.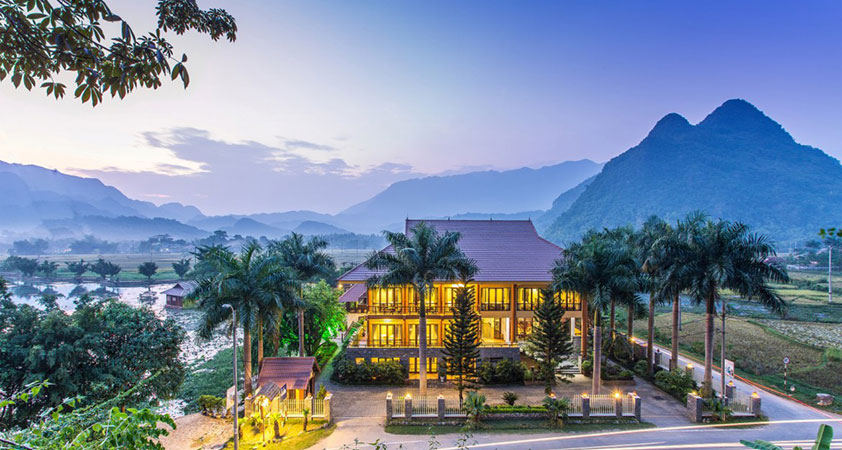 2. Mai Chau Ecolodge - Na Phon Commune, Mai Chau
Mai Chau Ecolodge is a hotel rated four-star, located in Mai Chau Valley and surrounded by Pom Pu Hill. The scenery is peaceful and separated from the outside. 
The hotel is designed in Thai ethnic style. There are 40 rooms in 21 bungalows, each of which is simple, gentle but also modern in facilities. Tourists staying there can immerse themselves in the fresh atmosphere and get more energy after that.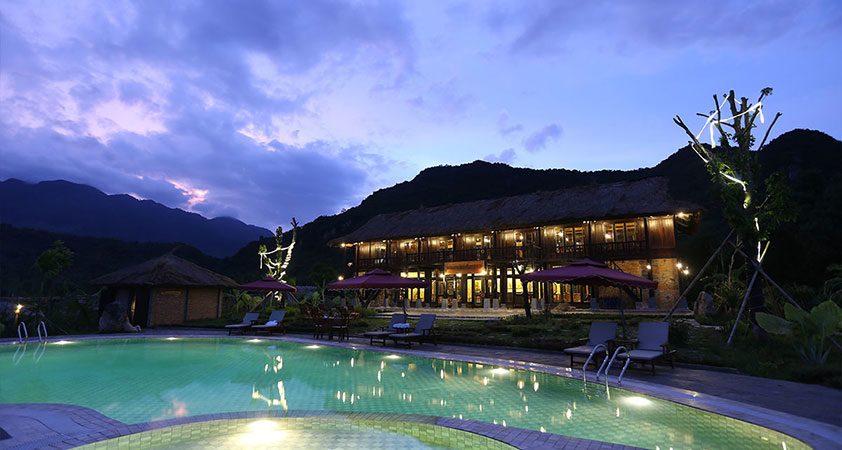 3. Sol Bungalows - Chieng Chau Commune, Mai Chau
Rated as a four-star hotel, Sol Bungalows brings about relax moments with a view toward nature. It is also provided with modern devices services such as restaurants, pools, conference rooms, steam rooms,...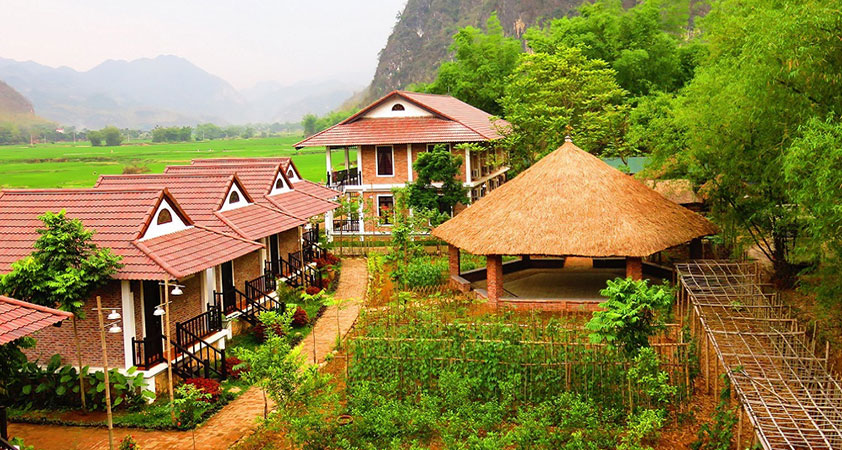 4. Bakhan village resort - No.1 Khan Ha, Ba Khan Commune, Mai Chau
Bakhan village resort is located on a mountainside from which you can have a view toward a green valley and a big lake in the area. With a big natural cliff and a charming stream winding through, the resort is a perfect destination for tourists to immerse in nature. Moreover, you can easily move to Ba Khan Lake, where you can join a boat tour to discover more.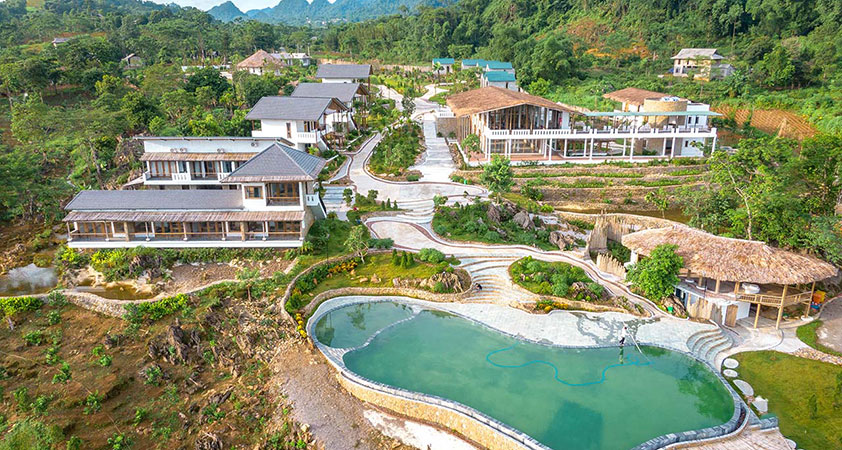 5. Mai Chau Hide Away - Tan Mai Commune, Mai Chau
Mai Chau Hide Away
is always following the environment-friendly concept. It is presented in its designs and wooden materials provided. However, it still brings about enough convenient services to meet your relaxing demands such as restaurants, pools, bars...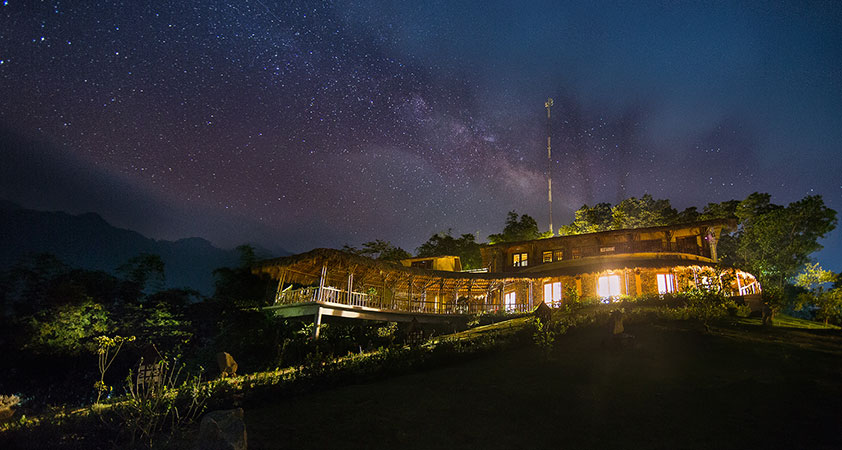 In addition, there is a range of stilt houses for tourists from all over the world which are quite simple in traditional design. However, you can learn more about the daily life of the locals as well as have sightseeing over endless terraced fields of rice surrounding. The price for an overnight varies a little for each person or you can hire the whole house in a group. They all have convenient facilities and high-speed free wifi.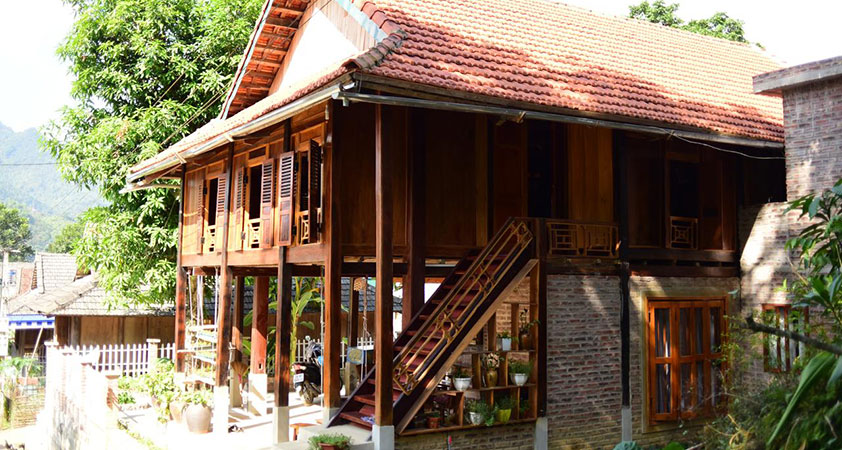 Besides demands for space and atmosphere, tourists should choose ones providing nice cooking and professional services. Some of them are located in
Lac 1 Village
such as the stilts house no.19 (Mr. Hung Mech), 29 (Mrs. Di), 06 (Mrs. Tuong Mai), 09 (Mr. Phuc), 07 (Mr. Tim),... Besides common space, there are also private rooms for tourists searching for privacy.
VII. Other notes for a Mai Chau tour
You should have a careful preparation of personal items before starting your tour.
You should ask for permission if you would like to visit the Thai local house. Especially, it is avoidable to turn back or foot on their ancestor altar.
You should wear convenient clothes when traveling. The temperature in Mai Chau goes down at night and there are also thin dew layers. Therefore, don't forget to bring along your coats even in summer.
Mai Chau is attractive to tourists not only by its simple scenery of mountains and forests but also by nice locals who always welcome you warm-heartedly. You will certainly have an exciting experience discovering the nature, culture and other exciting
things to do in Mai Chau
on your journey.
ONLY WITH US : 100 % MONEY BACK GUARANTEE within 10 days from the date of booking if not satisfied.
For further information, or simply a free quote, please
contact us
at any time via our email:
info@galatourist.com
, our experienced consultants will reply to you within 48 hours.
Sincerely yours & see you soon!
GALATOURIST
since 2005.