Visit Lac Village in Mai Chau Valley in flower blossom season
Lac Village Mai Chau tour is certainly so exciting for tourists from all over the world. Every year, the place attracts thousands of visitors, especially in the flower blossom season when flowers cover a wide area gloriously.
1. Lac Village introduction
The attraction is the home of Thai ethnic minorities, who is also the main community in Mai Chau, Vietnam. It is typical for
things to do in Mai Chau
with both natural sightseeing and cultural discovery. They are well-known for typical stilt houses succeeding, endless terraced fields of rice and two green bamboo ranges alongside the road in the mountain foot. 
Moreover, you will have time to see in person shelves of woven items in colorful colors. They are all made by skilled women in the area. Especially, the locals are friendly and the tourism services are uncluttered so that you can be assured of a safe and interesting tour. From the attraction, you can also visit
Mo Luong Cave
in the area.
2. Time to visit Lac Village
It is worth considering which season is the best for a
Mai Chau day tour
as well as
Lac Village
. Thanks to the dominance in the location which is in a valley surrounded by a lot of mountain ranges, the weather is in general dry and cool. Therefore, you can visit the place in any season around the year.
If you come there in spring, you can enjoy the fresh atmosphere. It is also the time many flowers blossoming like cherry, plum, white-dotted blossoms. Especially, there are Ban flowers that are typical for the land, which cover a large area in pristine white.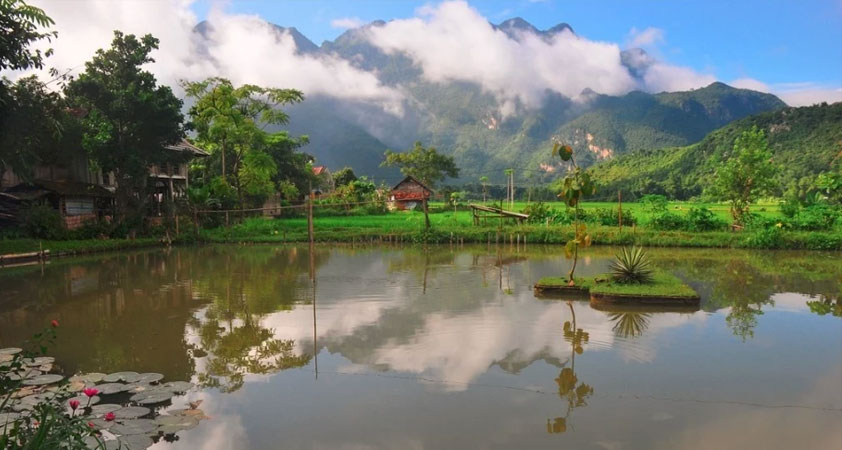 It is cooler in summer with rains sometimes, let's admire glorious yellow terraces of rice beside green mountains surrounding. Vice versa, come to sit together around embers to have cozy moments with family and friends. 

 Consult more:

 Vietnam 18 day itinerary discovering the charm alongside the country.
3. How to travel to Lac Village ?
Mai Chau is the last district in Hoa Binh Province, so the roadway is mainly in slopes and passes. However, it is not too challenging thanks to recent improvements. Therefore, you can or hire a motorbike or catching a tourist car. From Hanoi capital city, there are a lot of choices to reach the destination. However, if you are not familiar with Vietnamese traffic, it is recommended to have an agency arrange for you to keep safe.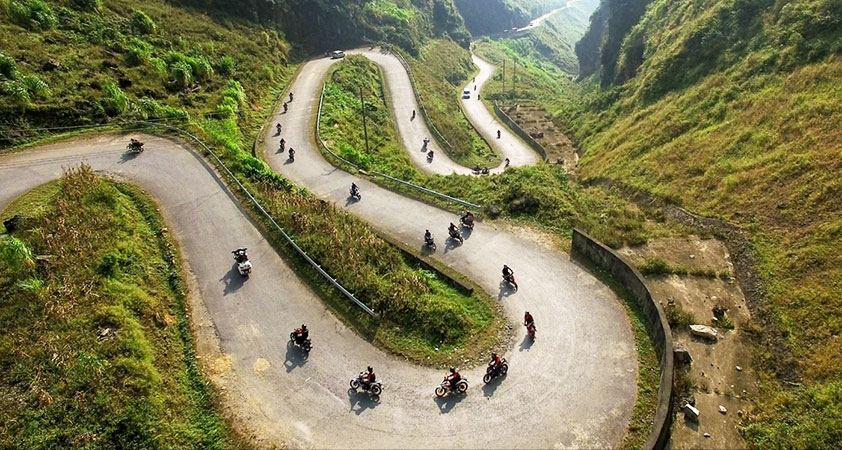 4. What to eat in Lac Village ?

4.1. Rice in bamboo
This is the most popular dish among tourists when they visit
Lac Village Mai Chau Valley
. It is made of local rice roasted on embers, which is completely different from the usual recipe. Therefore, the flavor is so unique that you may find it hard to forget after once trying.
4.2. Mountainous chicken
Locals raise chicken on large gardens or hills and they will walk free to feed themselves. Tourists can be completely assured that there is no industrialized product. Come and try this food together with rice in bamboo to have the best taste. 
4.3. Grilled spring fishes
Fish is collected from local springs so that it is still kept fresh when roasted on embers. They are small but the taste is too attractive to reject.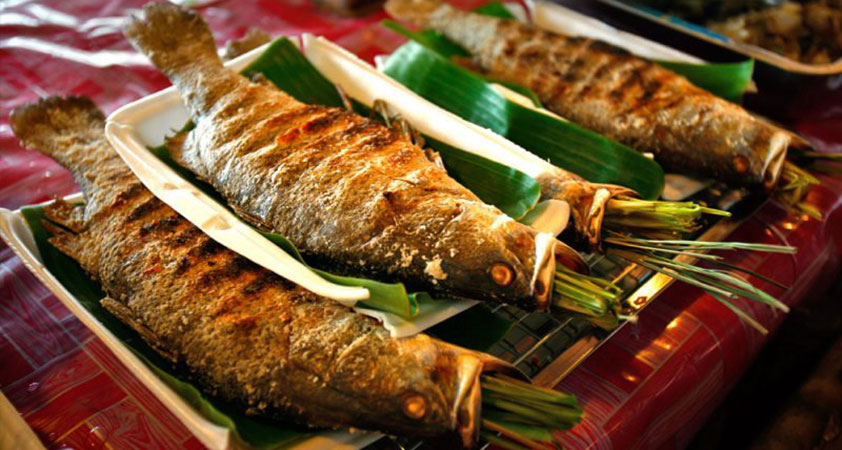 4.4. Roasted local pigmeat
Pigs are also raised naturally and therefore they bring about a special flavor and taste. However, only when you enjoy the dish with its particular sauce that you can see the unique attractiveness in 
Lac Village Vietnam
. 
From
Lac Village in Mai Chau Valley
, it is convenient to continue to visit other 
attractions in Mai Chau
to learn more about the land and impressive cultural beauty of the locals. Please contact us for more information about a suitable itinerary.
ONLY WITH US : 100 % MONEY BACK GUARANTEE within 10 days from the date of booking if not satisfied.
For further information, or simply a free quote, please
contact us
at any time via our email:
info@galatourist.com
, our experienced consultants will reply to you within 48 hours.
Sincerely yours & see you soon!
GALATOURIST
since 2005.