Discover mysterious beauty of Mo Luong Cave in Mai Chau, Vietnam
On Mai Chau discovery journey, besides endless terraces of rice, traditional stilt houses of Thai ethnic minority and winding slopes on mountainsides, Mo Luong Cave is also worth visiting with mysterious space deep in the mountain. 
1. Where is Mo Luong Cave ?
Together with
Thung Nai Hoa Binh
,
Mai Chau
offers tourists with a lot of nice spots to visit around the year, among which is
Mo Luong Cave
. It belongs to
Pu Kha Mountain Range
in Mai Chau Commune, Hoa Bình Province, Vietnam. The attraction is about 30 kilometers far from
Hanoi Capital City
. It is a unique tourist attraction for tourists from all over the world who love the challenging experience.
The road to the destination is also attractive with winding roadways on mountainsides, from which tourists can have an overview of the land below. One of them is Thung Khe Pass famous among experienced tourists.


2. What to see in Mo Luong Cave ? 
The attraction consists of four smaller caves, all of which are about 500 meters deep. The first one, also the largest one, is 16 meters wide and 60 meters long. It is connected with the second by a small iron bridge. There are a lot of mysterious houses which give you a feeling as if you were missing in paradise. Moreover, groups of stalactites are in the shape of Vietnamese legendary characters. Come to see in person how magic Mother Nature creates the world.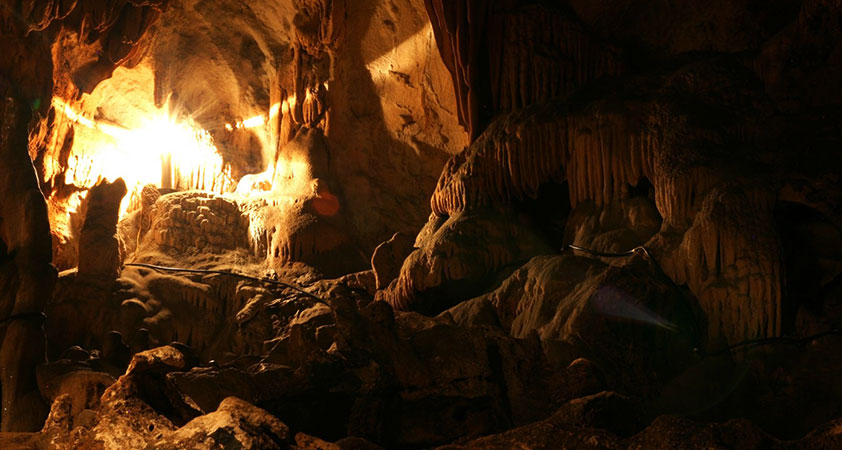 After that, tourists continue to visit the third one with a large space of 400 square meters. It is much cooler. Hundreds of serrated stalactites in dripping from the roof are sparking under the natural lights from outside. Therefore, the atmosphere in the cave brings about a peaceful and tranquil feeling. The fourth one, also the last cave, is 25 meters high, 15 meters long and 12 meters wide. There are a lot of stalactites, especially, stalactite pillars in all shapes and sizes.

Cheapest ever:
Travel through Northwestern Vietnam with Vietnam 12 day tour.
3. Mo Luong Cave in local eyes
There is a popular theory about this attraction among local residents. Legends said that Thai ethnic minority usually went fishing in springs and streams deep in the area. Then once a woman collected a strange egg, although she had rejected three times before. It turned into a snake after she brought it back home. Surprisingly, the water level in the area rose a little. When local residents brought the snake into the forest, it continued to rise after that, giving an opportunity for locals to turn the land into fertile fields. To show their respect for this strange animal, they took it to
Mo Luong Cave 
and it turns into a dragon.

 Discover more:

The best trekking trip of 7 day tour Vietnam in the Northwest.
4. Where to stay to visit Mo Luong Cave ?
It is not far from the attraction to other
Mai Chau attractions
and the center so that you do not have to worry about where to stay. There are a lot of hotels and resorts of different prices for your choice. However, if you take the distance over priority,
Mai Chau Lodge
is the best recommendation.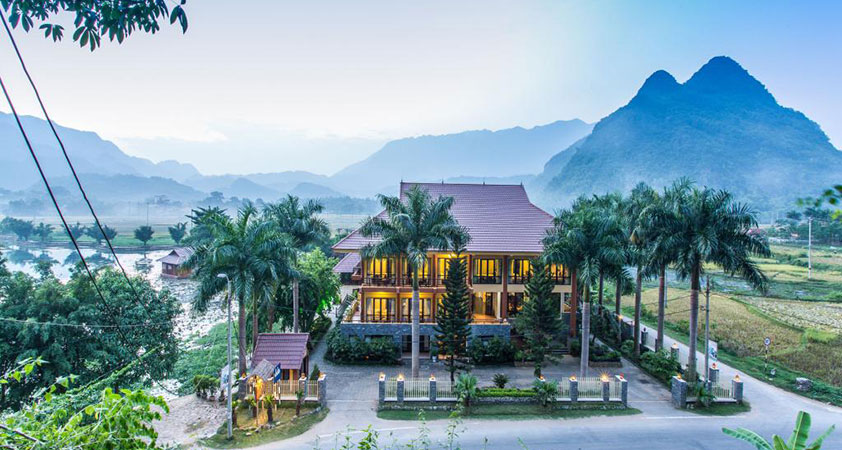 For these introductions, we do hope you will have a nice journey to
Northern Vietnam
in general and
Mo Luong Cave Mai Chau
in particular. If you are looking for more information, do not heritage to contact us for help.
ONLY WITH US : 100 % MONEY BACK GUARANTEE within 10 days from the date of booking if not satisfied.
For further information, or simply a free quote, please
contact us
at any time via our email:
info@galatourist.com
, our experienced consultants will reply to you within 48 hours.
Sincerely yours & see you soon!
GALATOURIST
since 2005.