Visit One Pillar Pagoda with lotus shaped architecture in Hanoi, Vietnam
The One Pillar Pagoda Hanoi was first built in 1840. After many times of reconstruction, the attraction still keeps its first specialty with a lotus-shaped pagoda on a lotus lake and becomes one of the most favorite places of interest in Hanoi.
One pillar pagoda opening hours
: 7.00 AM to 6.00 PM
One pillar pagoda entrance fee
: Free
One pillar pagoda address
: Chua Mot Cot Street, Ba Dinh District,
Hanoi city
Introduce One Pillar Pagoda Hanoi
Closeby the impressive presidential palace is a meaningful heritage of Ha Noi. It appears somewhat wondrous but likes a small fine gem:
The One Pillar Pagoda
. The pagoda has other names that fewer people know "Quan Am" and "Dien Huu". Quan Am is the goddess of mercy. According to the legend, the goddess Quan Am appeared to King Ly Thai Tong (1000 - 1054) in a dream.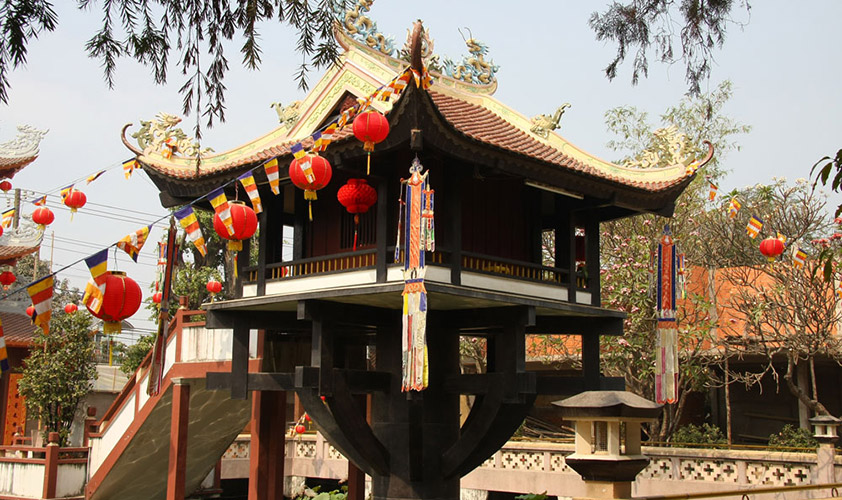 The king was already old and still childless and was seeking a successor. In a dream, Quan Am handed him a son while seated on a lotus flower. The king then took a farmer girl as a concubine and had a son with her, who is the long-desired successor to the throne forecasted by the goddess. With deep gratitude, in 1049, Ly Thai Tong built the
One Pillar Pagoda in Hanoi
in honors of the goddess of mercy. As the name suggests, the pagoda stands on one pillar in the middle of an artificial square lake. In the season, the lake will be covered by lotus flowers. The pagoda itself is wooden and about nine square meters.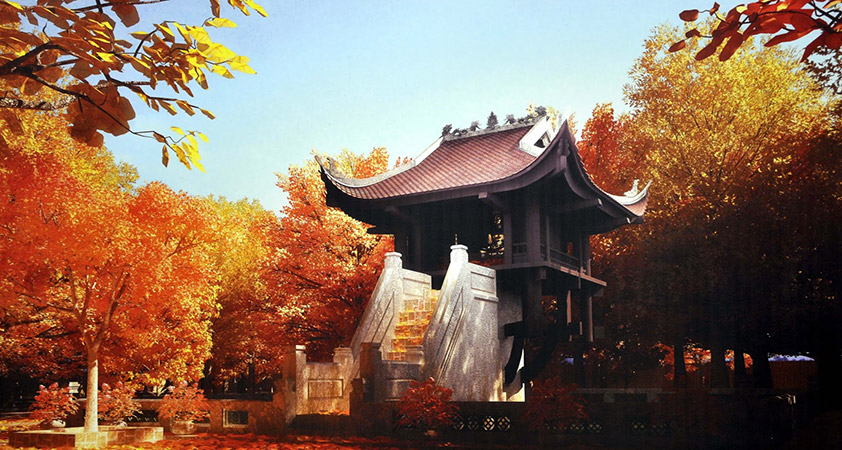 Admire all the captivating beauty in Northern Vietnam with Vietnam 4 days 3 nights itinerary

Inside the pagoda resides a statue of god Quan Am. In the course of its 1000 year history, this pagoda was destroyed and then rebuilt many times. The French occupation army last destroyed it shortly before quitting Viet Nam. In 1955, it was again reconstructed, in which unfortunately a concrete pillar replaced the original wooden pillar. However, it could be seen as the pragmatic attempt of Vietnamese residents to connect the tradition with modernity. Whether concrete or wood, the statue of Quan Am will continue to be admired here as a child-bringing goddess. This delicate pagoda is worth a visit among Hanoi interesting places anyway.
Other attractions nearby One Pillar Pagoda Hanoi
Located at the heart of the city is a group of historically meaningful heritages including
the
One Pillar Pagoda Hanoi
. Within easy working distance from the place, you can pay a visit to
Ho Chi Minh Mausoleum
- the resting place of Vietnamese Great Leader and
Ho Chi Minh Museum
, where you will understand more about his contribution to the Vietnam Resistance Against Enemies. Or you can join a pagoda tour to
Tran Quoc Pagoda, Mia Pagoda
and
Perfume Pagoda Hanoi
.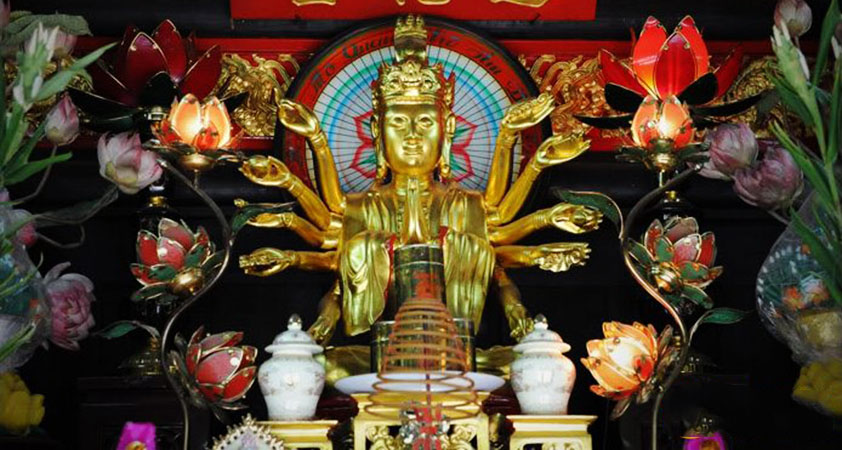 Consult more

about Vietnam heritage journey to Perfume Pagoda Hanoi in 1 day
There are some useful notes for travelers when you visit the attraction.
One Pillar Pagoda in Vietnam
is a sacred place, so that travelers should wear simple and formal clothes. We do hope you will have a nice journey around Hanoi.
ONLY WITH US : 100 % MONEY BACK GUARANTEE within 10 days from the date of booking if not satisfied.
For further information, or simply a free quote, please
contact us
at any time via our email:
info@galatourist.com
, our experienced consultants will reply to you within 48 hours.
Sincerely yours & see you soon!
GALATOURIST
since 2005.