Discover unique architecture at Mia Pagoda, Duong Lam, Hanoi
Mia Pagoda is located in Duong Lam Ancient Commune, famous for its unique architecture and culture. It presents Vietnamese traditional features that travelers can find nowhere else in the world.

Location: Mia Pagoda Vietnam is located in a sugarcane village in Duong Lam Ancient Village, Son Tay Town, Ha Noi. Pay a visit to Mia Pagoda during your Vietnam vacations while visiting Hanoi Vietnam.
Mia Pagoda Features
The entire temple was built in wood and has many unique Buddha statues, showing highly artistic architecture and making it one of the
best places to visit in Hanoi
.
It has another name 
Sung Nghiem Tu
. It was built under the Tran Royal Family. Up to the 17th century, the pagoda was dilapidated, many parts were completely destroyed. Until the year of Long Duc King in 1632, Nguyen Thi Dong, after getting married to Lord Trinh Trang (1632 - 1657), started the renaissance and rebuilding. She was on target to worship at the pagoda, and the local people honorably called her "Mia princess".
Nowadays, the road leading
Mia Pagoda
has been recreated to be nicer and cleaner. Just for a 5-kilometer drive from the center of the town, you will see the
Mia Market
. The village seems to be separated from the noisy atmosphere outside. Go for some more walks, you will be impressed by the simplicity of the pagoda at first sight. It is not big and not gold-trimmed. Especially, it has not been commercialized and not as crowded as other ones.
After many times of recreation, the pagoda still keeps its own origin. The main area stores a great number of old statues, the most valuable items of the place. Many blocks were built closely and successively. On the right of the area is an old banian tree with great roots arising onto the ground. Opposite to the tree is the
Lien Hoa Tower
, which was built with a belief to protect the village to be safe and thriving.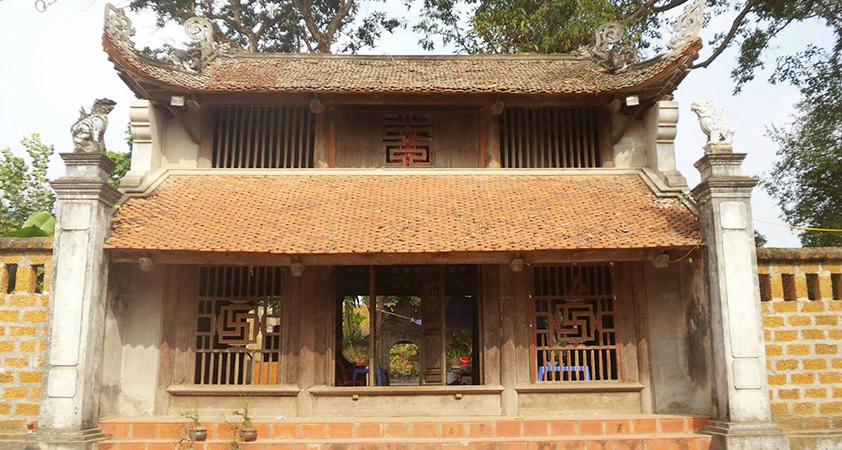 The solemnity of the Buddha Paradise covers all the pagoda, brings about a feeling of peace and tranquility. There is a stele put on a stone turtle, recording how the pagoda was first built. It is considered as the oldest and the biggest one remaining. 

Fulfill

Vietnam's heritage journey in Tran Quoc Pagoda Hanoi
.
In May 2006,
Mia Pagoda
was recognized as the place holding the greatest number of art statues in Vietnam, making it in the list of Vietnamese Buddha Culture Record. There are 278 statues, including 174 items made in terracotta, 107 items made in wood and 6 items made in copper. Some famous ones may be Tuyen Son, Di Lac, Bat Bo Kim Cuong statues... In particular, the Quan Am Thi Kinh Statue is remarkable with the gentle and delicate appearance with the shape of an angel lulling a child.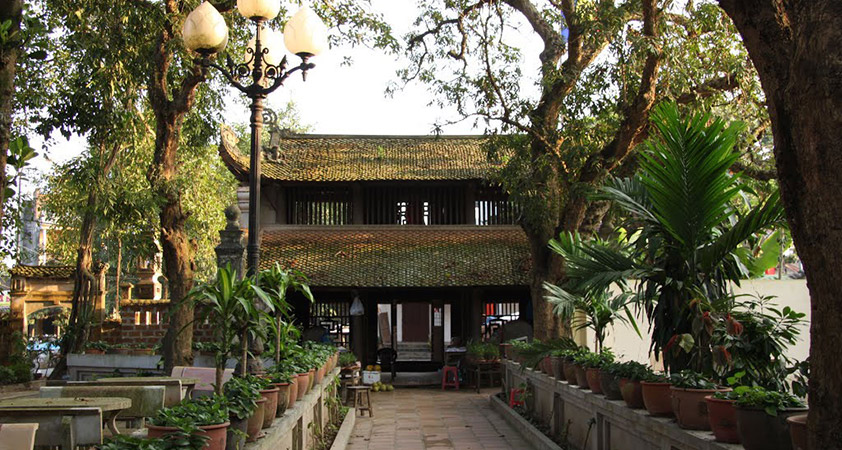 Walking for about 300 meters from here, travelers can visit
Mau Temple
or spend time discovering the scenery with a 
Duong Lam Village tour
. The local residents are really friendly to give you a hand if you needed. And they will not bother you during your journey. They even agree to let you visit their ancient house freely. With unique structures, these old houses are included in the list of
Hanoi interesting places
for travelers to come here in addition to Mia Pagoda. 

Mia Pagoda Foods and Drinks
Because Duong Lam commune authority aims to keep the ancient beauty of the place, the foods and drinks here also maintain the simplicity with only traditional dishes. Travelers come to the village should try the
Peanut Candy
which is completely made by hand. With the help of many organizations, the product now gets the hygiene confirmation so that travelers can be assured about the quality. Moreover, there are also "
Che Kho
", which is made from
Ground Glutinous Rice
, the
Clean Rice Cake
and the
Girdle Cake
.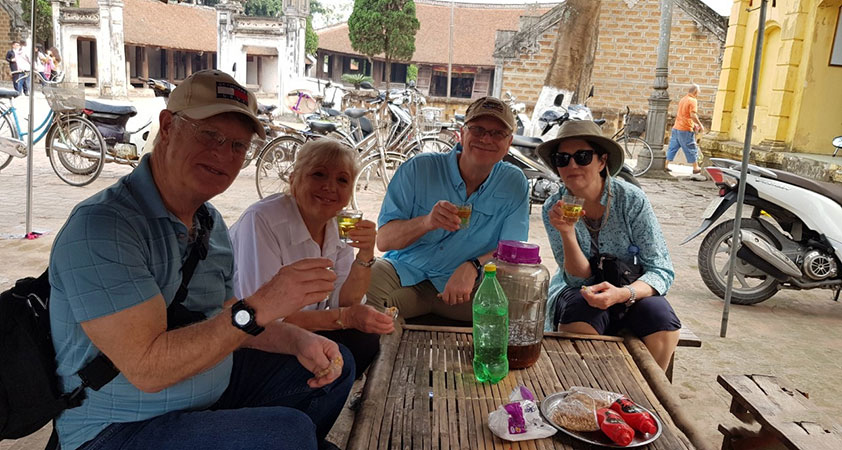 If you look for a main meal, you need to go out of the area to drop in the Son Tay Town. There are many well-qualified restaurants serving Vietnamese food. Especially, it is recommended to have experience in Ga Ngon Restaurant, which is famous for tourism services. It has been recognized by Triprow American Magazine. The wide area and beautiful views are plus marks as well.

Get out of the village, take the chance to visit nearby destinations such as Son Tay Ancient City or Ba Vi Eco Area. Each place mentioned has its own beauty and all worth-visiting when you come to Vietnam. If you need more information, contact Galatourist now.



 Consult the tour Vietnam 4 days itinerary to discovery spectacular scenery in Northern Vietnam
ONLY WITH US : 100 % MONEY BACK GUARANTEE within 10 days from the date of booking if not satisfied.
For further information, or simply a free quote, please
contact us
at any time via our email:
info@galatourist.com
, our experienced consultants will reply to you within 48 hours.
Sincerely yours & see you soon!
GALATOURIST
since 2005.