Hanoi
Hanoi is the capital of Vietnam, located in a nice geographic position in the north of the country. It is also the center of politics, economics, culture, science and an important common link of transportation of the country.
With long-term development, the capital of Vietnam owns a lot of tourism resources in both nature and culture aspects such as Hanoi Old Quarter, the Temple of Literature, a system of traditional villages as well as Hoan Kiem Lake, West Lake sceneries,… Therefore, Hanoi always attracts international tourists by its special gentle beauty.
Moreover, during the history of establishing and developing, Hanoi has always gone with national rhetoric and become the place of collection, embodiment of high value and tradition of the country. It was recognized as the "City for Peace" by UNESCO in 1999, from which the capital grows more and more modern but still keeps its origin, making it the most favorable destination among Vietnam tours.
Hanoi Attractions

Hoan Kiem Lake
If you ask for a place to visit in Hanoi, then
Hoan Kiem Lake
may be the first answer people think of. Located at the heart of the capital, the lake is famous for the legendary story that a Vietnamese's King restored the sword to a golden turtle here after using it for the country protection against enemies.
The peaceful sceneries here will surely comfort you for the first moments. There are two floating small islands on the lake: the Jade island in the north, which is connected to the bank by 
Morning Sunlight Bridge
, and the 
Turtle island
 with 
Turtle tower
 having existed for more than a hundred year above. Moreover, 
Ngoc Son temple
 on the Jade is a construction of historical interest and cultural meanings. The special construction of the place has attracted thousands of travelers coming here each year.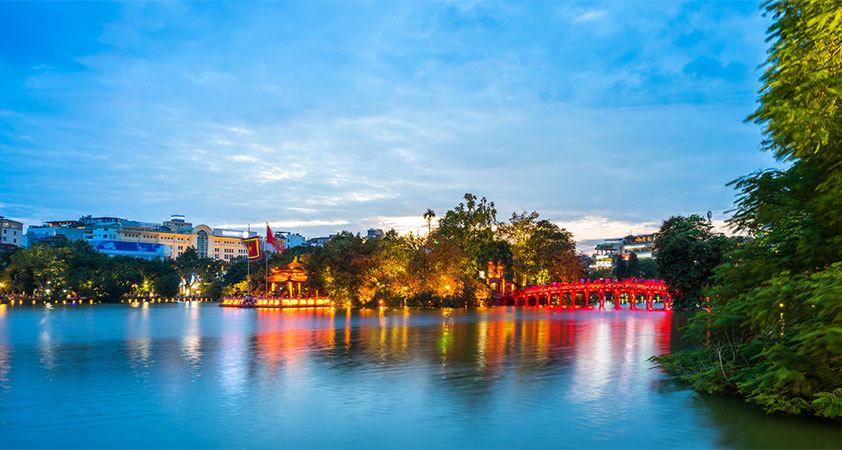 Especially, at weekends, the peace will be replaced by the exciting atmosphere of the walking streets around the lake. You will have chance to experience stress music, street art, traditional games, foods and souvenirs stores,…

Hanoi Old Quarter
Located in the west – north of Hoan Kiem Lake is Hanoi Old Quarter, known for 36 old streets with ancient beauty. It used to a common trading area in which each street is typical for a different product. On these days, not all products are sold but it still keeps unique with the construction and old stores remained. For example, Hang Ma is specialized in votive, paper crafts and home decorations. It is one of the most crowded and colorful streets, especially in Lunar New Year or festivals. Or you can even enjoy the modern atmosphere at Ta Hien Street, where you can taste various kinds of beer and have an exciting time with your friends.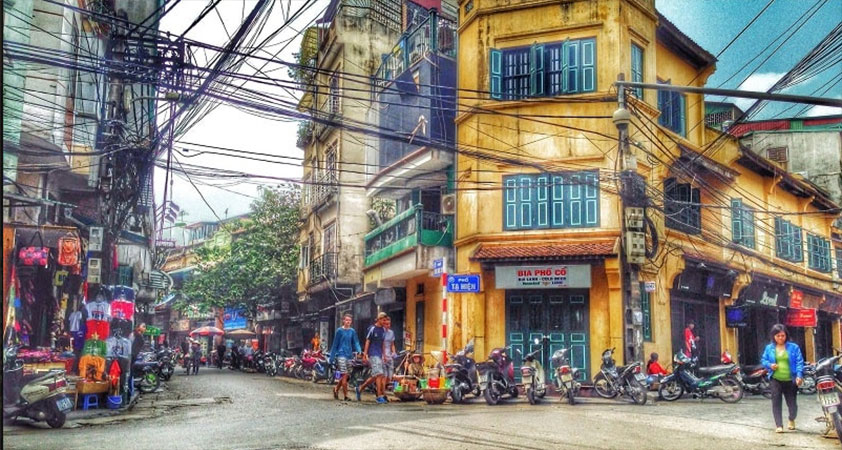 One of the best places to visit Hanoi Vietnam is Dong Xuan Market at Hanoi Old Quarter. The commodities purchased here are very diverse: clothes, footwear, cloth, toys, houseware, cakes and candies, souvenirs,… which are all clearly divided into specific areas. Especially, the food area is famous with a lot of Hanoi traditional dishes such as "Pho", Bun Cha, shrimp cakes,… sold at cheap price for your trial.

Ho Chi Minh Mausoleum
Another place to visit Hanoi is Ho Chi Minh Complex, which belongs to a group of heritages that you usually respectively visit including Ho Chi Minh Mausoleum, the Stilt House, Uncle Ho's fish lake, Ho Chi Minh Museum, and One Pillar Pagoda.
The mausoleum is the resting place of the Greatest Leader of Vietnam Ho Chi Minh. The construction was founded in 1973, at the center of Ba Dinh Square, where he had held important meetings such as the Declaration of Independence in 1945. In front of the place is about 200 squares of green grass with the area of 32.000 square meters where people usually come to jogging.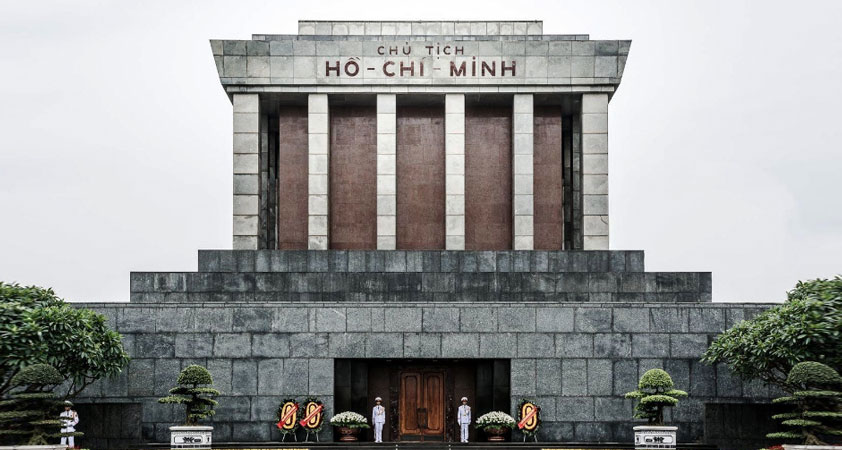 The road from the mausoleum to the stilt house and museum is nice and cooled by the lake and garden. You will learn about the life of Ho Chi Minh at this completely simple house. Then you continue to visit One Pillar Pagoda – known as the most unique architecture with the lotus-shape. It has been the symbol of the capital for a thousand year. 
Tourists should take notice that they are all solemn areas so that people need to wear formal and polite clothes when coming here. 

Museum of Ethnology
Vietnam Museum of Ethnology is known as the place storing all the value of culture, house construction, custom, formality, and celebration of 54 ethnics in Vietnam. It is a special place to visit in Hanoi. The diversity and uniqueness in the presentation are likely to give tourists a nice impression.
The museum has two main areas: indoor and outdoor. The outdoor one presents house construction of ethnic minorities with different features due to their living conditions and natural specialties. The indoor one has many grades presenting traditional custom and clothes, traditional celebrations, labor tools and household items of all areas of the country.

The journey will bring you knowledge about the diversity in culture and transfer Vietnamese spirit, helps you experience the daily life instead of real experience to every area in this "S"-shaped country which seems to be impossible.

Duong Lam Ancient Village
When reaching the village, you will get first impression with the village gate, indeed a two-rooftop house. Surrounding are a three-thousand-year banian tree, lotus lake,… The road system was following the fish bone-shape. Mong Phu temple capturing stilt-house structure was laid at the center of the village. Moreover, there are also Giang Van Minh church, Phung Hung Temple, Ngo Quyen Mausoleum. Nowadays, the village remains 956 ancient house with stilt houses, gardens, separated kitchens, wells, straws, lakes…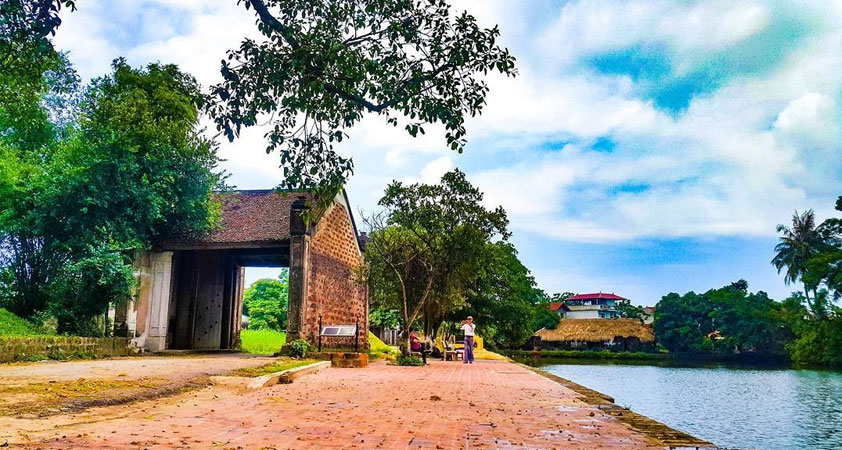 The village has not been commercialized so that you will be completely comfortable to enjoy the atmosphere here. Along the road are just some local people introducing local special food such as soft green-lentil cake, peanut candy, rice cake that you should have a trial. 

Bat Trang Ceramic Village
Bat Trang is a traditional village with special architectural structures such as Van Van ancient house, Bat Trang communal house. Van Van house has existed for more than 200 years, special for its ceramic texture, enameled tea set, ceramic pattern,… produced before the 15th century. The Communal House is the place holding local festivals every year. It is great if your journey coincides with the festival time.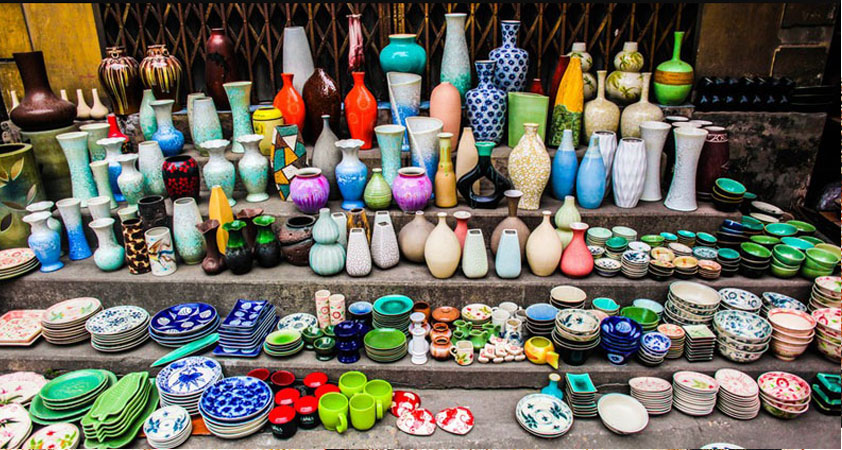 The most exciting activity here is the chance to make a ceramic item of your own, even you have no experience before. The craftsmen will help you and then finish your work for your bringing home. Moreover, you can visit the ceramic market, where you can see a great number of pottery products made by famous craftsmen. The price here can be cheap or luxurious up to your demands. The ceramic item may be a nice gift for your memory of your Hanoi trip.

Perfume Pagoda
Perfume Pagoda (Huong Pagoda) is a large group of different pagodas and temples. They were built sparsely in the Yen River valley at the end of 17th century.
The group has two separated part: Inside Pagoda and Outside Pagoda. The Inside Pagoda has another name Tro Pagoda, built in three large yards which are completely tiled. There is also a three-grade bell tower on the third yard. Vice verse, the Inside Pagoda were rooted from a natural ancient cave. You will follow a tiled path of 120 rungs to go inside and discover this mysterious construction.

Moreover, Perfume Pagoda is also attractive to travelers by its scenic surroundings. You should take the chance to have a boat tour on the Yen River. In each season, the view has a different beauty with a different typical kind of flower. 
Especially, you will feel an exciting atmosphere if you come here in spring. There will be a great festival with a lot of activities attracting approximately a thousand people to visit.
Hanoi Special Food
Special Hanoi food tour may be one of the reasons travelers will not forget Hanoi after a visit. Along with Hanoi city tour to many attractions in the city, you can easily taste Hanoi flavors, from street foods to luxurious restaurants. Although Hanoi foods are now served in some regions all over the world, the originals are still special. The complex cuisines are created from the combination of simple condiments and local material and then exist for thousands of years.  The food not only captures attractive flavors but also brings people together and deliver the story of its own.
"Pho" is the most popular dish that travelers always wish to try. The gentle soup combines with tender noodles, fresh meat and other raw vegetables, tempting you for the first taste. Up to your request, they can prepare different kinds of meat such as beef, chicken, even roll or saute noodles. You can find out Pho restaurants near Quan Thanh temple, Bat Dan street, West Lake...at a suitable price.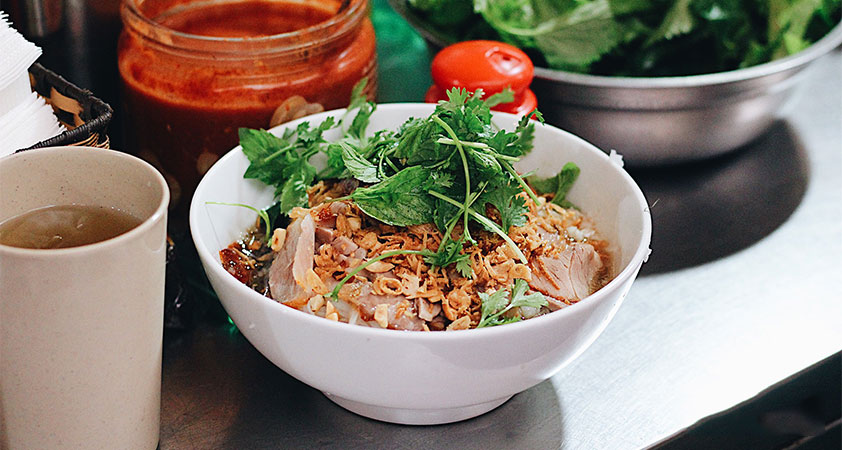 Besides, you should try the crisp of West Lake shrimp cakes together with special dressings, grilled fish seasoned with turmeric in La Vong, kebab rice noodles (there is even a restaurant named Obama to celebrate his visit), snail rice noodles, hot rice noodle soup, green rice in Vong Village,... They will certainly exceed your expectations.

Hanoi captures the typical climate of North Vietnam. In particular, it is quite hot and rainy from May to September, then the winter stretching from November to the next March with dry and cold weather. It is said that the perfect time for a journey to Hanoi is in autumn from September to the end of November when you can feel the cool and comfortable atmosphere, not too sunny for outdoor discoveries. Then contact Galatourist to have a nice experience in one of the two most famous tourist destinations in Vietnam !