9 unmissable places to discover in Ba Na Hills Da Nang Vietnam
Following the trend to visit Da Nang city, a tourism center in Vietnam, you should not miss this attraction with a lot of exciting experiences nowhere to be found in the world.
1. Ba Na Hills introduction
As to
Ba Na Hills location
, it is 30 kilometers far from Da Nang in
Hoa Ninh Commune
,
Hoa Vang district
,
Da Nang city
,
Ba Na Hills Da Nang Vietnam
has been called a precious pearl of the land that attracts thousands of tourists to visit every year. With the diversity in tourism services, you will have a chance to come close to nature and live these best days. It is certainly an unmissable
Da Nang attraction place
with many choice of
Ba Na Hills things to do
.
2. Ba Na Hills Da Nang Vietnam travel information
Ba Na Hills opening hours: from 7.00 to 22.00 every day. Ba Na Hills best time to visit is no limited but around the year.
Ba Na Hills entrance fee: 700.000 VND/ Ba Na Hills ticket price. The price can be changed a little at different periods of the year.
3. Ba Na Hills what to see
3.1. Linh Ung Pagoda
It is one in three famous pagodas called Linh Ung in Da Nang city. It is located 1500 meters high above the water level.
In front of the attraction, there is a three-leaf pine tree
that attracts your eyes for the first time seeing.
Moreover, a 27-meter high statue is carefully presented there. Not really as popular as
Linh Ung Pagoda Da Nang
, it is also attractive with its own charm.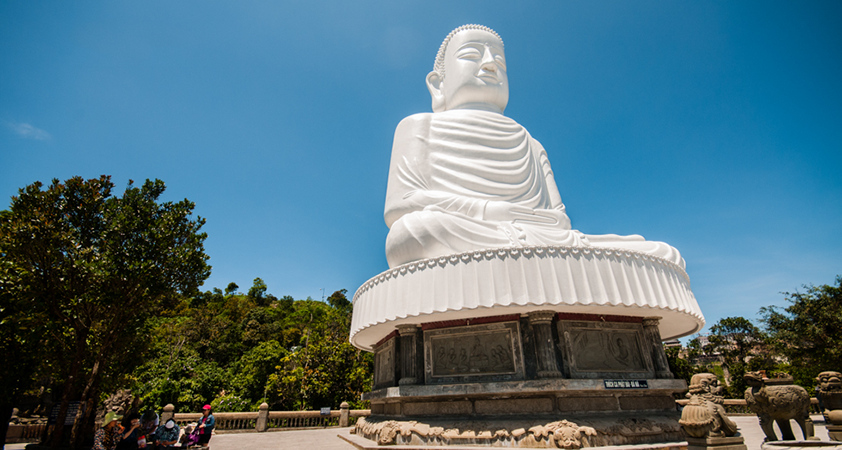 3.2. Fantasy Park
The area is 21.000 square meters large, attracting tourists with 150 games of different levels of challenge. The ticket price has been included. It is a great chance to challenge yourself and have entertainment off stress. Fantasy Park is outstanding for its outdoor activities, which makes it different from other
best places to visit in Da Nang
.

You may concern: Central Vietnam discovery with Hue Da Nang Hoi An tour in 4 days

3.3. Wax Museum
The museum presents the highest statue made of wax in Vietnam. The artworks simulate celebrities in different areas such as firm, music, sport,... Check-in with these characters there.
3.4. The French village
Also called a "mini Europe" at the peak of
Ba Na Hills Da Nang Vietnam
, it will surprise us with the ancient European architecture. It is designed by a famous French architect.
3.5. Ba Na Cable Car
The attraction offers one in the list of 10 most impressive cable car tours in the world. There are 201 cabins in total. Especially, Toc Tien waterfall- L'Indochine is the longest cable tour.

Don't miss it:

Vietnam tour 8 days of classic itinerary from Saigon to Hanoi
3.6. Le Jardin D'Amour
The area includes nine flower gardens with their own specific stories. It is not only a place of flower sightseeing but also satisfies your eyes with unique architecture. All create a charming land in full color so that you can refresh there.
3.7. Debay wine cellar
The Fench built this underground wine cellar in 1923 to store many types of wine. It is 100 meters long and always maintains a temperature of 16-20 °C. Come to enjoy the high-qualified taste there.
3.8. Stele house
The stete house is famous for a stele of 1.8-meter height. Surrounding is a lot of white statues, bringing about a majestic atmosphere. From the location, you can capture a large view of
Ba Na Hills Da Nang Vietnam
.
3.9. Linh Tu Temple
To show gratitude to the deity who always protect
Ba Na Hills in Da Nang
, in Vietnamese spiritual life, the temple has been built at the highest peak of Da Nang city. From the place of 1487 meters high, tourists have the largest view of the land.
Besides, there are a lot of corners in Ba Na Hills for you to discover any time available. Therefore, contact us now to own yourself the best price for the package.
ONLY WITH US : 100 % MONEY BACK GUARANTEE within 10 days from the date of booking if not satisfied.
For further information, or simply a free quote, please
contact us
at any time via our email:
info@galatourist.com
, our experienced consultants will reply to you within 48 hours.
Sincerely yours & see you soon!
GALATOURIST
since 2005.