Top 21 cheap Northern Vietnam attractions in 2019
Northern Vietnam - the enchanting land of culture, is the origin of the thousands of years of civilization with bewitching natural landscapes and unique architectural works. It is always the true tourist destination for those who love to immerse yourselves in the stunning scenery and broaden your knowledge about the history and culture of Vietnam.
Northern Vietnam
- the enchanting land of culture, is the origin of the thousands of years of civilization with bewitching natural landscapes and unique architectural works. It is always the true tourist destination for those who love to immerse yourselves in the stunning scenery and broaden your knowledge about the history and culture of Vietnam. Join
Galatourist
to get a list of
Top 21 cheap Northern Vietnam attractions in 2019
to start your travel plan with your family and friends !

1. Hanoi Travel - Explore Hanoi 36 ancient street with historic and cultural value
The first destination visitors cannot ignore when visiting Vietnam is
Hanoi travel
, the capital of Vietnam. Famed for its
Old Quarter streets
, Hanoi appeal international tourists by its unique beauty...Coming to
Hanoi
, wandering around
Hoan Kiem Lake
, joining some traditional games with the young there, visiting
Ngoc Son Temple & The Huc Bridge
or exploring some renown places in Hanoi will make you have unforgettable experiences.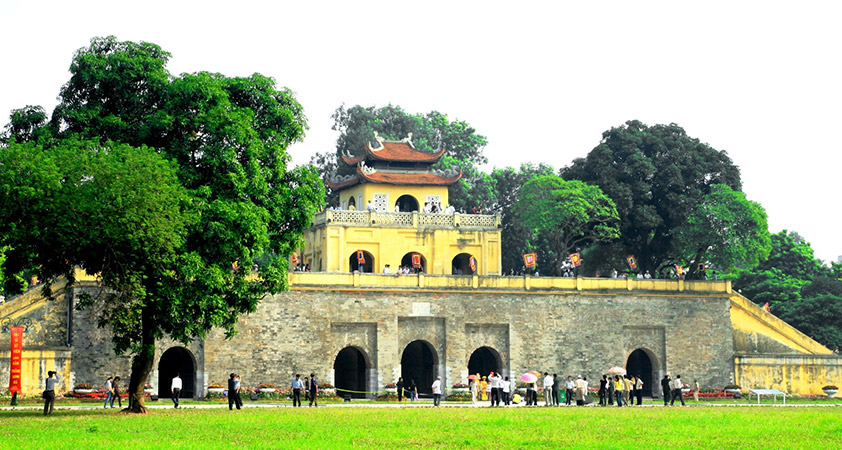 Hanoi travel has its own unique beauty that nowhere can have. Visitors will be impressed by the sound of street vendors every morning or simply sidewalk tea house. In addition to attractive destinations, Hanoi is also known for its unique culinary culture. Such Hanoi speacialties as
Bun Cha, Bun Thang, Beef Noodle,
... Coming to Hanoi and explore the beauty of this ancient city with
Galatourist
right now.

2. Admire the stunning beauty of Halong Bay on boat
With a poetic and natural landscape like a heaven in the world,
Ha Long Bay
is a famous destination attracting both domestic and international tourists. Coming here, visitors can admire the natural islets and amazing caves with different shapes, immerse in beautiful beach or experience the real floating village on Halong Bay.
Thien Cung cave, Dau Go cave, Ba Hang fishing village, Soi Sim beach, Titop island, Sung Sot cave, Me Cung cave, Luon cave, Tien Ong cave, Ba Ham lake,
...are one of the most must-see destinations when exploring Halong Bay.

3. Sapa Lao Cai - The misty town in the northwestern mountains
Located in the
Northwest of Vietnam
,
Sapa
is known as a land of mist with dreamy scenery, consisted of lots of wonderful landscapes. Travelling to Sapa, visitors can admire the unspoiled beauty of majestic mountains, terraced fields, enjoy the fresh air and feel the peace and simplicity of the ethnic-minority villages. In addition, Sapa is an ideal destination for those who love adventure. Tourists can go trekking to reach the peak of
Fansipan
, known as the highest mountain in Vietnam.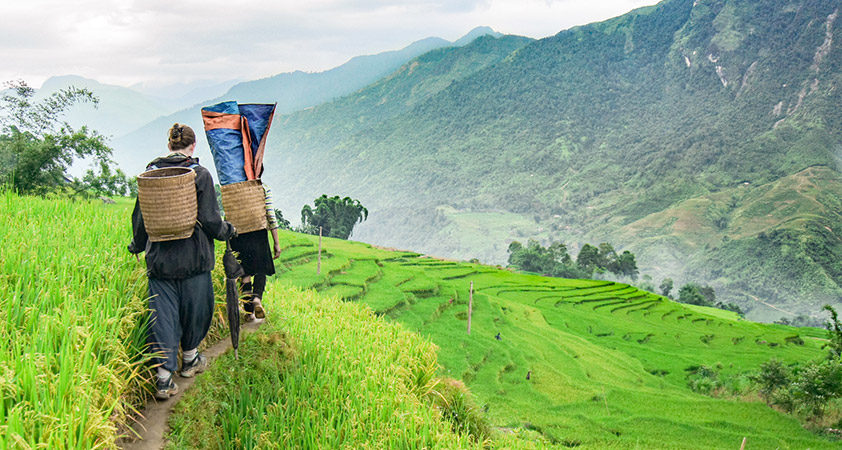 Each season, Sapa has its own typical feature but the best time to explore Sapa is in ripen season or in the winter. Tourists come here to enjoy the fresh atmosphere of the summer or take the opportunity to "hunt snow" in the winter. Try exploring Sapa 2019 with Galatourist.

4. Ninh Binh - the blend of historic value and mountainous landscapes
With pristine nature, enchanting scenery,
Ninh Binh
is a famous tourist destination in the North just 100km from the center of Hanoi. It was once the ancient citadel of Vietnam during the
Dinh and Le dynasty
. Moreover, The Mother Nature give Ninh Binh such tourist attractions like
Trang An, Tam Coc - Bich Dong
,...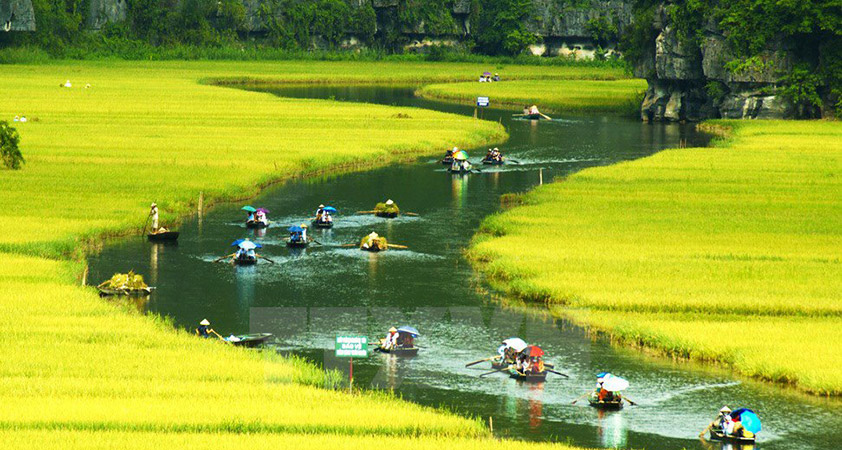 Tourist can go to Ninh Binh at any time of the year. But to experience the breathtaking beauty of Ninh Binh, you can explore there from January to March according to Vietnamese lunar calendar. In addition, if you come here in April and May, you can come to
Cuc Phuong national forest
to check in with thousands of butterflies there or admire the bewithching beauty of ripen rice fields when sailing along
Ngo Dong river
.

5. Cat Ba island - The Precious Jewel of the Gulf of Tonkin 
Cat Ba island is an attractive island lying to the south of
Halong Bay
. It consists of 367 different islets and islands, which is about 30 km from the center of
Hai Phong
and 25km from Halong Bay.
Cat Ba island
is the amazing blend of the stunning beauty of beach and forest.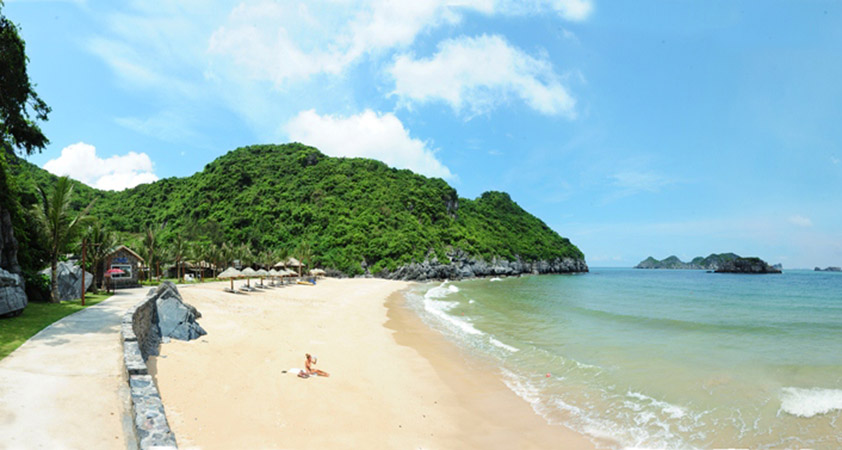 Coming there, tourists take the opportunities to admire
Lan Ha Bay
- an islated but beautiful bay and some famous attractions such as
Monkey Island, Cat Ba National Villae
and
Viet Hai villag
e, etc. Each season, Cat Ba has its own beauty so visitors can go at any time of the year but the ideal time to come here is around May, June and July.

6. Co To - the green island in the East Sea
Besides Halong Bay, Quang Ninh also owns another beautiful island like
Co To
- the green island in the East Sea. For a long time, Co To is considered as the ideal destination for both domestic and international tourists due to its pristine beaches with clear blue water.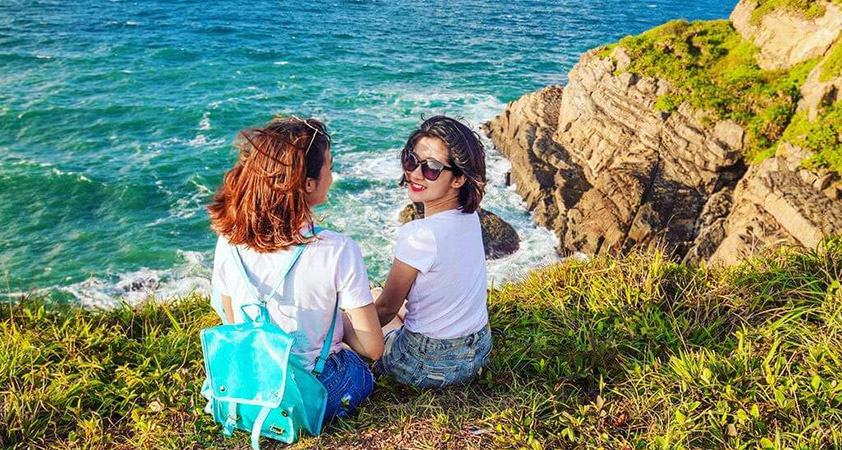 You can explore
Co To island
at any time of the year but the best time to come there is in the summer. At that time, visitors can immerse yourselves in the charming beaches of Co To, sitting on the boat and going around the island, or simple visiting natural forests, lighthouses, wharves, fishing villages, bays, natural rocks...

7. Quan Lan island - the most pristine beach in the North of Vietnam 
Quan Lan island is located on
Bai Tu Long Bay
, lying at
Quan Lan
and
Minh Chau village
, Quang Ninh province. Coming to
Quan Lan island
, tourists can be immersed in the pure natural scenery with long sandy beaches and lots of historical and cultural relics. Especially, this island is an amazing sightseeing for going swimming or temporarily avoiding the bustle lives of big cities.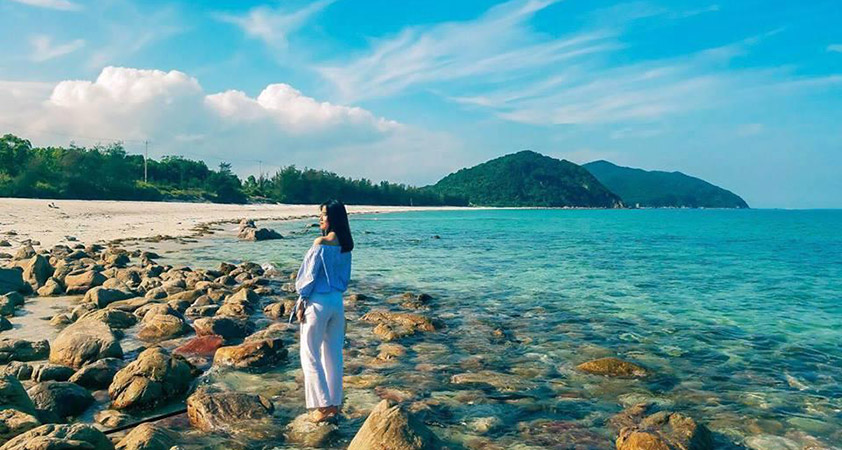 Quan Lan island owns clear blue water, and long sandy beach. Due to its long beautiful sand, bigh waves and clear blue water, here is an ideal place for those who love swimming, camping or participating in some water sports on the beach. The wild beauty and fresh ecological environment there makes Quan Lan island different from other beach in the North Vietnam. Come and enjoy it with Galatourist.

8. Ba Be lake - the charming green blend of water and mountains
Located in
Ba Be National Park
in
Bac Kan province
, Ba Be Lake is a beautiful landmark known as "
Thien Ha De Nhat Ho
". Travelling there, tourists can not miss the experience of sailing around the lake and admiring the surrounding mountainous landscapes. On the way floating on the boat on
Ba Be Lake
, you can make some stops at such beautiful places as
Puong Cave, Dau Dang Waterfall, Hua Ma Cave
or
Tien Pond
, which are associated with legendary stories.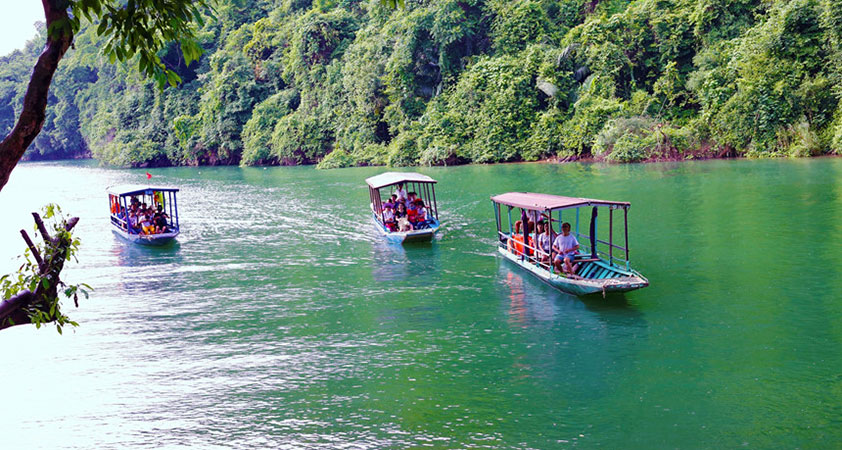 Thanks to the Mother Nature, the weather at Ba Be lake is cool at any season of the year. However, the ideal time to com here is in the summer, spring or the early days of autumn. At that time, the lake brings a mysterious beauty, hidden in the mist, making us feel to be lost in the heaven.

9. Mai Chau - the dreamy valley in Hoa Binh
Mai Chau is one of the famous tourist attractions in northwestern Vietnam.
Mai Chau valley
tingles Vietnamese people's hearts due to its the rustic beauty of
Ba Khan valley
and
Go La waterfall
, the pure and hospitable nature of Thai and Dao people living in
Lac village, Pom Coong village, and Suoi Lon village
. Mai Chau makes anyone who has ever been be willing to com back to enjoy the fresh, cool air of the mountainous landscape, admire the terraced fields on the hills, or simply culturally exchange with ethnic minority people there.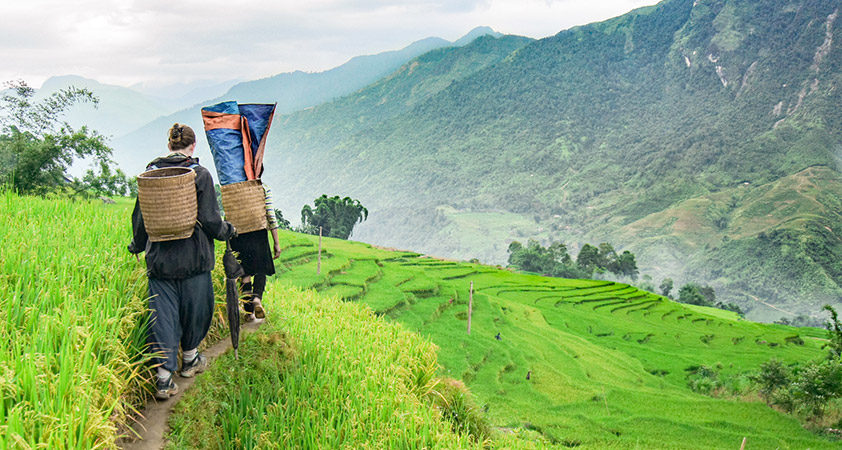 In general, Mai Chau has a cool climate all year round, so Mai Chau Hoa Binh tourism is suitable at any time. The most economical way to travel to Mai Chau is cars or motorbikes, so every weekend or holiday, Mai Chau is a peaceful place for those who love immerse ion the green landscapes and escape from the bustly lives.

10. Moc Chau plateau - the paradise with full of life 
Moc Chau Son La
is also an interesting experience in the top cheap northern tourism. Moc Chau houses green tea hills, lush high plateaus,... all of which have attracted lots of tourists every year. Coming here, visitors can not miss the visits of such places as pine forest
Ban Ang
, strawberry garden
Chimi Farm
,
Moc Chau tea hill
,
Thac Strip Yut
,
Happy Land
,
Bat cave
or
Ba Phach garden
and so on.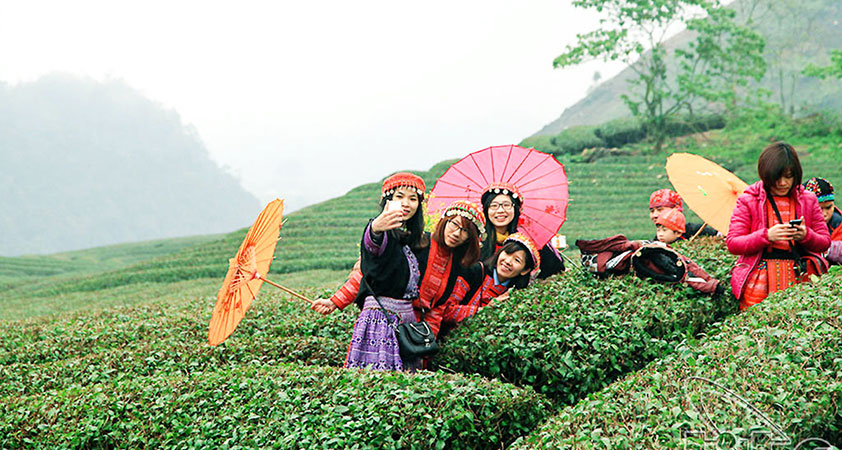 Each season, Moc Chau wears different clothes. From October to February,
Moc Chau
features with white mustard flowers, wild flowers bloom. In November, it is the time of blooming flowers with different beautiful colors. In addition from April to June, visitors can be lost in the plums and peaches gaderns and enjoy them.

11. Dong Van Ha Giang tourism - A land dotted by green stones 
Dong Van plateau
has long been one of the northern tourist attractions attracting both domestic and international travellers especially those who love adventure. This land features tourists with majestic scenery, thousands of green terraced fields as well as the boldness of the Northwest people's identity.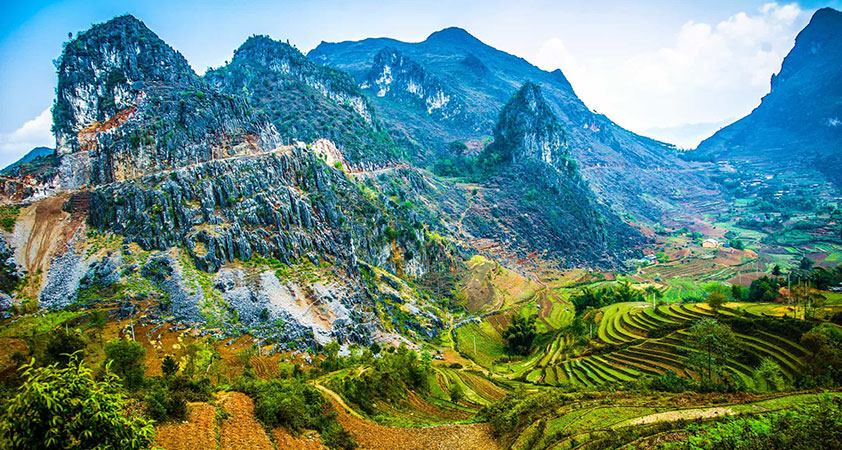 Coming to Dong Van plateau, you can check in such hunting spots as
Thien Huong villages, Sa Phin, Sung La villages, Lo Lo ethnic village, Lung Cu Flag Tower , Ma Pi Leng
and
Dong Van town
.The best time to come to Dong Van is October, November and December, which is the time of " blooming triangular flowers". In spring, visitors can be immersed in white flowers forests. Dong Van plateau is one of must-explore destination in Vietnam.

12. Tam Dao - the little Dalat in North Vietnam
Tam Dao with a cool climate, charming scenery has long been a tourist destination for lots of Vietnamese tourists. The name of
Tam Dao
originate from its formation, which is created by three high mountains named
Thien Thi
,
Thach Ban
and
Phu Nghia mounts
. Standing in the peak of Tam Dao, visitors will have a feeling of touching the clouds with different shapes. In addition, Tam Dao is renown for lots of interesting places such as
Thac Bac waterfalls, Xa Huong Lake, Doi Tuyet Bridge,
and
Rung Ring Peak
.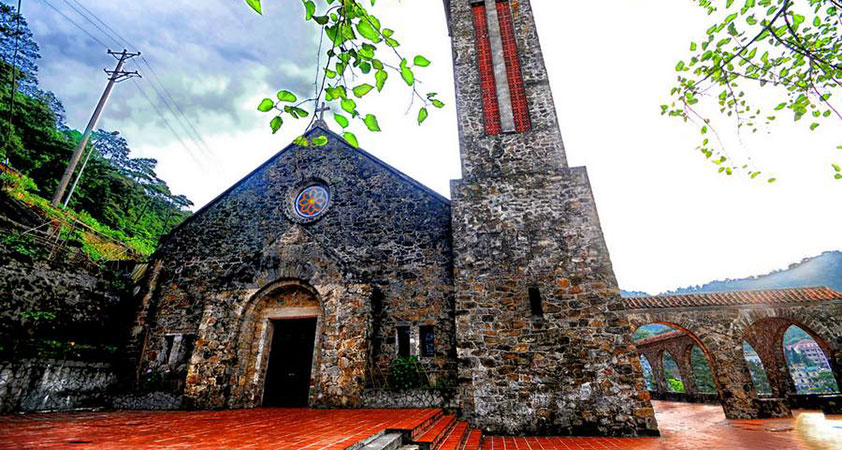 Known as "
the little Da Lat in the North
", Tam Dao possesses a great advantage with cool weather all year round. Each season of Tam Dao will give visitors different experience and feelings. Having a cool climate, in summer, Tam Dao is an ideal place for young people to espace the heat of Hanoi and fine a real peaceful place. In winter, this place offers a romantic and serene beauty with dense fog, covering the whole sky.

13. Ba Vi National Park - Ideal Ecotourism Place in the outskirts of Hanoi 
Coming to
Ba Vi national park
, visitors will not only be immersed in the wonderful natural scenery of the mountains and forests, watch many rare plants but also participate in some interesting activities such as climbing, trekking, fire camping,... Besides, Ba Vi national park also possesses beautiful streams, cactus greenhouses and old churches on the mountain so that travellers can follow Galatourist to explore such above places.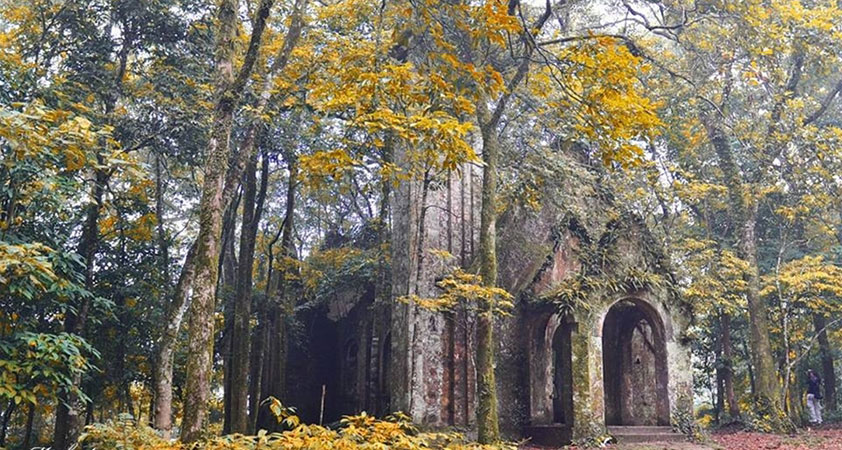 For those who want to explore Ba Vi national park for 1 day, you will have to arrange a reasonable schedule if you do not want to miss the main attractions here.

14. Ban Gioc - the Waterfall shares the border with Chian
Cao Bang
is not only famous for its historical landmarks such as
Le Nin stream, Pac Bo cave
, but it is also blessed with a scenic spot, attracting many tourists named
Ban Gioc waterfall
, one of the  most beautiful natural waterfall in Vietnam. Lying in the middle of great green mountainous landscapes, this waterfall is considered as a fairy-tale wonderland, attracting both domestic and international tourists.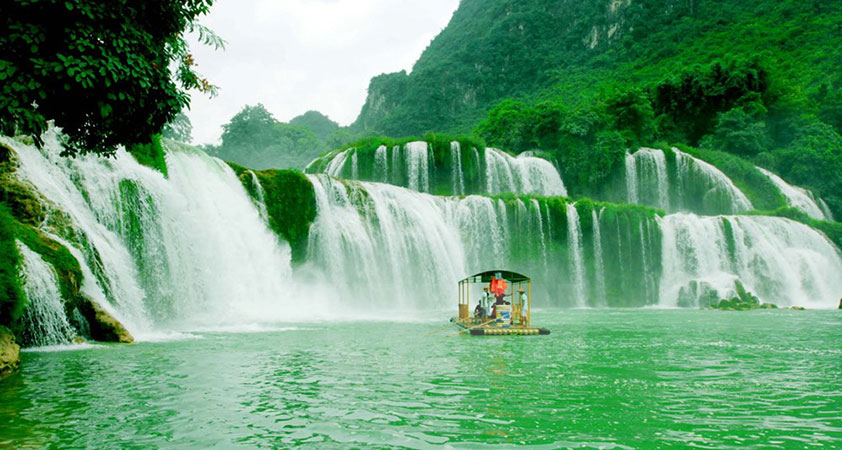 Ban Gioc is divided into two seasons: rainy and dry ones. The rainy season starts from June to September. This is the time Ban Gioc owns its majestic beauty with massive white foam. It is the ideal time for those who love to admire the giant beauty of the nature. However, the rainy season also makes Ban Gioc Waterfall flooded, which is very dangerous when coming here.  On the contrary, the dry season starts from October to May. At this time, the peaceful beauty of Ban Gioc waterfall combined with the golden rice season at the foot of the waterfall creates a scene that cannot be more romantic. Come here and experience the stunning beauty of Ban Gioc waterfall with Galatourist.

15. Mu Cang Chai - the mountainous town in the north west of Vietnam
Situated about 300 km from the center of Hanoi city,
Mu Cang Chai
has long been a famous destination for those who love to immerse in the natural scenery and join some adventure sports. Here, visitors take the chance to visit
Tu Le town, Khau Pha pass
,
terraced fields La Pan Tan, Lerm Mong village, Ban Thai
.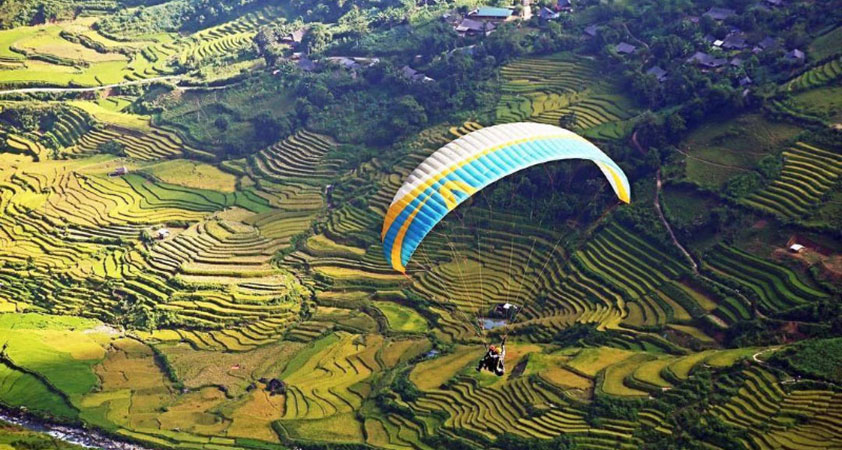 The ideal time to explore Mu Cang chai is from mid-September to October and from May to June. From September to Octorber, Mu Cang Chai is covered with massive rice rippen fields. The another time, it is the season of pouring water, with heavy rains leading from the mountains to rice terraced fields.

16. Dai Lai Lake - An attractive weekend resort
Dai Lai Vinh Phuc
is a famous tourist resort in the North, about 60km from the center of Hanoi. It is considered an extremely ideal destination for families to go camping or relax at weekend due to its pleasant atmosphere and reasonable price.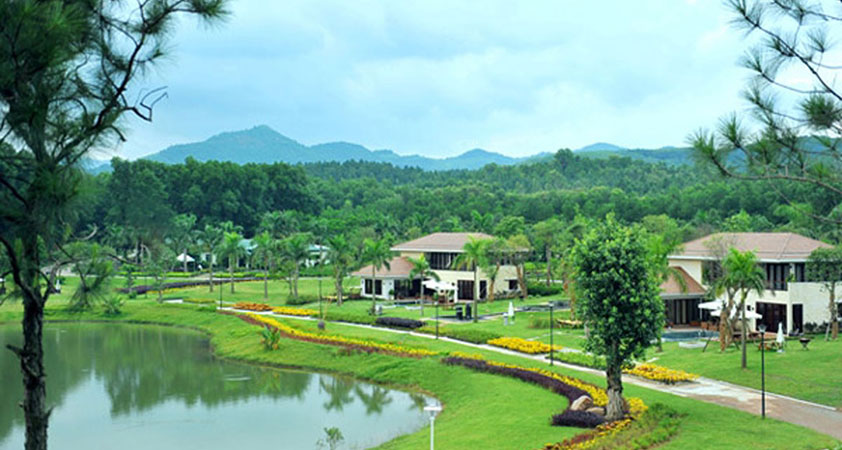 To go to Dai Lai tourist resort, you should go in the summer, from April to September. This is the right time to escape the heat of big cities like Hanoi. Dai Lai will have beautiful sunshine in the daytime. At night, the air is always conditioned because there are many green forests around, extremely suitable for fun activities here such as boat racing, duck riding, and sailing around the lake.

17. Bao Son Paradise - Complex entertainment, entertainment, events
About 10km from the center of Hanoi,
Bao Son paradise
is the entertainment place with lots of interesting activities. It is the only play area that harmoniously combines traditional and modern beauty, between nature and man-made. For those who love to have different experiences with your friends and familieson weekends, Bao Son paradise is really one of the best choices with many lively and diverse games and landscapes for experience and sightseeing.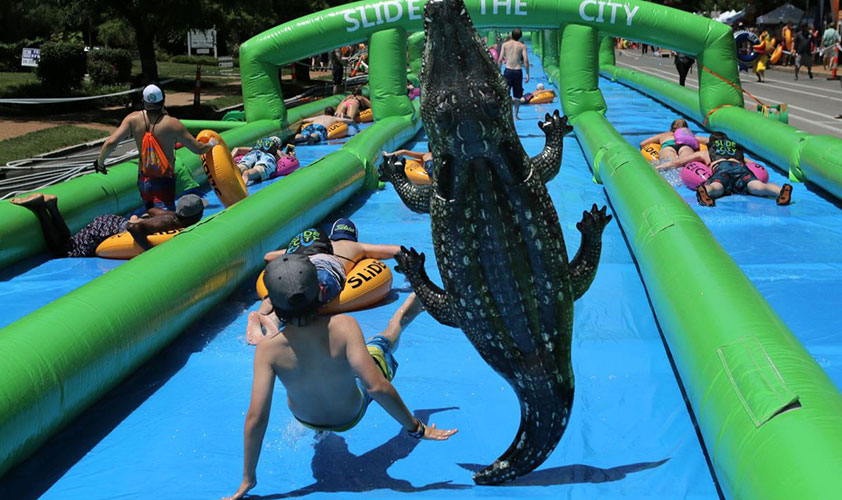 18. Thung Nai valley - Halong on the mountain 
Located 110 km from Hanoi,
Thung Nai
is a large valley, has a beautiful and poetic landscape, surrounded by forests and mountains, in
Cao Phong district - Hoa Binh
. The name Thung Nai originated from the fact that in the past in this valley, there are many deer living together, so people here called Thung Nai - Valley of deer.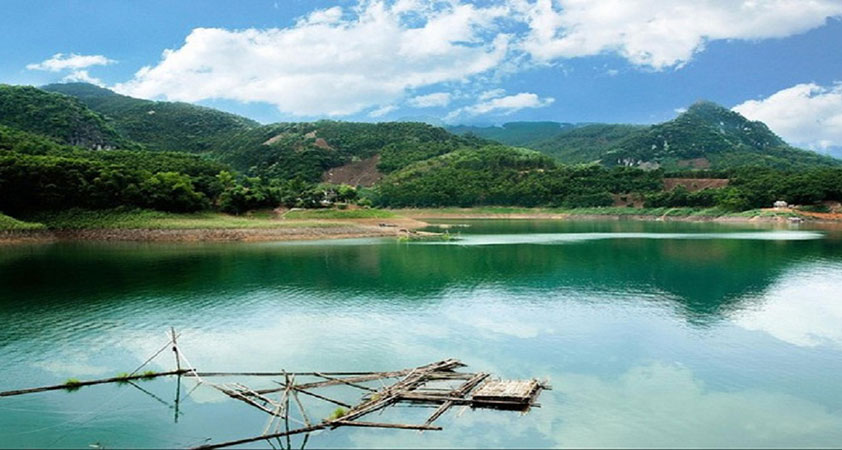 Thung Nai is most crowded in the spring because that's the best time to admire its beauty. Visitors can also explore Thac Bo cave and temple, Thac Bo market, and villages of the Muong ethnic minority. This is also the best tourist attraction of Hoa Binh. Especially, in Thung Nai, visitors can watch the beautiful windmill without going to the Netherlands.

19. Ba Vang pagoda - the sacred pagoda in Quang Ninh
Besides the scenic beauty of Ha Long Bay in the world, Quang Ninh is also renown as a land with sacred and supreme temples like "
Ba Vang pagoda
", the golden Temple in English. Ba Vang pagoda is located in a beautiful location, surrounded by natural green pine forest.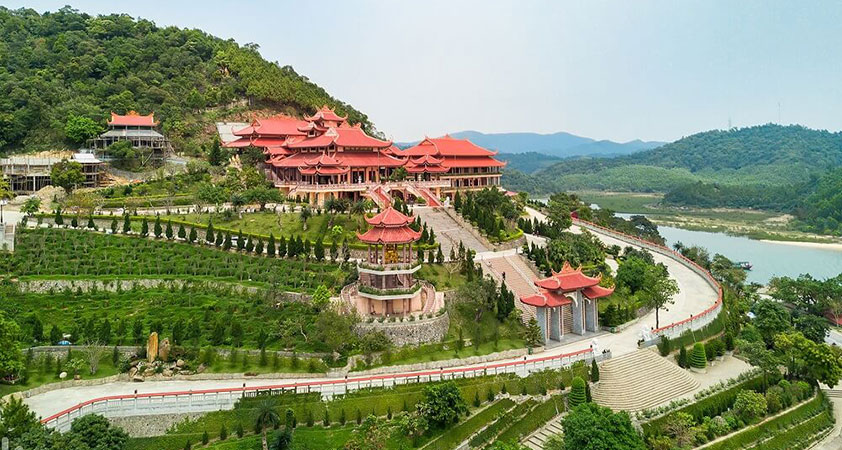 With a trip to Ba Vang pagoda, you will have the opportunity to explore the mystical Buddha land where the natural and human land is reconciled as one.  Visitors to Ba Vang pagoda at the beginning of the year not only can pray for health, money and lucky but also admire the surrounding natural landscapes.

20. Perfume Pagoda - a religious pagoda in the north of Vietnam
Located in
Huong Son commune
,
My Duc district
,
Hanoi city
, Perfume pagoda (Huong pagoda) is a famous temple of the North. Travel to
Huong pagoda
, visitors can not only pray for peace, visit the temples but also enjoy many interesting specialties.
Perfume Pagoda Festival
usually takes place from March 1-3 (lunar calendar) every year. Here, there are many temples that worship Buddha, god temple, ... but the most prominent one is
Huong Tich cave
.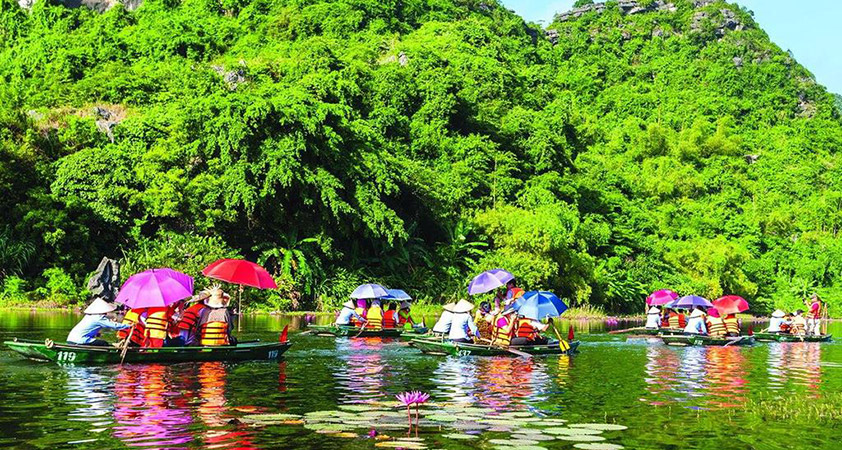 21. Tam Chuc pagoda - the future largest pagoda complex in Vietnam 
Located about 60km from the center of Hanoi and about 12km from
Phu Ly city
,
Ha Nam province
to the west,
Tam Chuc pagoda
-
Halong on Land
lies on
Ba Dao land
,
Kim Bang district
, which is adjacent to
Hoa Binh, Ninh Binh provinces
and
Hanoi
and suitable for transportation. According to the plan, Tam Chuc pagoda tourist area will have a total area of 5,100ha, with an unspoiled natural landscape and three sides surrounded by a beautiful
Tinh Tinh mountain
, the rest is the large lotus-swamp lake with 6 small islets.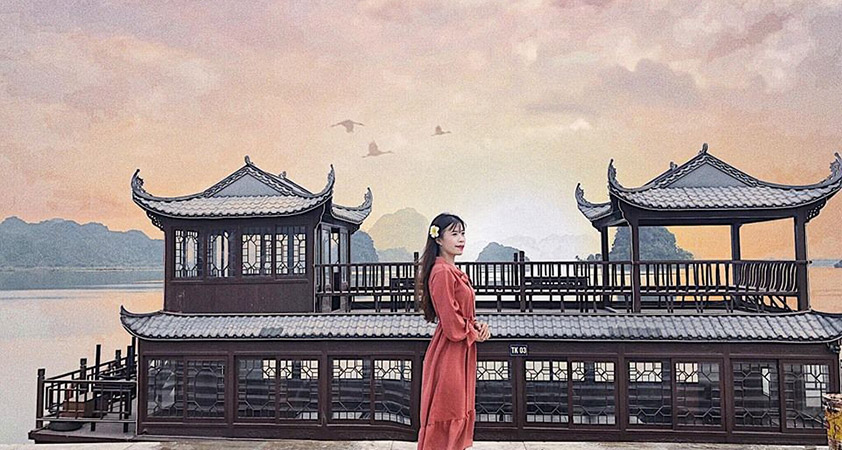 Until now, Tam Chuc pagoda tourist area is still under construction. After completion, this tourist attraction will be divided into 6 functional areas including reception center, Tam Chuc cultural and spiritual area, Quen Vong natural preservation area, Tam Chuc lake, Tam Chuc community tourism resort, Kim Bang golf area and the service center for tourist activities in
Ba Sao Town
.
Above are the
Top 21 cheap Northern tourist destinations
that tourists should not ignore when coming to Vietnam. Hope you will have a great time here.
ONLY WITH US : 100 % MONEY BACK GUARANTEE within 10 days from the date of booking if not satisfied.
For further information, or simply a free quote, please
contact us
at any time via our email:
info@galatourist.com
, our experienced consultants will reply to you within 48 hours.
Sincerely yours & see you soon!
GALATOURIST
since 2005.