A to Z guide to Ban Gioc Falls in Cao Bang province in Vietnam
Cao Bang is a province famous sites like Thang Then Lake in Tra Linh, Ban Gioc Fall in Trung Khanh, and Ba Be Lake. There are nine ethnic minorities, creating diversity in culture for tourists' discovery. Visit, Ban Gioc Falls, a spot typical for the attractiveness of Cao Bang.
1. Ban Gioc waterfall location
Ban Gioc Falls Vietnam is 90 kilometers far from Cao Bang City center and about 400 kilometers far from Hanoi. It is in Dam Thuy Commune, Trung Khanh District. Before reaching the destination, you will travel through a vertical 14-grade pass which brings about both challenge and excitement. The huge landscape makes it one of the best things to do in Cao Bang.



As to Ban Gioc Waterfall best time to visit, there are two main seasons in the area: the dry one and the rainy one. From June to September, the rains start to fall and provide a great amount of water, making it reach the peace of majesty with a countless number of flows falling from high. In the dry season, it has a completely different attractiveness. The land is quite peaceful with the gentle water flows and endless terraces of rice on the foot of the attraction.

2. Travel to Ban Gioc Waterfall from Hanoi
You can travel to Ban Gioc Falls by coach cars from any coach stations in Hanoi capital. It takes from eight to nine hours to reach Cao Bang city and then you will take another car or hire a motorbike to drive by yourself.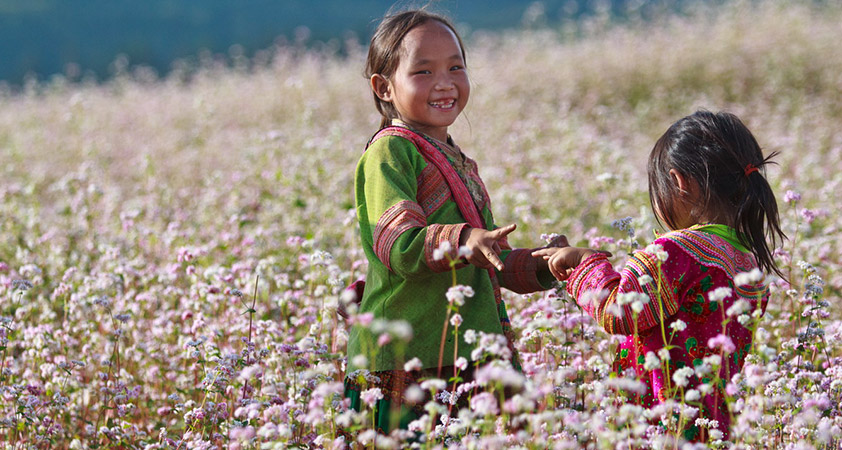 Discover more: Experience Vietnam travel itinerary 2 weeks to the most outstanding spots.

3. Ban Gioc waterfall accommodation
In the area, there are a lot of cheap homestays for tourists to stay overnight. Or if you are willing to discover the life of a mountainous city at night, you book in advance a homestay in the city. Some of them are Hoan Le homestay, Thien Tai, homestay, Dinh Van Hotel, Cam Thach homestay,...


4. Attractions in Ban Gioc Waterfall Vietnam

4.1. Ban Gioc Falls
Ban Gioc Waterfall Cao Bang Vietnam is situated near the Sino-Vietnamese border. The echo of the falls can be heard kilometers away from Trung Khanh. Water from Quy Xuan River falling down on the stone creates water droplets columns that can be seen from a distance. The temperature near the waterfall is remarkably cool, due to the water mist in the air.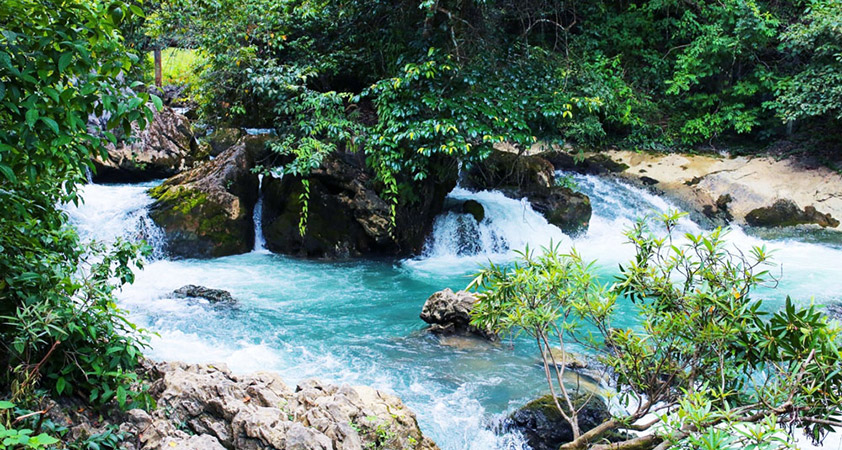 At the foot of the waterfall is a large river, as calm as glass, surrounded by many precious kinds of flowers. Ban Gioc Waterfall in Vietnam is famous for a famous fish named Tram Huong. In the early 1920s, French people started building cottages on the river banks. They would come here to relax, fish for Tram Huong and hunt deer.



 Related tour: Fantastic discovery of Ha Giang tour with 6 days in Vietnam.

4.2. Pac Bo area
Pac Bo is a small village in Trung Hoa Commune, Ha Quang district, 350km from Hanoi and 55km north of Cao Bang Vietnam town. It is where the T'rung and Mang rivers meet. Suitably, Pac Bo means " mouth of the source". The famous Pac Bo Relic is where in 1941 President Ho Chi Minh, upon returning from 30 years abroad, established his residence and worked on Vietnam's revolutionary course.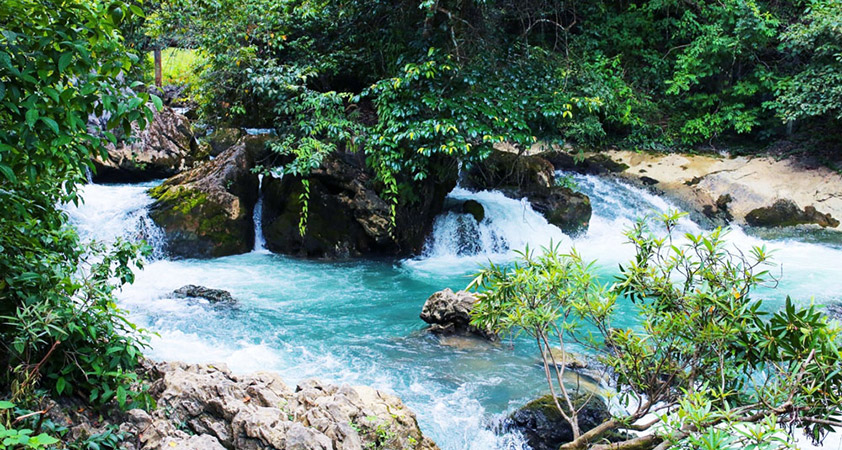 At the foot of Karl Marc mountains is Lenin stream, which was named by President Ho Chi Minh. In Khuoi Nam, 1,000m from the Coc Bo cave, Ho Chi Minh presided over the 8th session of the Indochina Communist Party Conference in May 1941. Even now, this location remains a sacred place for the Vietnamese. 

Traveling futher out of Ban Gioc Falls, you will continue to visit other famous attractions in Cao Bang such as Truc Lam Phat Tich Pagoda, Non Nuoc Cao Bang Geopark,... Do not miss these attractions during your upcoming journey with our supports.

ONLY WITH US : 100 % MONEY BACK GUARANTEE within 10 days from the date of booking if not satisfied.
For further information, or simply a free quote, please
contact us
at any time via our email:
info@galatourist.com
, our experienced consultants will reply to you within 48 hours.
Sincerely yours & see you soon!
GALATOURIST
since 2005.