Immerse in Vietnam's Culture with Top 10 Places to Visit in Vietnam
Trying Vietnamese cuisine, learning a little Vietnamese, and experiencing the routine lives of the locals with such authentic activities as living in the ethnic minorities' stilts house, planting the rice, purchasing goods on floating markets are some of the best ways to indulge yourself in our country's culture. Top 10 Places to Visit in Vietnam not only suggests guests of Galatourist must - explore Vietnam tourist spots but also give you useful Vietnam travel best time. Go Galatourist website and let us customize your own tour in Vietnam, adding both Vietnamese cultural and scenic discovery.
1. Hanoi City - the combined land of modern and ancient beauty
Whether you are newcomers, expats or just foreign travellers who first visit Vietnam, you will be up to fall in love with Hanoi once and forever. Hanoi has its own unique features that nowhere can have. This land impresses guests with full of surprises, from lakes and trees to  friendly smiles of Hanoiers or simply the sound of street vendors every morning and sidewalk tea house. Coming to Hanoi, wandering around Hoan Kiem Lake, joining some traditional games with the young there, visiting Ngoc Son Temple & The Huc bridge or exploring some renown places in Hanoi will make you have unforgettable experiences. Each  season, Hanoi  has its own unique but if you are scenic lovers, just go to Hanoi in the autumn (from July to September) to enjoy the magical beauty of Hanoi fall.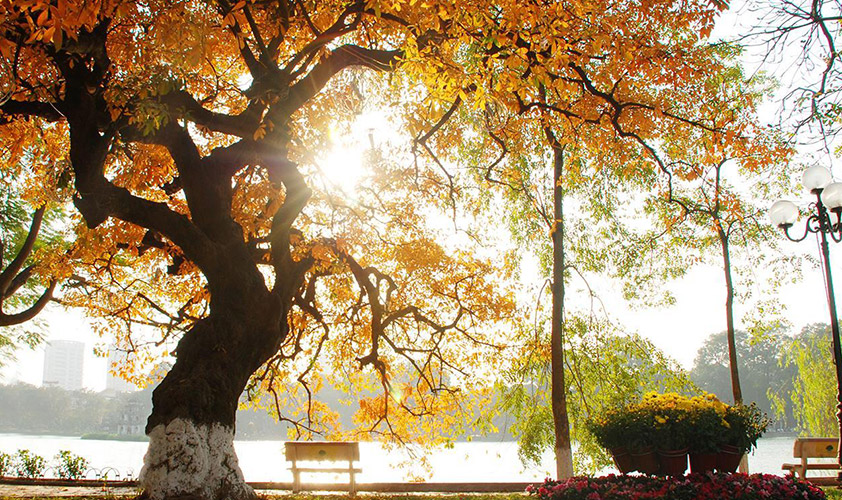 Just immersing in the beautiful attractions of Hanoi is not enough, Hanoi has long famed for its traditional cuisines, which bring Hanoi to the world such as Pho Bo, Bun Thang, Spring Roll,etc. So come Vietnam travel with family and try them!
2. Halong Bay Cruise on Junk - the Bay with Endlessly Amazing Landscapes
With a poetic and natural landscape like a green heaven in the world, Ha Long Bay is the blend of emerald waters and 1,600 surrouding limestone islands and islets, appealing both domestic and international tourists. Halong Bay Cruise offers travellers the exploration of the natural islets and amazing caves with different shapes, immerse in beautiful beach or experience the real floating village on Halong Bay. Thien Cung cave, Dau Go cave, Ba Hang fishing village, Soi Sim beach, Titop island, Sung Sot cave, Me Cung cave, Luon cave, Tien Ong cave, Ba Ham lake,...are one of the most must-see places when exploring Halong Bay.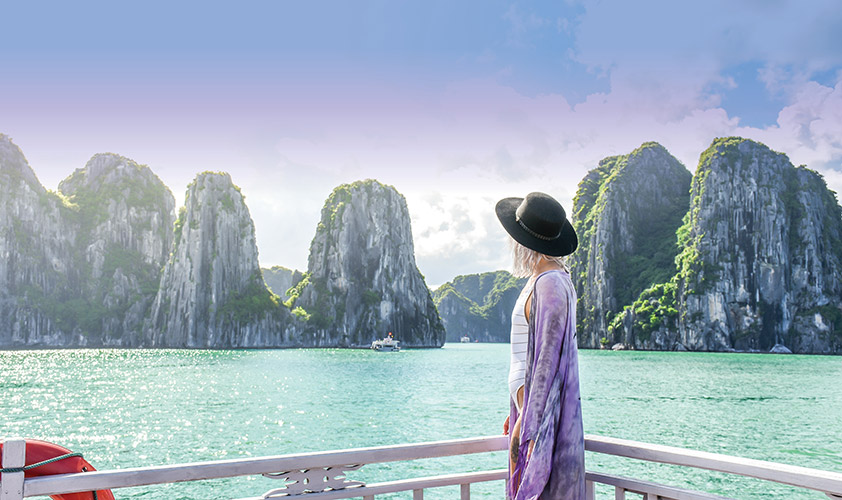 Vietnam travel best time to cruise Halong by boat is in the Spring (from March to May) and the fall (from September to November), when the weather is  not too hot and not too cold, suitable for outdoor-water activities. 
3. Sapa Lao Cai - The misty town in the northwestern mountains
Located in the northwest of Vietnam, Sapa is known as a land of mist with dreamy scenery, consisted of lots of wonderful landscapes. Travelling to Sapa, one of Top 10 Places to Visit in Vietnam, visitors can admire the unspoiled beauty of majestic mountains, terraced fields, enjoy the fresh air and feel the peace and simplicity of the ethnic-minority villages. In addition, Sapa is an ideal destination for those who love adventure. Tourists can go trekking to reach the peak of Fansipan, known as the highest mountain in Vietnam. 


Each season, Sapa has its own typical feature but the best time to explore Sapa is in ripen season or in the winter. Tourists come here to enjoy the fresh atmosphere of the summer or take the opportunity to "hunt snow" in the winter. Try exploring Sapa 2019 with Galatourist.
4. Ninh Binh - The blend of unspoiled nature and ancient ruins
Vietnam tour attractions offers you a trip to Ninh Binh, a famous tourist destination in the North just 100km from the center of Hanoi. It was once the ancient citadel of Vietnam during the Dinh and Le dynasty. Moreover, The Mother Nature give Ninh Binh such tourist attractions like Trang An, Tam Coc - Bich Dong, etc.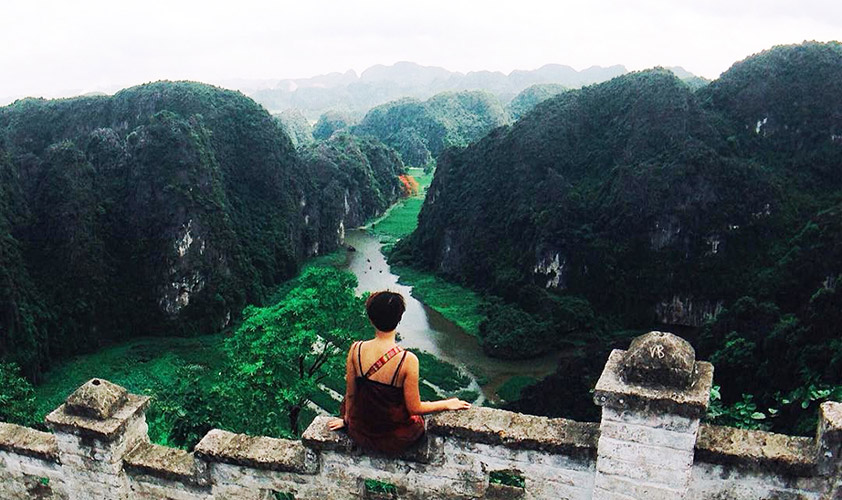 Tourists can go to Ninh Binh at any time of the year. But to experience the breathtaking beauty of Ninh Binh, you can explore there from January to March according to Vietnamese lunar calendar. In addition, if you come here in April and May, you can come to Cuc Phuong national forest to check in with thousands of butterflies there or admire the bewithching beauty of ripen rice fields when sailing along Ngo Dong river.
5. Mai Chau- Pu Luong - the untouched mountainous scenery in north Vietnam
Known as one of best places to visit in Vietnam, Mai Chau valley tingles Vietnamese people's hearts due to its the rustic beauty of Ba Khan valley and Go La waterfall, the pure and hospitable nature of Thai and Dao people living in Ban Lat, Pom Coong village, and Suoi Lon village. Mai Chau makes anyone who has ever been be willing to com back to enjoy the fresh, cool air of the mountainous landscape, admire the terraced fields on the hills, or simply culturally exchange with ethnic minority people there.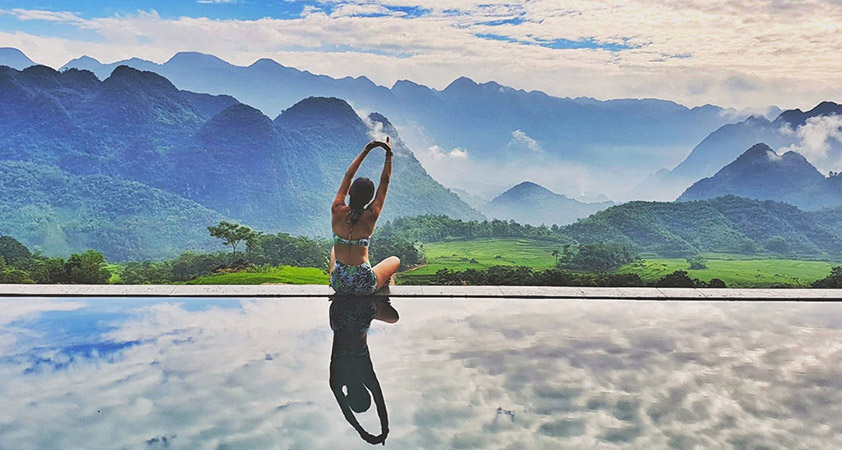 Along with Mai Chau, Pu Luong is another untouched nature reserve, about 80 km from Mai Chau. This land is surrounded by exquisite scenery of amazing terraced fields and endless mountainous landscapes. Travellers can combine the exploration of both Mai Chau and Pu Luong to admire the whole beauty of northwestern mountainous part of Vietnam. The most economical way to travel to Mai Chau is by car or motorbike, so every weekend or holiday, Mai Chau, along with Pu Luong is a peaceful place for those who love immerse in the green landscapes and escape from the bustly lives. 
6. Ha Giang - The real moutainous heaven for trekking lovers
If you are trekking lovers, Ha Giang is a real heaven for you. The pristine scenery with lots of beautiful zizag roads and hospitable ethnic minority locals creates enthusiasms for anyone interested in discivering and experiencing. Comming to Ha Giang, Vietnam travel places, you cannot miss Dong Van plateau, which has long  been one of the northern tourist attractions attracting both domestic and international travellers especially those who love adventure. This land features tourists with majestic scenery, thousands of green terraced fields as well as the boldness of the Northwest people's identity. You can check in such hunting spots as Thien Huong villages, Sa Phin, Sung La villages, Lo Lo ethnic village, Lung Cu Flag Tower , Ma Pi Leng and Dong Van town.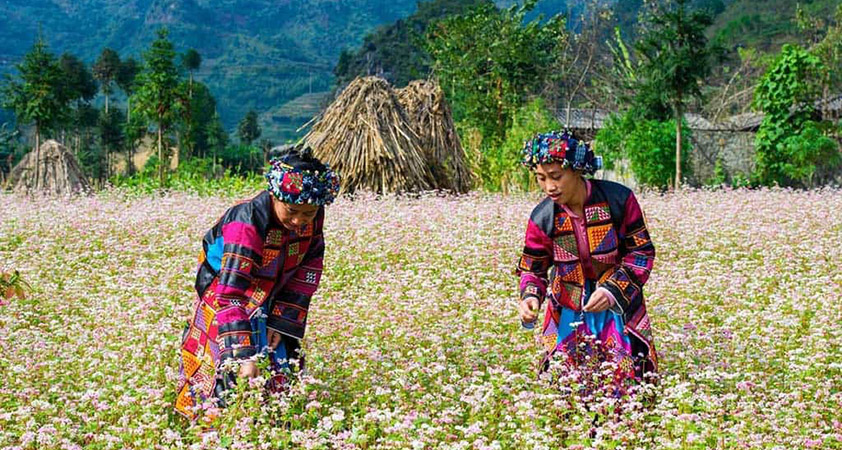 The best time to come to Dong Van is October, November and December, which is the time of " blooming triangular flowers". In spring, visitors can be immersed in white flowers forests. Dong Van Plateau is one of must-explore destination in Vietnam.
7. Hue - the harmonious combination of ancient and picturesque neauty
Ever been to the Vietnam, you must not miss the exploration of the city's well-preserved remnants, known as a UNESCO Heritage Site. Hue highlights harmonious beauty of natural scenery and ancient architecture dating back from 19th century during Nguyen Dynasty. Hue houses hundreds of monuments and remains, such as the Forbidden Purple City, once the residence of the royal family but badly ruined during the War against the America, the Imperial City, various Nguyen Dynasty's royal tombs, flag tower, antiquated pagodas and temples, etc. Coming to Hue, travelers should admire Perfume river once. Floating along picturesque Perfume river, observing the daily lives of the locals, then heading to some anceint pagodas like Thien Mu pagoda and royal tombs like Tu Duc tomb, you will truly have a feeling of losing in a poetic land.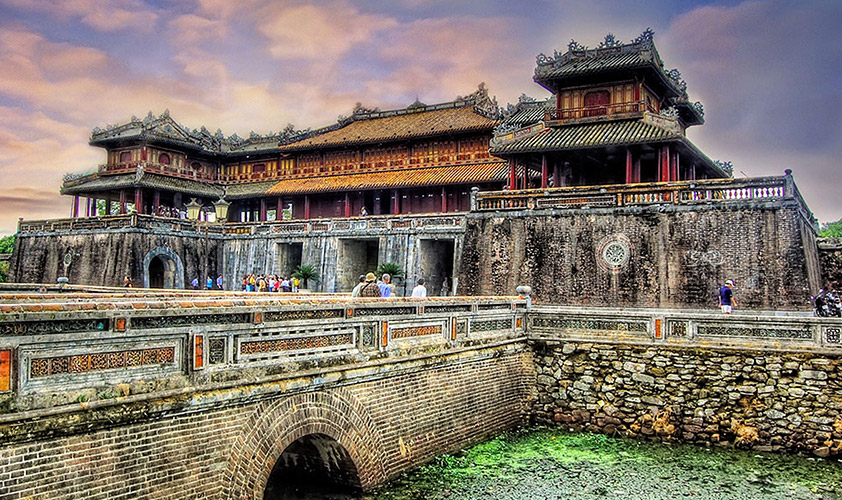 Lying in the center of Vietnam, in some months, it is quite hot with high humidity, which makes travelers uncomfortable. So Vietnam tourist season to visit Hue is in the dry seasons (from February to April). At this time, it is suitable for all activities, from wandering around Hue Imperial Citadel, sitting on the boat along poetic Huong river and viewing the two banks of the river to the exploration of Royal tombs. 
8. Hoi An - The town highlights ancient beauty 
Hoi An is an antiquated town lying on the downstream of Thu Bon River. Thanks to favorable geography and climate factors, Hoi An was once a busy Southeast Asian trading port, known as the purchasing place for Vietnamese, Japanese and Chinese merchants in the 16th and 17th century. Until now, Hoi An still houses lots of notable heritage architecture of ancient buildings such as Chinese pagodas, French-colonial houses, Japanese Bridge, which show the influences of both national and foreign designs.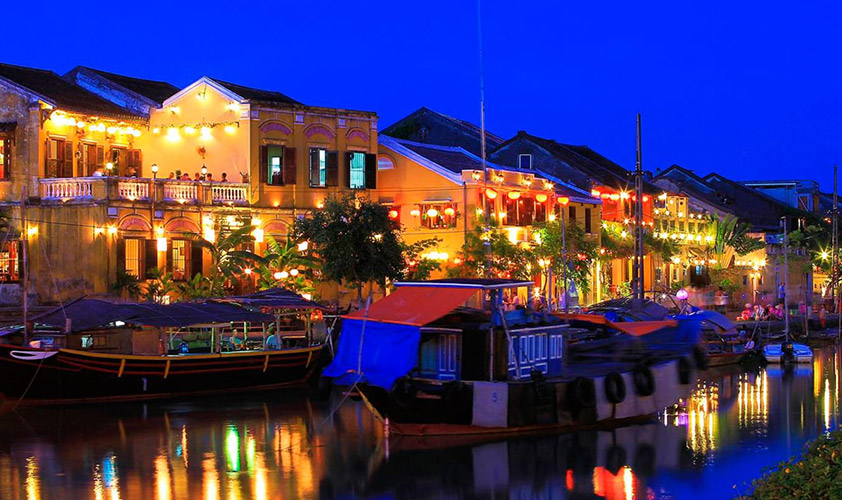 Besides amazingly ancient beauty, Hoi An, considered top 10 places to visit in Vietnam also famed for its delicious cuisine, well-skilled tailors, hospitable locals and warm welcomes, which attract both domestic and foreign travelers. Especially, for those who love to combine the experience of exploring ancients town and wallowing in the clear water of the sea, Hoi An offer a stunning beach just  5 km from the center.
9. Ho Chi Minh city - "Pearl of the Far East" in Indochina
Formerly considered "Pearl of the Far East" in the French colony, Saigon or Ho Chi Minh city is currently the most bustling city of Vietnam. Among modern facilities of a big city, Ho Chi Minh city still houses lots of French colonial architecture far from the chaos. Adding to the cultural discovery is a list of impressive tourist attractions, from the poignant War Remnants Museum and captivating water puppet shows to colorful markets and the time warp of the Reunification Palace. Moreover, lying not far from the center of Saigon city, renowned Cu Chi tunnels are places any visitors can not miss when visiting Saigon.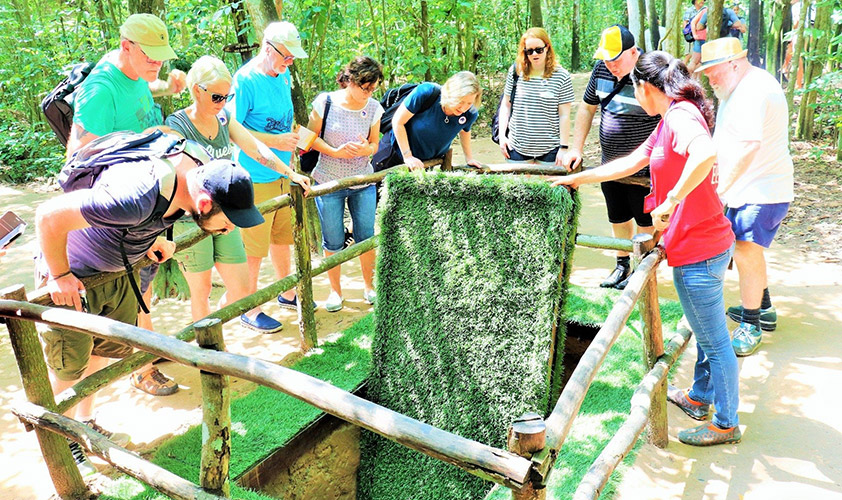 Different from Hanoi, Saigon has two seasons: the rainy and the dry season. To indulge yourselves in the beauty of Saigon, visitors should go there in the dry season. Saigon is truely one of Vietnam places to see for those who love to experience both the culture and sightseeing. 
10. Floating markets - One of the most unique cultural in the southern Vietnam 
Known as the typical culture of northern Vietnam, floating markets has attracted lots of travelers who love to know more about the activities on boat. Floating market is a huge marketplace where both sellers and buyers make deals or purchases on the boats.One of the most famous floating ones in My Tho, Tien Giang is Cai Be floating market, which is about 70km from Ho Chi Minh city. For those who first set foot in northern Vietnam, Cai Rang floating marketing is a must-see one oftop 10 places to visit in Vietnam.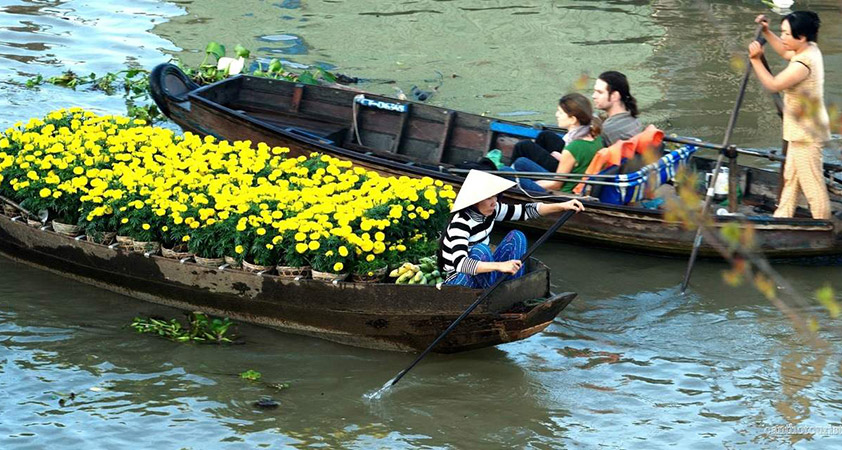 Mingling with the lively life and chaotic atmosphere of Cai Be floating market, you will have a feeling of soaking up the rhythm of brandishing water flow, yet still be impressed by the huge beauty of Mekong river. All you should do to experience the whole atmosphere of a real floating market is getting up early in the morning and follow the guide of Galatourist. 
Here are Top 10 Places to Visit in Vietnam recommended by both locals and internationsl travelers. If you are planning to Vietnam, you can not ignore them. We also offers impressive tours combining such vietnam tourist attractions as above. Set foot in Vietnam and have a wonderful time here with local & serious travel agent Galatourist. 
ONLY WITH US : 100 % MONEY BACK GUARANTEE within 10 days from the date of booking if not satisfied.
For further information, or simply a free quote, please
contact us
at any time via our email:
info@galatourist.com
, our experienced consultants will reply to you within 48 hours.
Sincerely yours & see you soon!
GALATOURIST
since 2005.