Discover the hidden beauty of Cat Ba Island National Park
Cat ba Island National Park has been included in the list of UNESCO Biosphere Reserves. There is a complex of 741 plants and 272 animals. The journey will certainly help you broaden your eyes that no books have.
Cat Ba National Park Vietnam introduction
Cat Ba National Park Vietnam
tour is one of the most popular 
things to do in Cat Ba Island
. The attraction is located 26 kilometers far from the center of Cat Ba Town, on the road through Cat Ba Island, Tran Chau Commune, Cat Hai District, Hai Phong Province.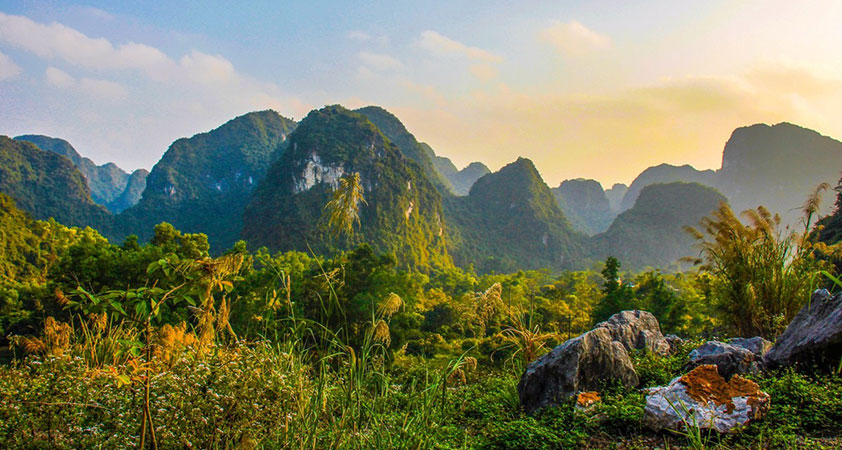 Along with the diversity in flora and fauna, with an area of 16.196 hectares and an average height of 150 meters above the water level, it also owns many gloriously beautiful caves such as
Trung Trang, Roi
,... Moreover, you can see a lot of typical limestone mountains, huge waterfalls and small streams flowing out to the ocean.

Visit the place with the Vietnam 4 days 3 nights itinerary discovering Northern Vietnam
The place is also the destination for anyone concerning human historical meanings. Many pieces of evidence have been found out showing there were human beings 6000 to 7000 years ago.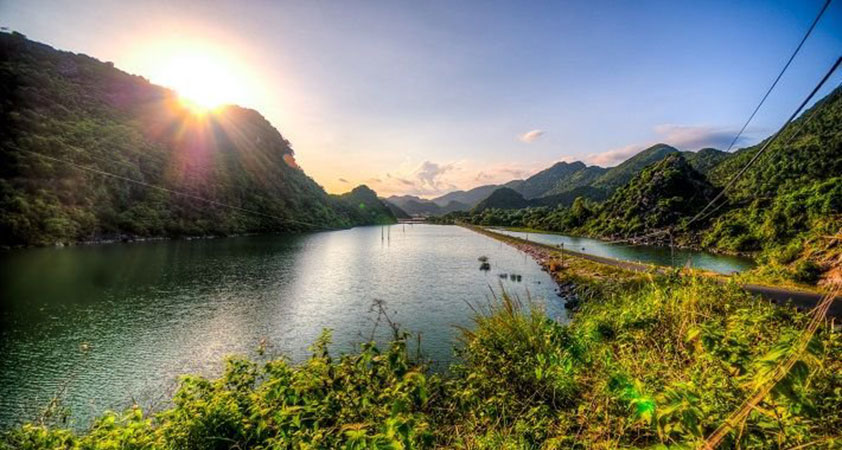 The most suitable time for a journey
Cat Ba Island National Park
is from April to October when the weather is nice and comfortable for climbing or trekking around. 
Cat Ba National Park entrance fee
: 40.000 VND/ticket.

Cat Ba National Park trekking
There are five main itineraries for your choice to discover the resources in the park in 4 to 8 hours. Then in this article, we will give you a guide on the most popular one :
 Ao Ech - Viet Hai itinerary
.
You will join an eight-kilometer journey. The first 100-meter road is the most challenging so you should prepare yourself well before. Sometimes you have to go through rocky slopes. However, it is a gift that you can take the fresh atmosphere and admire the life in the forest.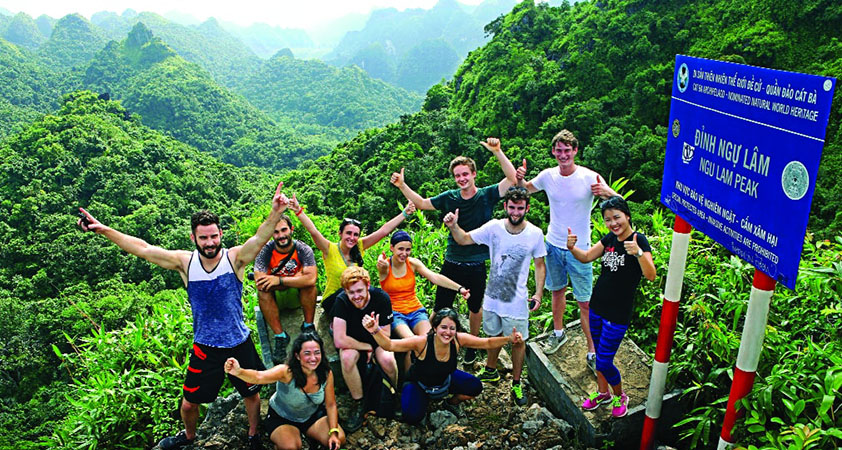 After that, you may get excited about the scenery of a clean large lake called Ech Lake. Take a break and have a meal here. It is great if you bring about the spicy break, a specialty of Hai Phong Province. Then spend time discovering the place. It is the only flooded forest on 80 meters above the sea level in Northern Vietnam. From the water rise thousands of Va Nuoc Tree, the plant you can not see anywhere else in the world.
The upcoming road is toward
Viet Hai Village
. The road is following the limestone mountain cliffs, under huge shades of ancient trees and slopes are unavoidable. There are only two ways to reach the fishing village: go through the sea or trekking like your journey.

Join now:

Vietnam tour 8 days from Saigon to Hanoi Vietnam
When reaching the destination, you can continue a
Cat Ba Island National Park hiking
around the village to learn about the daily life of local residents, admire the scenic surroundings. The place is separated from the outside and all of them are friendly to welcome tourists from all over the world to visit.
After a day trekking in
Cat Ba Island National Park
, you can choose to come back or overnight here. On the next day, have time experiencing water activities on
Cat Co Beach
or have other tour to 
Cat Ba island attractions
up to your choice. Contact us for other itinerary information.
ONLY WITH US : 100 % MONEY BACK GUARANTEE within 10 days from the date of booking if not satisfied.
For further information, or simply a free quote, please
contact us
at any time via our email:
info@galatourist.com
, our experienced consultants will reply to you within 48 hours.
Sincerely yours & see you soon!
GALATOURIST
since 2005.