Enjoy the best relaxing services on 3 seashores on Cat Co Beach
Cat Co Beach is in Cat Ba town, Hai Phong city. There are three beaches in the area and they are all close together so that you can transfer among them. 
Each of the beaches is not too large but all surrounded by mountains and forests. "Co", in Vietnamese, means "stork". Legends said that a long time ago when the earth and the sky are close, some angels from heaven had turned into storks and paid a visit to these beaches to admire the scenery. Until now, the beaches still keep their original beauty as no one has leveraged.
These three beaches are connected with each other by a wooden bridge leaning on the mountainside. It is also a popular check-in place for tourists. 

Cat Co Beach 1
Cat Co 1 Beach
is the largest and the most beautiful one. With the white sandy seashore, it is always crowded with people. At any season around the year, the water is clean and blue available for your experience. 
Cat Co Beach 1
is just 5 minutes walk from Cat Ba town center so most of Vietnamese tourists often come here to swim. It is very crowded in summer holiday. A trip to
Cat Co 1 Beach
provides you with the opportunity to spend some time on the white, clean sand, next to the warm water perfect for swimming and playing. 

Discover more:

How to spend 6 days in Vietnam at a suitable price?
Cat Co Beach 2
Unlike the first one,
Cat Co 2 Beach
brings about a feeling of tranquility. To tourists searching for a peaceful atmosphere, it may be a perfect choice. Although it is small, it still has its own attractiveness by the scenery surrounded by rolling mountains and the blue sky above.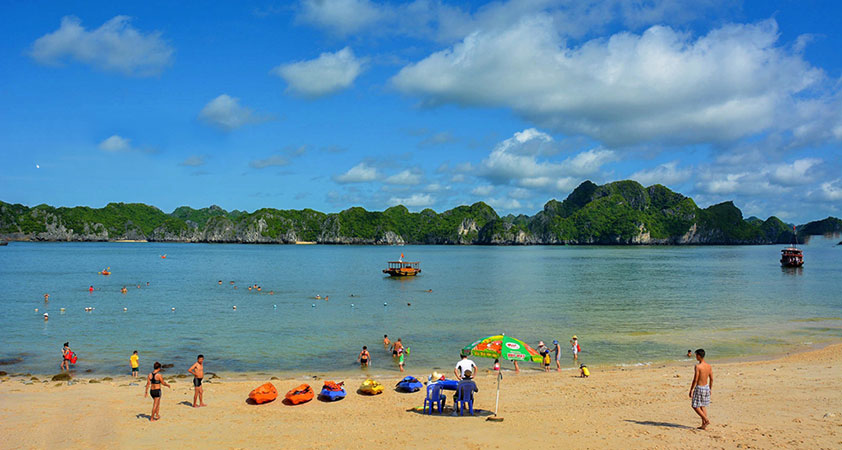 Listed as one of the best beaches in Indochina, it will be in your memory with a unique experience that you can find nowhere else. Imagine that you immerse in the cool water, take fresh breezes and admire the ocean and the trees, forget all the bothers in your daily life.
Cat Co Beach 3
Cat Co beach 3
 is the newest tourist attraction in
Cat Co Beach
area, it is famous for the modern building, which is completely different from the others. It is always exciting with high-qualified resorts and hotels looking toward the ocean. The waves are also more powerful and suitable for underwater sports.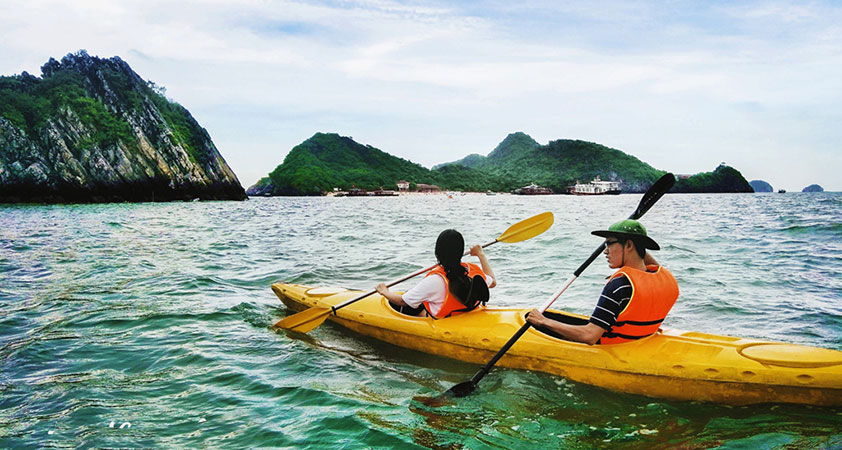 The sunrise and the sunset scenery is always the most charming moment of the day on
Cat Co Beach
. Having a walk around the seashore or tasting some special food while admiring the scenic scenery are the nice gifts for your journey. Whichever beach in
Cat Co Beach
you pay a visit to, you will all feel the pristine of nature works.

You may also like:

Detail information about the classic itinerary of Vietnam tour 14 days from Hanoi
Cat Co Beach Resort
Not only famous for the natural beauty, but these beaches also give both domestic and foreign the satisfaction about the relaxing paradise with the most modern resorts in Cat Ba Island.
Cat Ba Island Resort & Spa:
Located on
Cat Co 1 Beach
, it is the only four-star one and given the prize of "green hotel". The construction is inspired by the ocean and the combination of Western and Eastern cultures. Especially, it is suitable for any travelers who bring along their pets. There is a separate are for these cute friends.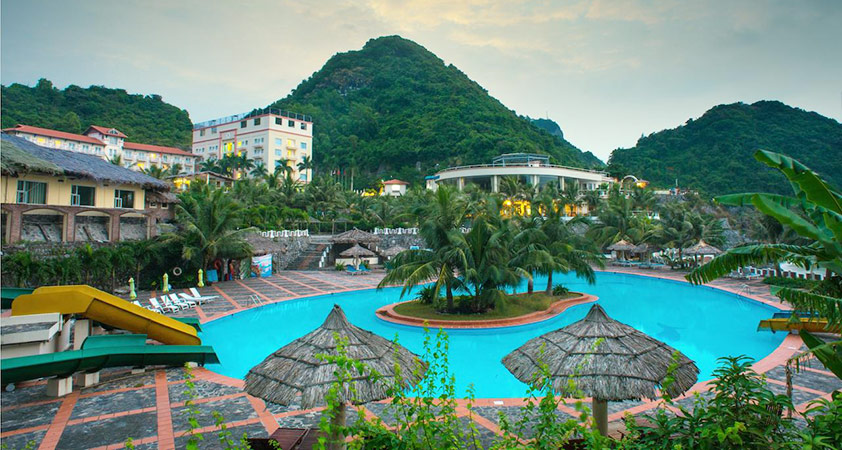 Cat Ba Beach Resort:
It is located on
Cat Co 2 Beach
. It has dominance in the location from which you can easily transfer to other
best places in Cat Ba island
.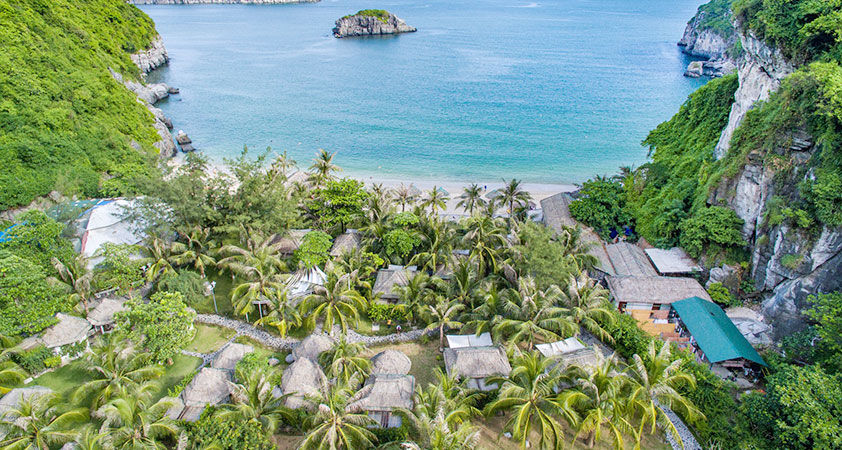 Cat Ba Sunrise Resort:
It is hidden among ancient limestone mountain cliffs on
Cat Co Beach 3
. Therefore, it is also the quietest one in three resorts.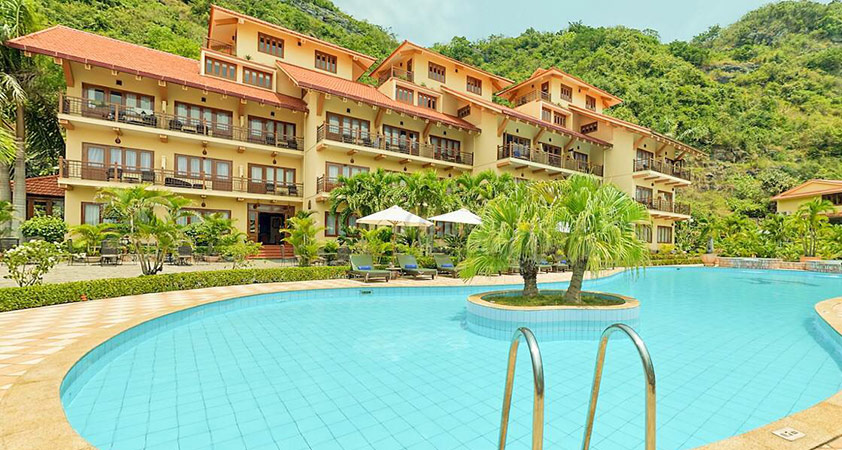 After that, you can continue your journey to visit discover
Cat Ba Island
such as
Viet Hai Village Cat Ba
or come back to
Hai Phong
to other attractions like
Do Son Beach
. Contact us for more information if needed.
ONLY WITH US : 100 % MONEY BACK GUARANTEE within 10 days from the date of booking if not satisfied.
For further information, or simply a free quote, please
contact us
at any time via our email:
info@galatourist.com
, our experienced consultants will reply to you within 48 hours.
Sincerely yours & see you soon!
GALATOURIST
since 2005.