Experience of conquering Ma Pi Leng Pass in Ha Giang, Vietnam
Ha Giang is a full-range landscape in North Vietnam. It attracts thousands of tourists from all over the world to come and see how magic the land is. To reach the destination, tourists will come over Ma Pi Leng Pass, one in four greatest passes in Northern Vietnam.
1. Ma Pi Leng Pass location
Ma Pi Leng is considered as one of the most challenging passes in Ha Giang with a length of 20 kilometers. The peak is 1200 meters high and belongs to
Dong Van Karst Plateau Geopark
, which also leads to 
Happiness Road
and then
Ha Giang City
,
Dong Van
and
Meo Vac
towns. Therefore, the pass plays an important role to local ethnic minorities.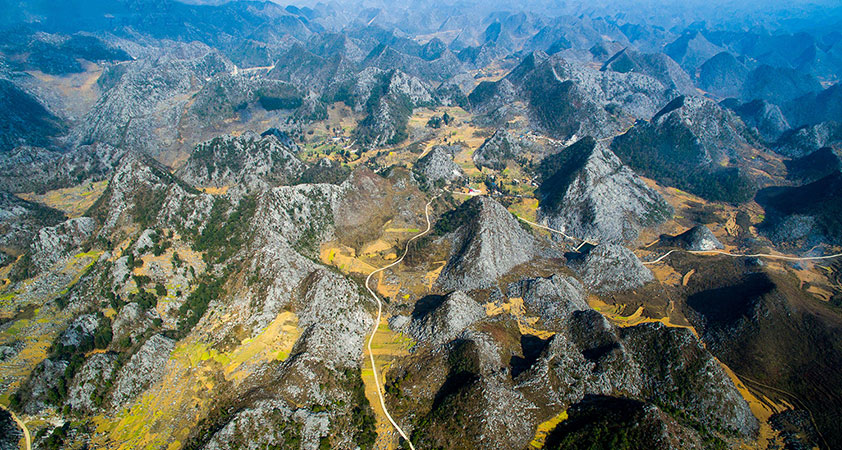 On visiting
Ma Pi Leng Pass Vietnam
, tourists will not only have a chance to challenge yourself, admire the great landscape from above but also learn about the historical story of the attraction. To get accessed to lower areas, local people all contributed to pay the pass, even there was no technology support at that time. Thousands of people had tried their best in six years to build up this "Meo ethnic minority pyramid".
2. Ma Pi Leng Pass attraction
The name
Ma Pi Leng
shows you how challenging the journey is. In Vietnamese, it means the pass is so high and steep that even a horse will find it hard to breathe. However, it is always the dream destination for tourists from all over the world as one of the must-have
things to do in Ha Giang
. It is the great scenery you can see along the journey that will certainly give you much more brave to conquering this landscape. 
You can see a lot of mountain ranges in cat ear shape pointing to the large sky. Mountains are in different colors, different shapes will give you some specific feeling that you hardly see in daily life. From the peak,
Nho Que River
winding through mountains below, contributing to the charm besides the huge landscape. Stand on the top, take some fresh breezes, you will see how magical life is, and how lucky you are to be in the world.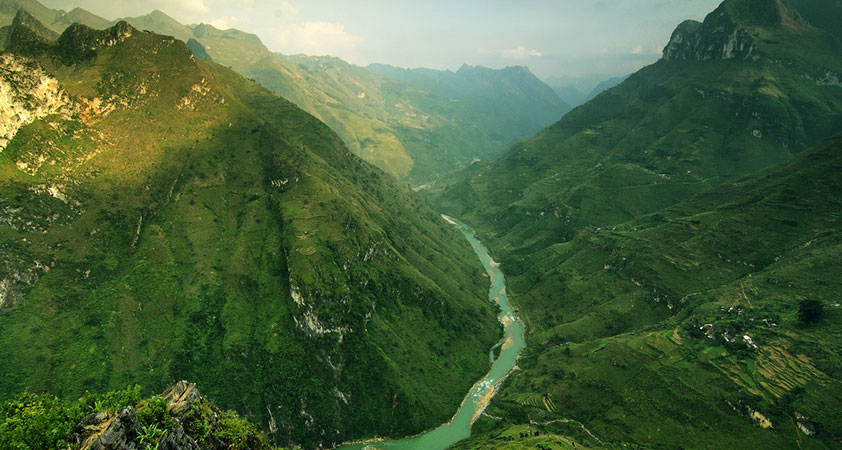 You may also like: Discovery more about Ha Giang attractions with a tour of 6 days in Vietnam.

3. Time to visit Ma Pi Leng Pass
You can visit the attraction at any season around the year. With the dominance in location, its climate is always fresh. Moreover, each season will bring you specific experience that are satisfactory.
From October to March, various flowers, such as plums, rape flowers, buckwheats blossom and make the land especially lively. Admiring valleys of flowers from
Ma Pi Leng Pass
Ha Giang 
will give tourists the best view of spring full of charm.
In April, it is time to visit
Khau Vai Love Market
to learn about the traditional culture of local ethnic minorities. It is not only a trading center but also a place to make friends and exchange culture of all the surrounding areas. 
In May, also the rainy season, endless terraces of rice are covered with water. Under morning sunlight, they are much more charming with sunlight reflecting and rainbow under your eyes. Until September, when harvest season comes, the road along
Ma Pi Leng Pass
will be covered in yellow among deep canyon of cliffs and mountains.

 Discover more:

Adventure Vietnam North-east trip on Vietnam 4 days itinerary.Ma Pi Leng Pass
is a symbol of
Ha Giang Province Vietnam
. It takes only some hours from Hanoi Capital City to this wonderland and enjoy every fresh moment there. Contact us for more information.
ONLY WITH US : 100 % MONEY BACK GUARANTEE within 10 days from the date of booking if not satisfied.
For further information, or simply a free quote, please
contact us
at any time via our email:
info@galatourist.com
, our experienced consultants will reply to you within 48 hours.
Sincerely yours & see you soon!
GALATOURIST
since 2005.