Detailed reviews on top best things to do in Ha Giang, Vietnam
It is nice to have an exciting journey to Vietnam with a lot of things to do in Ha Giang. Together with the nice climate, a wide range of landscapes will give you nice memories of the land. Read the article to have a detail list of Ha Giang things to do.
I. Where is Ha Giang Vietnam ?
Ha Giang Province, 300 km away from Hanoi, is located at the highest latitude in Vietnam. It shares a border with China in the north. There are many ethnic minorities, including the Dao, H'mong, Tay, and Nung living in the area.
With the prominence in the location, Ha Giang has a lot of tourism resources attracting thousands of travelers around the year. There are three separated areas with mountains and streams, slopes and valleys,... All make it a green paradise where tourists can see the huge landscapes of nature and get rid of the boredom in daily life. Moreover, the humid subtropical climate is suitable for traveling in any season. Therefore, with a time limitation, tourists should make a shortlist of top things to do in Ha Giang before the journey.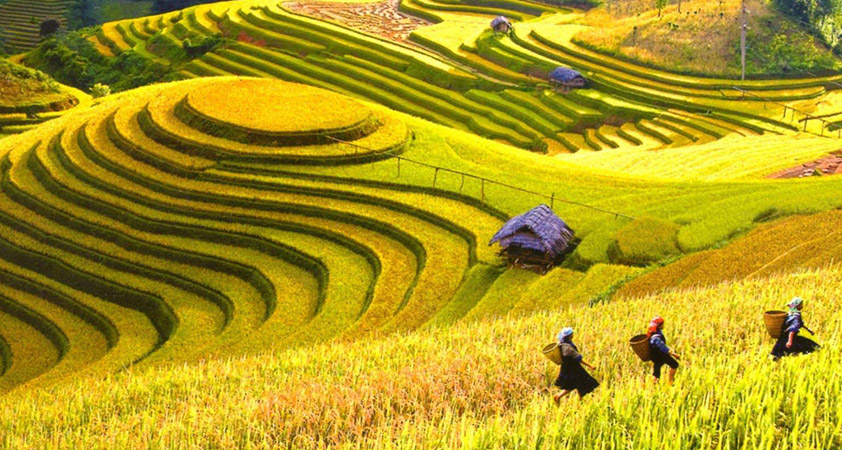 II. Best time to visit Ha Giang
The climate is divided into two distinct seasons, the rainy and dry ones, although it tends to vary depending on altitude. Ha Giang is the ideal location to organize activities such as hiking and camping. Famous sites including
 Quang Ngan Waterfall
and
Than Thuy-Thien Bao National Frontier Pass
are recommended as must-visit spots of
Ha Giang things to do
.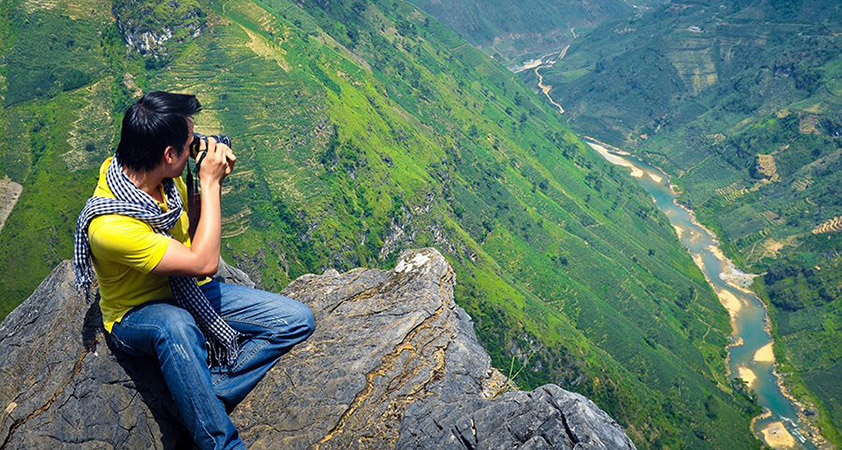 III. How to get to Ha Giang ?
Tourists can have the choice of riding a motorbike by yourself or taking a coach car to reach the destination from
Hanoi Capital City
. It takes about eight to ten hours to ride a motorbike, but the scenery alongside the road is not too attractive. Moreover, Vietnamese transportation is quite complex and it may make you confused if it is the first time you travel in Vietnam. Therefore, you are recommended to choose the second one. It is time-saving and the price is quite cheap. Or you can have a local agency to help you arrange the movement.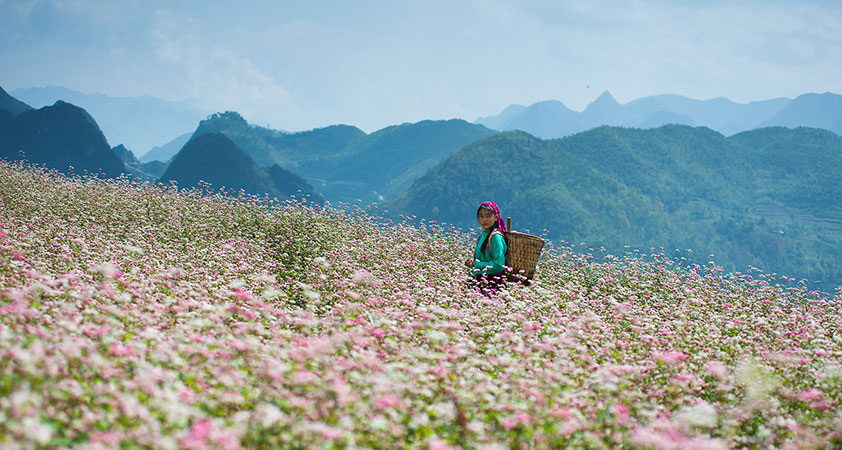 IV. What to do in Ha Giang ?
1. Happiness Road - Ha Giang Loop leading you to the cloud paradise
Happiness Road
connects
Ha Giang city
with four other districts in the province. It was built after the Vietnamese had finished the war of independence. More than 2000 thousands of young people from surrounding areas have contributed to this construction, although they were in poor condition at that time. The road gives you an exciting experience of traveling through high passes such as
Bac Sum
,
Cong Troi
,
Can Ty
,
Mau Due
, and a great challenge from
Ma Pi Leng Pass
. You will feel like taking part in an adventure game. However, you can admire all the valley below and even touch the blue sky above.

 See more:

Discover North-west mountain and hill tribes with Vietnam 10 days itinerary.
2. Quan Ba - Heaven Gate & Twin Mountains with peaceful atmosphere
Quan Ba
is 46 kilometers far from Ha Giang city to the North. From the heaven gate, you can see the overview of
Tam Son town
and the twin mountains called
Co Tien
, which means ''the fairies'' in Vietnamese. They are like a masterpiece among the peaceful scenery of rice fields and spotted houses. Therefore, it is always chosen as one of the
best things to do in Ha Giang
. Visit the village and you will discover how charming the locals are.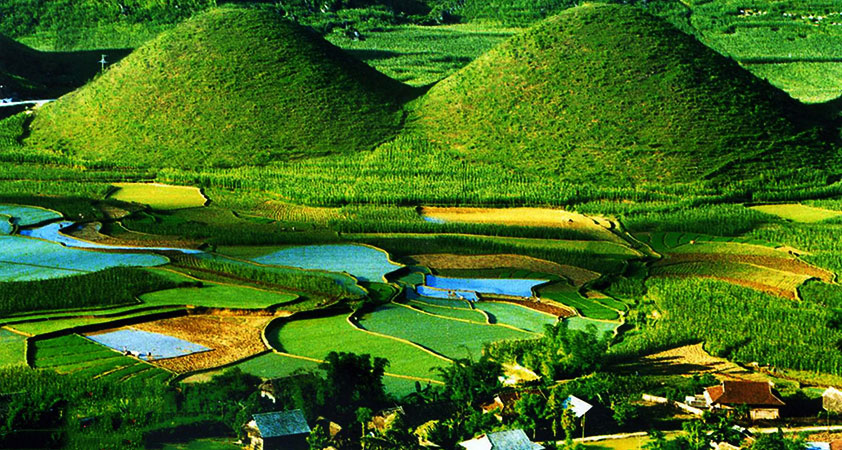 3. Yen Minh - Stop at the pine forest to get the best breezes
Yen Minh road
 is 100 kilometers far from
Ha Giang City
. It is 50 kilometers long winding in thin layers of dew. Alongside the road is pine forest green all around the year. It looks like a paradise on land thanks to the fresh atmosphere, giving tourists relaxing moments. Especially, the road will lead you to famous villages such as Lao and Chai to discover more about the land. It is regretful to neglect this spot among the 
best things to do in Ha Giang
.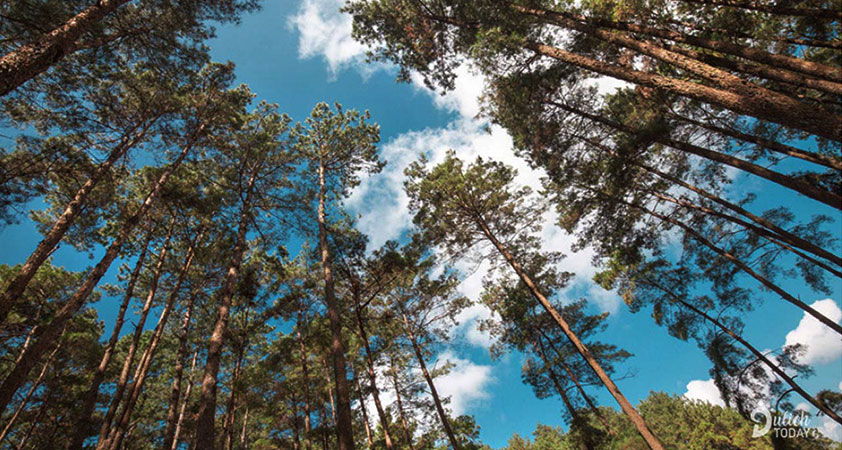 4. Dong Van Karst Plateau Geopark - Full-range landscapes welcome
Dong Van Highland
is situated 1,025 m above sea level and is inhabited by the Tay and H'Mong ethnic groups. The temperature is approximately 1°C in winter and reaches 24°C on the hottest days. The plateau provides famous products such as Hau plums, peaches, and persimmons without seeds. Dong Van apples are as big as pears. In Dong Van, numerous valuable plants used for their medicinal value are found, including ginseng, anise, and cinnamon. Dong Van has a lot to offer: mountains, forests, hidden grottoes and caves, multicolored orchid forests, plum and peach trees, persimmon orchards, and more.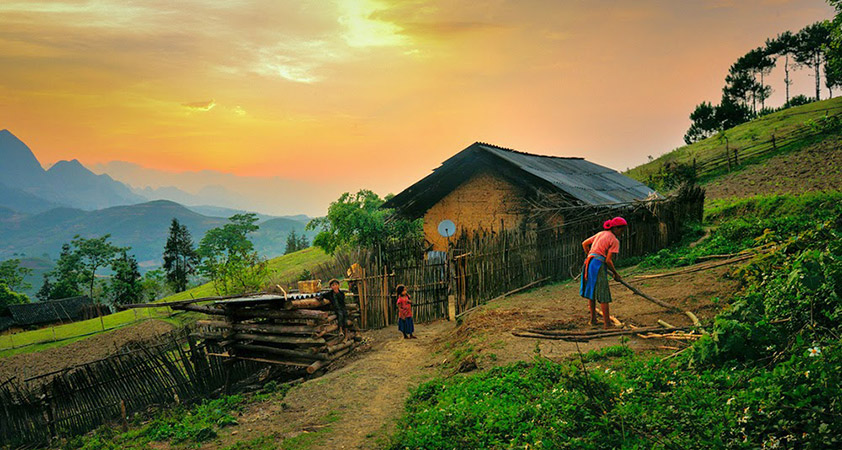 5. Meo Vac - The Pass and The Love Market in top things to do in Ha Giang list
Meo Vac
is a mountainous town in Ha Giang. There are a lot of spots to visit in the area, among which markets are always unmissable
things to do in Ha Giang.
Do not forget to join the
Love market
called
Khau Vai
on a hill in
Khau Vai Commune
. It is only open on March 27th in the lunar calendar. Therefore, it is like a festival than a trading center. Besides,
Tu San Canyon
is the deepest one in Indochina. At the height of 1500 meters, you will see the mysterious but charming beauty of
Nho Que River
below. If you are looking for endless fields of buckwheat flowers, come to visit the land from October to December.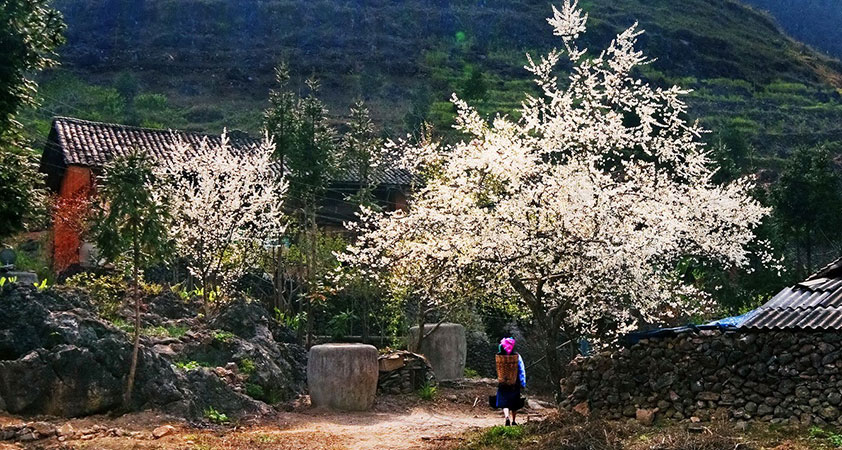 Hot deal: Spend 16 days in Vietnam with a mountain adventure in the North.

6. Hoang Su Phi - Immerse in the dew layers in early morning
Hoang Su Phi
Ha Giang
is a border district located 50 kilometers far from Ha Giang City, one of the
things to do in Ha Giang Vietnam
. Every year, it attracts thousands of tourists who love the adventurous experience. Although the road is quite challenging, you will be refreshed by the peaceful scenery of rice terraces spreading to the skyline. It is much more impressive if you can come here when the rice has ripened or when water covers all the fields and refects sunlight from above.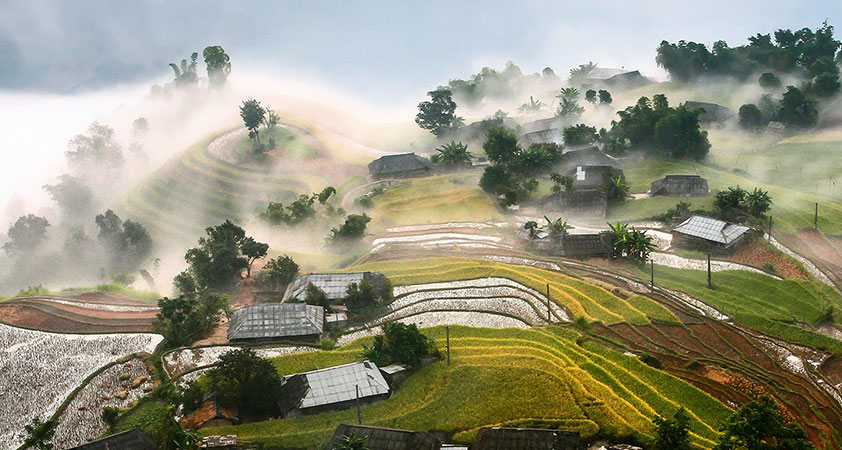 7. Dong Van Sunday Market - Turn into a charming girl in traditional costume
Visiting Dong Van on Sundays, one can shop in a very original mountain market where all kinds of goods and multi-colored clothes can be purchased. The old quarter, therefore, becomes more exciting with people talking and laughing. The residents will bring their homemade items to purchase for daily demands. The market gradually comes into their minds as a cultural exchanging center more than the usual market. It is also the reason why Dong Van is considered as one of the best
Ha Giang things to do
.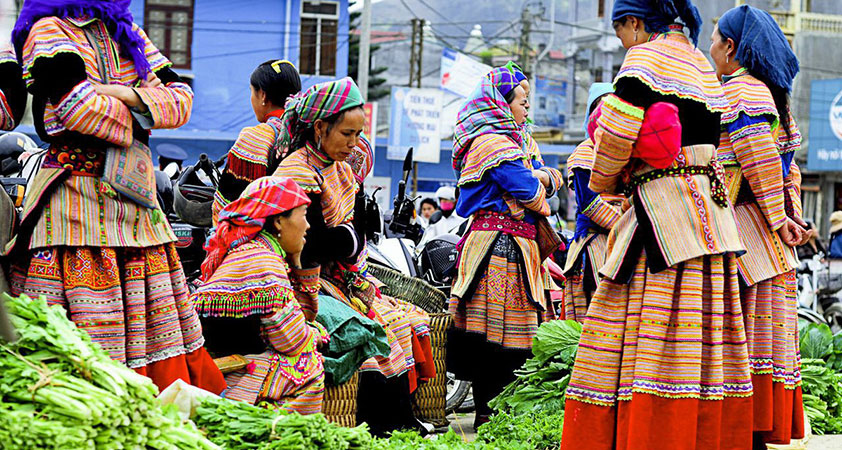 8. Lung Cu Flagpole - Capture the landscape from the North pole of Vietnam
Some other nice
things to do in Ha Giang Vietnam
include trekking to Rong Mountain (Dragon Mountain) and Lung Cu Flagpole. The attraction is at the height of 1470 meters high above the water level, in Lung Cu Commune, Dong Van district. You will have to overcome 389 steps to reach the peak, from which you can capture all the views below. There are two large lakes outstanding among the green background of the valley called Mat Rong (the dragon eyes).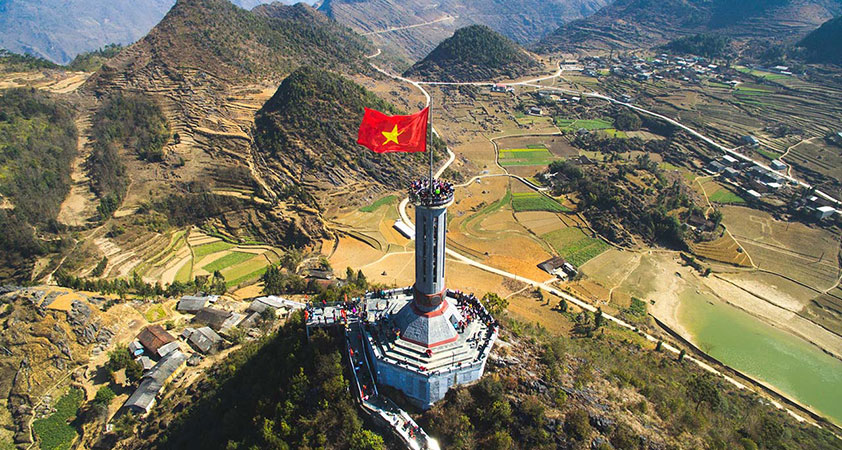 Dong Can Old Quarter
is in Dong Van Town, Ha Giang Province. It is a must-have destination in your Ha Giang tour with ranges of ancient rooftops and full- color lanterns brightening at night. The weekend market typical for the lifestyle in mountainous areas. Come and enjoy the special flavor of corn wine. Especially, visiting 
Don Cao, 
where you can capture the image of all the town, are must-have
things to do in Ha Giang Vietnam
.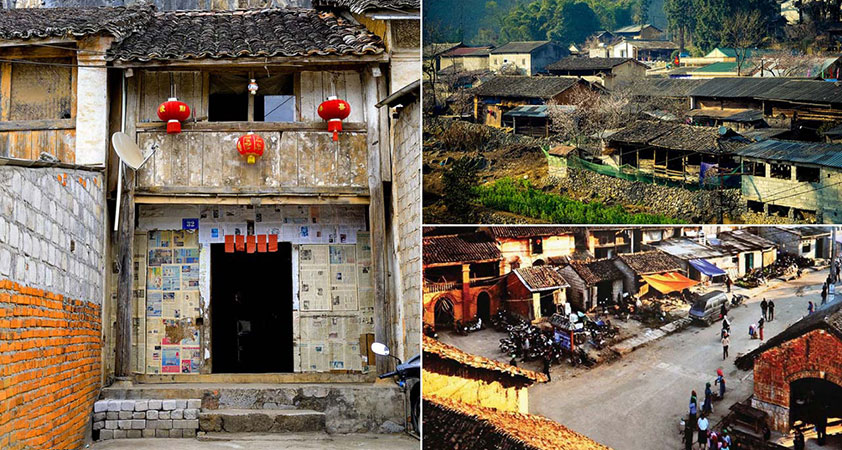 10. Mansion of Vuong Family - The home of the King of Meo ethnic minority
The
 Mansion of Vuong Family
is located in a valley in
Xa Phin Commune, Dong Van District, Ha Giang
. The construction was built in the early 20th century in China style, bringing about a feeling of majesty and mystery. Every item was carefully collected and it took five years to finish the house. Tourists usually pay much attention to two stones in the house which was brightened by 900 silver coins, also equivalent to one billion in Vietnam. However, all can only be explained when you come and listen to the life of the King.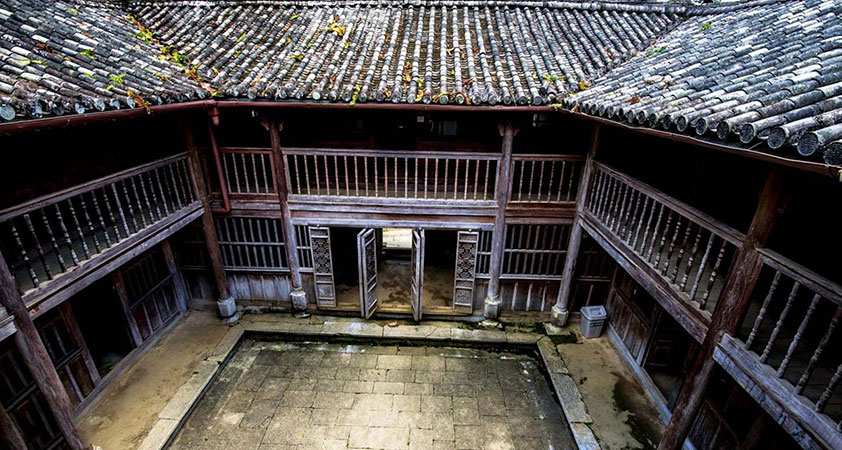 11. Ma Pi Leng Pass - The winding pass challenge every moment 
Ma Pi Leng Pass Vietnam
 is a challenging road on Happiness Road. It is 20 kilometers long and has the name meaning "a horse''s nose" in Vietnamese, showing how dangerous it is. Seen from the height of 2000 meters on the pass, Nho Que River below is as small as a needle but outstanding in blue color. Besides sightseeing, tourists can learn about the life of local residents, who are still in poor condition but friendly and warm-hearted. For the challenging experience, it is listed in
top things to do in Ha Giang
.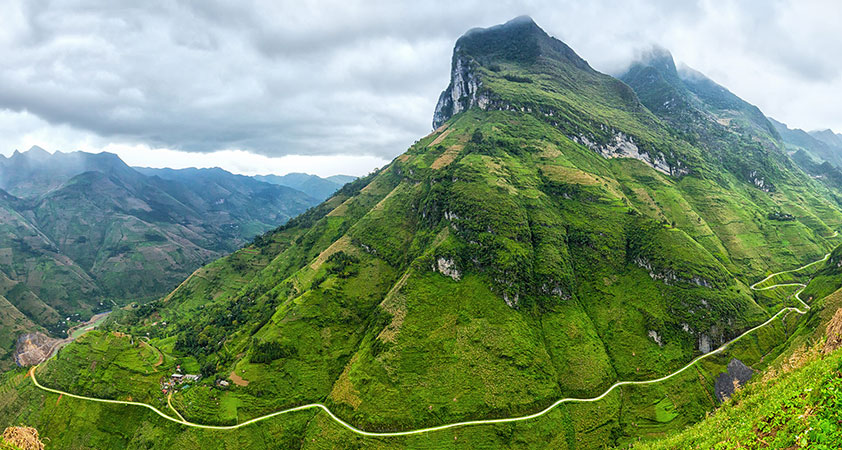 12. Tu San Canyon - The greatest canyon in Indochina with Assam macaque monkeys
Tu San Canyon
is a magic creation of Mother Nature after millions of years hidden in the ocean and only appeared when the earth crust changed. From the end of Ma Pi Leng Pass, tourists will move to
Trang Huong Bridge
 on
Nho Que River
and take a boat to reach this unique canyon. It takes about 20 minutes on the boat. It is amazing to see the canyon stands vertically. Moreover, there is a great monkey block living on craggy rocks.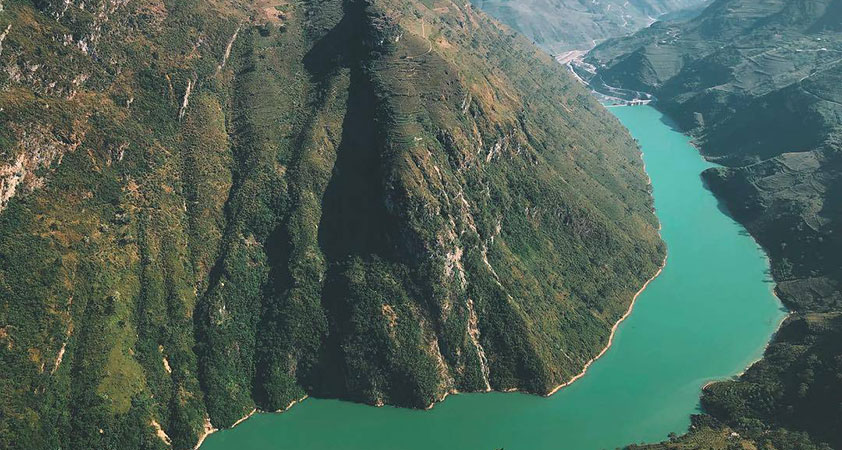 13. Lung Cam Village - The local songs teach you how to love 
The village is famous for Pao's ancient house where four generations live together. Among the rocky plateau, it is like a mini picture showing the Mong ethnic minority's life with charming features. Moreover, there are 60 other households in the village. They keep their traditional culture in many local songs. Most of the houses were built 100 years ago and completely made manually, but they all stand still to challenge the time elapsion. It is the ancient features that make
Lung Cam Village
one of the
best things to do in Ha Giang
.
14. Khau Vai love market - The exciting festival among mountains and hills
Khau Vai Love Market
is open only one time a year, on March 27th. It is not open for trading but indeed a culture exchanging center. Tourists joining the festival will immerse themselves in the exciting atmosphere on a huge landscape of mountains and forests. There must be a lot of couples in the area dating together since the event. Especially, it is also the time of flowers such as peach, plum, and pear blossoms, making the land more poetic and charming.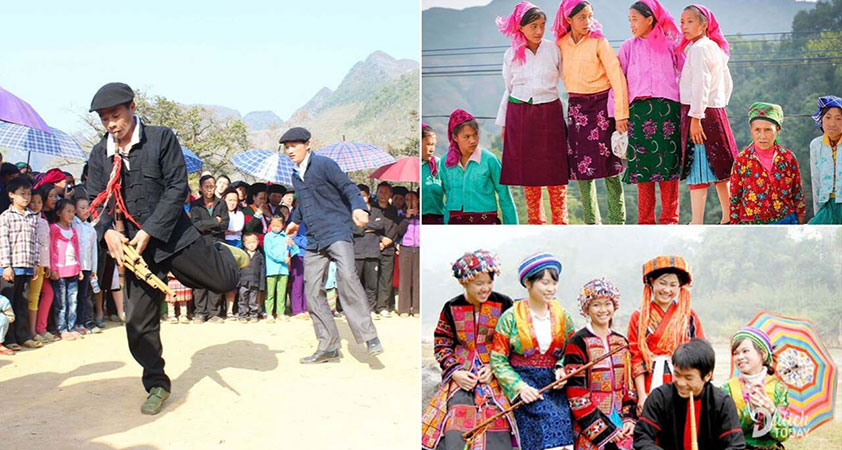 15. Thac Tien tourist area - Wind pass, the attractions keep thư wildness of nature
Tien Waterfall is one of the most beautiful attractions in
Xi Man district
,
Ha Giang
. Tourists have to go through 17 kilometers from Coc Pai town to reach the destination. It is located along
Wind Pass
, in a primitive forest in
Nam Dan Commune
. Therefore, after a long journey on the road, you will have the time to enjoy the peaceful scenery of a hundred kinds of scarce plants. The water flows are fierce all around the year, and tourists can immerse themselves in the cool water of the stream below. If time allows, you can continue to visit blocks of ancient stones where ancient Vietnamese people lived for 2000 years.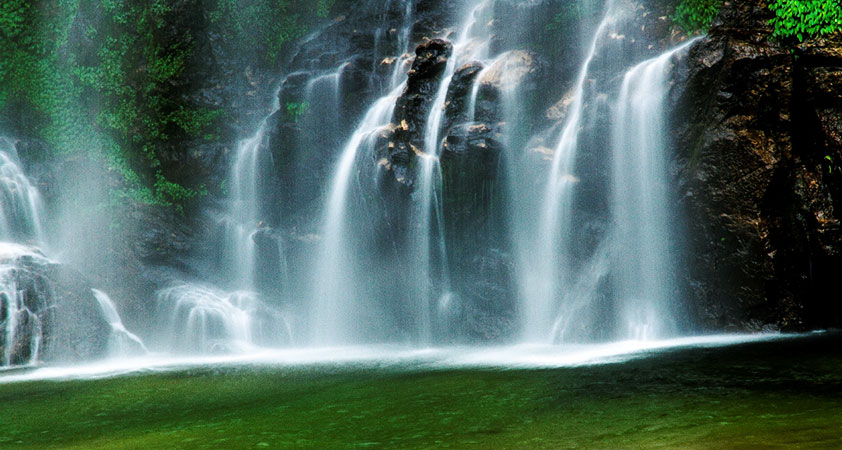 16. Pho Bang ancient town - Roses cover the land with charm and tranquility
Visiting Dong Van, one can see Pho Bang, also called Pho Bang Street, which was built a long time ago and features multi-story houses made of clay bricks and tile roofs. It is located in rocky valleys and surrounded mostly by mountains. The town is famous for rose gardens, which are small but have a specific color. The land provides a large number of roses for the area every day.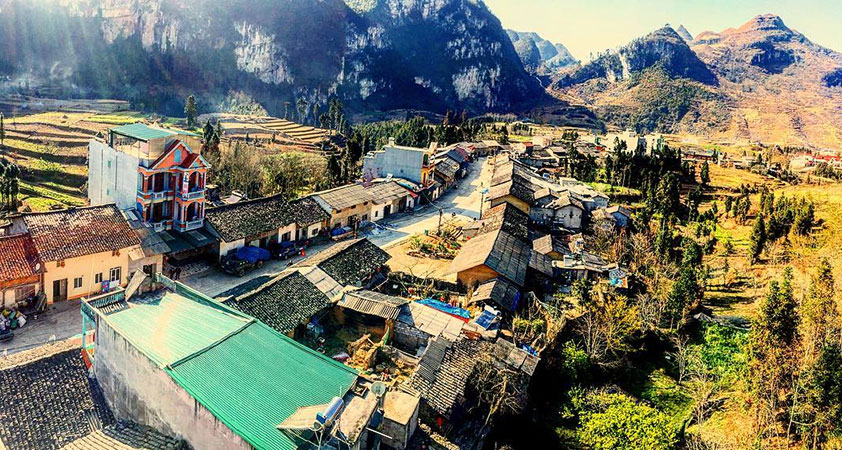 17. Tham Ma Pass - The legendary loop fascinating thousands of tourists every year
Although Tham Ma Loop is a challenging pass, it is always in the list of must-visit attractions in Ha Giang because of the impressive landscape seen from the location. It is said that couples will stay happy together if they have once go through this spot. After overcoming the loop to reach the peak, you can capture all the canyons in your eyes. It is much more charming at the time of dawn. Groups of children following their mothers to come back home with smiles on their faces.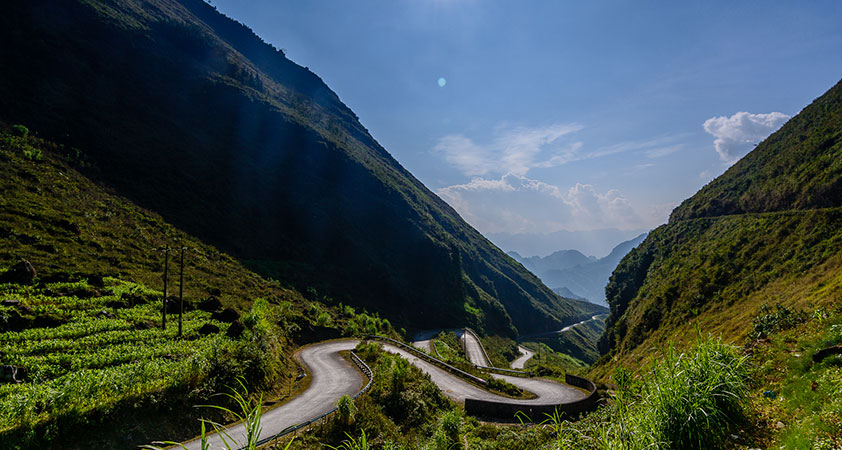 18. Noong Lake - Admire the old forest inside the lake
Noong Lake
is a beautiful fresh lake on
Tay Con Linh Mountain
,
in Phu Linh Commune
,
Vi Xuyen District
, which is 23 kilometers far from Ha Giang City. There is a forest rising from the water and it changes through seasons. Surrounding are mountains and original forests in 700 hectares. At the water-rising season, schools of fish from
Lo River
swim upstream to live in the lake. Moreover, tourists will have the chance to taste a lot of specialties in the surrounding villages.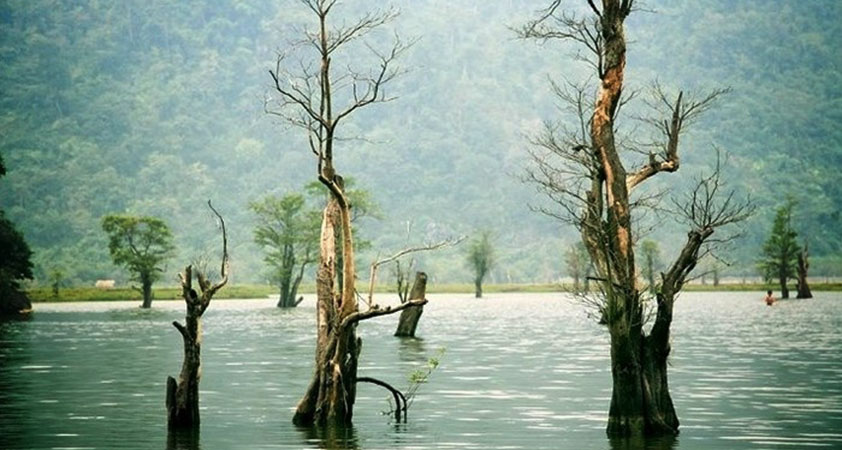 19. Lung Khuy Cave - The most beautiful cave on the plateau
The cave has a similar name to the village located on the foot of the mountain. The attraction is deeply connected with the culture of the Mong ethnic minority. Therefore, it is always well protected by the locals. The cave is famous for a great system of stalactites which is still kept original regardless of the time elapsion. Unlike other ones, they gather densely together, in different shapes and make tourists amazed at every step.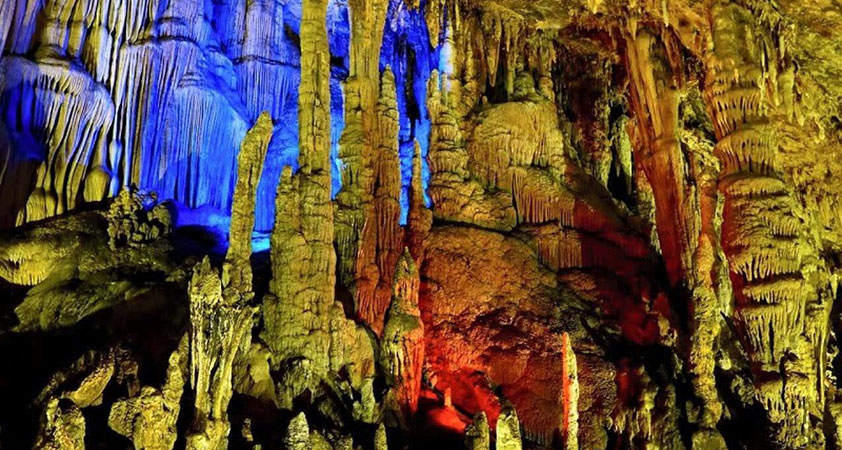 20. Thien Phuong cave - The mystery makes it attractive
Thien Phuong Cave
is 7 kilometers far from Ha Giang town to the South, attracting thousands of tourists to visit thanks to the unique combination of the natural landscapes outside and the mystery hidden inside. Tourists will have the chance to enjoy the fresh atmosphere, admire the green color that is hard to see in noisy cities. From the attraction, you can continue to visit
Vi Xuyen town
,
Nong Truong Vietnam town
and even
Ha Giang town
nearby.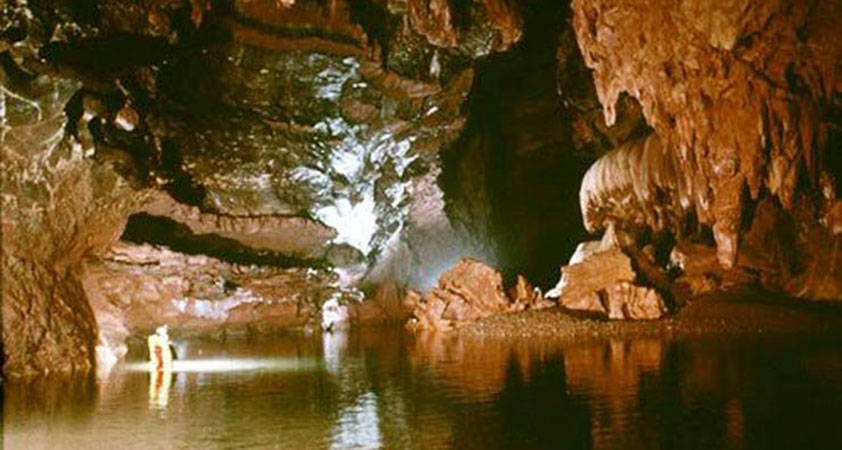 21. Tay Con Linh mountain - Find the sun on the peak of the mountain
Tourists who love adventurous experiences will certainly love to challenge themselves this rooftop of North-east Vietnam. It is 2419 meters high above the water level. From this height, tourists will have a feeling of getting immersed in the cloud ocean where you can get rid of all the boredom in daily life. However, it is not easy to overcome the dense forests before reaching the peak. There are some areas where you may not see any trace of life. On the journey, one side is deep canyons and the other is rocky cliffs. All bring about a thrilling experience of
Ha Giang things to do
that you will not forget easily.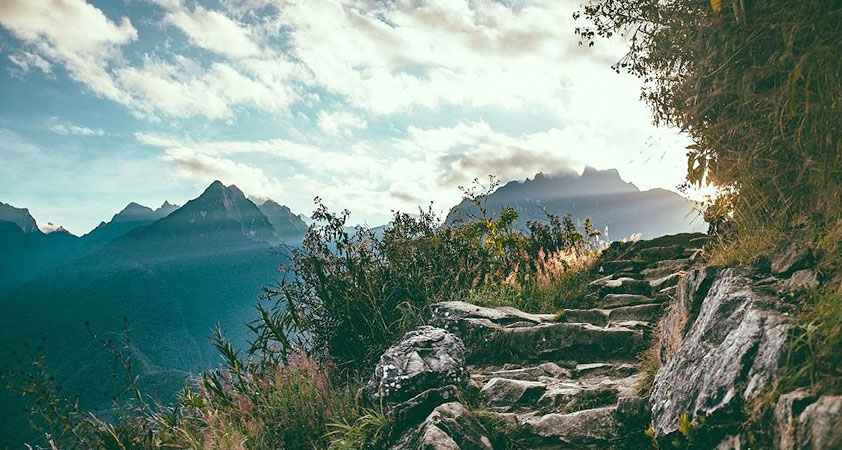 V. What to eat in Ha Giang?
Dong Van Steamed rolled rice pancake: It is a great idea to enjoy this specialty in the early morning when it is still a little cold. 
Buckwheat cake: Ha Giang is famous for large areas of buckwheat flowers. However, it is also known for the cake made of buckwheat seeds. It is soft and mushy, giving off an appetizing flavor typical for the flowers after putting on hot embers.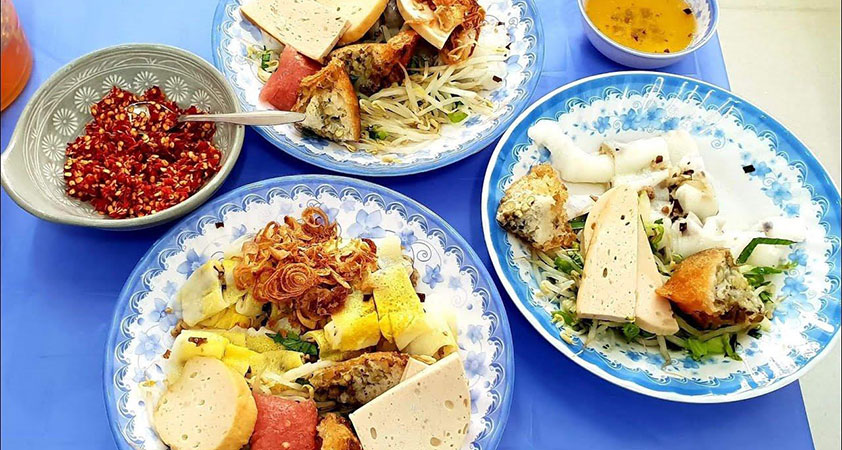 Five-color sticky rice: The food is popular in mountainous areas in Northern Vietnam. The colors which make the rice more attractive are made from local natural leaves. Therefore, it is not only safe but also good for your health.
Thang Co: It is a special recipe with the horse meat and their organs. This food is nowhere else to be found, completely worth in the list of best things to do in Ha Giang.
Sour noodle soup: The sour noodle soup was originated from China. It is better to taste this flavor in summer, at any market in the area. 
Ha Giang stuffed sticky rice balls: It is not too different from ones in Hanoi. The sticky rice is combined with a mixture of sugar, coconut, and ginger. 
With these recommended
things to do in Ha Giang
, we do hope you will have nice memories during your tour in
Ha Giang province
. It is not only the natural scenery but also lovely people that make the land worth visiting once in a lifetime.
ONLY WITH US : 100 % MONEY BACK GUARANTEE within 10 days from the date of booking if not satisfied.
For further information, or simply a free quote, please
contact us
at any time via our email:
info@galatourist.com
, our experienced consultants will reply to you within 48 hours.
Sincerely yours & see you soon!
GALATOURIST
since 2005.